Are you ready for an adventure!? Miniature painting can be a fun and rewarding activity for both beginners and experienced artists alike. Of course, if you're just starting out with the hobby, then it's natural to have some questions about the best way to go about it. To help you get started, we've put together a list of miniature painting tips for beginners.
In this article, I will discuss some tips that will help you get started with miniature painting. Whether you're painting Warhammer miniatures, Age of Sigmar, D&D RPG miniatures, or other tabletop gaming models, I think these simple tips will give you a boost.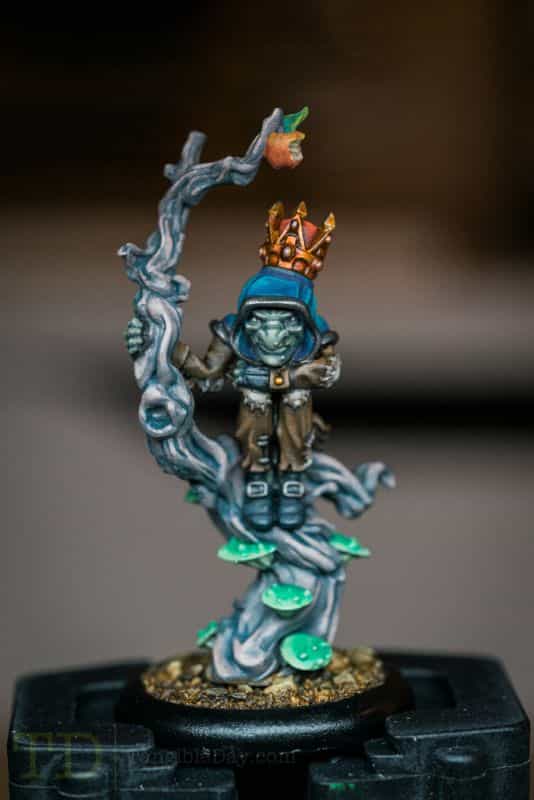 Before we begin, though, I'd like to touch up on a few pain-points for new painters that I've learned through my experience as an instructor.
You can SKIP ahead to the miniature painting tips below.
---
Is Miniature Painting Right for Me?
I've been painting miniatures for many years, both for myself and for others as a commissioned painter. Sure, I'll will cover the basics of choosing the right paints and brushes, as well as some tips on how to create a smooth and consistent paint job.
BUT, let's get to the underlying problem that most of us face when we see those unpainted, blank miniatures on the table.
The first question we need to ask ourselves is: "Is miniature painting right for me?"
This is a valid question, and one that I struggled with for a long time. You see, painting miniatures is difficult, potentially expensive, and will consume more time that you initially expect.
Even if you're a causal painter, hobbyist, there's quite of bit of "stuff", e.g., paints, brushes, palettes, and "knowledge" you must use to complete the simplest of paint jobs.
I've loved playing tabletop games since I was a kid. I would paint the occasional model here and there, but it wasn't until I was an adult that I decided to take up painting miniatures as a serious hobby.
For years, I would start a project, only to abandon it a few days (or weeks) later. It wasn't until I made the commitment to myself to treat miniature painting like any other hobby that I was able to stick with it and see results.
---
Painting Miniatures is Easy and Hard
What really helped me focus on the entire "paint more" idea was being a part of a community. Certainly, my tabletop gaming group inspired me to paint my collection of miniatures so they would look cool while on the wargaming tabletop.
Then, over time, I started to follow other painters on social media and joined some other painting clubs.
I'm not saying you need to do any of this to be a successful painter, but for me, it really helped.
So, if you're on the fence about whether or not to start painting miniatures, I would encourage you to ask yourself the following question: "Am I willing to commit the time and effort necessary to see this hobby through?".
If you can answer "yes" to that question, then I think painting miniatures is definitely right for you.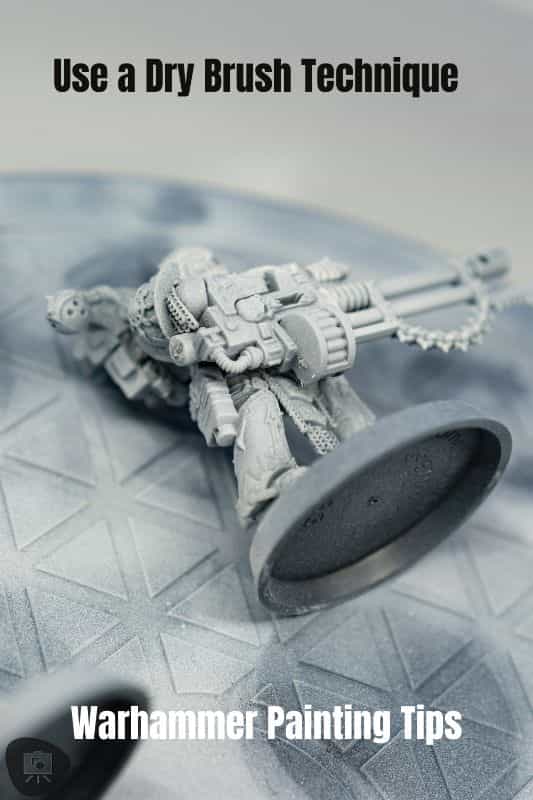 Painting miniatures for beginners can be both easy and hard. On the one hand, it's easy because there are a ton of resources available to help you get started (see my list of recommended painting resources below).
On the other hand, it can be difficult because there is so much information out there, and it can be overwhelming trying to figure out where to start.
I think the key is to just take it one step at a time and not get too bogged down in the details.
With that said, let's move on to the actual miniature painting tips!
---
Miniature Painting Tips for Beginners (13 Tips)
1. Don't buy everything you see….
One of the biggest mistakes I see new painters make is buying way too much stuff, e.g., paints, brushes, etc., before they even start painting.
You don't need to go out and buy every color of paint or every type of brush before you start painting. In fact, I would argue that it's better to start with a limited palette of colors and a few good brushes.
As you become more experienced, you can slowly add to your collection of supplies. For now, though, focus on learning how to use the supplies you have and perfecting your technique. To paint miniatures well, spend your energy (and money) only on what you're trying to accomplish in the moment.
2. Use quality acrylic paint formulated for miniatures and models
Don't cheap out on paint. It's one of the most important tools you have as a painter, so you want to make sure you're using good quality paint.
Here is a review of highly-recommended acrylic hobby paints for painting miniatures, 3D models, and other models.
For miniature painting, I recommend using hobby acrylic paint. These are specially formulated for painting miniatures and other small models.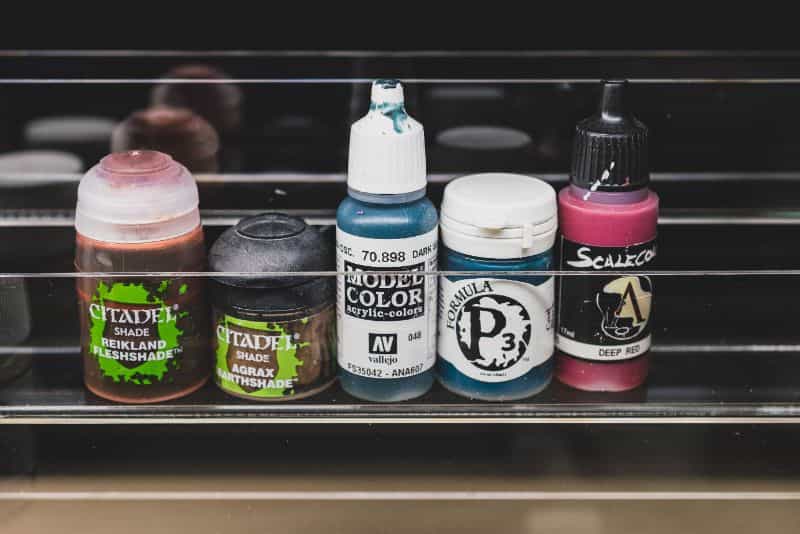 They have a thinner consistency than "normal" acrylic paint, which makes them perfect for painting the tiny details on miniatures.
For example, that budget craft paint you find at the family craft store may save you money in the short term, but it's not going to give you the same results as using quality hobby paint.
3. Start with a basic palette of colors
When you're first starting out, it's best to keep your palette of colors small. I would start with a miniature painting set that bundles a core set of paints together.
This will give you a good selection of colors to work with while you're learning the basics of painting miniatures. Here's an affordable paint bundle, I recommend.
As you become more experienced, you can slowly add to your collection of colors. For now, though, focus on learning how to use the colors you have and perfecting your technique.
The problem I see many new painters get into is thinking that "more is better". It's a false belief that leads them to buy way too many colors, which can be overwhelming and lead to frustration.
Of course, if you're painting an army collection, e.g., Warhammer 40k, Necrons, Tau, etc., and already know your paint scheme, then by all means, go ahead and buy all the colors you need. But if you're just starting out, I would recommend keeping things simple.
4. Use a limited selection of brushes
Just like with paint, you don't need to go out and buy every type of brush before you start. In fact, I would argue that it's better to start ONE good brush.
Get the best quality, single paint brush in the largest size you're comfortable handling. In my opinion this means something in the realm of is a size #1 or #2 pointed round.
You can read more about my favorite workhorse brush, or see an entire miniature paint brush guide.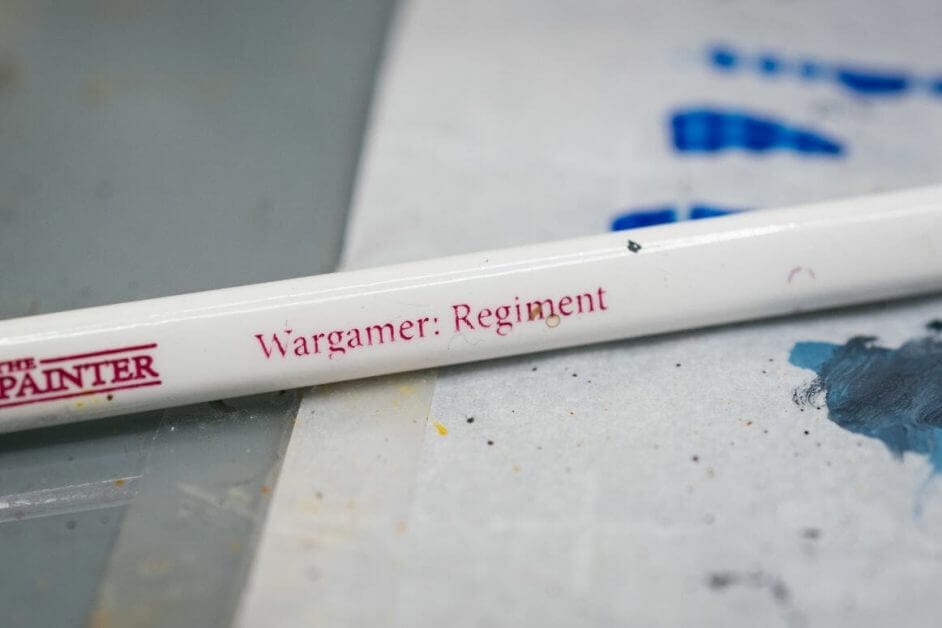 A good rule of thumb is to only buy new brushes when you feel like you're "outgrowing" your current ones. The better brush is the largest brush you can control.
Finally, I'll say that you can perform many advanced techniques when you have a better grasp of how paint behaves on a regular brush that you use all the time; rather than the fancy, premium one you're afraid of breaking.
5. Invest in a good work surface to paint miniatures
You don't need to spend a lot of money on a fancy work surface, but you do need something that's flat, smooth, and non-porous.
RELATED: BEST PORTABLE HOBBY STATIONS FOR PAINTING MINIATURES AND MODELS
A cheap cutting board or mat from a local store is perfect for starting out. It protects your desk surface underneath, provides a place to work on model parts with sharp knives–I mean it's a cutting mat–and is easy to clean.
As you become more experienced, you might want to upgrade to a glass or plexiglass work surface. These are nice because you can use them as palettes for your paints, too.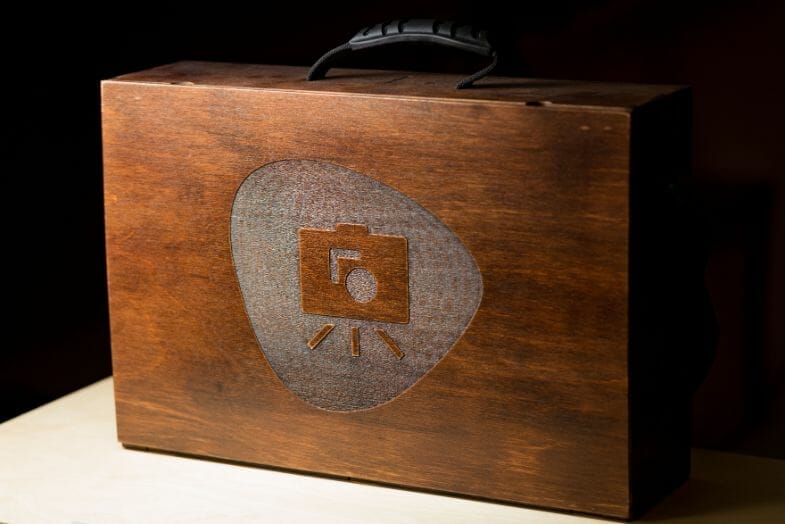 Of course, at some point, you'll feel comfortable with the work surface you're using and won't feel the need to upgrade. And, that's OK.
7. Try using a dedicated artist or hobby task light
Good lighting is important for painting miniatures, but you don't need to spend a lot of money on an expensive art studio light.
I would recommend using a good LED task lamp, such as the one I use on a regular basis. These are great because they're easy to position and provide good, focused light.
There are quite a lot of options to choose from. Again, a new painter, just starting out, doesn't need to spend a lot of money on an elaborate lighting setup.
Just make sure you have a good light source that you can position as needed. You want to be able to see the details you're painting clearly, without straining your eyes. This means avoiding harsh, dark shadows, and bright hotspots on your desk.
8. Put together a simple paint station
Are you able to dedicate a flat table space for your miniature painting? This is my advice if you can get away from that temporary spot on the kitchen table or coffee bench in front of the TV–this was my first dilemma when I started out trying to find a good hobby workspace.
Well, if you can find a spot to setup your paints and work area without sharing it with other tasks (or people) that would be ideal.
A simple, small folding table is all you need. It doesn't have to be anything special–I've seen people use TV trays, too. But a dedicated miniature painting station will make your life so much easier and give you a place to leave your work in progress without having to pack it all up each time.
8. Use a small paint palette
You don't need a wet palette to start. You'll hear the refrain over and over: "get a wet palette". But, for a beginner, I think that's advice is best saved for later.
The key to building a foundation for a successful, and enjoyable miniature painting hobby is learning how to work without all the fancy tools people say you need to get.
A small plastic tray, divided into compartments is all you need to get started. You can find these at any craft store (or even the dollar store). I've also see people use dish ware, a ceramic floor tile, or even sheets of aluminum foil. These are all perfect as a safe place to thin your paints (with water) or to mix colors.
Yes, your paint will dry quickly on such a surface. But, that's OK. You can just add more paint to your palette if you need to. The drying speed of paint will also force you to work quickly and efficiently, which is a good skill to have as a miniature painter.
9. Don't over-thin your paints
Yes, you should thin your hobby paints with a bit of water for best results. It is the best advice because it is simple to do.
But, on the other side of this legendary need to "thin your paint" is the mistake of over-thinned paints. This happens when too much water is added to the paint, making it difficult (or impossible) to control on the model. If you're edge highlighting, for example, it will be impossible to do with overly thin paint.
A good rule of thumb for thinning your paints is to start with a very damp paint brush and adding a single drop of water to your paint (that's on your dry palette). You can always add more water if you need to, but it's very difficult to remove water once it's been added.
What you should look for in properly thinned paint is something that has the consistency of milk (and no thinner). If you're having trouble with this, you can try for a something thicker. Here, I may suggest thinning your paint until it's at least as thin as melted ice cream.
10. Reference photos are not cheating
One of the most important pieces of advice I can give a beginner is to use reference photos.
There are still many people in the miniature painting community who think that using reference photos is somehow cheating. They're not.
Finding the right colors for your particular project is an art in itself, a science of sorts. And, there are few people in the world who can do it without some help.
The best painters use reference photos all the time (and so does everyone else in the world). It's not cheating, it's called being efficient with your time.
One related tip: Don't use photos of the actual model you're painting as your reference. It's best to find other photos that have similar colors and tones. This will help you to be more objective in your color choices and not get caught up in details that don't matter.
Anyway, seriously; go out there and find some other works of art, or even photographs of things that you think have that colors you want in your own model painting. Then, use those colors as a starting point for finding the perfect colors for your project.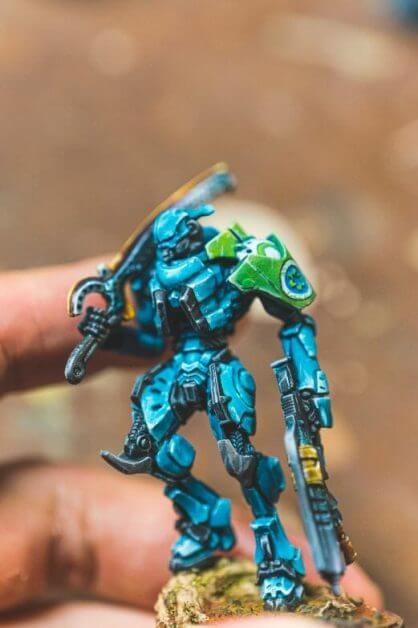 Even if you're painting models/figures from board games, using photos or other inspired images can help a ton!
Remember, try to keep the number of colors in your project small and limited (see tip #3 above).
11. Prepare your miniature painting surface for best results
Make sure your model is clean and free of any grease, oils or dirt before you start painting.
If I'm rearing to go all-in on a fantastic paint job, I will remove mold lines with the back of a hobby knife or seam scrapper, and use mild dish soap and water to clean my models. Just make sure you rinse it all off and let it dry completely before starting to paint.
The next step is to give your model a coat of primer. This will help your paint to adhere to the model better and give you a more uniform surface to work with.
I like to use a gray colored primer for most of my painting projects. But, there are other options available, like black, white, or even your base coat color. It really just depends on your personal preference.
Here are more details about choosing the right primer for your miniature work. In general, I start with a Vallejo Surface Primer and change it from there, depending on my specific needs, e.g., plastic, 3D print, whatever.
12. Don't neglect the basics
When you're first starting out, it's easy to get caught up in all the "cool" painting techniques you see other painters using. And while there's nothing wrong with wanting to learn advanced blending techniques, it's important to make sure you have the basics down first.
Some of the most important model painting basics include:
13. Have fun, experiment, stay inspired!
One of the best things about miniature painting is that there are no rules. You can paint however you want, and there's no right or wrong way to do it.
So, have fun with it! Experiment with different techniques and colors. And, most importantly, don't be afraid to make mistakes. It's all part of the learning process.
I find that inspiration for painting can come from the oddest places. Sometimes, simply looking at a picture in a magazine can give you an idea that sets your creative juices flowing.
It's also important to take some time away from painting every now and then to recharge your batteries and come back with fresh eyes. I often find that when I step away from a project for a day or two, I come back with all kinds of new ideas about how to improve it.
---
How I Started With the Miniature Painting Hobby
Painted miniatures look awesome on the tabletop. New miniature painters are born everyday when they see finished models on display or on wargaming table.
When I started painting miniatures, the model paint, the color theory, all evaded my painting process. I engaged with the miniature hobby because I was happy painting.
Painting miniatures for beginners is burdensome only when you try to absorb everything all at the same time.
The amazing work that inspired me to start painting minis began with a single miniature that I saw in the backseat of a friend's car, when he drove me to a game store for the first time. It was a simple WW2 tank, covered in mold lines, perhaps in a quick painting session with a simple base coating of Citadel paints.
The entire model was perfectly fine to my eyes, but would have probably failed in any objective measure of a "high quality paint job".
Yet, I remember the experience of seeing this game played, which happened to be Bolt Action or Flames of War, I think. It certainly wasn't the more popular Games Workshop stuff. I didn't get into the roleplaying games and their model painting until a few years later.
Suffice it to say, I was hooked.
At the end of it, I didn't know about thin coats, or the process of painting details well. It was just me and my new hobby with a few basic colors, brushes, a hobby knife, and some plastic models.
Many years later, hundreds of painting sessions late into the night, between work hours, and with a few awards to my name; I can say with certainty that the beginner journey is the hardest, but most reward part.
---
Conclusion
The post is meant for those brave souls who decide to start model painting their own collection of unpainted miniatures. It's also for those who have already started, have an assembled model waiting for color, and might be struggling with simple things like what colors to use, or finding the right space to set the mood for their painting sessions.
Do you get excited visiting your local hardware store? Does the idea of seeing potential hobby supplies or equipment put a bounce in your step? Well, you may have just passed into the next level of the miniature painting obsession!
Whether you're starting out with your first set of paints or you're a seasoned professional, there's always something new to learn when it comes to this fascinating hobby.
I hope you found this article helpful! If you have any questions or comments, please feel free to leave them below. And, be sure to check out the rest of the site for more great miniature painting tips and tutorials!
Happy painting!
Tangible Day on YouTube (Miniatures and More!)