A miniature painter has many tools, but only a few are 100% necessary. Dry palettes are a core tool in any miniature painter's arsenal. Compared to wet palettes, a dry palette has several notable advantages. The best dry palettes are versatile, long-lasting, and portable. This article reviews 7 key reasons why you need a dry palette for painting miniatures and models.
My favorite dry palette is the Jack Richeson Porcelain Mini Tray Palette.
Continue reading on for why you may want a dry palette for painting miniatures.
---
What is a Dry or Wet Palette?
There are two kinds of palettes for miniature painting: dry or wet palettes.
Wet Palette
A wet palette like the Everlasting Wet Palette (Redgrass Games) or Masterson's Wet Palette are important for painting miniatures. I would not be able to paint as well without one of these palettes. In fact, I used to make my own wet-palettes, but gave up when I realized that it took up too much time.
As a professional commissioned painter, time isn't something I can spare. Additionally, I don't enjoy making things from scratch; it's my achilles heel when it comes to our hobby. I end up buying my wet palettes (you only need one).
A wet palette is any wet surface that you place your acrylic paints on. This surface is usually a thin membrane that can absorb moisture/water from a reservoir, such as a sponge.
As the acrylic medium evaporates on the surface, the moisture from underneath the surface diffuses up into the paint to keep it from drying out.
In this manner, wet palettes extend the working time of acrylic paints. They allow allow painters to execute more advanced techniques, e.g., glazing, wet-blending.
RELATED: HOW TO USE A WET PALETTE FOR NON-METALLIC METAL (NMM) PAINTING
However, despite the prevalence of wet palettes, they still have disadvantages. These include ongoing maintenance and cost for supplies.
There is also the risk for mold-growth, and the hassle of an unpredictable working surface. For example, paint thickness may change because of differences in ambient temperature or humidity.
Finally, not all wet palettes are the same. Choose one wisely. Wet palettes differ in size and capability. I won't go into these for this article, but I highly-recommend Masterson's Wet Palette. For more examples of wet palettes, here are a number of other popular and recommended wet palettes for acrylic hobby paint.
I use one on a regular basis and it is the most cost- and time-effective wet palette on the market.
Dry Palette
A dry palette is ancient painting technology. It may be any surface that you can place acrylic paint on before applying it to a model. The dry palette is "dry" in that there is no extra moisture coming from the palette itself. This kind of palette could be wood, glass, ceramic, or metal.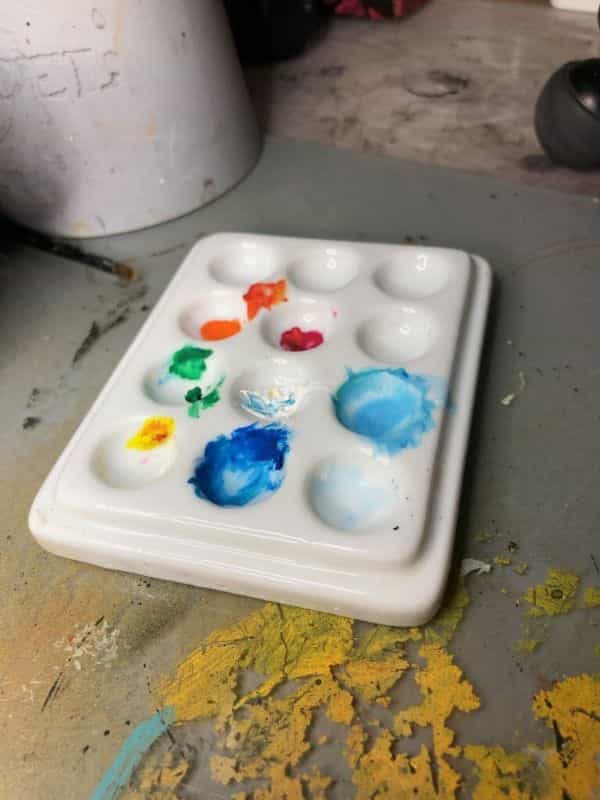 A dry palette for painting miniatures allows an artist to place paint on a "working surface". This provides an opportunity for the painter to adjust the loaded paint on the brush.
Read on for more details on why a dry palette is important for painting miniatures. And, in many cases, superior to a wet palette.
Types of Dry Palettes
Type of Palette
Material
Benefits
Weakness
Well Palettes
Glazed porcelain, plastic, or metal, e.g., aluminum

Wells hold different colors
Good mixing surface for thin media
Reduces paint evaporation
Easy to clean

Glass Artist Palette
Tempered glass

Large working surface
Versatile
Easy to clean
Durable

May break easier
Fast paint dry
Not good for thinned media
Takes up a lot of space

Flooring tile or food plate
Ceramic, plastic, stone

Commonplace
Cheap
Disposable

Very fast paint dry
Not good for thinned media
Small working surface
---
7 Reasons You Need a Dry Palette for Miniature Painting
1. Speed Painting
Speed. Do you want to paint fast?
A dry palette will make you a better painter.
Here's why:
Paint dries fast on a dry palette. The more you paint with a dry palette, the faster you learn how quickly you need to work.
It becomes natural for you to stop thinking so much about how you apply paint, and rather you "just do it".
You don't have time to think!
But, this is okay.
In contrast with wet palettes, with a dry palette, you need to do all your thinking before you paint a model. For example, you need to plan all your colors ahead, so when you grab that paint pot, you're just ready to brush it all on.
Of course, you can plan your paint scheme beforehand when you use a wet palette. However, with a dry palette, you're forced to decide.
No beating around the bush. Your paint is drying up! Go paint!
2. Ease of Use
A dry palette is simple. Put paint on it, then load your brush.
You're ready to go!
I don't think there's much more to this.
On the other hand, with a wet palette, there's a setup time. Even if you've properly prepared a wet palette, you need to ensure that your surface is moist.
If the wet palette is from an older session, some of the paint might have congealed. In this case, you need to reload fresh paint anyway.
Maybe there's debris in your wet paint palette. You need to clean this out or risk getting it on your miniatures. Dust, for example, can ruin a great paint job when it gets into your paint layers.
Usually, with a dry palette, you're starting fresh.
Everything is clean.
3. Cleaning
Speaking of cleaning, a high-quality dry palette is super easy to clean.
I recommend glazed porcelain dry palettes. They clean-up fast.
All you need is to wash them with water and any dried acrylic paint just slides off.
With easy cleaning, this also makes painting more fun. You've got no speed bumps in your way.
Carry on with a clean dry palette!
With a wet palette, you can just toss out the paper surface. But, then you need to care for the sponge and the dirty water that seeped underneath.
Did I mention there's some prep time when you start-up a fresh wet palette? And, you'll need to do this every time you clean your wet palette.
4. Paint is Consistent and Predictable
This is an interesting point. A dry and wet palette can help paint stay consistent. However, in this case, a dry palette is much more predictable.
When you use a dry palette, you know exactly how much extra moisture is in the paint. In fact, if you're thinning your paints, you've added that moisture.
This is very different from a wet palette. Moisture comes from the palette itself and from the ambient air (if you're keeping your paints over a longer-period of time).
I know for more experienced painters, this isn't an issue.
But, for the casual hobbyist, the miniature painter who wants to keep it simple, then a dry palette is superior. There are less variables to figure out across painting sessions.
5. Advanced Techniques
There are many advanced painting techniques that are suited for dry palettes.
RELATED: 8 MUST-KNOW TECHNIQUES FOR PAINTING MINIATURES
For example, if you use any of the many mixing/glazing mediums, then you'll need a solid, non-absorbent surface to work with (e.g., no wet palettes).
Wet-blending is also useful with a dry palette.
I've used glazing mediums to paint miniatures (see here). The use of inks and oil paints also need a regular dry palette.
As mentioned above, when you want to paint fast, then you need a dry palette. Dry brushing is one of the fastest ways to get highlights on a miniature. The technique pulls out details quick (see example here).
Finally, a popular painting technique that you want a dry palette for is two brush blending (aka 2BB). 2BB is one of the main reasons miniature painters lick their brushes.
Aside from using thinned media, you can perform most of these different techniques with a wet-palette. But, a dry palette is a cleaner, more effective, and easier way to approach these advanced painting methods.
6. Environmentally Sustainable
If you care about the environment. then there's an argument that a dry palette is more sustainable than a wet palette.
Of course, you can forget about the plastic or metallic-type of disposable dry palettes.
For all the other types of palette materials, you can wash and re-use a dry palette for a very long-time.
A wet-palette, on the other hand, requires a constant trashing of both the working surface, e.g., paper membrane, and the sponge. A wet palette also requires you to refresh the water and clean out the sponge on a regular basis. To do this, you may need to use a detergent or other cleaning solution that could have unfriendly environmental effect.
A well-maintained dry palette will last a long time and won't require a lot of resources to maintain.
7. Portability
Do you travel with your paints? Maybe, you simply move from room to room.
In either case, a dry palette is a lot easier to transport than a wet palette.
This reason is simple to explain. It is easier to take a dry palette with you on the road (or airplane) than a wet palette.
Yes, you can drain all the water out of a wet-palette, but when you arrive to your destination you need to set it up again.
Even when moving around different places in my home (from my desk to the dinner table, for instance), a dry palette is my go-to palette.
Admittedly, I know every artist is different and carrying a wet palette with you is worth the extra hassle. But, at the end of the day, a good dry palette is super versatile.
What dry palette do I personally use and recommend?
Jack Richeson Porcelain Mini Tray Palette
Small
Glazed ceramic
Cover protects wells from dust and is also a mixing tray
Easy to clean
Inexpensive
A small number of wells (I have two of these for this reason)
You won't want to use anything elseß
There is a larger porcelain dry palette, if you're looking for one with a bit more room to mix more colors.
Jack Richeson 22 Well Porcelain Palette
Lots of nice wells for paint
Mixing section
Solid contruction
Smooth, easy to clean surface
Paint dries slowly in round bottom wells
Cover protects from dust and debris
More expensive
May be harder to transport
Heavier
---
Alright, I still want a wet palette, too
Today, there are two wet palettes commercially available that most miniature painter's use: the Everlasting Wet Palette (Redgrass Games) or Masterson's Wet Palette.
I'm sure there are variations of these wet-palettes out there, but these are the two that I have experience with.
I've personally used the Masterson's Wet Palette for years!
It's bit dingy, but it works like a charm. I do wish that the paper surface it comes with had a different color, like neutral gray.
It would make seeing the acrylic paints with bright values easier to see.
---
Final Word
When you paint miniatures, I generally look for the simplest tool for the job. For the reasons in this article, a high-quality palette is one of the best investments you can make for acrylic miniature painting.
Even though everyone seems to have a wet palette in their toolkit for painting minis, the dry palette remains as important as ever.
Painting miniatures is already full of challenges, a wet palette can often complicate things.
Are you like me and enjoy the simplicity of a dry palette (over a wet palette)? Leave a comment below!
---
Tangible Day on YouTube (Miniatures and More!)