Are you looking for the best miniature painting desk? The best desks for painting miniatures are comfortable, provide enough space for organizing your hobby supplies, and provide a durable working surface. In general, the best hobby table and miniature painting desk for you is a personal decision.
In this article, I review my top 10 recommended desks for painting miniatures and models. I also share a bit about my experience working in a wide array of workspaces and that, ultimately, it doesn't matter how much space you have. Rather, it is more important that you use it often!
Read on to learn more about the best miniature painting desks for your modeling hobby.
---
What is the Best Miniature Painting Desk?
The best miniature painting setup for your needs will change depending on where you live and the room you'll work in. The biggest factor in choosing the ideal desk for painting miniatures is comfort. If you're not comfortable, then you won't paint for very long.
The other important feature you need to consider for choosing the best painting desk is the balance between size and portability. You will want the biggest desk space you can afford to spread out your miniature painting supplies and keep your hobby tools within easy reach. But, you may also want some portability so you can move your desk to different rooms, if needed, or to a different home altogether.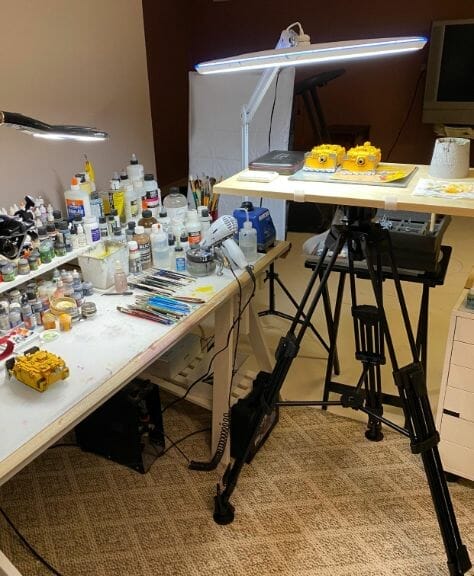 How I Painted Miniatures in Different Workspaces
Here's is a quick overview of the kinds of places I've painted miniatures.
City Apartment (Minimalist Desk Setup)
When I began my miniature painting journey, I lived in a small apartment in Manhattan, NYC. Of course, there wasn't much space in this 700 square foot apartment, and I painted on a short coffee table. This required that I apply a minimalist desk setup for painting miniatures.
The table height was about 20 inches from the floor. So, I sat cross-legged on the floor in front of the TV. I was able to rest my back on the loveseat sofa behind me. Of course, it wasn't ideal, but I was young and I made do.
There were problems though with this setup. I had to clean up after every painting session to keep the coffee table clear for guests. I also remember experiencing frequent stiff necks, sore backs, and cramped wrists. Yet, these were good times. I could watch my favorite TV show, eat at the coffee table, and paint miniatures. All of this in one place! Good times.
Small Apartment Living Room
When I moved to a larger apartment in New Haven, Connecticut, I painted models on a computer table. It was a tiny desk on wheels. I painted all sorts of miniatures: Warhammer 40k, Warmachine, and other wargaming models. The table was too small and a 17" computer monitor occupied most of the space. But, it was all I could afford. The room wasn't very big, either. So, hunched over, I painted miniatures on a desk space only a little larger than a mouse pad.
My hobby shared the same space I used for my day job. I could bounce between both work and fun, seamlessly. I even ate meals on this table, too. When you have limited means, you can usually find a way to do the things you want.
Though, I'm happy to admit that I was quite productive despite this environment. Even though I couldn't organize my burgeoning paint collection, I kept a fishing tackle box with my paints and brushes nearby on a shelf.
Condo Bedroom
Ultimately, I moved into a condo with a dedicated room for hobbies, e.g., a spare bedroom. Here, I bought myself a larger 3'x 6' folding table to work with my miniatures. Before children, I was able to spread out a lot. I got a 2nd table, and for years these folding tables were the best miniature painting desks for my hobby.
House Basement
And, now here I am in my current habitat, in a basement with two similarly sized desks that I purchased to paint miniatures. They are the best miniature painting desks because they fit in the room I'm in, have a simple design that is comfortable and useful, and, if I need to move again, these desks are easy to disassemble and pack away.
READ MORE: BEST PORTABLE HOBBY PAINT STORAGE SOLUTIONS
Even though I haven't shared all the other places I've painted miniatures, I can say that I've moved around quite bit. Through this journey, I've considered a lot of ways to create my ideal area dedicated to the miniature painting hobby.
Continue reading to see what I've learned about creating the best hobby desk layout for your miniature painting hobby.
Types of Desk Setups and Layouts
Here are 5 desk setups for miniature painting and hobbies:
Traditional rectangular desk
Corner desk
L-shaped desk
U-shaped desk
Standing desk
There are overlapping features across a few of these categories. For example, you can have an L-shaped standing desk, or a standing desk module that sits on top of a traditional rectangular desk. In either case, the best desk setup for your miniature painting hobby depends mostly on how much space you have available, how often you need to move your furniture, and your budget.
Some office-style desks have storage compartments built-in such as drawers or shelves. These could be useful for organizing your hobby supplies or other things you'll want nearby. Keeping your stuff organized a great way to promote better productivity.
How to Optimize Your Miniature Painting Desk
There are a few things I've learned that helped make my mini painting desk more useful.
When I painted miniatures on a coffee table, I recall needing only a few hobby things to do the work. With my small hobby craft desk, I used a single paint brush, a few paint colors for the project at-hand, and a cup of water. A clean paper towel on the side let me dry off my brush. Of course, I painted directly on the table's surface. Before we moved to our new place, we threw out the coffee table, which was covered in a tapestry of dried acrylic paint splatter.
To optimize your miniature painting desk, take it from me, try to keep only your essential supplies near you on the flat surface. The rest of your things should off to the side or on a shelf somewhere. The more open flat area you have to spread out your models, palette and frequently-used tools, the more enjoyable your experience.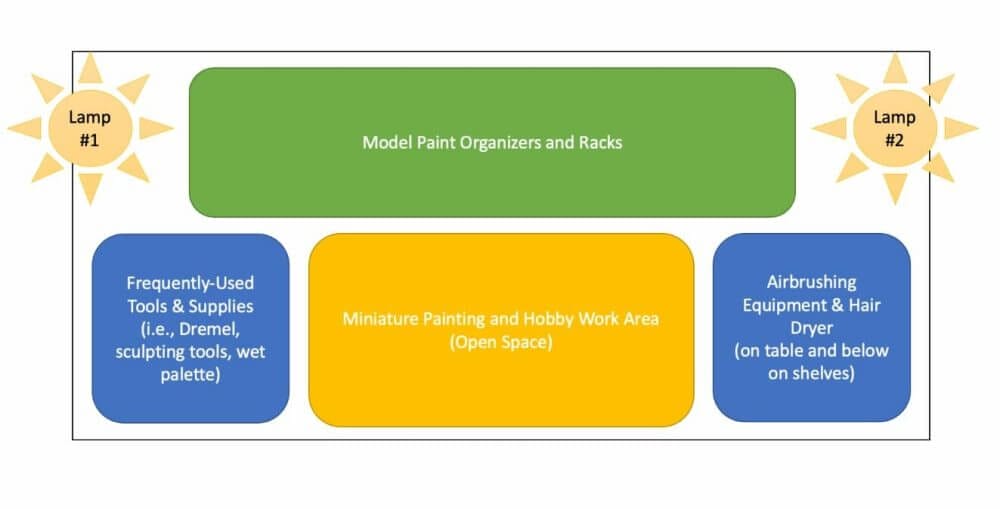 Also, remember to reserve space for your lighting setup. Whether you use magnifying lamps (see what magnifier light I use and others I've reviewed) or a fancy office lamp, good illumination over your workspace will make a huge difference.
RELATED: GREAT PORTABLE PAINT WORKSTATIONS
If you're low on space to keep your huge library of "hobby stuff" elsewhere, try using a collapsible folding table like this one next to you. When I'm painting multiple units, I use one of these folding tables to put models aside temporarily so I have more space to work to paint them one at a time without distraction or free of splattering paint on the others.
The benefit of a folding side table are that you can store them away under your bed or closet when you don't need them. When I'm painting an army sized commission project, I tend to use 2 or 3 folding tables to spread out the work like an assembly line.
Features of Desks and Tables for Miniature Painting and Hobbies
When you're shopping for a desk for painting minis, you'll want to keep in-mind a few important features about the ideal craft and hobby table.
Height
Table surface area and shape
Storage
Stability
Desk material
1. Height
The standard height for any desk is about 30-inches from floor to tabletop. This tabletop height fits most average-sized people. But, if you're particularly tall or big, you may have a harder time getting comfortable. You don't want to hunch your back or neck for long periods of time. A lower chair won't help you much, because you'll compromise your leg space to the floor.
Instead, for those looking to fine-tune a desk's proper fit, you can consider a desk with adjustable legs that extend or shorten. A height-adjustable standing desk may also be a great option for those looking for opportunities to stretch their legs or work in different positions for long periods of time. Comfort is the ultimate goal when shopping for any desk.
From my own experience, I also prefer desks that are high enough that I can sit comfortably on my favorite wheeled office chair with armrests, right up against the tabletop. I rest my elbows on the armrests to stabilize myself while I'm painting minis with really tiny details.
2. Desk working surface and shape
Where to start? There are limitations and advantages to every desk size, shape, and working surface area, especially for miniature painting. The key here is to ensure you choose a desktop that works with your ways of miniaturing and fits the room you have available. You'll also want to consider adaptable tables, e.g., easy-to-disassemble, fold, or lift without help, so that you can move around.
An armoire desk is a great concept for a hobbyist. When you're done painting, you can close the desk and keep your hobby stuff from getting disrupted, e.g., kids, pets. The problem is that an armoire is that it doesn't have a lot of open table space to work. They are also kind of expensive.
The U- or L-shaped desks are options that I considered when we moved to our new place and I had a large basement to work in. A U/L-shaped desk lets you have different "work zones". For example, you can have a separate space for airbrushing, a space for assembling models, and a space for painting miniatures. For my needs, I opted to use folding side tables and wheeled carts along with a traditional rectangular desk. With my setup, you can move things around to suite whatever your project needs are.
In terms of general surface area you'll want for your hobby table, the ideal space area in my opinion is "as much as you can afford and fit in the room". For those of you looking to save space, you'll find a longer, shallow table (i.e., more rectangular) is more useful for miniature painting than a short, deep table (i.e., squarer). A square table is better suited for playing cards and poker than hobbies.
It is much easier to reach for things on either end of a rectangular table than across a square table where you risk knocking into your models, paints, and things with your sleeve or torso.
3. Storage
Some of you have a lot of hobby and crafting stuff. Where do you put it all? A hobby craft desk should have storage and shelving. Some computer and office desks have shelves or drawers built-into them. The advantage of storage systems right on your desk is the proximity to your hobby space. Need something quick? Just reach up (or down) and get it from that drawer or shelving system.
Note that you can use some desk shelves to put a monitor, like a TV or computer screen. If there was one thing I would like to improve with my hobby space, it would be a good shelf to put a monitor. I miss the days when I pained at a coffee table and I had a TV right in front of me.
Some computer desks make great hobby desks. A hutch you would have placed a computer and monitor are also the ideal spots for an airbrush setup and compressor. There are also holes for running cables or hoses. You can keep your portable paint stations in a desk nook and less frequently used supplies in accompanying drawers.
4. Stability
All desks you use for painting miniatures should be stable. That means four legs, at least, and rubberized feet if you're on a smooth floor. The reason I saw this is because all of your open paint pots and water pots are already prone to spillage. Why would you put vulnerable open liquids on a desk that shakes, vibrates at the slightest touch?
I used a wheeled computer desk for a long time. But, I was always wary of what was left on it. Not only did it make me nervous that I'd spill paint washes or tip over my brush rinse cup, I had a computer right next to me. Any liquid splashing there would have amplified any hobby disaster.
None of the recommended desks in the review below have an issue with stability. Even the Mount It! Standing Desk Converter is sturdy as a working surface. This conversion table top sits on your existing desk to allow you to work while standing. As a standing crafting table, I think this is a brilliant idea and even increases your work area (e.g., you'll have storage space underneath).
5. Desk material
In my opinion, the desk material is a personal preference when it comes to hobbies and miniature painting. The surface desk material has little bearing on your work. If the desk is made of wood and you'd like to preserve its appearance, you can cover your work area with a glass cutting board or self-healing cutting mat (which a lot of hobbyist do already).
If you're keen in a comparison between metal, wood, or lower-cost laminate surfaces, then you'll have to consider your budget. A laminated desk will be the least expensive, but could warp over time, especially if it gets wet or if you live in a humid environment.
Wooden or metal desks are more durable, but they can also be heavy. The advantage of metal, of course, is that it is more resistant to scratching, knicks and cuts. On the other hand, metal is a cold material and may not fit with the aesthetic and style you want in your home.
My desks are the fanciest pieces of furniture in my hobby space. Though, I work in a basement with a concrete floor, unfinished walls, and exposed water/gas pipping over my head. It didn't take much for me to spruce up my hobby area.
As a space that your hobby will revolve around, your desk should be welcoming. Your miniature painting desk is a sanctuary and you should be glad to return there over and over. And, sometimes, a place you don't want to leave. So, indeed, style, looks, and emotional connection should matter in the end.
Is a Standing Desk for Painting Miniatures Worth it?
A standing desk does not provide as many health benefits as you may think. Even though scientific research suggest that sitting for long periods of time may put you at risk for a shorter life and chronic diseases, e.g., heart disease, diabetes, a standing desk is not a cure-all (source). For completionism's sake, however, here's an article listing the health benefits of a standing desk.
I think the only tangible benefit of a standing desk is comfort for those of us who experience back or neck pain from sitting hunched over too long. Standing allows you to stretch cramped muscles and get into a more ergonomic position to work on your hobby.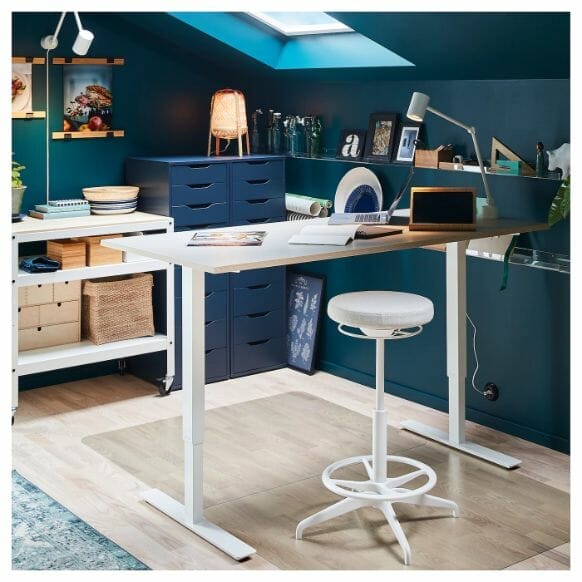 Of course, if you're experiencing pain while sitting at your desk, it is possible that you're just not positioned currently, and you need to change your posture. This may mean getting a more comfortable chair, consciously taking breaks from painting your minis, or organizing your desk so you can actually work on the tabletop space, rather than over your lap, neck hunched over.
What Else Do I Need for the Ideal Hobby Desk?
You should get good lights and paint storage organizer. If you're looking for recommendations for lighting your hobby space, check out this miniature painting lamp guide. For those with large or small collections of miniature paints and hobby supplies, here are recommended paint display racks for organizing your hobby desk for better productivity.
For those who are looking to decorate and spruce up their workspace, check out these metal Displate posters or print your own wall art!
Recommended 10 Best Miniature Painting Desks and Hobby Tables
Here are my 10 Recommended Desks for Miniature Painting Hobbies
Continue below for more details about each of these desktop options for miniature hobbies.
---
Take your traditional rectangular desk and make it height adjustable with a push of a button. This electric motorized standing desk is similar in size to the hobby desk I use. It has a 55" x 28" tabletop surface area. The height of desk is between standard desk height of 28" to slightly taller than a bar table of 45" (source).
The width and height of the desk is also good for the average person, male or female, with an arm span of about 5.5 feet (or 65") (source). This desk will give you easy arms-reach access to the back and both sides without your needing to stand up or leaning over too far to either side.
On the flipside, the desk is kind of on the expensive side at close to $300. If you're looking for a standing desk that has the versatility and function of a normal rectangular desktop with dimensions for strong utility, this is a great choice. I'd love to have one of these soon.
Notable Features
Table surface dimension: 55″ W x 28″ D
Height: 28-45″ H
Material: Laminated wood
Storage: No
Assembly required: Yes
---
If you've been vying for a standing desk option for your hobbies, but don't want to break the bank, the Mount-It! Standing Desk Converter could be a good compromise. This is a desk fits right on top of your existing desk and lets you stand while you work. The tabletop surface is 32" x 22", which means it's on the smaller side. But, the space is sufficient to work with your essential hobby supplies on it and nearby.
The legs are adjustable, so you can fine-tune the height to your preference. What I like about this desk for miniature hobbies or crafting is that you can pick it up and move it onto different tabletops. It's lightweight, so you can even use it as a portable hobby workstation, moving your hobby supplies on it like a very large tray.
As mentioned earlier, the advantage of this desktop converter is that it also increases your desk workspace. If you place this on a larger hobby desk, you can store useful tools and paints underneath within easy reach. Vice versa, you can use this desktop as a "shelf" while you're sitting down and working on the original desktop. The simple idea of this desk is practical, and not too expensive either.
Notable Features
Table surface dimension: 32″ W x 22″ D
Height: Depends (Adjustable)
Material: Laminated wood
Storage: No
Assembly required: Yes
---
If you're looking heavy-duty workbench that can handle any hobby or craft you throw at it, this tabletop may be the ticket. The top of this desk is made with solid bamboo (e.g., a dense hardwood) and painted with a durable lacquer.
The adjustable height legs let you change the table height from a low 28.5" to up to 42", which lets you work while sitting or standing. Use this versatile workbench for any hobby activity, including miniature painting, scale modeling, and other crafts.
If you're into carpentry, repairing mechanical equipment, or anything requiring heavy equipment, this table will support up to 1,500 lbs. Though, note that I'm not sure this would be easy to move around your home as the entire assembly is heavy. For a mobile option, you can take a look at this bench with lockable caster wheels. Sure, it's just a table with hardwood top and steel legs. But, in this simplicity, the only limitation for why you would want this table is what you need it for.
Notable Features
Table surface dimension: 48″ W x 24″ D
Height: 28.5″- 42″ H
Material: Bamboo hardwood
Storage: No
Assembly required: Yes
---
The L-shaped desk is my ideal painting workstation desk for two reasons. First, the L-shape tabletop gives you more space for "work zones". You can have a dedicated painting zone, and separate assembly zone. Sure, you can use it as an office and computer work desk, too. On one L-branch is your office, and on the other branch is your "hobby".
The extra surface area on an L-shaped hobby desk lets me spread out my hobby supplies. I can organize my tools and paints without feeling cramped. This particular L-shaped desk is similar to the table model layout I purchased in my last housing move.
Of course, the standout feature of this desk is that it is an electric standing desk. The entire height of the tabletop moves up and down with button presses. There are 3 preset desk heights you can choose (from 27.6" to 47.3"). The steel legs can support up to 176 lbs, which is more than sufficient for every miniature hobbyist I know
Notable Features
Table surface dimension: Inner L (inside) 23.6″ or outer L (backside) 41.3″ on both sides, and 60.5″ across the middle; angle 90-135 degrees
Height: 27.6″- 47.3″ H
Material: Laminated wood
Storage: Hooks and cable management
Assembly required: Yes
---
Simplicity with shelving is how I see this desk for doing hobbies. This is a long, rectangular desk, which has an ideal tabletop dimension for a smaller room (55"W x 23.6"D). You can dedicate an entire wall to your hobby space with a narrower floor footprint. As with the other desk designs on this list, I think the simply form allows you to use this space as you need it.
The two shelves are useful for storing your miniature hobby supplies. You can install the shelves on the left or right side. If I had this desk, I'd place my airbrush compressor and tank on one of these shelves along with other art media, e.g., varnish bottles, primers. Take a closer look.
Notable Features
Table surface dimension: 55″ W x 23.6″ D
Height: 29.5″H
Material: Laminated particle board
Storage: Shelving under tabletop
Assembly required: Yes
---
The Studio Designs Woodford Writing Desk is one of the smallest desks on this list. However, I recommend this for those of you have less room to dedicate to the miniature painting hobby. This compact desk has cool design with a shelf on the back to store and organize supplies.
Although initially designed as a computer or laptop desk for a small office space, I think the desk layout is also ideal for miniature painters looking to save space, too. You can modify the shelving to fit your needs. For example, you can move the middle section aside to the left or right to store your paints, while the top of the shelf is a great surface for safely storing freshly painted models or sub-assemblies while you work on other pieces.
If you're like me and wish you could have a monitor to watch a show or use your computer at the same time, the top shelf and cable hole in the back make this an easy setup. The entire desk is made of laminated MDF and steel and make for a lightweight, but sturdy desk that you can move around with relative ease. It's cute, it's functional, and may serve many purposes.
Notable Features
Table surface dimension: 41″ W x 21″ D
Height: 34.5″ H
Material: Laminated medium density fiber (MDF) board
Storage: Shelving on tabletop
Assembly required: Yes
---
This is a traditional rectangular desk on sturdy legs. From my view, this is one of the better, inexpensive desks that I found online that would serve a miniature hobbyist well. The tabletop is made from laminated pressed particle board (i.e., plywood). The rectangular layout sits on top of thin steel legs, stabilized with an X-frame to resist twisting.
The 47"W x 23.6"D size of the desk makes it versatile for most office or hobby needs. It will fit in most small to medium sized rooms without taking up too much space. You will be able to spread out comfortably across the desk surface area. If you're on a budget and want one of the larger desk sizes available that could serve multiple needs, this is a good choice.
Notable Features
Table surface dimension: 47" W x 23.6" D
Height: 29.1″ H
Material: Laminated particle board
Storage: No
Assembly required: Yes
---
The problem with some L-shaped desks is that they fit best only in specific corners of a room. This is because some L-shaped desks are asymmetrical. One side of the "L" is longer than the other. As a result, depending on how you setup the L-desk for your hobbies, you may have more space available for your right side than your left.
This L-shaped computer desk is no different and is a double-edged sword. The asymmetric desk layout design gives you tons of working surface area for hobbies. But, at the same time, you need to be more careful about whether this desk will work in your available space. As a miniature painter, I would love to spread out with this kind of work area.
The included shelf is great for storing your hobby supplies, e.g., airbrushing compressor equipment or other less frequently accessed media. This inexpensive, large desk could be the ideal hobby space for someone who can dedicate the space for their work and play.
Notable Features
Table surface dimension: 59.1" W x 47.3" D
Height: 29.1″ H
Material: Laminated particle board
Storage: Shelving module
Assembly required: Yes
---
In my opinion, this is the best desk for the miniature painter who wants a multipurpose hobby table. The style is modern and simple and highly functional. Combine the traditional rectangular layout with a 3-tier shelving system and you have the ideal desk for painting miniatures and working with other small scale hobbies.
The table surface area is long for spreading out (47 inches) and sufficiently deep for keeping your paints organized right in front of your work area, with many of the highest rated rack systems. You can also clamp a hobby lamp (here's my favorite lamp) on the top shelf or on the side of the table for the ideal lighting over your hobby workspace.
As a desk that's as functional as this model, you'll find that it doesn't take up that much space in a room at all. It's a compact, budget-friendly option for most miniature painters and hobbyists. If you're unsure of what desk to get, want to avoid the budget big-box store versions, e.g., IKEA, Walmart, Target, I highly recommend you consider this desk.
The only limitations I can see with this hobby desk option is that it requires assembly (most desks do) and could be hard to move around once assembled. But, a dedicated hobby desk this is great!
Notable Features
Table surface dimension: 47" W x 23.6" D
Height: 29.5″ H
Material: Laminated particle board
Storage: 3-tier shelving system
Assembly required: Yes
---
More suited to a utilitarian space, like a garage, basement, or other dedicated "work area", this stainless-steel workbench comes with everything a hobbyist or miniature painter may want. It comes with a built-in LED light above the work surface, too. Though I would not recommend this lighting system as your only illumination source for painting miniatures.
The workbench also includes a 6-outlet power strips with dual USB charging ports. For the miniature painter, this is awesome. Power your airbrush compressor, your Dremel, your hair dryer, and paint mixers. While you're at it, you can keep you tablet and smartphone powered up for those long nights when you need some tunes, a podcast, movie, or whatever to keep your mind in the flow.
You should not overlook the back peg board. The workbench comes with 23 hooks for hanging your tools, e.g., visors, bits buckets. You can even find 3D printable shelves for paint storage that would work with this peg board. At the very top of the unit, you will find a shåelf that runs the length of the workbench for storing other miscellaneous hobby supplies.
The table of the workbench is bar table height (37.5" high), meaning you may want to stand on a foot pad, or sit on a tall chair like this wheeled swivel stool to comfortably use the table for long periods of time.
The two drawers have an interior lining to dampen the clang of tools and other supplies while opening and closing. Both drawers slide on ball-bearing glide rails for smooth operation. The entire structure is made of stainless steel except for the tabletop, which is hardwood and durable. You can attach vices and clamps, and support other hobby equipment, e.g., vortex paint mixer and shakers.
If you want it all, can live the standing desk height only, and the utilitarian aesthetic (though you can find a different, more affordable version here), this is an awesome hobby workspace for miniatures and much more.
Notable Features
Table surface dimension: 48" W x 24" D
Height: 37.5″ H
Material: Solid hardwood
Storage: Two drawers under tabletop; peg board with hooks, and cantilever top shelf
Assembly required: Yes
---
Summary Table: 10 Best Miniature Painting Desks
Conclusion
The best miniature painting and hobby desk or table will depend on your available space, personal ergonomics, and the scope of your hobby. I hope this article gave you some useful ideas of how to start or upgrade your hobby workspace. Are you looking for a new desk for painting miniatures? Do you want to upgrade your dedicated hobby space? Please let me know in the comments if you have any ideas or feedback.
Happy miniature painting!
---