---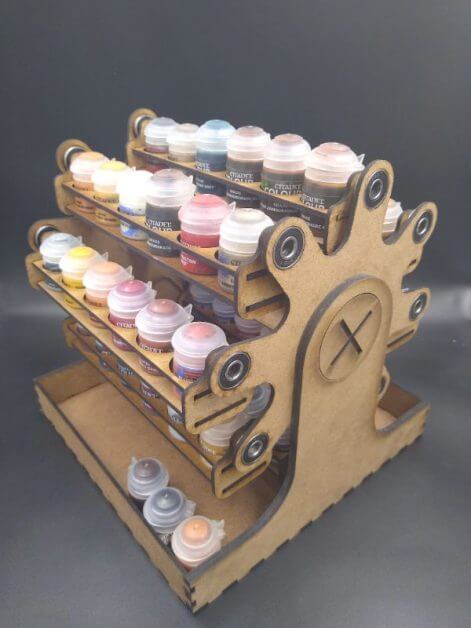 In a Hurry? See the Top 3 Editor's Favorites 🏆
Falling in Art Large 6-Tiers Paint Storage Display Rack (Huge capacity)
---
What is the size of my hobby model paint bottles or pots?
Check out this helpful table of the bottle and pot dimensions and sizes for the most popular model hobby paint brands.
Use this information to fine tune your personal organization solution. Or, if you're a handy 3D modeler or good with MDF construction, you can use this info to help you with your DIY hobby paint rack.
These are estimated dimensions. You may want an organizer or miniature paint rack that has a bit more room than the actual paint bottle size (to avoid a tight squeeze).
For example, if you're looking for a Citadel paint rack, you could just use the dimension of Citadel paint pots and find a paint rack that fits.
---
15 Best Hobby Paint Storage Racks and Organizers
The following are my recommended top 15 best hobby paint storage racks and paint display organizers.
Simplicity beats complexity every time. This model paint rack holds up to 64 dropper bottles of paint. These may be Vallejo or Army Paint hobby paint brands or similar sized bottles. This is constructed of MDF, laser cut, and requires some assembly. Utilitarian with a small risk of tipping over.
The GameCraft Miniature Paint Rack is a great value, hassle free hobby paint storage rack. Finally, if you're looking for an alternative Vallejo paint rack, this would be a great choice.
---
The Tickas wooden paint storage rack will hold several different sized paint bottles, up to 58 bottles. It also has 22 slots for vertical storage of brushes and other tools, like hobby knives or sculpting tools. The drawers on the bottom can hold all sorts of things you may want to store. Things like tape, glue, or spare accessories will fit nicely under this rack.
---
I love the idea of a vertical, rotating paint storage system. If you're looking for a paint holder that takes up very little space, but holds a lot of paint, this is an amazing solution. Looking at this paint rack closely, this rotating essential oil display stand is the most efficient storage solution I found. It will fit a lot of paint bottles in a very small space on your desk. Use it a Vallejo or Citadel paint rack, or store other art media alongside your paints.
Every bottle is visible and rotating the rack will let you reach for the paint you need.
It may not fit the larger bottles, and is ideal for dropper bottles, e.g., Vallejo, Reaper, Games Workshop, or Army Painter model paints. It will hold up to 120 bottles in 5 rotating layers.
---
This is similar to the Tickas wood display rack (#4). Except the Togush storage unit has a bit more display storage room as well as a double layer of drawers. The material is laser-cut MDF. This will hold up to 32 larger sized paint bottles (or smaller ones with wiggle room). This rack will also work well as a Citadel paint rack, or if you're a Vallejo paint collector, could also work as a Vallejo paint rack.
---
The Ophir Wooden paint rack is a modular system designed to fit alongside other Ophir storage unit products. This modular unit will for example. This is similar to the Tickas storage rack as well, but with a bit better construction. Laser cut MDF make this light-weight and durable.
The rack has 16 large holds, 42 smaller holes (for up to 58 bottles or pots of paint), and 22 mini holes for vertical tool storage.
The under-rack cabinets will fit other tools like clippers, pliers, or other doodads you need within reach. As with Togush rack, this will work great for Citadel paint pots or Vallejo paint bottles.
---
The Bonarty Wooden Paint Rack Stand uses the classic waterfall design with 10 shelving tiers. It can hold 75 bottles of paint (up to 33mm in diameter). Check table for your paint size. The drawback of this larger paint rack, however, is that it requires a bit more desk tabletop space. It will extend outward (from the back) about 13″ (or 35cm).
This means it will likely occupy the space of a small shoebox. You could use the space under the rack for long-term storage of things. Maybe you have an excess supply of flocking material, or primer you don't use often. It could all fit nicely under this rack.
---
Why stick with MDF material? Acrylic display racks are a great alternative if you're looking for a more stylish-looking paint rack. The Gospire 6-tiered paint rack will hold 66 bottles of your favorite model paint (or more depending on the bottle size). The clear acrylic stand makes it easy to see all your paint colors even in dimmer light.
RELATED: FULLY TESTED CLEAR HOBBY RACK FOR MINIATURE PAINTS (MAJOR BRANDS)
Sure, this acrylic rack is marketed for storing and displaying nail polish, but it's all the same to us! This works great for bottles of any of hobby brand, e.g., use it as a clear, easy to see Citadel paint rack organizer.
In contrast to MDF, a side benefit of acrylic paint racks is the ease of cleaning. Use soap and water, and wipe. Easy!
---
Similar to the Gospire acrylic paint rack (#7), this acrylic display organizer will hold your model paints in a tiered waterfall style system. All your paints will be visible and within easy reach. Without specific holes or slots, you'll have an easier time removing or inserting your bottles into the organizer.
This is a large paint rack that will hold up to 126 bottles (5ml sized), or 84 bottles (10ml sized). Of course, this will take up more room on your tabletop that smaller racks, but (hey) you've got a lot of paint. Where else are you going to put them?
---
This MDF/wooden paint bottle rack is a practical storage organizer that will hold up to 62 bottles. It also has smaller hole-slots for vertically storing tools, such as brushes and other hobby tools.
The laser-cut MDF isn't the strongest kind of construction, but it will do the job. Some assembly will be required when you receive this paint rack. Some reviews have mentioned that the tolerances on the cut-outs may be off. So, you may need to do some shaving and sanding to get the parts to fit snugly. The system is moudular with other racks from the same company.
---
The GameCraft Miniatures Paint Rack has a smaller form factor than other step-design or tiered paint racks. This is excellent for hobbyist looking for a way to keep their small collection of paints visible but organized. This rack will hold up to 20 Vallejo, Reaper Series, or Army Painter brand dropper bottles.
The neat part about this rack is that it is modular. You can have multiple racks placed next to each other for a neat display arrangement. Or, place these around your tabletop however you need them. Simple, functional desktop storage for your dropper bottle model paints.
---
The Hex Hive paint storage system is probably the most innovative design I have seen. While not inexpensive, it is fully modular down to a single "hex slot". You can literally build your storage organizer into the shape and size you want.
For example, if you wanted, you could make this super tall and narrow. Or, you could make this wide and short. With a small footprint, the Hex Hive won't take up much of your desk space. Ingenious! Assembly is easy and requires no tools. The Hex units are made of durable, smooth plastic, and slide right into each other with easy-fit rails. Importantly, each slot will fit bottles up to 1.5″ in diameter (3.8cm).
Check the out 40 slot build here!
---
Vallejo is one of the most highly-respected hobby companies in the world. This corner paint rack module is reflective of why Vallejo holds the upper echelon of products for hobbyists and artists. It is a sturdy rack that perfectly holds a variety of Vallejo-sized products, including their dropper paint bottles, washes, and dry pigments. A set of smaller holds in the back of the rack allow you to store brushes and other tools.
And, this module isn't expensive. Fairly priced compared to other MDF constructed racks, this is a great product. Combine the Vallejo corner paint/hobby rack with other modules and you can enlarge your paint storage capacity. This corner module will hold 44 paint bottles, 8 large thinner bottles, and up to 26 paint brushes.
---
This paint station has a huge storage capacity. It can store up to 98 bottles of paint within easy access (Vallejo or Army Painter dropper pots). Using a vertical design, this rack will display your paints in way that will help you identify a paint color/labely, quickly.
Interestingly, the MDF shelves are removable for some internal modularity. You have slots on the side for storing paint brushes and other tools. As with other MDF racks, some assembly is required.
Who is this for?
This is great for hobbyists who already have a large collection of Vallejo, Reaper, or Army Painter dropper pots/bottles. The vertical design ensures that you'll maximize your tabletop working space while maintaining your paint rack storage capacity.
---
The Vallejo front module paint stand works alongside the corner module (#12). Combine these Vallejo paint rack modules together and form a much larger and versatile painting station. This is one of the best organization solutions for someone who already has, or plans to have, a large collection of hobby paints, tools, and art media. Other reviews hold the Vallejo paint rack in high regard.
This paint rack will hold 60 paint bottles, 8 large thinner type bottles, and 22 paint brushes along the back edge. Some assembly is required.
Who is this for?
This paint organization rack for those who are looking for a neat modular design that allows you to expand your paint collection. The tiered, step system also presents paints and media that make it easy for you easily identify what you're looking for. This is a good balance of paint storage capacity and tabletop footprint.
---
The Falling in Art 6-Tier Paint Storage Display Rack is unique from other organization solution because it doesn't need a desk. This freestanding storage system has wheels so you can move it to wherever you need it to be.
Do you work on multiple work benches, rooms, or want to keep your desk completely free of clutter? Then, this organization paint rack is for you. It's more like a piece of furniture than something you simply place on your hobby table.
Each of the trays in this rack can be adjusted according to your needs. The shelves can hold up to 15 lbs (~6.8 kg)! The cool part of this rack is that it is useful beyond just your hobby stuff. It can hold large paint cans, aerosol spray cans, and other equipment.
You could even hang some clamping swing arm lamps to this for added utility.
---
Why do you need to organize your hobby model paints?
I've been in the miniature and model painting hobby for a long time. It's taken me years to figure out how to arrange my workspace. My space isn't perfect, and I have a feeling it'll change and adapt as time goes on.
Look, I understand that not all of you have the luxury of a dedicated space. I'm also not advocating that you need to be obsessively compulsive about organization. Just centralize your work area a little and place what you need most close at-hand.
Efficiency
Efficiency is the ability of something to avoid wasted effort, resources, and time.
One of the best ways to improve efficiency in any activity, including your hobby, is to keep your supplies organized.
If you don't waste time looking for your tools or paints, then your productivity will increase.
Simple. In fact, it is like that 87% of you may agree that a well-placed paint rack can improve your efficiency (source).
Organize your hobby things in a centralized fashion, placing your most-used paints within visual range, and you'll jump into (and out of) your hobby easily. Painting and model kit building will be more enjoyable!
If you're painting Games Workshop models, for example, a Citadel paint rack that stores the flip-cap pots within easy reach and visibility will free you from trying to find that exact model paint color.
Mental Health
Stress sucks. Don't you hate it when you have to dig around piles of paint pots to find that perfect color?
A cluttered desk can add to stress, frustration, and ultimately harm your mental health.
An organized desk can reduce anxiety and depression, according to the Harvard Business Review (source).
If you're already a person with compromised energy levels, then staying organized with a well-chosen storage solution will keep your painting sessions longer and more comfortable. You'll look at your hobby space and feel more relaxed.
Productivity
To some people, productivity is a dirty word. It has the connotation of work.
Well, is that true? Is your hobby work?
If so, maybe it because you're so dang messy! You spend most of your first few minutes re-organizing your things from the last session. Because you don't have a great place to put it all, you end up just leaving it out on any flat surface you can find.
Flat-surface syndrome is a disorder facing many in the hobby community.
Okay, I made up flat-surface syndrome. It's fake.
But, you know what I'm talking about!
If all the excess flat surfaces around your hobby space are covered in junk (useful or not), then it's time to get something to store it all. A hobby paint storage unit/rack or display stand can make all the difference.
If you're trying to get a lot of models painted, like those horde armies, then staying organized will be a major boost. Speed painting is great, but it can only do so much if you can't find your stuff to start painting!
Even if you have a spectacular desk lamp and you can see that wonderful disaster that is your hobby desk, you're not going to want to do anything. The disorganization is a speed bump.
Stop letting your mess turn your hobby into a job.
Ergonomics
Ergonomics deals with the science of making your workplace fit your unique need. Proper ergonomics increases efficiency and productivity.
Most importantly, ergonomics will improve comfort!
Don't believe me?
Take a look at the interior of your car dashboard. Imagine if your speedometer was located just too far to the left or right. Neck pain!
Or, what if your gear shifter was a tad too far back behind your shoulder (or too low)?
Ouch, wrist and carpal tunnel syndrome.
Good ergonomics is the key to an enjoyable hobby, but also to any safe and healthy activity. Put ergonomic science to work. Get a hobby station or storage unit for your hobby space.
---
What should you look for in a paint organizer rack?
Paint storage capacity
The best paint display racks have good paint storage capacity. They can hold your burgeoning paint collection with space to spare.
If you missed it, check out the paint bottle dimensions in the table here to see how many paints your rack can hold.
MORE: COMPLETE MODEL GLUE GUIDE FOR MINIATURES AND SCALE MODELING HOBBIES
Tabletop size
Some paint storage units require a lot of space. Others, not so much.
A paint display rack will have a tabletop footprint that you need to consider more if your space is limited. Remember the flat-surface syndrome I mentioned above?
Well, don't let your need for order add to your (mental) disorder.
Find a storage solution that fits nicely on the boundaries of your hobby space.
Tall paint racks are great for saving footprint space, but may be cumbersome if you have to reach far to get the bottle you need. I personally prefer tiered or stepped paint storage racks. They let you see what you need right in front of you, and are a good balance of footprint size and height.
For those with limited space, but want more paint capacity, you can consider a rotating storage rack. They are great for holding a lot of paints without taking up too much room from your desk.
READ MORE: BEST PORTABLE HOBBY WORKSTATIONS FOR PAINTING MINIATURES AND MODELS
Modular design
Look, we all know that a paint collection never shrinks.
I started my mini painting hobby with 3 colors (Citadel paint). It has now grown to over 300 or so bottles of paint from various paint brand companies. I even have a huge collection of art media, e.g., matte varnishes, primers, as well as brushes and modeling/sculpting tools.
You'll find that your need to organize will also need to grow with your hobby stuff. Many paint rack and storage solutions are modular. They are designed to fit together and grow as your need increases. I like these for their simplicity and utility.
Some even have drawers for storing non-paint items, like hobby instruments and tools. Stand alone brush holders are fun and useful, but when they are built into your paint rack, they keep things tidy.
Price
The better the paint rack material, the more expensive it will be. The most inexpensive (and common) paint display racks are made of MDF (aka medium density fiber board). These are cut with a laser into different parts.
When you receive and MDF storage rack, you'll likely have to assemble them. A little PVA glue, a sharp hobby knife (to help things fit properly), and being able to follow instructions will go a long way to making this process easier.
If you want to skip the self-assembly process for your miniature paint rack, you can get plastic or acrylic storage units. These are generally sold in a single piece and are pretty much set and forget.
The most expensive storage units are either branded by a well-known company (check out the HobbyZone paint storage racks), or have moving parts, like in the rotating or spinning racks.
Of course, if you have a 3D printer, you could print and construct your own DIY paint rack.
If you're into handmade hobby products, Etsy as a huge listing of paint display racks and storage solutions. Check them out here.
---
Tangible Day on YouTube (Miniatures and More!)