I know Chaos. As an experienced hobbyist, wargamer, miniature painter, anything creative really, I am well-versed in clutter. I'm messy. But, I can also tell you that organization and order is the better Life path. A clutter-free environment not only enhances creativity, but also saves you time. In my relentless quest for efficiency and the ideal storage solution, I am always searching the next best thing.
In this article, I review the Bucasso Hobby Tool Storage Rack, which I've had the pleasure of testing in my workspace.
Disclaimer: Bucasso provided me with a free demo unit of their Hobby Desktop Storage Rack. As with any review, however, all opinions expressed are solely my own and are not influenced by the company. My aim is to provide you with my true perspective, highlighting both strengths and limitations of products so you have the best information possible to make informed purchasing decisions.
---
Summary (TL;DR): Is the Bucasso Hobby Rack Worth it?
Yes, the Bucasso Hobby Storage rack (GK1) is a fantastic value at under $30 USD. It offers an efficient, compact, and customizable solution for organizing crafting tools and materials. The rack of constructed of really thick MDF (medium density fiber board), which lends to its sturdy construction and durable feel.
The rack I review here is one of several modules which combine with others in the Bucasso system to give you a wide range of versatile storage options. Although assembly is required with a bit of effort due to the tight fitting parts, it took me less than 10 minutes to complete the job. The instruction manual is clear and easy to follow. If you're a hobbyists seeking an efficient and clutter-free workspace, then I highly recommended you take a closer look at the Bucasso Hobby Rack.
READ MORE: 15 MINIATURE HOBBY PAINT STORAGE RACKS AND ORGANIZER
---
Unboxing and First Impressions
As with any product, I expect that it arrive in one-piece without broken parts, damaged boxes, or missing pieces. The Bucasso Hobby Model Tool Organizer Rack arrived in great shape without complaints.
There's no fanfare with its arrival, of course, as I greeted the simple cardboard box with a grin in how plain it looked. A simple, white labeled rectangle sticker informing me of the box's contents is all I got. Though, it is similar to how I received the Plydolex or JKB Concepts organizers.
But, we don't judge books by their cover around here.
I was pleasantly surprised how hefty the box was, and realized why. Inside the hobby rack was densely packed in a flat lay fashion with a stretchy plastic wrap. Unfurling the clear, Saran wrap-like packing was kind of fun, like taking out a Fruit Roll Up candy.
With all the parts unpacked I prepared myself to assemble the rack. Well, what was assembly like? Read on!
---
Assembly Experience: Easy*
You can complete the entire assembly of the hobby rack in less than 15 minutes. I followed the easy to visualize instructions. Every part was labeled properly, and I didn't have any trouble finding the right pieces.
Each sub-assembly came together quickly. Now, I did have some trouble with tight fitting slots. Here, I would recommend you have some sandpaper or a hobby knife nearby to shave off a bit of the material to make the job easier.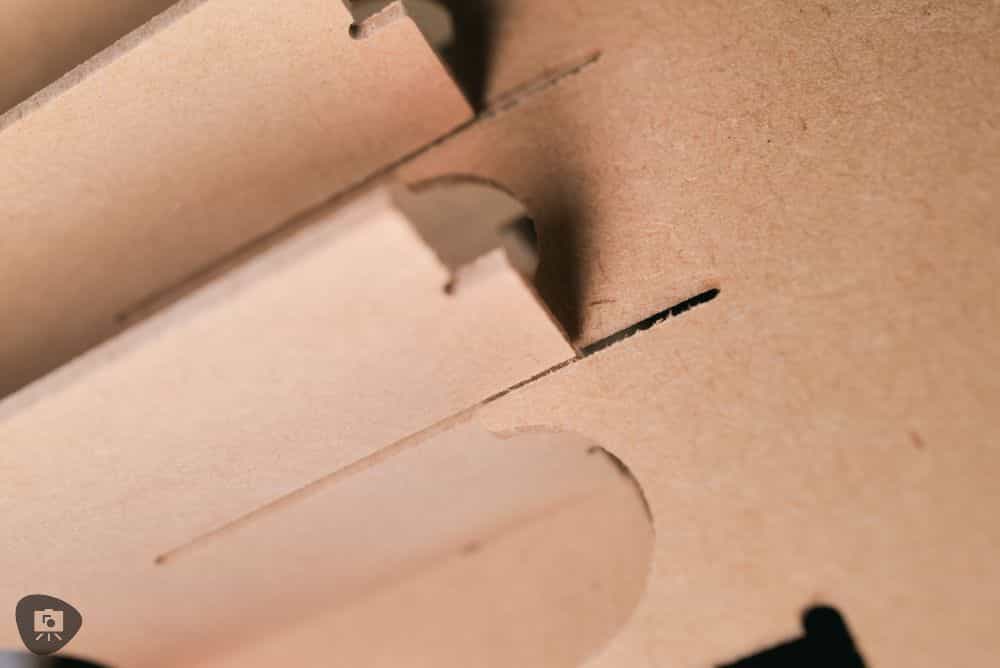 Bucasso does warn some users that the wood may expand slightly with ambient humidity*. So, don't get frustrated if the parts require a bit of elbow grease, a bit of sanding, to fit together.
The good news, of course, is that you won't need any glue. Friction keeps everything tight. You won't find any wiggling or wobbly shelves in this kit.
If you want a really permanent assembly, then a bit of wood or PVA glue can help. A tiny dab is all you'll need.
---
About That MDF Material and Design
You'll find medium fiber density (MDF) board is a common material for hobby storage and organizer racks. It is lightweight, strong, and affordable (for manufacturers and users). For those who are environmentally conscience, MDF is also eco-friendly, and biodegradable.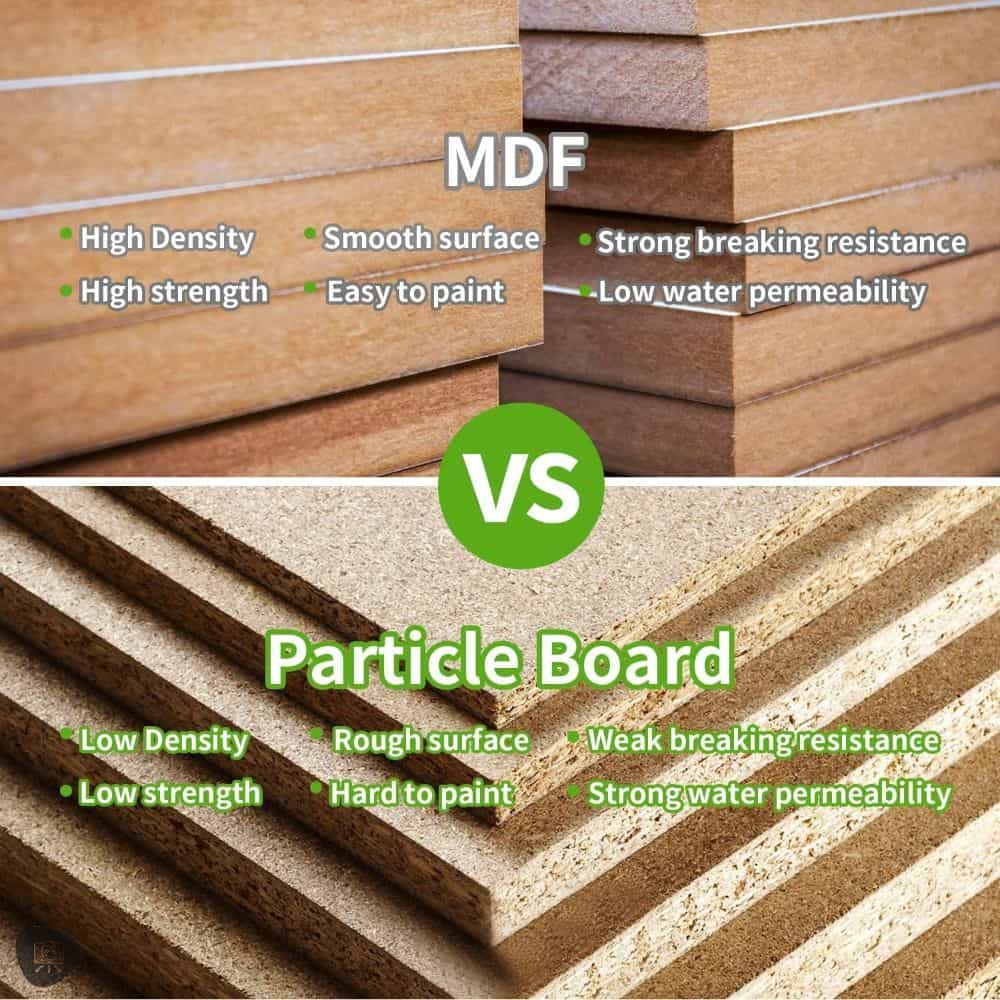 RELATED: GREAT WAYS TO REPURPOSE YOUR EMPTY PLASTIC KIT SPRUES
For those of us who like to customize things, I'll also note that the Bucasso MDF shelving material will take to primer and paint. While I haven't primed my copy of the rack, yet, you will need a few coats of primer for proper paint adhesion.
The MDF material is porous and will absorb much of the color if there isn't a good surface undercoat to seal the material. I would recommend a cheap automotive primer if you're planning to paint your MDF shelving unit. For a more natural look, you could also simply clear coat the MDF with a wood furniture varnish or stain.
Design and Construction
As you have seen in the photos, the rack assembles through mortise and tenon joints (e.g., a lock and key design). This keeps things locked together.
The entire systems has a moderately sized footprint and will take up desk space equivalent to a standard sized shoebox (~30x15cm), and stands about 30cm tall. It's a veritable 3D rectangle and I think the rack has a pleasantly simple and compact aesthetic.
Dimensions of the Bucasso Hobby Tool Organizer
| | |
| --- | --- |
| Desktop Footprint | 300x150mm (11.8 x 5.9″) |
| Height | 300mm (11.8″) |
Note that this is the GK1 model (1 of 9 styles), which is part of the Bucasso GK series of modular organization racks for hobbyists, crafters, and miniature scale modelers. Each of the rack modules have similar design motifs and constructions mechanics, which I think works really well.
The Bucasso system has a more solid-feeling, durable construction than the Plydolex system. In defense of the Plydolex system, however, the Bucasso rack is more challenging to assemble and has less storage capacity.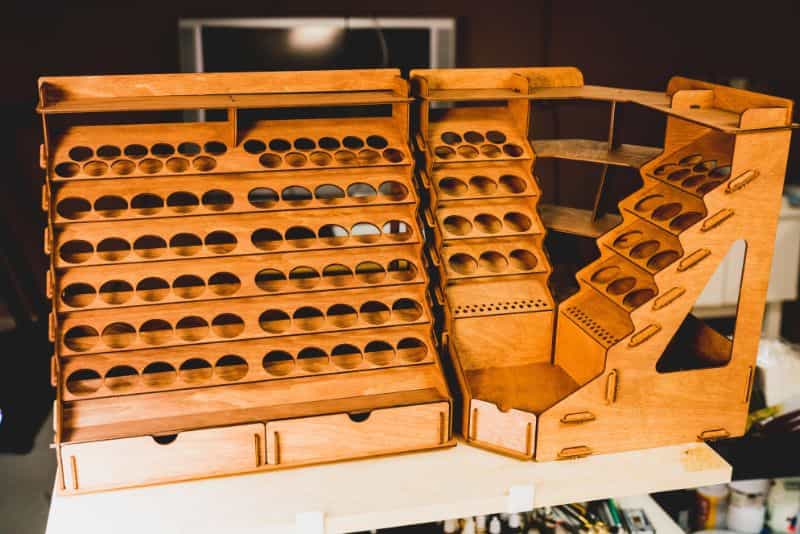 ---
Who is this Hobby Tool Organizer For? Pros and Cons
Where the Bucasso Rack falls a tad short is the capacity for it to hold large amounts of any one type of thing. This is likely due to it's varied slotted compartments. As a scale modeler, you will find a spot for organizing almost anything you can imagine: Plastic card, tape rolls, pots of paint, and tools (oh, it has tons of room for tools, paint brushes, tweezers, pin vises, etc).
Paint and Tool Storage?
For those of us who have a large paint collection, you may want to take a closer look at your exact needs, as there is limited space for keeping your paints all in one place. Yes, the rack will store a good number of Citadel GW paint pots on top shelf, and a few on the bottom compartment. It will even hold the Vallejo style dropper bottles, too.
But, I would direct your attention to dedicated hobby paint storage racks if this is your primary need for an organizational system.
On the other hand, this is the best general desktop hobby tool organizer I've seen and used in person. The storage compartments will suit almost any type of scale modeler tool, pens, markers, brushes, and more that our particular hobby niche may require. My favorite paint brushes fit nicely in the horizontal shelving nooks–which is the ideal orientation for storing expensive kolinsky brushes by the way.
As mentioned above, while limited in capacity, the organizer will keep your favorite paints nearby and will fit Army Painter, Citadel, Testors, Vallejo, Reaper, and many other popular paint brands.
Dimensions of the Bucasso Hobby Tool Organizer
| | |
| --- | --- |
| Desktop Footprint: | 300x150mm (11.8 x 5.9″) |
| Height: | 300mm (11.8″) |
Make sure you consult with the following table to see how well your paint bottles or pots will fit in this or any desktop storage and display unit.
| Model Paint Brand | Diameter | Height |
| --- | --- | --- |
| Army Painter/Vallejo/Master Reaper Series/Scalecolor | 0.75″ (20mm) | 3″ (77mm) |
| Citadel (Games Workshop) – 12ml | 1.25" (32mm) | 1.75″ (45mm) |
| Citadel (Games Workshop) – 24ml | 1.25″ (32mm) | 2.4″ (61mm) |
| P3 (Privateer Press) | 1.2″ (30mm) | 2″ (50mm) |
| Testors Enamel Paint | 0.94″ (24mm) | 1.9″ (48mm) |
| Minitaire (Badger) | 1.2″ (32mm) | 3.2″ (80mm) |
| Vallejo wash or pigment bottles (35ml) | 1.5″ (35mm) | 2.75″ (70mm) |
| Vallejo surface primer bottles (200ml) | 1.9″ (50mm) | 5.75″ (14.5mm) |
| Vallejo surface primer (60ml) | 1.5″ (35mm) | 3.8″ (97mm) |
| Kimera color paints (*not round bottles) | *1.6″ (40mm) | 3.75″ (95mm) |
These are estimated dimensions. You may want an organizer or miniature paint rack that has a bit more room than the actual paint bottle size (to avoid a tight squeeze).
---
Final Verdict: Bucasso Desktop Hobby Tool Organizer
The Bucasso Hobby Storage rack (GK1) is a worthy investment for hobbyists in need of a compact, economical, and adaptable storage solution. Despite its size, it efficiently organizes a wide range of materials and tools, with durable MDF construction providing sturdiness.
The rack is part of the customizable Bucasso GK series, making it versatile for diverse storage needs. Although assembly may need minor sanding and paint storage capacity is somewhat limited, the rack's overall quality, durability, and utility make it a valuable addition to any hobbyist's workspace.
Pros and Cons of the Bucasso Hobby Tool Organizer
Sturdy MDF construction
Compact and efficient design
Customizable configuration (stacks with other GK series modules)
Versatile storage and access system
Ease of assembly
Inexpensive
Limited paint storage capacity
May be difficult to assemble due to tight fitting parts (may require sandpaper use)
---
Conclusion
I hope you found this review helpful. If you're looking for other storage racks that I recommend for hobbyists and miniature painters, take a look at these related miniature hobby storage articles.
Thanks for reading! If you have any questions, comments, I'd love to hear from you!
Happy hobby time!
Tangible Day on YouTube (Miniatures and More!)