Hobby paint organizing can be a challenging task. I have hobby paint in every drawer, under the bed, and it's spilling out of cardboard boxes under my desk. My brushes are in worse places! As a commissioned miniature painter, wargamer, and blogger, I've gathered a huge collection of hobby supplies. Just look at my desk! I know from experience that we never easily find the right color or paintbrush unless its right next to us, which creates a mess!
Fortunately, Jerry Harris at JKB Concepts literally heard my cry for help, and sent me an awesome acrylic paint organizer and paint brush holder to try out.
In this article, I share my first-hand experience with this organizer and brush holder over a period of three months working on a large commission project. Jerry sent me the acrylic paint organizer and paint brush holder for this review, but my opinion is all my own. Though I will say I only accept review products that I think I can use well for my work.
Did it meet my expectations? Was it love at first sight? Did it improve my miniature painting efficiency and make my painting sessions more enjoyable? Find out what I think about this paint organizer and brush holder!
---
Summary: Is The JKB Concepts Brush Holder and Paint Organizer Worth It?
The paint and paint brush organizer, by JKB Concepts, is an excellent value for its features, aesthetic design, and durability. When you compare their organizer with other brush holders and paint organizer display racks, the JKB Concepts organizer is on par or superior to higher end products.
In contrast to laser cut MDF (i.e., a type of wood material), the clear acrylic material of the JKB Concepts organizer lets you see paint labels, and adds a minimalist, but sophisticated aesthetic to your hobby desk
The brush holder with supportive beads is ingenious and unique
The beads with the holder give you the flexibility to stand brushes vertically (which is the best way to store expensive sable brushes), and unlike horizontal brush holders, this won't take up much desk space either
You can store nearly any sized brush, length or diameter, in the holder and retrieve them with ease; it's fantastic
Overall, I highly recommend the JKB Concepts holder. You can take a closer look at their webpage or buy the organizer on Amazon. For a full user review, read on below!
---
What is a Good Paint Rack and Organizer, Really?
Here's my quick word on what makes a really good paint rack and organizer for your hobby desk. When you're looking for the best organizer for your particular miniature hobby needs, e.g., desk space or whatever, make sure you consider these key points.
Paint and brush storage capacity
Tabletop footprint
Design and aesthetic
Price
Key Features of the JKB Concepts Hobby Organizer Rack
The JKB Concepts brush and paint storage rack is made of crystal clear acrylic. With the package you get the paint display rack and the brush holder with support beads. The paint rack has 5 trays (each is 12.25″ long x 1.38″ deep) that will fit a variety of paint bottle and pot sizes (see more about paint capacity and fit below). The brush holder is unique in that it uses colored pewter beads to keep your brushes vertical and seperate (which makes them easy to see!).
The rack won't take up too much room your miniature painting hobby desk, and has the surface footprint of a normal shoebox. You'll have plenty of extra space to work and store other things on your tabletop. The acrylic is durable, so you can easily move this around, too.
A lot of other paint brush organizers and storage racks are made of MDF or other laser-cut materials. The problem with these is that they conceal your paints behind an opaque "wall", so you often have to pick up your paints to find out what colors they are.
Not so with the JKB Concepts rack. The clear acrylic is perfect for seeing exactly what colors are right in front of you on your desktop. I should also mention that the acrylic material looks great on my desktop! In the few times I've had to adjust the shelves or move things around, the acrylic also proved durable. Cosmetically and functionally, my paint rack is in new condition over several months of use.
Price Comparison to Other Paint and Brush Organizing Racks
The price of the rack is around $46-50 USD, which puts it on par cost-wise with some of the most popular quality paint racks on the market for miniature hobbyists, such as the Citadel Hobby Box or the Modular Hex Craft Paint Organizer.
What makes the JKB Concepts rack unique is that is designed specifically for the miniature painter and hobbyist in mind. I would also say that unlike other companies, JKB Concepts is owned and managed by a very small team. Jerry Harris (company owner) has been in contact with me over the past few months, and I'm quite impressed by his enthusiasm for creating products that truly meet our miniature hobby needs. It was refreshing to have real face go with a product.
Will My Paints Fit in the JKB Concepts Paint Rack?
Based on the dimensions of the JKB Concepts Paint Rack trays, all of the common hobby paints will fit! Not convinced? Check out this helpful table below of the bottle and pot dimensions and sizes for the most popular model hobby paint brands.
| Model Paint Brand | Diameter | Height |
| --- | --- | --- |
| Army Painter/Vallejo/Master Reaper Series/Scalecolor | 0.75″ (20mm) | 3″ (77mm) |
| Citadel (Games Workshop) – 12ml | 1.25" (32mm) | 1.75″ (45mm) |
| Citadel (Games Workshop) – 24ml | 1.25″ (32mm) | 2.4″ (61mm) |
| P3 (Privateer Press) | 1.2″ (30mm) | 2″ (50mm) |
| Testors Enamel Paint | 0.94″ (24mm) | 1.9″ (48mm) |
| Minitaire (Badger) | 1.2″ (32mm) | 3.2″ (80mm) |
| Vallejo wash or pigment bottles (35ml) | 1.5″ (35mm) | 2.75″ (70mm) |
| Vallejo surface primer bottles (200ml) | 1.9″ (50mm) | 5.75″ (14.5mm) |
| Vallejo surface primer (60ml) | 1.5″ (35mm) | 3.8″ (97mm) |
| Kimera color paints (*not round bottles) | *1.6″ (40mm) | 3.75″ (95mm) |
These are estimated dimensions. You may want an organizer or miniature paint rack that has a bit more room than the actual paint bottle size (to avoid a tight squeeze).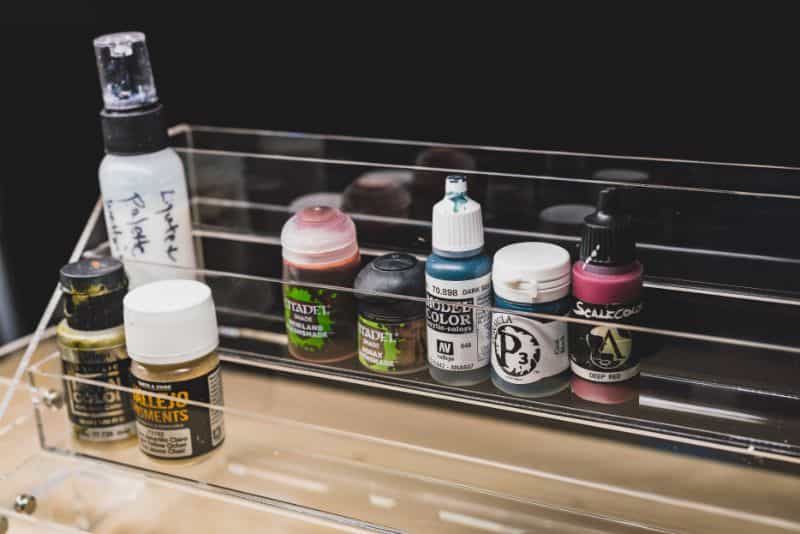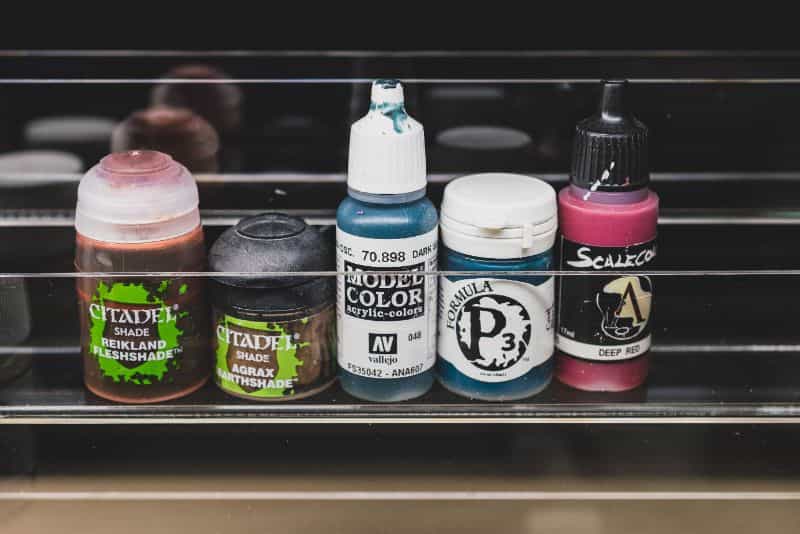 ---
Real World Use of The JKB Concepts Paint and Brush Storage Rack
When I received the JKB Concepts Paint Organizer and Brush Holder, I was immediately intrigued by the size of the package. It didn't come in a big box. When I opened the package, I was met with a very well packed product with bags of colorful beads.
Picking up the pewter beads, I noted the weighty feel, smooth tactile sensation, and density. These would be perfect for stabilizing my favorite brushes upright in the accompany holder. The smooth surfaces would also reduce any chance of scratching the lacquered brush handles.
I'll note that the JKB Concepts organizer has the option to purchase the rack and organizer with or without beads. If you opt for the beads, you can choose from a variety of colors, including "Caribbean Blue", "Rose", and several others.
The Benefits of Some Assembly
So, when I opened the JKB Concepts package I noticed that some assembly was required. To my chagrin of course, I also found a personal note apologizing for the need for assembly. I didn't think this message was required, but it was a nice thoughtful gesture. Almost all paint organizers with any size to it, requires assembly.
What I don't think many realize in this case is that the JKB Concepts organizer trays are modular in this assembly design. If something breaks or needs adjustment, the way this is engineered would allow reconstruction with spare parts (if they are available).
Assembly was easy. It was a simple affair of following the easy to follow instructions with photos. Assembly screws and pins insert into the pre-drilled holes in the acrylic pieces. All you need to do is use the phillips head screwdriver (included with the organizer box) to put the entire affair together. It took me a quick 10 minutes.
Hey, and there was even a spare pair of screws and nuts, in case I dropped and lost one. Very nice and thoughtful! I put that extra spare in a plastic zip lock along with the screwdriver in my toolbox for safe keeping.

My First and Enduring Impression of the JKB Concepts Desktop Paint and Brush Holder
The first thing I look for in a paint organizer when I review them is how well they fit my paints and does it make my life at the hobby desk easier and more enjoyable.
In both cases, the JKB Concepts organizer works great. It fit all the paint bottle and pot sizes in my vast, vast collection. I mentioned this fact above.
You can see the paint labels easily through the crystal clear acrylic material. The paint organizer does not wobble, shake, or buzz on my desktop (as some hard acrylic material might with any movement). The organizer is sturdy and exudes a minimalist, but highly functional aesthetic.
Build Quality
Upon closer inspection, all of the manufactured cuts in the acrylic, the side walls, including the holes for the assembly screws and pins, have really tight tolerances. Every part sits flush with its neighbor.
Pewter Beads for the Brush Holder
The amount of beads you get are the perfect amount to fill the included brush holder, which has three compartments you can use at your pleasure, e.g., for brushes, or other hobby doodads on your desk.
The advantage of using beads to hold your brushes upright is that the vertical position is ideal for storing expensive sable brushes without damaging the bristles. Although horizontal brush holders work great, too, the ingenious use of beads keeps brushes visible and accessible. It was easy for me to retrieve the brush I wanted without fumbling with other brushes.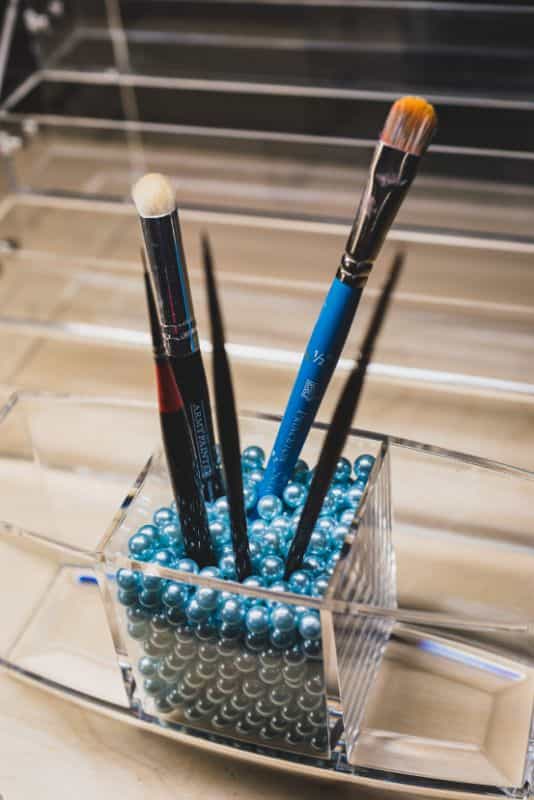 The beads in the holder also held brushes of any size that I put in there. Large, short, stubby brushes all fit snug. Putting brushes back into place was also kind of fun. The clacking beads gave an audible finish to every painting task–a nice touch in my opinion.
Fit and Function: How Does the Rack and Holder Look on My Desk, and is it Functional?
My hobby desk is messy. This is due in part because I'm always working on a project and I have too much stuff I need nearby to get my tasks done.
But, it doesn't matter whether you have a lot of paints or a small, but growing collection, a good organization framework on your hobby desk can help you stay productive and enjoy your hobby time.
I identified two places on my desk that needed help, and wanted more openness to my desk. I have Citadel pots strewn on all the flat spaces on the desk shelving. This took up an excessive amount of unnecessary flat surface. My brushes lying horizontally didn't help, either.
Setup and Display of the Paint Organizer and Brush Holder
Taking the Citadel paint pots and Vallejo washes (in the larger bottles), I put them in the JKB Concepts trays. They fit nicely. The whole thing assembled looked wonderful, and I much preferred how this appeared than my other options. Maybe, some of the portable hobby workstations I reviewed had similar functionality as the JKB Concepts paint trays, but they lack the great open space aesthetic.
How Does the Organizer and Holder Look on My Desk?
I put all the paint brushes in the bead holder compartments. Immediately, my desktop space opened up! It was quite the change. I have room for spreading out my miniatures that I was working on. I gained both depth and width in the open working surfaces on my desktop. And, I think (this is just my impression), my entire workspace looked "brighter".
It is kind of amazing how a simple shifting and movement of things around you into more ordered compartments can change the way a space feels.
Let's not ignore that part of the fun of miniature painting comes from how simple it is to dive in (and out) of whatever project you're working on. Keeping your clutter to a minimum makes this barrier to hobby time much lower.
Summary of the JKB Concepts Hobby Paint and Brush Organizer
Pros
Aesthetically pleasing
Great size for holding a lot of paint bottles and pots
Easy to see paint labels
Almost all types of popular brand hobby paints fit easily
Supporting pewter beads are colorful and functional for holding brushes vertical
Cons
Some assembly required
Pewter beads may be a choking hazard if you have very young kids
For large paint collections, you'll want more storage rack space

Final Thoughts
I've been painting miniatures for years, and paint organization has always been a problem. I found the JKB Concepts paint rack to be aesthetically pleasing while providing ample storage space for my hobby paint collection.
This paint rack makes it easy to identify which color of paint each pot holds because they are all visible on display! With three compartments you can use at your pleasure (for brushes or other items), the brush holder will help keep your workspace looking clean and organized by freeing up desk space that is often cluttered with tools. The pewter beads holding vertical brushes make retrieving them very simple, and does so without taking up any extra surface area on your desk.
Overall, I love this paint rack and I expect it to showcase on my hobby desk for years to come.
Do you have a hobby paint collection and brushes that need better organization? What are you currently using? What do you think of this review of the JKB Concepts organizer? Let me (or them) know what you think!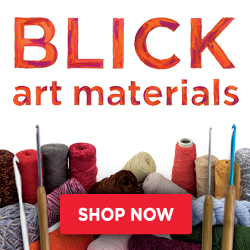 Tangible Day on YouTube (Miniatures and More!)