So you're upgrading your hobby space. You want it to be more than just a place where you store your miniatures, paints and supplies. You need the perfect atmosphere for productivity and focus. What is the ideal hobby space for painting miniatures, working on scale models, or simply a dedicated area for making and creating your art?
In this article, we'll look at what makes a cozy and productive hobby space. The information gathered here is a curated look at what the community has put together with a few flairs. Of course, as with any personal space, it's important to tailor your setup to best fit your needs.
---
Key Points (TL;DR)
A dedicated hobby or painting space is personal and will take time to discover
Using modular organizers and furniture pieces allows your hobby space to evolve with your skill level and growing needs
A miniature painting desk doesn't need to be large if you have easy-to-reach storage nearby
The best lighting is natural sunlight, so try and setup near a large window (if not available, try and get a full spectrum LED task lamp)
Ambience and utility are two features you should optimize in any ideal hobby space
Try to repurpose existing furniture and supplies so you can work within your budget
---
Other Helpful Links For Creating the Ideal Hobby Space
---
Warning: You Will Change Your Mind
My hobby space has changed many, many times. Why?
Well, my needs changed because art evolves and it was important to have a workspace that changed with me.
As your skill set develops, so will the tools and hobby supplies that help you create whatever you're doing. A dedicated painting space is a misnomer, in fact, as you'll find that even your hobby desk and won't stay the same.
Your personal preferences will shift. For example, although a spare bedroom is your ideal spot for a while, this too may transform to meet the needs for whatever hobby work you're doing.
---
Plan for Organization and Flexibility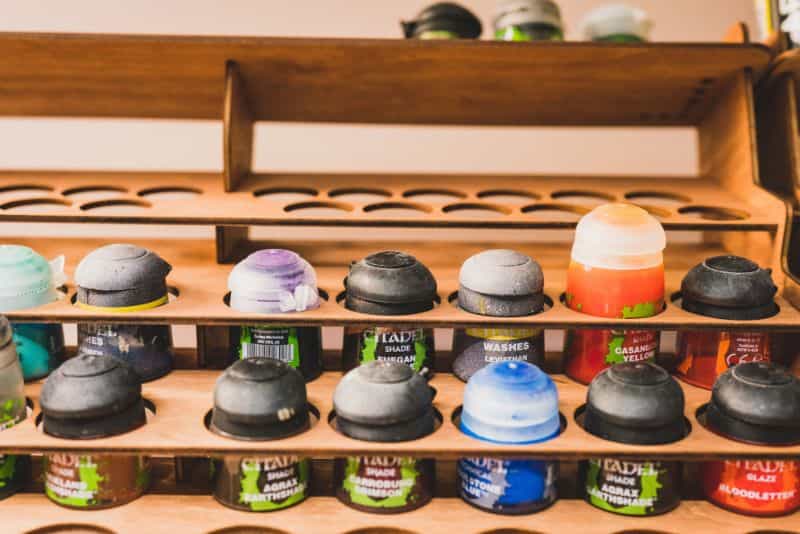 For this reason alone–growth–I highly recommend you consider creating an organized modular workspace.
For painting miniatures, this may mean avoiding the use of any heavy furniture that is hard to move around. It could also mean that you avoid relying on embedded room light fixtures; you know, the kind that you can't move or change out.
Be Planted, But Going Places…
Other ways to ensure that your space can grow with you is to create a flexible setup that allows for easy access, organization and storage of your supplies and tools.
Depending on the size of your space, this could mean finding smart furniture pieces or organizing components in different ways.
Hidden drawers or overhead bins could become important as your collection of miniatures, paints and supplies grow. Clear acrylic paint organizers are an elegant storage solution. And if you like to work with spray media, e.g., airbrushes, aerosol rattle can paints, then you'll want to ensure you keep good ventilation.
At the end of the day, your space is what you make it. Whether it's a tiny corner in your home or an entire room dedicated to painting miniatures–it's up to you! Folding tables were once my go to tabletops and worked great as a hobby station.
The only two things that are universal is organization and flexibility. Keep these two points in mind and you'll be able to create an amazing craft and hobby space.
---
Do You Need a Dedicated Hobby Space to Paint Miniatures?
When most people think of a dedicated hobby space, they imagine a large room filled with all the supplies and equipment needed for their favorite pastime.
However, a dedicated hobby space doesn't have to be huge–It can be as simple as a small corner of your bedroom or home office. The important thing is that it's a space where you can focus on your hobby without distractions.
It's kind of like building a good relationship.
Dedicated hobby spaces can be extremely beneficial for anyone who enjoys hobbies that require concentration and focus! A dedicated space may also have practicalities that go beyond simply give you an open flat space to work on.
Having a dedicated hobby space means that you can set up all your supplies in one place and always know where everything is. More than this, you can work freely and not worry about having to clean up after yourself. Come back the next day and start where you left off.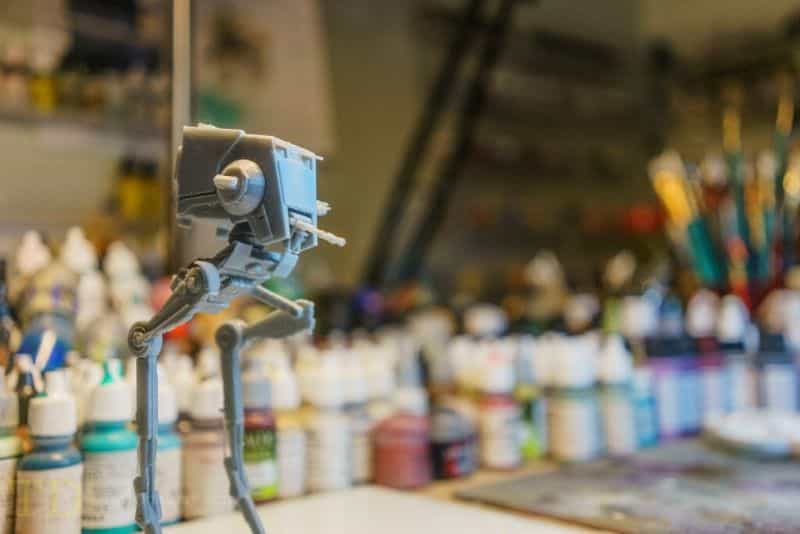 Dedicating a space for your hobby escape is where the fun really begins. You can customize the space to suit your needs and make it as cozy or vibrant as you want. Plus, having a designated area for making art can help boost creativity and productivity!
For myself, I know I like to work on my miniature, assembling, what-not, for long periods of time without taking over the kitchen table or other important, multi-use areas. If you're serious about your hobby, even a little, a dedicated hobby space is definitely worth considering.
Staying Organized with Convenient Storage
I know for myself that I am always looking for extra storage compartments to keep my stuff organized. The storage problem gets worse as you gain experience and collect all the other supplies you learn to use (or simply want to play with).
You can't have too much space for spreading out. Miniature hobbies tend spread and grow, creeping over every surface like ivy. How much space it all takes up becomes irrelevant as you'll find that the same space that was fine for you a while ago, no longer works.
More space, often means more fun and less need to dig around to find exactly what you need. But not everyone has that option.
Computer desks, for example, aren't the ideal hobby spot because they tend to be narrow affairs and your storage ends up going into the vertical space (e.g., bookshelves, cabinets)–which may be okay, but hanging things from your wall could be hard to reach.
A miniature hobby in particular often makes organizing stuff challenging due in part to the huge amount of storage options you can find. Check out this post for more about how to use desktop organizers to make your available work area more useful and convenient.
As a miniature hobbyist, I often prefer storage areas that are within arm's reach. When I need to find brushes, pull out a wet palette, or grab specific hobby tools, I don't want to be rummaging through a drawer five paces away.
Even something as simple as a wall organizer turns vertical surfaces into a storage area.
---
How to Create a Cozy and Functional Hobby Space for Painting Miniatures
Where do you start when you're trying to create the ideal space for your hobbies? There are two main things to consider when trying to envision a place to paint minis and models, or work on hobby crafts: ambience and utility.
I'll go into more details about each below.
Ambience
You need to feel comfortable, inspired, and perhaps even emboldened when you're working on your hobby projects, so it's important to think about the feel and atmosphere of your craft or hobby space.
Think about things like lighting, color scheme, decoration, furniture, plants; anything that helps create a cozy and calming environment in which you can focus on your creative projects.
In case you were wondering, "cozy" or "comfortable" means different things to different people, but the important thing is that it should be energizing, calming, and inviting. Maybe, all at the same time.
Start by creating a space that feels like a new home–add furniture, lighting and decorations that take you places (in your mind) that is outside the reality of your daily routine. This is your escape pod, the venerated man or woman cave, to do your thing. Make it feel that way.
Utility
When it comes to functionality, think about how you plan on using the space. Is it for miniature painting those Warhammer 40k models, your scale model railroad dioramas, or for something else entirely? Perhaps, you're not sure. This is okay, too.
If you're like me with many hobby activities, then modularity and flexibility go alongside organization. Keep this in mind when organizing your space and making sure you have the right equipment for what you need.
Think about things such as storage, surfaces, seating, and task lighting. How can you store all your supplies in an efficient way that makes them easy to access?
What kind of work surface do you need to fit your projects? Do you need a comfortable chair or stool to sit on while working? How much lighting do you need to effectively work?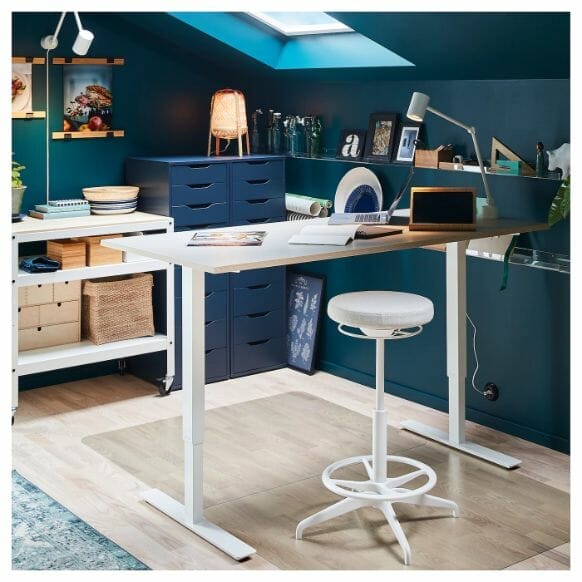 Once you've answered these questions, it's time to start putting the pieces together. While your personal preference differs from mine, or even with yourself over time, remember that functionality is a principle: Your hobby space should be useful!
---
Ideas for Creating Hobby Space Ambience
Ambience is the intangible quality that makes your space uniquely yours. It's the part of your hobby room where you can be creative and show off a bit of your personality.
When it comes to ambience, there are no right or wrong ways to go about it–it's all up to what speaks to you.
Here are four things that influence ambience in any room space:
Lighting: Good lighting is not only essential for working on your projects, but it also helps set the right atmosphere in your craft room. Any lighting setup for artists, including miniature painters, should avoid using "yellow light". Consider things like full spectrum task lighting (floor and table lamps) and natural light (windows or skylights).
Decorations: Choose decorations that make you feel at home and inspired while working—think inspirational quotes, photographs, artwork, and so on. A poster of your favorite movie scene, artist, or even a photograph can change the feel of a room without much effort.
Furniture: Obviously, it's important to have the right furniture for your projects but also think about style when selecting pieces for comfort. It doesn't matter if you like rustic or modern styles; just go with what you love and make sure it's comfy. (I tend to use whatever furniture I have around the home; but if you have the budget and space…the world is your oyster).
Sound: Last but not least, consider adding a sound system to your hobby room. Music can be incredibly inspiring when it comes to creativity and some people find that certain tracks help them stay focused on their projects.
---
How to Make Your Hobby Space Productive and Efficient (Utility)
Utility is an important factor to consider when creating a hobby room. If you want to make sure your space is efficient and productive, there are several things you can do.
First, create a plan for all of your supplies and materials—have designated places where everything should go so it's easy to find. Make sure the storage solutions you choose work for the type of projects you do and make sure they are easy to access.
For example, if you have a huge collection of hobby paints, then display organizers that sit on your work are a great way to keep everything close and organized.
I keep spare brush soap, paper towels, various Games Workshop media, and extra glue tucked away in these portable setups under my desk.
Of course, make sure you have enough space to work without getting crowded out by "stuff". Easier said than done! Until I moved to a larger space—I used to live in a tiny apartment—I had to keep things in storage and only pull it out when necessary.
Hobby Paint Bottle Sizes for Finding Your Desktop Organization Solution
| Model Paint Brand | Diameter | Height |
| --- | --- | --- |
| Army Painter/Vallejo/Master Reaper Series/Scalecolor | 0.75″ (20mm) | 3″ (77mm) |
| Citadel (Games Workshop) – 12ml | 1.25" (32mm) | 1.75″ (45mm) |
| Citadel (Games Workshop) – 24ml | 1.25″ (32mm) | 2.4″ (61mm) |
| P3 (Privateer Press) | 1.2″ (30mm) | 2″ (50mm) |
| Testors Enamel Paint | 0.94″ (24mm) | 1.9″ (48mm) |
| Minitaire (Badger) | 1.2″ (32mm) | 3.2″ (80mm) |
| Vallejo wash or pigment bottles (35ml) | 1.5″ (35mm) | 2.75″ (70mm) |
| Vallejo surface primer bottles (200ml) | 1.9″ (50mm) | 5.75″ (14.5mm) |
| Vallejo surface primer (60ml) | 1.5″ (35mm) | 3.8″ (97mm) |
| Kimera color paints (*not round bottles) | *1.6″ (40mm) | 3.75″ (95mm) |
Conserving Precious Miniature Painting Desk Space
Now, I'm able to use a large tabletop and room to spread out when I'm painting minis.
I'm able to use compartmentalization for my bigger projects, which reduces stress. I can break up my work area into "stations" for various things, like a space for airbrushing, or a place for 3D printing.
This allows me to conserve energy and focus on only the task at hand right in front of me. When painting miniatures, I don't have to worry about that "other project" I've got going in the background.
The creation of painted miniatures come first and the time painting is focused. I'm able to avoid distractions with less effort.
This may not be your situation and that's ok! You can still use smaller amounts of space to your advantage by being creative with organization and storage.
A good example here is to consider how a professional cook keeps their kitchen neat and organized. There is a space for prepping food, a place for cooking, and plating. You can do the same in your hobby room!
Finally, make sure you have comfortable furniture, lighting, and seating to work on projects. The last thing you want is a sore back or neck pain after hours of working on something.
More than this, the ergonomics of how you sit can affect how easily you can execute certain fine-motor skill techniques, such as edge highlighting, loaded-brush blending, or free handing designs.
Invest in a good chair with adjustable height settings and a head rest. A standing is also another great option if you prefer that to sitting.
---
No Plan Survives First Contact With the Enemy
A word of warning: Despite your best efforts, all your hobby room planning will fail when you actually start using it.
As the adage says, "no plan survives first contact with the enemy". That's why it's important to be flexible and make changes as needed.
You may find that some of your ideas don't work or you need to reorganize things for better efficiency. Don't let this get you down, just use it as a learning experience and adjust accordingly.
For myself, I made the mistake early on of using furniture that was heavy and hard to move around. This made it difficult to rearrange my workspace when I needed to, so now I use lightweight furniture that can be easily adjusted.
RELATED: BEST DESKS FOR MINIATURE PAINTERS AND SCALE MODELERS
Rolling carts that hold all my supplies allow me to shift priorities on the fly.
If I'm painting models with oil paints, for example, I'll grab the cart holding solvents and the related media. For assembling models or 3D printing, I'll roll a cart with my glues, adhesives, and post-processing tools, e.g., gap fillers, epoxy agents.
The process of creating the "perfect" hobby area for your work will be organic. It may take some trial and error to strike the balance between form and function that works for you.
---
Budget Tips: How to Create a Hobby and Miniature Painting Room Without Breaking the Bank
The good news is that creating your own hobby space doesn't have to be expensive. With a little bit of creativity and effort, you can easily turn any room in your house into the perfect place to pursue your passions. And you won't go broke doing it!
One of the simplest and most cost-effective ways to create a hobby space is to repurpose existing furniture. For example, an old desk or kitchen table can easily be transformed into a painting station or a craft area.
If you don't have any extra furniture around the house, try shopping at garage sales or thrift stores. You'd be surprised how much usable furniture you can find for very little money. My 3D printers sit on repurposed office cabinets that I found for about $20 each.
If you're starting from scratch, there are also numerous online retailers that sell affordable and functional furniture for hobbyists. IKEA is a great option, as well as some of the larger box stores like Walmart or Target.
Specialized lighting and lamps can get expensive, fast. But you don't need to spend more on new stuff. All you need is access to good natural light, which you can supplement by using reading lamps or lamps with daylight bulbs installed.
Don't forget DIY projects! Building your own storage units or custom shelving can be a fun and rewarding task.
Plus, it can help you save money in the process. And if you're willing to put in the effort, there are plenty of tutorials and guides out there to walk you through the steps.
Finally, remember that the most expensive hobby space is the one you don't use. I can tell you that when you buy tools and equipment that you don't need and won't use use, you've wasted money.
So focus on the basics and build from there. Start with the equipment that is most important to your current project, then add more as needed. Creating a hobby and miniature painting room doesn't have to be a chore or a financial burden.
Summary: Creating a Great Hobby Space on a Budget
Repurpose existing furniture
Shop at garage sales or thrift stores
Utilize online retailers, e.g., IKEA, Amazon
Use natural light and/or supplemental lighting
Explore DIY projects for customization and cost savings.
Use online resources for tutorials and guides to help with DIY projects
Invest in smart storage solutions like shelves, boxes, racks, etc
Remember to design the space in a way that is both functional and aesthetically pleasing
---
How to make the most of your limited storage space
If you live in a small space, you know the struggle of trying to find places to put all your stuff. Every inch of space is valuable, so it's important to use it wisely. Here are a few tips for making the most of your limited storage space.
One way to make better use of your space is to vertical storage. Instead of taking up valuable floor space with storage containers, try using shelves or hanging baskets. This will give you more room to move around and make it easier to access whatever you're looking for.
Another thing to keep in mind is that not everything needs to be on display all the time. If you have items that you only use occasionally, consider storing them out of sight in boxes or bags. This will free up space in your closet or drawers for items that you use more often.
Finally, don't be afraid to get creative with your storage solutions. If you can't find an obvious place for something, think outside the box and see if there's another way to store it. With a little bit of imagination, you can find places for everything you need without overcrowding your space.
---
Final Word
Here's a secret. There's no perfect hobby space. Whether you're a miniature painter looking for a dedicated workstation or a crafter in need of more storage, the best workspace is one that meets your unique needs. And as you grow, explore what works, you'll discover that your needs will change, too.
So take your time, find what works for you, and make it happen. Then adjust. Adapt. The process of your work will change, dynamically and so should your environment.
While you don't need to spend a lot of money to get started or even improve your current setup, you'll find that even this part of the process is a hobby in itself and worth every penny.
I hope you found some inspiration for creating your ideal space for painting miniatures or other hobbies and crafts. Over the years, I've lived in many places where I had to make due with limited space and budget. But I still found ways to make my workspace comfortable, efficient, and even inspiring.
Have you reached your hobby space utopia? Or are you still in the process of finding out what works for you? I've love to see what you've come up with and hear about any ideas you have. Leave a comment below!
Tangible Day on YouTube (Miniatures and More!)