Do you have a hobby space that needs decorating? Do you have empty blank walls that could use a bit more "you" on them? Then metal poster wall art might be the right thing for you. Metal posters are a great way to decorate an empty room, because they are durable, exude quality, and unique. I've recently moved into a new room that has let me spread out my hobby, craft, and painting area. But the walls needed a bit more punch.
In this article, I review my copy of "The Road", a Fallout metal game poster I received from Displate, a company that sells "Metal Posters for Life".
Disclaimer: Displate sent me a poster for this review article. Of course, I retain the right to openly share my honest opinion, knowledge, and preferences so you have the best information available about whatever product I'm reviewing. I will note that I chose the key game art image and frame design for this Displate poster review. Your taste may vary.
Read on for my Displate poster review and see what I think about their metal art posters. Are Displate metal posters worth it?
---
Poster Review: What is Displate?
Displate is a company that sells metal posters that are designed to suit the user's unique personality. Displate offers an affordable way to decorate your hobby, craft, and painting area without having to commit to purchasing expensive canvases.
And if you're like me, and you need to redecorate often (since new things impress your buddies at parties, maybe?), then metal posters are a great investment.
Displate offers thousands of licensed images from movies, video games, comic books, music bands and much more. The Displate website makes it easy to search or browse for posters. They even have simulated poster wall hangings, so you can see what your chosen poster may look like on a wall before you decide.
There are limited edition posters from talented artists that you can't find anywhere else. These apparently sell out quick with new art displayed every week.
Even with your skills with Google searches, you'll discover few ways to find the art you want outside of Displate. I've tried for this Displate review and found few competitors who offer such a huge selection of high quality metal prints.
---
Alternatives to Displate Metal Posters
There are only a few alternatives to Displate metal prints. If you exclude canvas and other wall art materials, e.g., paper, wood, you won't find a lot of other companies selling high-quality metal art posters. I tried really hard! Most metal wall art you'll discover are made of tin, and not the solid steel with the size and durability of the posters Displate sells.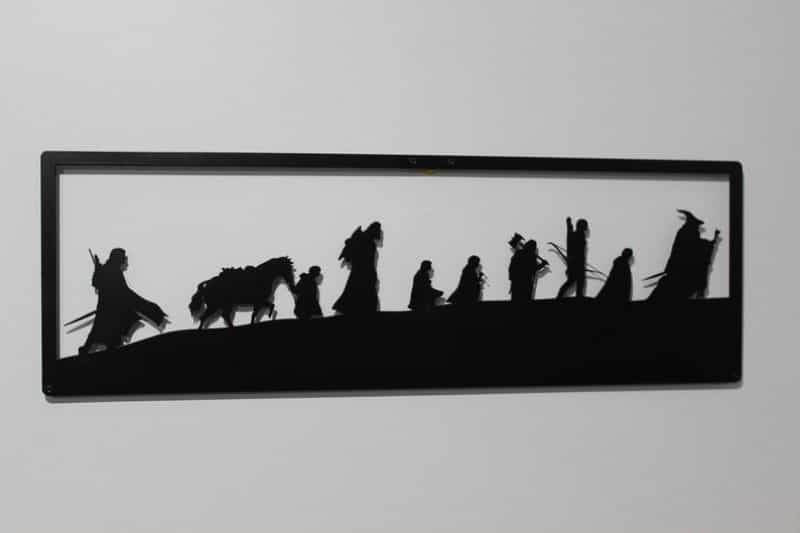 Indeed, you can find metal wall art and metal prints on Etsy. You can also find metal posters and tin prints on Amazon, but most of these are smaller in size and limited in scope.
Continue reading below for my hands-on Displate poster review.
---
Why Get a Metal Art Print for Your Wall?
A metal poster is an art print mounted onto durable metal sheets or panels with magnets on the back. This allows for an easily changeable, removable wall decor if desired. The prints are super durable and have several options to customize to your heart's content. They can be rearranged in seconds without the need for tools.
They are also very classy looking and unique compared to other material types of posters or wall art. You can always replace them with another metal Displate poster whenever you want! The metal panels also offer great contrast on light colored walls, giving a nice touch of crispness to your room.
When I first opened the Displate metal poster, I was impressed with how heavy duty it felt in my hand. It wasn't a thin, flimsy print at all. The weight and durability gave it an air of quality that is missing from other types of prints. I write more about my actual poster below.
Of course, not everyone is into metal posters, but I think it is a great option for decorating an area with "you" all over it.
---
How is a Metal Wall Poster Superior to Regular Canvas Posters?
Metal wall posters don't have to be framed which makes them easier to mount on your wall. There is also no need for power tools since its possible with just 20 seconds to set them up with no damage, frustration, or problems.
Honestly, I was hesitant with creating this review. My expectations were not super high. But, I like the idea of metal wall posters, instead of canvas or paper posters. The metal material on these posters have a matte or glossy finish (I got a matte finished metal poster). The metal itself is thin, but strong and stiff so it doesn't bend.
The low profile of the poster makes it seem like the image is painted on my wall in high resolution. Almost as if the art is part of the wall, but with a three-dimensional window into a new world (if this makes sense).
The metal poster is gives your blank space a bit of pop and punch, while keeping things "clean" and "neat". Of course, how much this works in your space will depend on the poster art you choose and your actual spatial context where you hang the metal print.
One of the things I'm not sure I like is how you have to use magnets that you stick to your wall to hang the metal poster. Although the magnets allow you to remove and attach your poster to the wall, you can't simply unstick the magnets from your wall. To move your poster to another spot, you would need to buy more magnets or find a way to remove the stuck-on magnets that came with your poster.
---
How to Choose the Best Metal Poster?
It is important to have a metal poster that is suitable for your location. For example, if your room doesn't have large wall space, then you may not be able to choose the huge mural sized metal posters.
Because your poster hangs by magnets stuck to your walls, you'll need to make sure the wall is flat and secure for the sticker on the back of the magnet to work. You may not be able to use a metal wall poster using magnets if your wall is made of brick or raw wood paneled. Drywall or other finished smooth surfaces with a bit of durability are the best places to hang your Displate metal art posters.
When buying a metal poster, you should also consider the size and weight of the piece as well as any other personal preferences. Displate offers various sizes including small, medium and large as well as different styles such as framed or unframed posters.
A recommendation I've heard is that unframed metal art prints are suited best for large wall spaces while framed pieces are better for people who plan on hanging them in an area with smaller dimensions.
Displate metal posters don't have "separate frames" if you choose this option; but rather have a 3D printed material that is attached directly around your image print. As a result, adding the frame option does not increase the dimensions of your poster. Because the weight of the poster remains almost the same with or without a frame, you'll have no trouble hanging the print level.
---
Is a Metal Art Print from Displate Worth it?
It's always hard to find the right piece of art, because the decision process is an emotional experience. A good wall poster can greatly improve or change your mood by evoking feelings or ideas. For example, a metal art print featuring gorgeous landscapes of sunsets and majestic horizons may help you relax after a stressful day at work.
Or, perhaps seeing images of your favorite movie, video game, or novel will provide some inspiration for your creativity during a break. If you want something special, Displate sells limited edition art from talented artists who are always creating custom works.
However, when shopping for metal prints, the cost of the posters may be an obstacle to overcome. Though at the same time, I would have to admit that it's hard to put a price on art that you like. It's a subjective experience, I think, buying high quality poster art–especially something printed on actual metal.
So is a metal art print from Displate worth it? A metal print from Displate ranges in price depending on the same and options you choose, e.g., frame or no frame. In general, a metal poster from Displate costs between $40-150, which does not include packaging and shipping (check out the unboxing impression below).
---
How to Install Your Metal Poster from Displate
Here's a quick note on how easy it is to install your metal art poster from Displate.
You can install your metal poster from Displate with little difficulty. All you have to do is take the backing off of one of the magnet stickers "leafs" and stick it to the wall. On top of this, remove the backing on the square magnets (included with your purchase of a poster) and places this on the leaf. This magnet will hold your metal Displate poster.
All you need to make of is that the leaf and magnet are secure to the wall before you place on your poster up. When you're done, the magnet should be sandwiched between the paper leaf (against the wall) and the hanging metal poster.
For more instruction for how to hang your Displate metal poster, you can refer to their series of helpful and fun videos.
---
Displate Review: Did I Decide on the Right Poster for Me?
Unboxing My Poster
My poster came in a well-packed cardboard flat box. With a simple flap, I was able to open the secure delivery package in a few seconds.
My metal print was heat plastic shrink wrapped inside a cushioned sandwich of cardboard sheets. Upon removal, my metal poster was pristine.
The two-piece magnetic kit for hanging the poster on my wall was included (and stuck to the back the poster). The magnets also happened to keep the small instruction pamphlet in place, too. Overall, I was quite impressed with the quality of the shipment.
---
A Quick Word About Fallout
I chose my Fallout game poster because I've always enjoyed the nostalgia that I feel from that game. For those who don't know what "Fallout" the game is, here's a brief overview:
Fallout is a video game, created by Bethesda Game Studios and published by Bethesda Softworks. It's an open-world survival role-playing game set in a post-apocalyptic world. The player assumes control of a character who emerged from a Vault to explore what was left of the world and search for their father (the protagonist's only living relative). The game is played from a first-person perspective and features an optional real-time combat mode. " Fallout 4″ is the most recent addition to the Fallout series, which was released in 2015.
---
Why I Wanted this Metal Wall Poster Image
The first time I saw "The Road" artwork from Fallout, I was struck by its composition. The image features the game's protagonist staring ahead, standing on a broken road in a post-apocalyptic world. The color palette is muted with warm yellows, oranges, and desaturated greens and browns–time has taken its toll on this wasteland.
The main subject, the vault dweller and his dog, are walking down a road toward the horizon set at the bottom third of the image (e.g., following the compositional rule-of-thirds). The sun appears to be setting and casts a long shadow toward the viewer. You can't help but feel both hope and foreboding at the same time.
---
Overall Impression of the Displate Poster Material and Construction
It's incredible that there is no glare on the image. I was surprised by how attractive this poster looks, as compared with my other canvas posters. The metal poster itself looks like a classic oil painting (albeit digital). The print's matte metal surface feels like velvet—it's smooth but also has slight texture to it. I'd imagine that my metal poster will have a nice, clean look for years to come.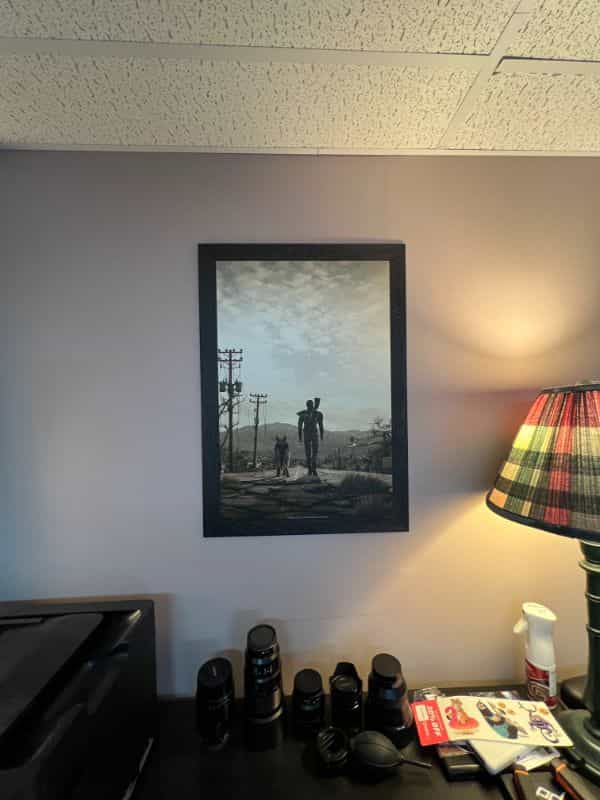 The frame of the metal poster is apparently 3D printed texture right onto metal itself. It's not a separate frame you can remove. I think the frame is also made of steel metal as well as the print. The entire poster construction doesn't bend, or deform easily (if at all).
The metal print is extremely well printed, with a high resolution. With the print and metal material together, I was very impressed by the overall quality of the metal poster itself.
Displate cares for the particular tastes of their customers, as it's evident that a lot of thought went into how these metal posters were designed.
---
How is the Quality of the Metal Printed Image?
The Displate metal print came out beautifully and looks very realistic (given that it's a digital photo). As I mentioned above, the colors are clean and vibrant (though the image I chose has a desaturated color palette). There is also no glare on my poster, as you can see in my photos with a nearby lamp.
The matte finish keeps the image appearance clean, with excellent contrast (almost like I'm looking through a window into another world; the wasteland landscape jumps out at me!).
If you get close to the print itself, you won't be able to see any artifacts of the print. Whatever the process Displate uses to print the image onto the metal is pretty spectacular because there is no blurriness, jagged edges, or pixelations within the image. It looks better in person, as if you're up close to a high resolution photograph.
From a distance, the print is likewise impressive. In fact, I'm starting at it now and wondering if I should pull the trigger and buy a few more to add to my Fallout art collection with these metal posters. Oh boy, this could get out of hand!
---
Frequently Asked Questions (FAQ)
What metal is Displate?
Displate metal posters are printed on solid steel sheets. Steel is a ferromagnetic metal and will firmly attach to magnets. Use this to your advantage when hanging your prints to walls with the included Displate magnet kit that comes with any purchase of a poster.
Are metal posters any good?
Displate metal posters are good metal posters; in fact, they are pretty awesome. They are made of solid steel, with high resolution durable ink prints that will last the test of a lifetime. It is a one-of-a-kind metal poster, designed to capture your personality and passion. There are many different sizes and styles of these metal posters. These metal posters come with magnet stickers for easy installation on your wall.
Are Displate posters official?
Displate metal posters are official metal posters with many prints of popular intellectual property (IP) from video games, movies, and stunning artwork. You find Displate posters with officially licensed art and prints from all kinds of genres, interests, and hobbies. And, new prints are added to the Displate library of posters you can buy! There are many different sizes and styles of these metal posters.
What are Displate posters made of?
As mentioned, all Displate metal posters are made of steel that attach firmly to magnets that you stick to your wall. They are interchangeable posters, meaning you can switch multiple other metal posters on top of your installed wall magnets. The Displate company uses a special process that makes the printing on their posters more durable, which allows them to offer a 30 year warranty against fading or scratches. Overall, it is an excellent investment in art and will likely last your lifetime without needing replacement.
How long does it take to deliver my Displate poster?
The delivery time for a Displate poster is between 4-5 business days. The shipping time includes how long it takes to print and manufacture your poster, as well ship and handle the package. Although you cannot return a "custom" Displate poster, they will accept returns for other artwork within 100 calendar days of delivery with the buyer responsible to pay return shipping. For more details about customer shipping and return policy, refer to the Displate site for more info or contact them directly.
Are Displate prints worth it?
Displate posters and prints are unique in every sense of the word. Though on a slightly pricey side with all the bells and whistles, as far as popular art goes, I couldn't find a worthy competitor (I've tried really hard!). It really is satisfying to collect unique wall art that displays your passions.
Displate metal wall prints really are one-of-a-kind, both in terms of art, material quality, size, and customizability. The simplicity in using metal with magnets to install it on your wall in literally seconds without any tools is so frigging cool.
---
Final Thoughts
I hope you found this Displate review helpful! To be completely honest, I don't buy art. I much prefer to go to a museum, a theater, or explore nature to find inspiration and creative satiation. But, as I get older, I've started to realize how much I enjoy "having" something tangible nearby as a reminder of my life's experience.
Displaying canvas prints of photographs I've taken around my home is a slowly growing hobby of mine (and kind of expensive). But, it's fun to see where I've been, and present to others my view of those places.
Overall, Displate prints are a really innovative way to make your space more "personal". As their tag line says, Displate provides "Art for Every Passion". After getting a single poster from them, I'm compelled agree…and eyeing a new purchase soon!
Are you an artist, hobbyist, or gamer looking to spruce up your home or office? Have you found unique ways to do so? I need ideas! Leave me a comment below!
Tangible Day on YouTube (Miniatures and More!)