---
---
For accurate color representation on a working hobby surface, using a light that is either in the neutral or cool light temperature range (5000-6000K or Kelvin) is ideal. For miniature painting, specifically, the best lamp emits light that mimics natural sunlight. To reproduce natural light (from the sun), lamps should have LED lights that provide a color temperature of around 5500K. If you're looking for a lamp for painting miniatures, be aware of the need for its color temperature output.
Fun fact: A warmer light has less "blue light" and can therefore help you sleep better. Bright LEDs with blue light can disrupt your ability to sleep by suppressing melatonin. Interestingly, a bright daylight lamp could be useful, because some research has shown that it can keep you alert, focused, and even help with symptoms of depression. Overall, blue light with a cool white tone may be beneficial for those of us who want to be more productive at the hobby.
---
3 Must-Know Hobby Lamp and Lighting Features
Source of light
Light emitting diode (LED) lamps provide an excellent source of light. All of the recommended lamps that I list below use LEDs as the source of light. An alternative light source could also be a lamp with daylight bulbs (e.g., compact fluorescent light or CFL). However, for the sake of modernity, the LED provides the most efficient and useful kind of illumination.
LED for miniature lighting provides several benefits. LEDs do not produce much heat. You won't sweat from the extra warmth from the lamp hovering near your head. Because LEDs consume very little power, they are energy-efficient and a sustainable way to enjoy your hobby.
Importantly, LEDs have very long lifespans. Standard LEDs are able to endure tens of thousands of hours of continuous use. Depending on the kind of lamp you choose, you can change the brightness of LEDs to suit your needs, and in some cases, change the LEDs' color temperature. The best desk lamps can reproduce many of the qualities of natural light through adjustable lighting modes.
Light power (lumens)
What is the maximum brightness of your hobby lamp? For lighting systems, such as desk lamps and other utility lights, the brightness of the light source is measured in lumens. Lumens is a measure of the total quantity of visible light over time.
For example, the higher the lumens, the brighter your lamp. For those who are more familiar with regular bulbs, which use wattage as a measure of brightness, here is a conversion table (watts vs lumens). As a point of reference, a 60-100 watt light bulb is equivalent to about 800-1000 lumens (generally measured for LED lights).
Ergonomics
What is ergonomics? Ergonomics is the science of making a workplace fill the user's need. Good ergonomics increases productivity, efficiency, and comfort.
Of all the ergonomic benefits of good lighting, I think comfort is the most important. The best light for painting miniatures, for example, is one that doesn't cause eye strain. This is due both to the quality and output of the light itself, as well as the physical stature of how the light is placed over the working area.
For good lighting ergonomics, a lamp should be flexible enough to be move around the work space, but stable. When I put my lamp over the perfect spot, I want it to stay there for the duration. When you light miniatures, you want the shadows and highlights to stay in place!
The best lights for hobbies, e.g., scale modeling assembly and miniature painting, are those that have secure clamps, floor or desk stands, and flexible armatures (i.e., swing lamps). A lamp for painting should stay where you place it.
As mentioned above, ergonomics must fit the need of the user. The user is you. So, at the end of the day, the best lamp ergonomic system will be the one that fits your personal needs.
---
Desktop, Swing-Arm, or Floor Lamp?
For painting miniatures, you can buy arch lamps that provide evenly distributed lighting above and around your work space. These often have powerful LED arrayed over your desk area that provide natural light for painting, just like you would find outside.
The Arch Light pictured above has a long-lasting LED arrays that provide excellent diffuse light for painting, and it's an especially great deal because of the powerful 2,100 lumen output and adjustable color temperature (2700 to 6000K). For other options, you can find other arch lamp designs.
The best lamp for painting minis is the one you can afford. When I was shopping for lights for my hobby space, I had to choose between getting this or that. It was either great lights or that beautiful hardwood desk. Not both.
In those days, LEDs were uncommon. A few experts suggested that I install a daylight bulb in my bog standard desk lamp. At that time, CFL bulbs were the hot stuff for artists.
With the advent of new technology, however, LED bulbs are the only source of light you should consider. Ultimately, get the best light system you can afford. I never purchased that fancy hardwood desk, I invested in the light source instead. I now also use them for photographing my miniatures. Win-win.
---
Best Lamp for Painting 28mm Scale Models and Miniatures?
The good lamp for painting tiny details on miniatures create a diffuse, spread out illumination, that reduces hard reflections. Harsh lighting reduces surface contrast, which makes it hard to see details when you're working on model surfaces. A soft light provides a much better experience when painting minis, which may require that you look for higher standard lighting systems than what you would find in a typical reading lamp or those conventional office work lamps.
Lamps like the Neatfi XL Task Lamp or Phive LED Task Lamp are perfect for lighting small surfaces on 28mm scale miniatures, like those you may paint for Dungeons and Dragons (DnD), Warhammer space marines, or the fine details on 10mm scale models for Dropzone Commander.
For an extra advantage for painting finer details, lamps with built-in magnifying glasses, such as the Brightech LightView PRO will come in really helpful. I use one of these for assembling models, too. For a more in-depth review and comparison of magnifying lamps for hobby work and painting minis, check out this article.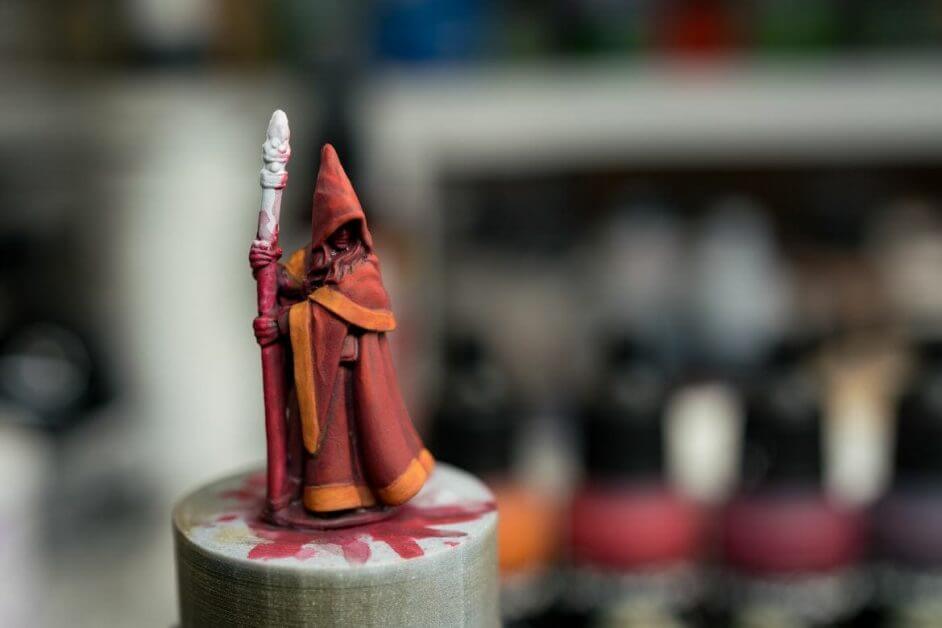 Best Light for Painting Large Models, Such as Vehicles and Terrain?
The challenge with painting large models and terrain is that they take up a lot of desk space. For example, scale model terrain and buildings are both tall and wide. As such, you'll want a lamp (or two) that can stay out of your way and don't take up too much desk real estate.
For more space on your desk, I would consider a floor lamp like the Brightech LightView Pro LED Magnifying Glass Floor Lamp. You can roll the lamp around your hobby desk, saving table space for your actual work area, and use the magnifying glass to zoom in on areas you want to see up close.
For those with standing desks or workbench height table tops for hobbies, a floor lamp is great because they have the height to light up your elevated work area. You also don't need to balance a desk lamp on the edge of a standing desk tabletop.
For a flexible lighting option, a swing arm lamps that clamps to the edge of your desk will work well. Just be aware of the maximum armature height and length. Some lamps are too short for working with large models. Although you can angle them to accomodate large terrain pieces or vehicles, these lamps will get in your way.
In my case, I use multiple lamps that I angle upwards to work on large model buildings and flying vehicles (e.g., Warhammer Stormravens). Suffice it to say, look for a lamp that casts light across a broad area of your working space. I use the Neatfi XL Task Lamp along with photographic studio lighting to improve my ability to see what I'm doing with larger models.
For more information about how to improve your miniature photography, here are articles devoted to miniature photography lighting and recommended photo lightbox studios. I also use LED rings lights (reviewed here) for videography for my YouTube channel.
In general, all of the desk lamp setups reviewed below are useful for taking good photos of your miniatures. Just take into account that you may need to move your lights much closer to your model and at a lower angle. For this reason, a flexible swing-arm desk lamp may be the most versatile desk lamp if you plan to take photos at your hobby desk.
Quick tip: For macro type photography, you can photograph your models directly through the lens of magnifying glass lamps, like the Brightech LightView PRO
---
Wouldn't it be great if we got a lamp that did more than one thing?
If you're working at home and need better lighting, check out these cool office lamps that work well and look great in any space. For those of you who already have a decent desk lamp, but want to use the best light bulbs for miniature painting, here are some fun tips for upgrading your light bulbs for hobby work and miniature painting even better.
---
1. Architect Desk Lamp Gesture Control – OTUS Metal Swing Arm Dimmable Led Lamp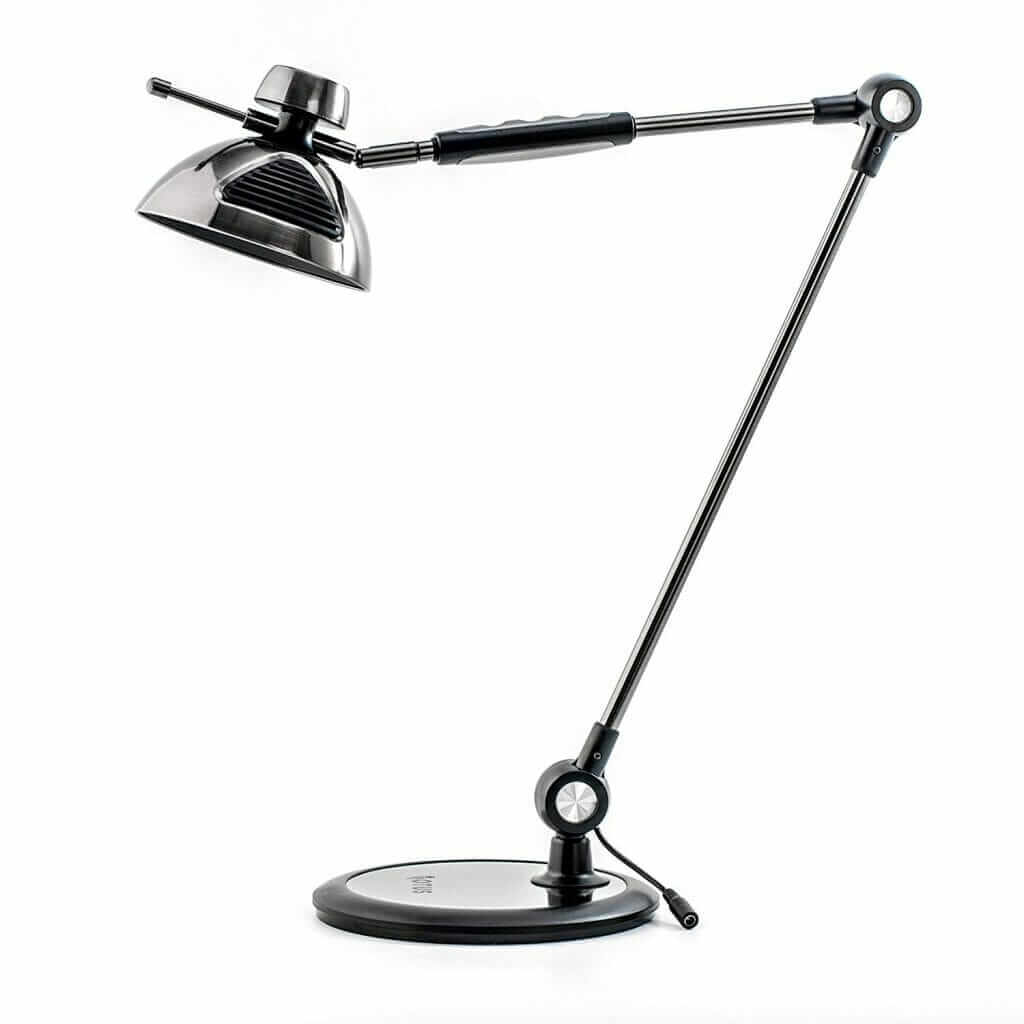 The Architect Desk Lamp with Gesture Control is at the top of the list because I think it's one of the coolest lamp systems on the list. As a tabletop lamp, the Architect Desk Lamp has a few neat features.
To operate this lamp, you wave your hand across the lamp to turn it on or off. Using motion-sensors, the lamp allows you to use hand gestures to control it. As a lamp in the $100 range, it gives you a lot of control. There are 12 dimmable settings for brightness, which gives you fine adjustment for whatever your hobby needs.
As a lamp for painting miniatures, this is one of the best features because you can avoid harsh reflections depending on the "brightness" of your paint job (high value colors, e.g., white or silver metallics). You can change the color temperature of the light to 3 different settings (warm, cool, and a neutral tone).
The ergonomics of this lamp are excellent. With adjustable metal arms, and head that swivels. There is a handle that lets you easily move the light source without leaving fingerprints across the shiny surface of the LED housing. The stand has a small footprint, filling up only a base diameter of 8″. This thing will fit anywhere on your desk without getting in your way.
The LEDs are bright at 1200 lumens and use a non-flickering feature to prevent weird eye strain. Given that the total amount of energy required is about 10 watts to run, this is a very efficient lamp with LEDs of an average lifetime of 50,000 hours (or 5.7 years if the light is operated for 24 hours in a day).
---
2. Brightech LightView Pro LED Magnifying Glass Floor Lamp
This is a rolling floor lamp with a magnifying glass feature. This is not a desk lamp, obviously, but has the mobility to be near any desk or flat surface you're working on. One of this lamp's best uses is if you have a workshop in a wide open area, e.g., a garage or basement. In this case, the Brightech LightView Pro Floor Lamp is an excellent, versatile option.
The lamp has a relatively large 5″ glass magnification lens. Glass lenses are the best material for magnifiers because of the optical clarity, neutral color cast, and durability. Glass lenses are also easy to clean and aren't bothered by harsher cleaning chemicals that might damage plastic lenses.
The lens on this floor lamp has a 2.25x magnification power, which is my recommendation for hobbyists working with miniatures in the 28-35mm scale. If you're painting miniatures, this magnification power will certainly help you with finer detail brush work or free handing designs. Not sure you'd like a freestanding magnifier? Try wearing a headband visor with a magnifying lens.
Additionally, the focal length, or distance from the lens to working surface, is about 8-12″ which is sufficient for you to operate with a standard length brush handle.
The brightness of the LEDs (there's a lot of them under that ring) is about 800 lumens (equivalent to a 60 watt lightbulb). With a dimmable function and the ability to adjust the color temperature, this lamp is versatile for different hobby tasks.
The 6 wheels on the stand are smooth operating on hard flooring and, as mentioned above, lets you take this where ever you need it. If you're into hobby arts and crafts and need to move around different stations, this mobility is very useful.
The overall height of the light stand is sufficient to reach over bar height tables (those you stand at). So in regards to ergonomics, for those of you with standing desks, this could be a great option.
Because this sits on the floor, the lamp takes up no desk space at all. If you're limited by a small desk, but plenty of room around yourself, this is also a fantastic way to provide focused light for your hobby or craft work.
For long painting sessions or hobby work, e.g., soldering, model-making, this is probably the most cost-effective magnifying lamp you can get.
---
3. Brightech LightView PRO – LED Magnifying Glass Desk Light for Close Work
The Brightech LightView Pro LED Magnifying Desk Lamp is the lamp I have. This is one of the best modern desk lamps available for miniature painting and hobby work. I write a little more about this lamp in another article.
In general, the reason I purchased this lamp is because I needed a brighter LED lamp with magnification capabilities. As I got better as a miniature painter (see my gallery), I wanted to improve the level of detail I applied. I realized I could do a better job with magnification.
RELATED: BEST MAGNIFYING HEADBAND VISORS FOR MINIATURE AND MODELING HOBBYISTS
This lamp has a 2.25x lens with a 5″ diameter. It is perfectly suited to painting miniatures. The cover over the lens is a benefit I only realized after I started using the lamp. With the cover on, you can operate the desk lamp without having the light shine elsewhere in the room. The cover also keeps the lens free of settling dust and other debris.
The clamp is easy to use and works great on the side of my desk. It is secure, while at the same time allows you to move it around, if needed. My desk is about 1.5″ in thickness, but there is a lot more space in the clamp if you have the need to clamp it down on something much thicker.
With 800 lumens, I do sometimes wish it was brighter, but I have several lamps in operation now. Combined with other lighting systems, this is a versatile lamp that I use on every project. This is a reliable lamp at a reasonable price.
---
4. Brightech LightView PRO – LED Magnifying Glass Desk Light for Close Work (Touch Dimmer)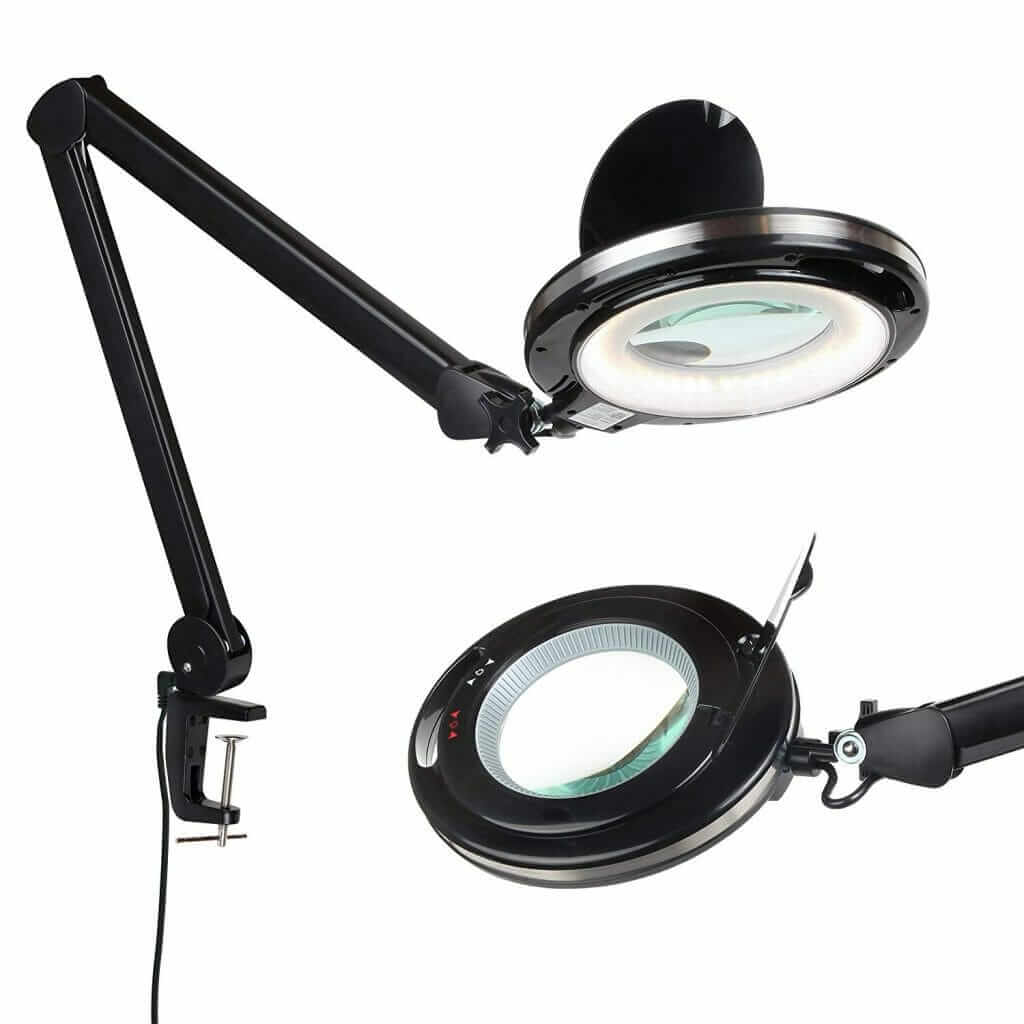 This lamp is similar to the Brightech LightView Pro above, except this has a few more features. Let's start with what is the same. This lamp has a glass 5″ diameter lens with a 2.25x magnification. This is great lamp for painting miniatures and seeing fine detail on your working surface.
As a light system, this is also one of the best desktop crafting lamps for hobbies in general, e.g., sewing, needlepoint, and more, as you'll see below.
In addition to the normal Brightech LightView Pro, this version has the ability to dim to different brightness settings (though it has a lower 650 lumen brightness maximum setting). This lamp also allows you to change color temperature. Switch to a warmer temperature for a more comfortable reading experience (bright white pages with black text is a harsh reading context. A warm, yellow light will reduce eye strain).
As with all LED lamps, you have an efficient, low-energy light source that will last years.
---
5. BYB E430 Metal Architect LED Desk Lamp, Swing Arm Task Lamp with Clamp
Of the desk lamps on this list for painting miniatures, crafting work, or other scale modeling hobbies, this is one of the most attractive lamps. I love the clean lines and brushed-metallic finish.
The lamp is made of aircraft aluminum grade metal, which makes it light and strong.
There are 144 LEDs in the light housing, which provide a collective 1000 lumens of brightness. The lamp is bright and spreads this illumination over a fairly wide area. The LEDs are adjustable for brightness and color temperature (with 4 memory functions to remember the lighting modes you choose).
The lights don't flicker and have low glare (light is diffused), which makes for a more pleasant viewing experience. There's less eye fatigue, which is great for a professional workstation or for performing a hobby task like painting miniatures or working with scale models and other handicrafts.
Depending on your decorative tastes and the motif of your hobby space, this will either fit right in with your Apple products, e.g., Mac computer, or clash horribly.
I personally love the look of this lamp, and it's functional as a great light source, too.
---
6. LED Magnifying Lamp, Daylight Bright Magnifying Glass Light
This LED Magnifying Lamp is a budget-level lamp at around $30-40. But, despite the lower cost, this LED desk lamp has several higher end features.
The lamp has an adjustable brightness feature for its LEDs. The maximum brightness is up to 850 lumens (this is pretty bright). And, the LEDs have a lighting mode that lets you change the color temperature: cool white, white, and warm white (3-6.5K).
The loop or ring housing (5.5″ diameter) spreads the light out across a larger viewing area. This diffusion reduces glare and eye fatigue.
You shouldn't be squinting when you use this light and the lamp should work well over a long period of use when painting miniatures and working with models. Like many other lamps with a swing arm design, you can move the light source to where ever you need it over your desk or table surface.
The best desk lamps all have this capability, of course, but the budget aspect of this lamp comes from the fact that the stability of the joints in this lamp come from external, tension-loaded springs. These springs may wear out over time, catch dust and grime, and squeak.
In either case, for the lower cost of this lamp, it provides excellent value as a hobby lamp.
---
7. Neatfi XL 2,200 Lumens LED Task Lamp with Clamp
This is one of the brightest lamps you can buy. At 2200 lumens, this stylish lamp will spread incredibly bright light across a wide surface (23″ length LED housing).
READ MORE: FULL REVIEW OF THE NEATFI XL LAMP
This is the best modern desk lamp for any hobbyist's workbench that requires really bright light. The light housing pivot is fully adjustable and attached to long arms that extend up to 32″ in reach. This lamp is awesome just for these features.
The balance of the light housing and the arms should be provide stability over long periods of time. The super bright LEDs have a brightness adjustment mode that lets you dim that 2200 lumens down to 25% of that top power.
Notably, you can't adjust the color temperature of these LEDs on this lamp. This is kind of bummer considering that the color temperature for this lamp is not available.
Nonetheless, the LEDs are very long-lasting, with an expected continuous life of up to 100,000 hours. As with any LEDs, the lights on this lamp do not produce much heat. You can work continuously painting miniatures or modeling with this lamp and stay comfortable.
---
8. Phive LED Task Lamp, 20 Watt Super Bright Desk Lamp with Clamp
The Phive LED Task Lamp is very popular for hobbyists, especially miniature painters, as well as computer gamers (as you'll see below).
Although the clamp attaches to the back of a desk, the lamp spreads its bright LED light across a very large area. The attachment system with the arm is very stable. The ultra-wide (31.5″) LED light bar delivers broad lighting coverage over a workbench space.
I have one of these over my computer desk and it lights up everything I need it to. The light is bright at about 20W or 1200 lumens. The design is suited for people who use multiple screens (computers, tablets, etc) without leading ghosting, glare, or flickering on reflective monitor surfaces.
The arm as I mentioned is a stable gooseneck design that has a flexible height and angle. It does not have the multiple degrees of freedom of other swing arm lamp systems, but that is not this lamp's purpose. With the light bar, the light doesn't need to be focused. It is literally everywhere.
The LEDs have a brightness function as well as 4 different color temperature modes. The neat part is that the lamp also has a memory mode, so you can switch tasks and needs for this lamp on-the-fly. For under $70, this is an awesome lamp that comes highly recommended.
---
9. Phive LK-3 Metal Architect Swing Arm LED Desk Lamp/Table Lamp with Clamp
The Phive LK-3 Architect Swing Arm LED Desk Lamp has a patented diffusion panel that covers the battery of 144 LEDs. The panel reduces glare and hot bright spots on your working surface. This provides a pleasantly bright, but soft light that is easy on your eyes. The maximum brightness on the lamp is around 600 lumens, in part due to the diffusion panel.
The LED bulbs use high-CRI lighting technology, which means that the light has the ability to more accurately reproduce the colors of objects faithfully in comparison with natural sunlight. CRI stands for color rendering index. The desk lamp is wonderful for miniature painting because of the ability to control brightness, color temperature, and store those settings in a personal memory setting.
In addition to the diffusion panel, which I'm intrigued by, the light housing part of the lamp can swivel independently from the swing arms. This gives this lamp a greater degree of freedom than its competitors. The clamp itself further provides stability with a system that can attach to a desk or table with a 2.36″ or less thickness (this will encompass almost any professional wood working bench, too.)
As with any LED lighting system, the LEDs are power efficient, run cool, and last a really long time. For close to $90, this is a versatile lamp for any hobbyist. As a miniature painter, this lamp is on my short list of lights to consider buying when I upgrade or expand on my work bench area.
---
10. ROZKY Drafting Table Lamp, Metal Architect LED Desk Lamp
The Rozky Drafting Table Lamp is a fairly standard swing arm-type desk lamp with a few unique features. The clamp secures the lamp to the side of a desk or tabletop workbench. The swing arms swivel in multiple directions and will meet any of your needed angles.
The entire lamp is made of aluminum and zinc alloy, which is both a lightweight and strong material. The LEDs provide about 850 lumens of brightness and is dimmable. There are also 5 color modes to adjust the color temperature of the light.
What is neat is that the lamp is operated through simple touch controls (not standard physical switches or buttons). The LEDs have a long lifespan of up to 50,000 hours and are energy efficient. For the price of this lamp, it sits somewhere in the middle of the more expensive and budget lamps on this list.
If you're looking for lamp with a slim profile with sturdy arms and a reliably bright light, this is a good choice.
---
11. Metal LED Swing Arm Desk Lamp
This Metal LED Desk Lamp is great lamp for general office work as well as hobby crafting, e.g., miniature and modeling. Miniature painters will love the utilitarian operation of this swing arm lamp. This lamp reminds me of my first painting studio lamp, which used obsolete fluorescent bulbs. The form factor is the same, and it is very affordable. With the clamping system to attach it to any flat tabletop surface, it clearly works in any hobbyists workspace without the need to consider space limitations.
As a modern LED desk lamp, this lamp has features that were not available a few years ago. You can use the included adapter to power this light using it's USB cable, and operate it with a wired remote. I have a feeling that more of these popular lights for miniature painters will include USB powered options, since the technology allows for an extra level of versatility and portability. It's already a part of one of the more portable lighting systems that I reviewed (that doesn't use batteries).
The light output is estimated around 800-1000 lumens (based on its 14W LED power rating) and has color temperature adjustment modes: 3200K or 6500K. The swing arms will angle the wide LED-light bar exactly where you need it. Of course as a less expensive lamp, you will find that the springs may loosen over time, and squeak a little, but it's characterful.
My old swing arm lamps all had squeaky springs and a lovely bounce whenever I moved them around. There isn't much else to say about this lamp. It works well as a lamp for providing you light over a hobby working surface. It is the best swing arm hobby lamp for the price.
---
---
13. Redgrass R9 Desk Lamp for Creatives
Who buys a hobby lamp that costs over $250? Well, I did and so did a few of my fellow mini painters. What began as a successful kickstarter for Redgrass Games is now available to everyone.
You can read my full review of the Redgrass R9 Desk Lamp to find out what I think after using the light in many miniature painting projects. In summary, you pay for what you get. As one of the most utilitarian designs out there, highly functional, yet minimalist, I fell in love with the simplicity of using this miniature painting light. So much so, that I got a 2nd that I now use in my work office space.
Aside from aesthetics, the lamp operates through a single button. Press quickly to turn on or off. Press and hold to cycle through brightness settings. The dimmer algorithm that govern the LEDs operate smoothly, allowing you switch from dim to bright without lifting your finger more than once.
With a near perfect CRI rating (>97) across a wide color gamut, including the elusive red wavelength, the R9 Desk lamps boasts accurate color reproduction of your working surface. You'll see your subject, likely this will be the miniatures that you're painting, as though they were illuminated by natural daylight.
When it comes to ergonomics, the dual LED panels can swivel independently from each other. In my use, I was able to "shape" how light shone onto my desktop. I could narrow the beams so they focused strongly in a confined area, or broaden the light sweep. This came in useful for some filming I did of my miniature painting work I did, which required strong directional lighting for the camera to capture good footage.
All in all, I continue to thoroughly enjoy working with this desk lamp. If you can stomach the cost, this is one of the best lights for your miniature painting hobby that you buy now.
---
Ultimately, as with any hobby equipment, you generally pay for what you get. Be willing to invest in better quality and functionality as you consider how much time you spend working on your hobby. Lighting for miniature painting is one of the best investments you can make for your modeling hobby.
The best lamp is the one you love using…but don't even notice it's there.
Thank you for visiting and happy painting!
---
---
Tangible Day on YouTube (Miniatures and More!)