I'm a nerd. I love gadgets that do nothing more than look cool. But, sometimes you have to go a step further: sometimes you need something with a bit of utility. And, the BenQ Desk Lamp is definitely one of those items. It has all the bells and whistles you'd expect from a modern desk lamp. Of course, this begs the question: Is the Benq e-Reading lamp worth it for painting miniatures and other creative work?
In this article, I review the BenQ e reading desk lamp as a miniature painter and hobbyist. Interestingly, the BenQ lamp serves as either a desktop or floor lamp depending on your chosen configuration.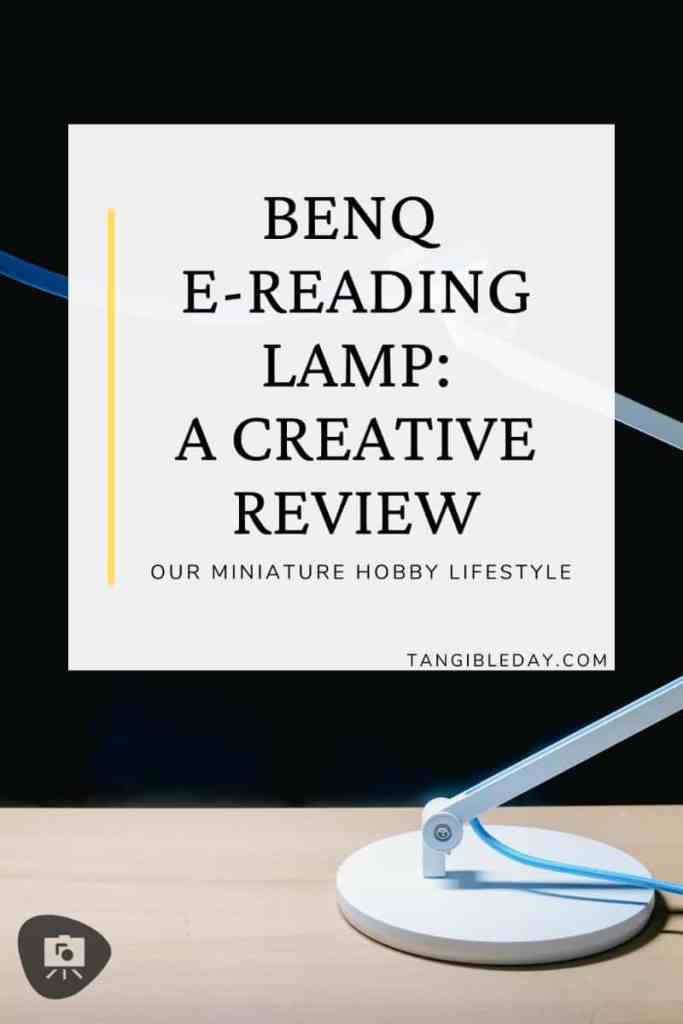 Disclaimer: BenQ sent me a demo lamp free of charge for this review. Of course with any product review, I continue to maintain editorial independence and integrity. Here, you'll find my honest opinion, good and bad, so that you can make an informed decision on the lamp.
---
Key Takeaway
The BenQ lamp provides extensive lighting coverage, perfect for hobbyists working on detailed projects
Ideal for cultivating a flexible and inspiring environment in art studios
Offers adjustable color temperatures with high CRI (>95) and brightness levels
Versatile options for desk or floor placement with a solid, stable base stand
Feature-rich home/office/hobby lamp with a premium feel, function, and cost
---
Summary: Is the BenQ Desk Lamp Worth it?
At the outset, the BenQ e-Reading Desk Lamp is expensive. At close to $220-300 the BenQ lamp is more expensive than the Neatfi XL task lamp that I highly recommend, or the Redgrass R9 Desk Lamp. But, is the lamp worth it?
It is one of the most unique lamps I've tested and reviewed. While other lamps serve specific tasks well, the BenQ is a chameleon. Its multiple functions and adjustable settings make it well suited for a variety of tasks from home office to miniature painting.
To say the BenQ e-Reading lamp is feature-rich is an understatement. This is so packed with functions that at first glance I'm shocked how easy the lamp is to use. A touch-sensitive surface combined with an old-school Atari-like knob is all you need to engage with the lamps entire repertoire of settings.
Let's not forget to mention the head-turning smiling curve of the lamp housing–nothing like your average desk lamp! Aesthetically, it's one of the nerdiest, gadgety (and attractive) lamps I've had a chance to review. It may not be your cup of tea—indeed, aesthetics are subjective—but I fell in love with this lamp's eccentric look. Note that the inverted housing also serves an important functional purpose by diffusing light outward which creates an attractive, flexible ambiance for your hobby and creative workspace.
Ultimately, the BenQ e-Reading Lamp is an investment. But if you're serious about miniature painting, home office warrior, or any hobbyist type where quality lighting, high color presentation matters, this lamp will not disappoint. It balances form and function with surprising ease and offers a premium value for its cost.
Bottom line: I would recommend the BenQ e-Reading Desk Lamp to anyone looking for a feature-rich lamp that can serve a variety of tasks and want to add dynamic ambience to their working environment. The lighting coverage, adjustable color temperatures, brightness levels, and aesthetic design make this an excellent choice.
Extensive lighting coverage, ideal for detailed projects
High CRI (>95) and adjustable color temperatures for accurate color representation
Adjustable brightness levels to suit various tasks
Versatile options for desk or floor placement with a stable base stand
Feature-rich lamp with a premium feel and functionality
Aesthetic design that adds a dynamic ambiance to the workspace
Easy-to-use touch-sensitive controls
Expensive compared to some other task lamps on the market
Aesthetic design might not appeal to everyone
May not be as specialized for specific tasks as other dedicated task lamps
---
Unboxing and First Impressions
Everyone loves receiving wrapped presents. Well, BenQ sent this lamp in two large cardboard boxes. And, while I didn't get it all wrapped in a fancy bow, it was in perfect condition with no damage. The first package included the desk lamp base, lamp housing, power adapter, and instruction manual. The second package included the accessories to convert the desk lamp into a standing floor lamp.
Both packages were incredibly heavy! As you'll see shortly, this is because of the dense construction, in particular the base plate that the lamp stand sits on. This is all to say "be careful" lifting the box when you receive your lamp. I sprained my index finger trying to turn the box over, underestimating the weight.
Inside the box
Using a favorite utility blade, I quickly dispatched the exterior cardboard.
The white box underneath is reminiscent of the type of marketing you would see for an Apple iPhone or iPad—it reads premium, classy, and expensive. It feels a little odd given the item is a lamp, but it fits in with BenQ's branding.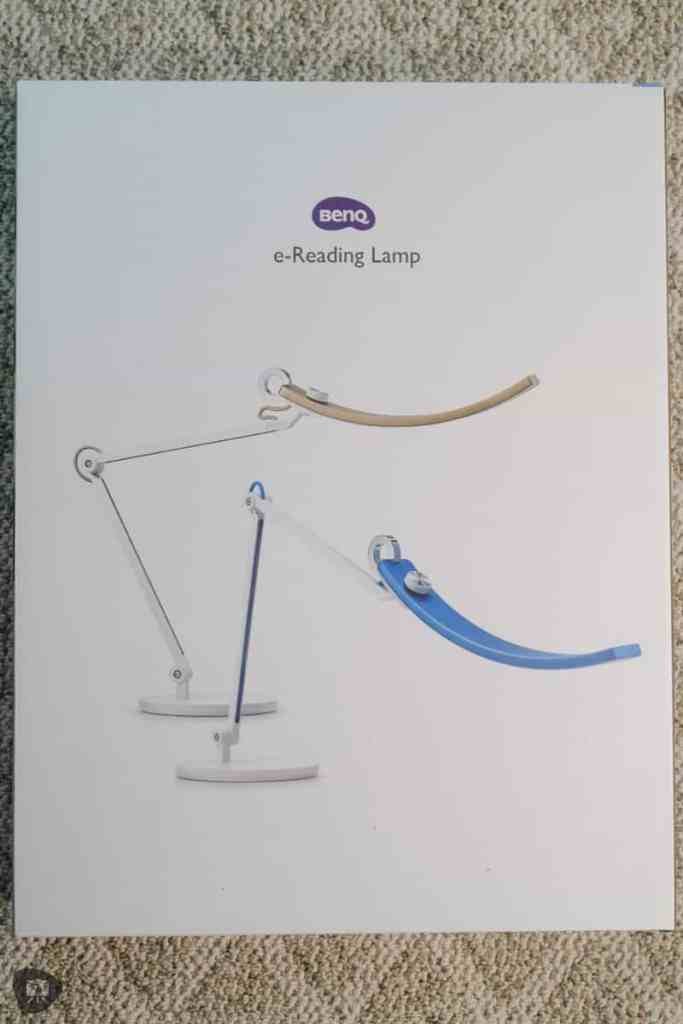 From there I opened the box to reveal the contents inside. The first thing that caught my eye was the signature curved LED panel unit. I had chosen the sky blue-toned color, which reminded me of the Mediterranean Sea on a cloudy day. Yet, while the color was a bit too saturated for my taste, it still looked nice—especially with the matte finish and white and silver accent.
In addition, I found included in the box a power adapter, which required me to plug into the main wiring (which was also wrapped in a blue matching color). The swing arm has a slim, minimalist design which I appreciated.
Unfolding this armature quickly showed me how it would fit onto the base plate. The latter was unmistakeable—a simple and dense circular stand weighed so much that I feared lifting it single-handedly. Two hands, people!
Assembly Experience
Assembly was thankfully easy. Slot the lamp arm into the baseplate, plug in the adapter, and you're ready to go. Note that you'll need to tighten a set screw on the swing arm once it's slotted in the base to ensure it stays put. The lamp came with the appropriate Allen wrench for this reason. Keep this tool safe somewhere in case you need to make adjustments.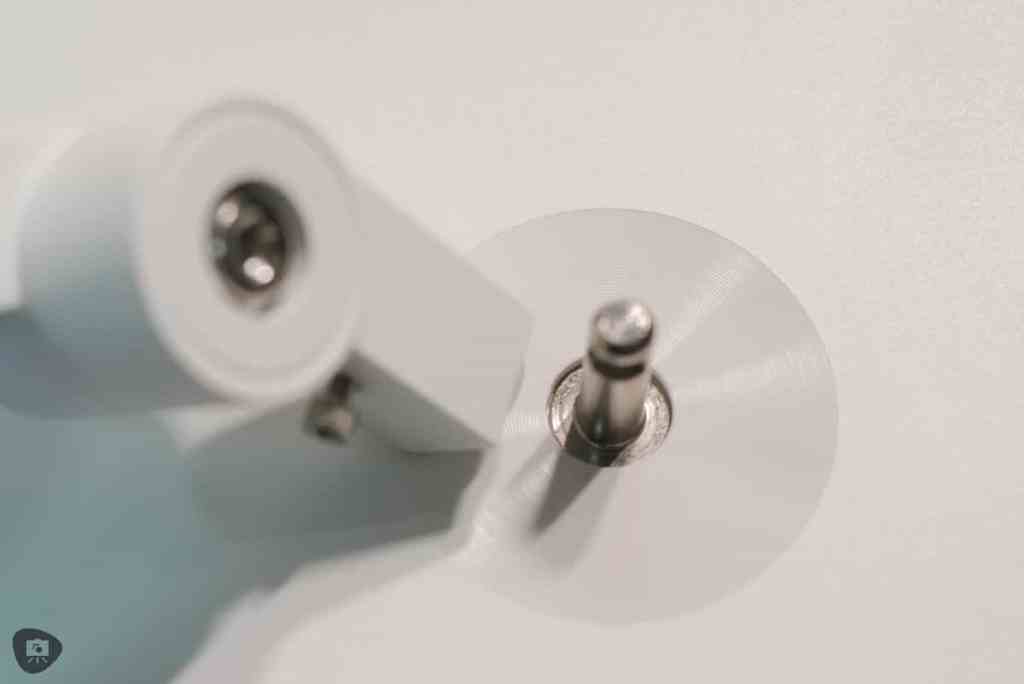 As mentioned above, I received the accessories so I could convert the desk lamp into it's floor lamp configuration.
Similarly, this converting process was also simple and easy to do. If you're choosing the desk lamp setup for the BenQ light, then you'll be happy to know it's a tad easier to work with. With the floor lamp, there's a few more steps, but nothing too complicated or time consuming.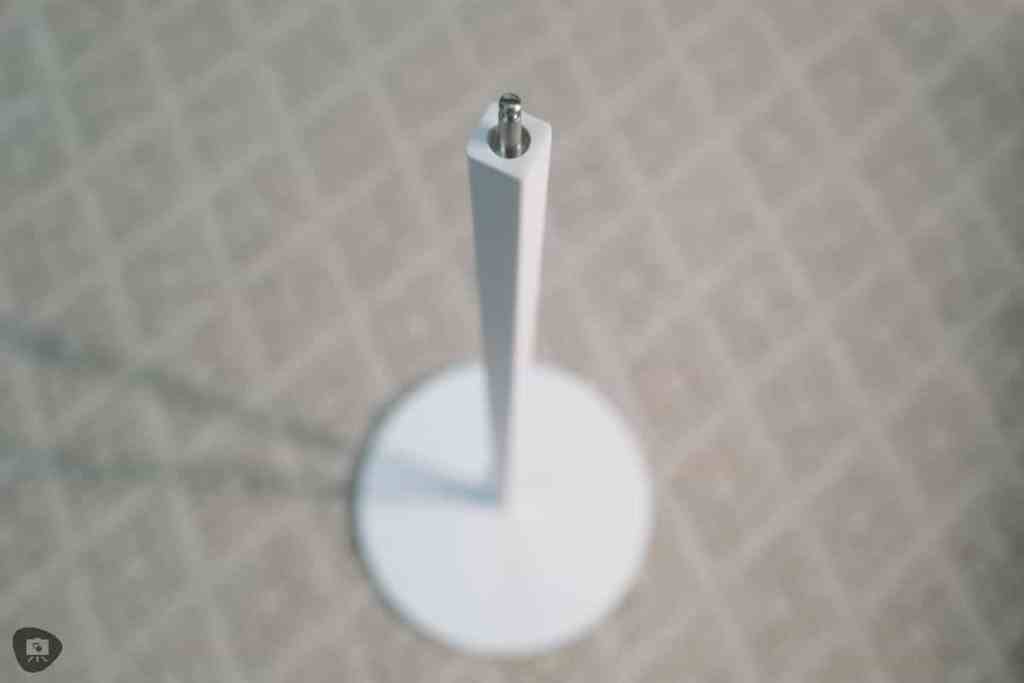 Once I had the lamp assembled, I was instantly impressed with how solid and substantial it felt. There is a definite high-quality feel when you move it around.
Not only is the lamp base solid and unlikely to tip in anything but the most apocalyptic earthquake, but there was no squeak or flimsy movement in any of the joints, pivots or twists in the lamp. More about this later.
All in all, the assembly experience was quick, efficient, and smooth thanks to the well-written instructions manual.
Standout Appearance
The BenQ WiT e-Reading desk lamp is a clear example of the "form follows function" design ethos. The swing arm and circular baseplate are made of solid aluminum, giving it a surprisingly weighty feel.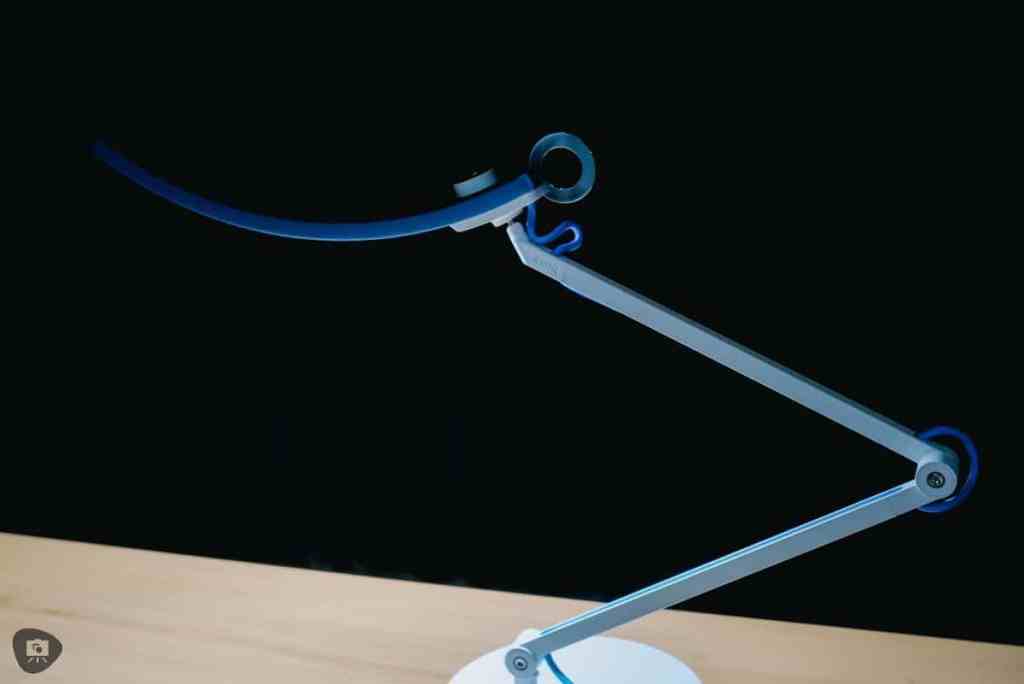 The knobs, joints, and ball and pivot socket (at the interface of the LED housing and swing arm "neck"), also have a confident feel when you move them and have the perfect amount of dampening so things stay put. There's a build quality you can't deny when you interact with this lamp, and even the smallest adjustments feel satisfying.
To follow up on the lamp color I chose, the sky blue matte finish of my unit would look great in most modern and minimalist home décor settings. The LED housing unit is constructed with a curved-armature design which ensures uniform light distribution without hotspots or glare toward the user—a huge plus for any eye strain sufferers.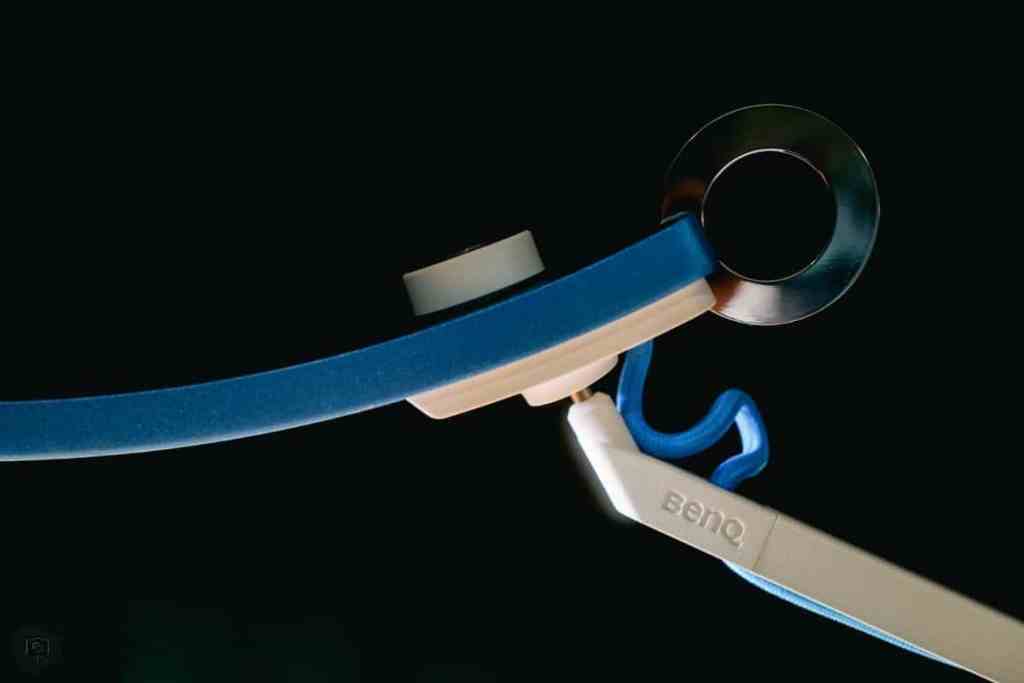 The lamp also has a convenient touch switch on the top of the LED housing unit–check out the metal ring–which makes switching it on or off a breeze. Just tap the chrome ring to turn on or off the light. Though, I've noted in the instruction manual that you shouldn't use this ring as a handle to carry or move the lamp head around.
---
What is Up With the BenQ Lamp Smile "Curve Technology"?
So, you may have noticed the inverted curve of the lamp head in the BenQ e-Reading lamp. This smile-shaped "curve" technology as it is called (source), is designed to to provide wider and more even illumination across your workspace. From my read of the promotional material, the smiling curve is a modern design element with engineering benefits.
This curvature design element allows the lamp to cover a larger area compared to traditional desk lamps, ensuring that your entire desk receives consistent lighting. In my experience, the lamp does throw light outward and more broadly, which was an interesting effect of the BenQ light. And, it's a seriously bright light! Note that the pivot/ball joints give you a high degree of freedom to adjust the lamp head angle as well.
Whether I noticed a significant reduction in glare on screens or reading material, or if it improved my comfort level, that remains to be seen. At worst, it's a cool feature and gives the lamp an oddly attractive feel. You're drawn toward it and want to use it.
---
Notable Key Features
Screen and Book Reading Mode Switch on Lamp Head
A really unique feature of the BenQ e-Reading Lamp are the two distinct modes that can be easily switched between by touching the chrome ring on the lamp (the same you use for turning the lamp on/off).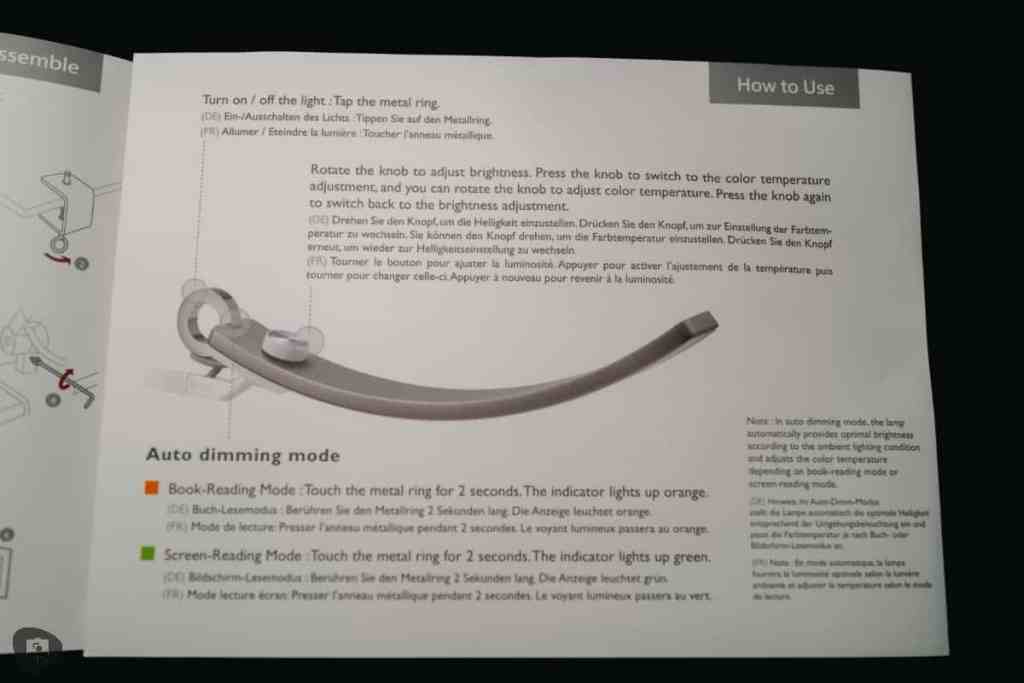 These two modes offer a versatile lighting experience, making it easy for users to adapt the lamp's illumination to their needs and preferences. You can read more about these modes below.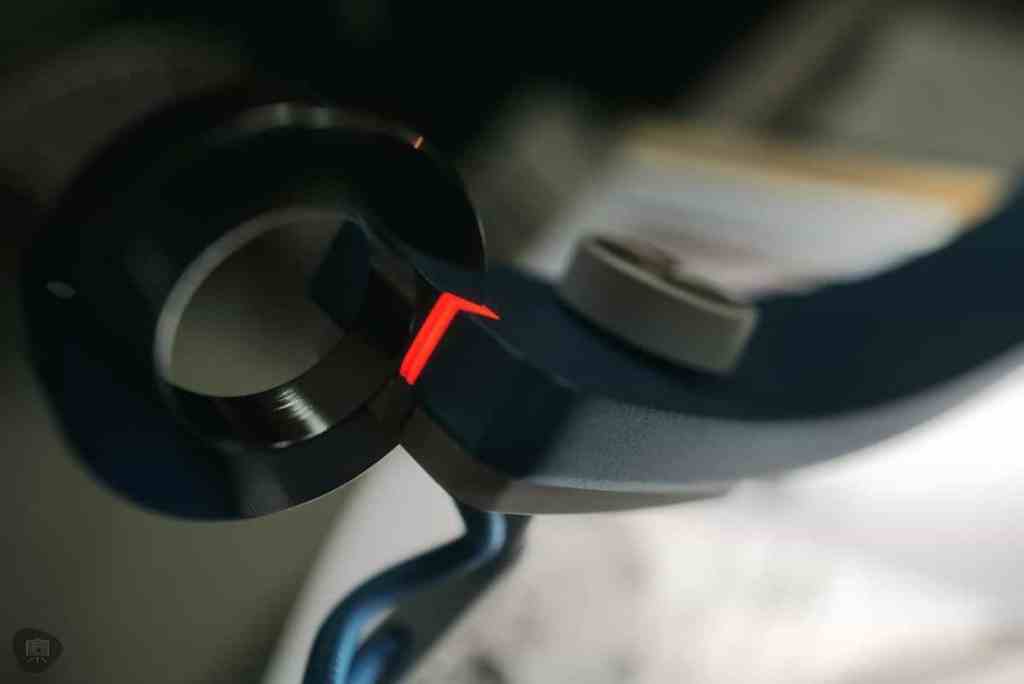 LED Light Source Color Temperature and Accuracy
I'm always looking for lamps that can mimic natural daylight, which is the ideal white light source for any artist or hobbyist. The BenQ e-Reading Lamp offers a wide range of color temperature options, ranging from a warm 2700K to a cool 5700K. This makes the lamp versatile for different tasks, e.g., reading and office work, or painting minis.
For the miniature painter, I'd suggest finding that cool-neutral around 5000K for operating an LED lamp for best results. Of course, this lamp doesn't actually tell you what color temperature setting you're currently using. And, in its defense, few desk lamp do this.
For specific readouts for color temperature and brightness, I would direct you to photography lighting systems, such as a ring light (which I'd also use occasionally to paint under).
Is color rendering index (CRI) important?
Yes! The Color Rendering Index (CRI) is a crucial factor in evaluating the quality of a light source, as it measures the ability of the light to accurately reproduce colors when compared to a natural light source (source).
A higher CRI value indicates better color accuracy, which is particularly important for tasks that require precise color recognition, such as miniature painting or photography.
The BenQ e-Reading Lamp, with its customizable color temperature, boasts a high CRI rating (~95 CRI), ensuring that colors appear vibrant and true to life under its illumination. This enhances the overall lighting experience, as it allows you to work with confidence, knowing that your projects, e.g., art, photography, whatever, will have accurate and consistent color reproduction across a spectrum of environments when you're done.
Don't underestimate the need for high CRI if you're truly serious about getting the best lights for your work. Along with the miniature painting hobby, I'm a photographer and have learned a long time ago that high CRI in artificial lighting has a direct relationship in my ability to produce professional looking images with better color, contrast, and overall impact.
Eye Comfort and Safety
Any LED task lamp worth its salt on the market today boast eye-saving, no-flicker technology. And, it's no surprise given that working under a task lamp for long hours can be a headache, literally.
Older LED and fluorescent lamp technology have flaws in their design, allowing flickering or inconsistent lighting output, which leads to eye strain and headaches. The flickering also affected the color accuracy of the light, making it difficult for professionals to complete their projects with confidence. You can read more in this article about how to avoid eye strain while painting miniatures.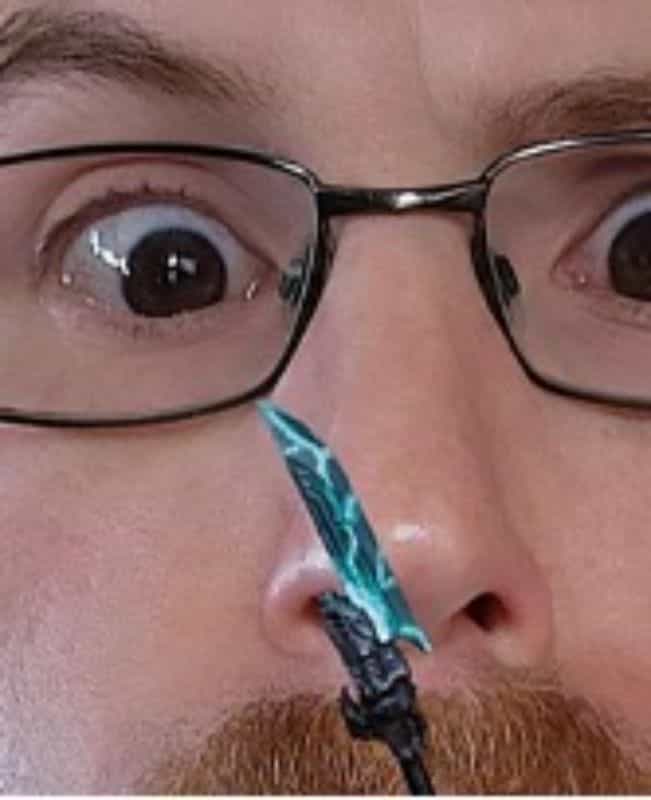 I remember having to take breaks often when working under lights that were too dim, too bright (which made harsh reflections and forced me to squint my eyes), or simply gave me headaches because of that subtle flicker.
No longer do I suffer working with crappy lighting as a commissioned painter and hobbyist. Seriously, now I won't bother reviewing any lamp that can't provide the basic requirement of soft, diffuse, and bright daylight natural lighting (at least 600 lumens) I need to work professionally.
Here, the BenQ doesn't blink when I need proper lighting for whatever I'm using. In fact, I'm writing this review under the lighting source of this lamp.
An Automatic Light Sensor: Smart Ambient Control
This is a highly-innovative feature that you'll find on no other lamp within this market segment (at least from my research). The BenQ e-Reading Lamp has an ambient light sensor, which is used when the lamp is in Ambient Mode.
When the lamp is in Ambient Mode, it intelligently adapts to the lighting conditions of the room or workspace, providing optimal illumination without the need for manual adjustments. This mode ensures a comfortable lighting experience throughout the day, reducing eye strain and increasing energy efficiency. It is particularly useful for users who desire a hassle-free, adaptive lighting solution that caters to their needs without requiring constant adjustments.
Ambient mode operates while you're in one of two mode settings: Paper mode and screen mode. These two distinct lighting settings designed to cater to different tasks:
Paper Mode (orange LED on): This mode is tailored for tasks that involve physical documents, such as reading, writing, or painting on paper. In this mode, the lamp provides a warmer color temperature and balanced brightness to reduce glare, making it more comfortable for the user to focus on the task at hand.
Screen Mode (green LED on): This mode is specifically designed for activities that involve digital screens, such as working on a computer or tablet. Screen Mode offers a cooler color temperature and adjustable brightness to minimize glare and reflections on the screen, reducing eye strain and fatigue during extended screen time.
---
BenQ Desk or Floor Lamp Configuration? What's Better?
You can opt to get the BenQ e-Reading lamp as a desk lamp or floor lamp. I also know that it can come with a desk clamp accessory, but I did not test this. In either case, the highly flexible swing arm works well in either configuration.
I've written elsewhere about the advantages of a floor lamp, and when you may want one, so I won't belabor the point here. Suffice it to say, both a desk or floor lamp have their pros and cons.
When deciding between a floor lamp or desk lamp configuration of the BenQ e-reading lamp for painting miniatures or office work, consider:
Advantages of a Desk Lamp:
Focused task lighting
Adjustable positioning
Space-saving design
Ergonomic features
Advantages of a Floor Lamp:
Ambient lighting
Less desk space consumption
Versatility for various tasks at different heights
BenQ includes several accessories so you can convert your desk lamp into a floor lamp (which I had opted for). This was great for me since I already have many desk lamps and wanted to switch it up for miniatures painting and see what other needs I could fill at home.
---
Best 10 Uses for the BenQ e-Reading Lamp
For this review, I'll go over the two major tasks I tested the lamp for: office work and hobby miniature painting (see further below). But, here I can that you'll find many other uses for the BenQ lamp, including:
Reading
Arts & crafts
Drawing & sketching
Architectural drafting
General office work
Traditional artwork
Scale modeling
Miniature painting
Nursery ambient light
Gallery display
The versatility and spectrum of uses for the BenQ e-reading lamp make it a great choice for many. I can't even imagine all the other uses you could find for this light. Would your average desk lamp perform the same?
A good desk lamp could easily fit your need for one or two of these. But if you're looking for a feature-rich gamut in a single lamp, then the BenQ is a great pick.
---
Painting Miniatures with the BenQ Desk Lamp
Let's get this out of the way: Is this the best desk lamp for painting miniatures?
No, I don't think the BenQ fits this top-shelf label. And, I have many reasons for this. For now, I'm still inclined to first recommend the Neatfi XL with a close eye on the Redgrass R9 hobby task lamp.
The reason the BenQ e-Reading Lamp isn't the best lamp I'd suggest for a miniature painting hobbyist is because of how expensive it is. Of course, it's expensive because the BenQ lamp has so many innovative, high-tech features.
For the miniature painter who only needs a good lamp to paint by, you would totally under-utilize all those things that make the BenQ so pricey.
Now this doesn't mean that the BenQ isn't great for working in the miniature-scale hobby space–on the contrary, it's fantastic. But, it's overkill.
At the same time for the purposes of this review, I put the BenQ through its paces with a number of small mini-painting projects. In each, the light source was reliable, high-quality, and as you should expect, perfect for illuminating my workspace.
I didn't find any shortfalls. The LEDs are super bright when needed, color corrected for the appropriate task, kept a neutral color temperature when asked, and cast a pleasant glow over my work. I had no problems working with the BenQ lamp and enjoyed the experience.
If there was a weakness, it was that there were too many functions I had to remember how to cycle through to get the light exactly how I wanted it to work. I'm sure if I worked longer with the lamp, this would become second nature. But, if you're someone looking for a minimalist approach to a lighting system for painting miniatures, this may be a bit annoying.
Best for an Art Studio? Yes!
Now, I'll provide a situation that some of you would LOVE this lamp. If you have a larger area, a room perhaps, that you make art in, also known as an art studio, then the BenQ is amazing for you.
I realized why that odd inverted LED housing exists. It spreads out the LED beam outward. So, while it provides a method for shaping diffuse light down toward your work area, the BenQ also illuminates the space, walls, and objects around you.
The BenQ is the BEST AMBIENT ART STUDIO lamp you should get if you want something that will help you make art and improve the feel, and atmosphere of your creative work area.
I think the BenQ e-Reading Lamp is a fantastic ambient light for an art studio. It looks great, has fine tune controls to adjust the light output & color temperature, and it's a great way to add creative flair to your work space.
In this scenario, the floor lamp configuration may be more useful for you. This would let you setup the lamp in various areas of your work area. For example, you could set it up next to your drafting table, easel, hobby bench, or simply place it in a corner near a comfy reading chair.
For now, I've given this lamp a home near my favorite chair I use to read and watch TV from. It swings easily toward or away from me, and I can raise its height as needed.
---
General Office Work with the BenQ Lamp
I also tested the BenQ lamp in its desktop configuration for home office work. To keep things short, as I'm sure you're all going to have different preferences, I found the lamp to be an excellent home office task lamp.
Here, I was impressed by its wide and even illumination, thanks to the unique "curve technology". Taking some details from the main BenQ website, coverage indeed felt wider than other lights and was really cool to use. I had plenty of light for my entire desk.
While I don't have the largest home office desk, the BenQ provided way more illumination than I needed. I took full advantage of the adjustment dial and touch controls. Once at the appropriate brightness level and with the right angle, I was able to reduce screen glare on the computer screen.
Although I found the touch control easy to use, it did get annoying when I accidentally bumped into the touch ring. Because the lamp automatically adjusts to the environment, I didn't need to worry about toggling power or dealing with the hassle of messing with the color temperature mode.
The innovative design came together to dynamically adjust what I needed, even as the daylight faded, or I turned on other lights in my room. Respectively, the BenQ toggles power up or down in these scenarios. It was cool when I realized how well this worked.
---
Best Features for Any Environment
One feature I particularly appreciated was the ability to customize the brightness and color temperature. The lamp's knob adjusts easily and I could choose a cool white light to improve my concentration during work hours or a warm yellow light for a more relaxed atmosphere during breaks.
The lamp's patented ball-joint and durable torque springs allowed me to adjust the lamp effortlessly while maintaining stability at any angle. This feature made it easy to reposition the light source to suit my changing needs throughout the day.
---
Alternative Lamps and lighting Setups for Painting Miniatures and Models
Painting miniatures and working at the fine scale requires more than sufficient levels of brightness; you'll want soft, pleasant illumination that doesn't produce harsh spots and reflections on your working surface.
If you're looking for an affordable LED desk lamp for a wide variety for hobby tasks, including miniature painting, scale modeling, and kit assembly, you have a huge world of options.
If you're in the commission miniature painting business, then you'll understand the long hours required to finish bigger projects. You'll want to avoid problems such as eye fatigue and strain.
Here, not every LED lamp you find on the market will fit the bill.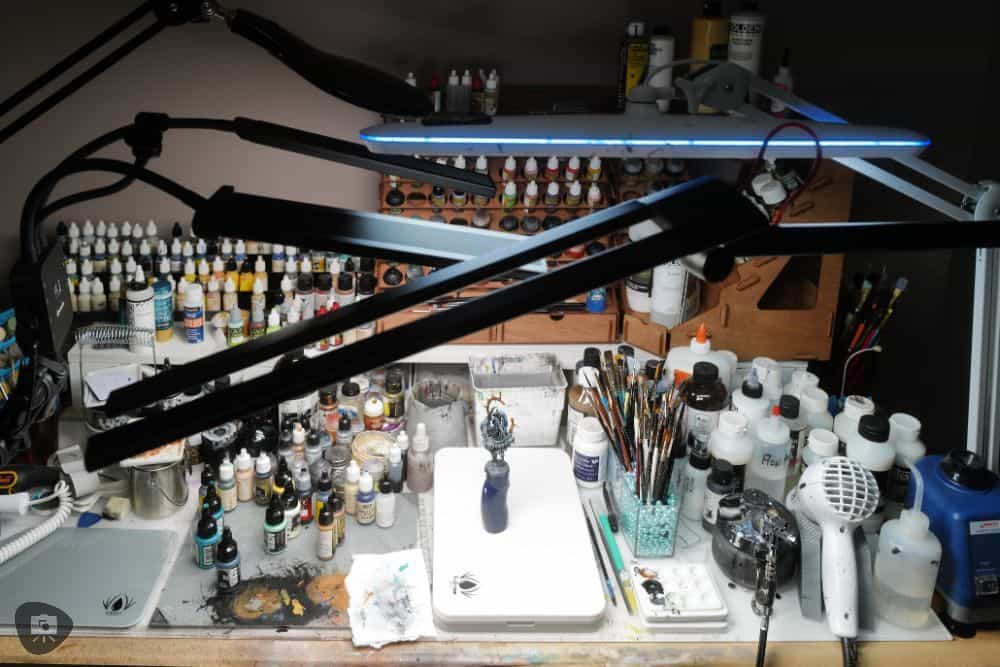 A brighter light may fail you in so many areas. Sure extra light could create the high contrast you are looking for, but it could lead to discomfort. Maybe even the color temperature is off (hint: look for a high CRI lamp). Or, the lamp doesn't have a brightness mode that lets you adjust the illumination for your comfort level.
---
Verdict: Is the BenQ e-Reading Lamp Worth it for Painting Miniatures?
As a self-proclaimed nerd and lover of cool gadgets, I can't help but appreciate the BenQ Desk Lamp. It goes beyond just looking cool, offering utility for various tasks, including painting miniatures and other creative work.
The key takeaway from my experience with the BenQ lamp is that it provides extensive lighting coverage, making it perfect for hobbyists working on detailed projects. The lamp is ideal for cultivating a flexible and inspiring environment in art studios, offering adjustable color temperatures with high CRI (>95) and brightness levels. The versatile options for desk or floor placement and the solid, stable base stand make this lamp a feature-rich choice for home, office, or hobby spaces.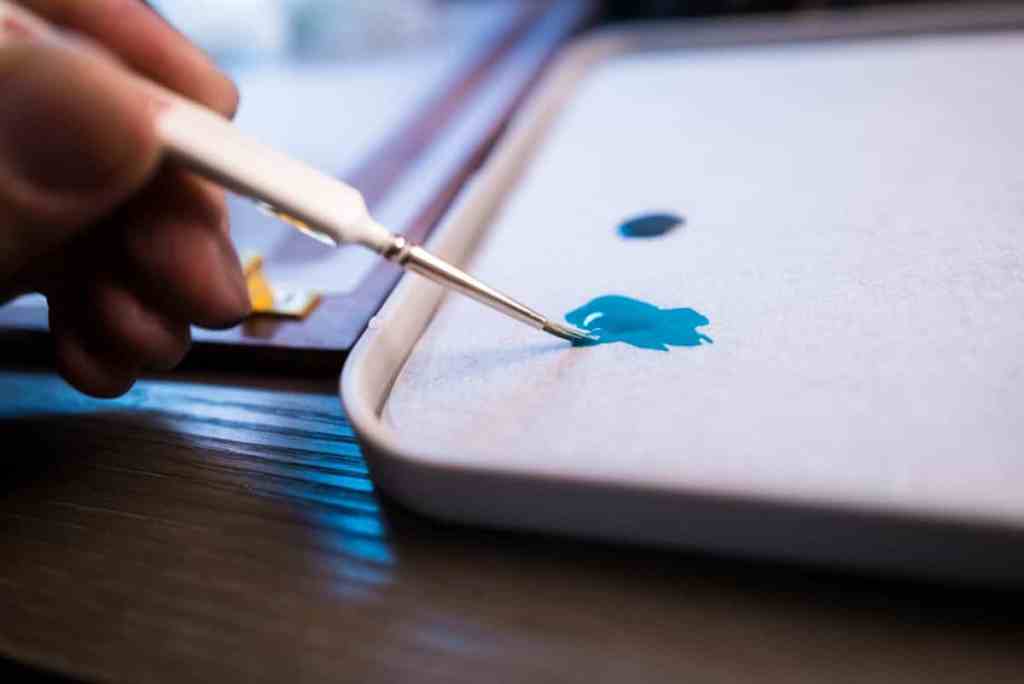 Overall, it's an expensive lamp. At over $200 USD, the BenQ sells a lamp as an investment you'll have to bet on; but if you're serious about miniature painting, home office work, or any creative endeavor where quality lighting and high color presentation matter, this lamp will not disappoint. It balances form and function with surprising ease, offering premium value for its cost.
---
Final Thoughts
I hope you enjoyed this review of the BenQ e-Reading desk or floor lamp. Though it comes with a premium price tag, the lamp's unique blend of form and function justifies the investment for serious creative individuals who want to stand out.
Are you looking to upgrade your lighting setup? Does the BenQ lamp pique your interest? I'd love to hear your thoughts! Let me know with a comment below.
Until next time, stay shiny!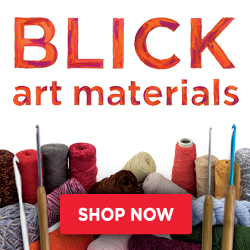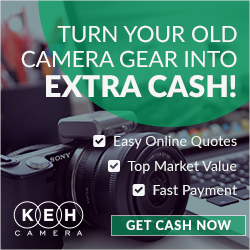 Tangible Day on YouTube (Miniatures and More!)