---
---
---
Guide to Magnifying Lamps for Painting Miniatures and Models
Choosing a good magnifier lamp is a bit more involved than regular lights. But, they have the dual benefits of a magnifying glass with light. As you'll see, this is great for working with miniatures and painting.
Continue reading below for a review of the top 10 best magnifying lamps for painting miniatures.
---
1. Glass or plastic lenses
Magnifying desk lamps use lenses built into a frame. These lenses are either plastic or glass. (Note: Lamps with plastic magnifier lenses are still called "magnifying glass lamps").
For the best clarity, glass lenses are always better. Glass has better light transmission properties, allowing all wavelengths to pass-through, and is much more durable. Glass is very hard to scratch and damage. In this regard, glass will easily resist those bumps you make with your brushes and tools. Finally, glass is also easier to clean with solvents that may harm plastic.
On the other hand, plastic is less expensive and much lighter weight. This means that magnifying lamps with plastic lenses are generally smaller, easier to transport, and also provide sufficient magnification power.
If you're on a budget and don't plan to paint for long sessions, magnifying lamps with plastic lenses are a good value. To paint miniatures you can certainly get away with a budget lamp as long as you're aware of its limitations–more about this below.
---
2. Floor, clamp-on, or desktop stand lamps
The best magnifying lamp for painting is stable and reliable.
You move the lens to where you need it, and the entire system stays put. Both floor and desktop magnifying lamps have ways to provide a stable optical view of your working surface.
The advantage of a magnifying desk lamp is the smaller size of the entire system.
Desktop lamps can also run without wires, using batteries, so you can travel with your magnifying light.
Cool, huh?
Clamp-on magnifying lamps are generally more powerful and versatile than desktop magnifying lamps. These lamps are also the most popular kinds of magnifying lamps available. And, there are good reasons why! If you're a serious hobbyists, I would skip over the desktop lamps and consider the clamp-on versions.
These magnifying lamps have pressure clamps that let you attach the light to the side of your desk. They don't take up much space and allow you to move the magnifying lens to wherever you need it, usually with a swing arm.
With at least 3 degrees of movement, these lamps can cover most regular desk spaces with great light (even if you don't use the magnifying lens).
RELATED: LIGHTS FOR MINIATURE PAINTING AND OTHER FINE SCALE MODELING
There are several reasons you might advance to a floor stand type magnifying lamp. If you need to work at several locations in a room, all you need to do is wheel the lamp to the needed destination.
Also, because floor lamps are so mobile, you can adjust the location of the light and magnification power toward even more locations than any of the other lighting options.
Both clamp-on and floor stand type magnifying lamps use glass lenses, and therefore the heaviest of the lamps.
Nonetheless, if you're a scale modeler or other pro-level hobbyist, floor lamps give you some of the most powerful and versatile features in a magnifying lamp system.
---
3. Diopter or magnification power (focal length)
Magnification power of a lens is measured in diopter units.
For painting miniatures or scale modeling, I highly recommend you start with a magnifying lamp with a 2-2.25x magnification (or 5 diopters).
The key reason for this is that at around 5 diopters (2.25x magnification power), you will have enough magnifying power to improve visual details, and a long-enough focal length to avoid bumping into the lens with your brush handle or tools.
Focal length is the distance from the lens to your subject. This means that focal length determines how much room you have for your brush handle and your magnifying lens. Too short, and your tools or brush will bump into the lamp. It's quite annoying.
At 2.25x magnification, your focal length will be around 8 inches, which is about the length of a regular paint brush. If you wanted more space to work in, you'll probably need to a lower power lens. At around 2x, your focal length moves to about 10 inches.
The More Depth of Field (DoF) You Have, The Faster You'll Work
---
4. Swing or flex arm magnifying lamps
Magnifying lamps use different systems to help you get the lens and light where you need it. Some lamps use spring-loaded spring arms with several degrees of movement. Other lamps use flexible arm with infinite range of movement.
In general, the more expensive lamps use swing arms.
---
5. Lighting type
A key feature you should be aware of is the kind and quality of light from the magnifying lamp.
My advice is to look for good, diffuse light, which will help prevent eye fatigue.
Eye fatigue is a huge speed bump for comfortable long-term painting hobby sessions.
The best magnifying lamps have daylight light emitting diodes (LEDs), which provide balanced white light at a good brightness. This lighting quality improves painting and hobby work because these they increase your ability to see contrast and color.
Daylight lamps for painting accurately have a color temperature that stays within the sunlight range of lighting, between 5000-6500K (or Kelvin).
MORE: SEE OTHER RECOMMENDED LIGHTS FOR PAINTING MINIATURES
For a good daylight magnifying lamp, my first recommendation is a lamp that has a full-spectrum bulb or LED.
Other features that you may want is to get lamps that allow you to change the color temperature. For example, if you wanted a warmer or cooler colored light, merely make the adjustment on the lamp.
Why would you want a warmer light?
A warmer light has less "blue light" and can therefore help you sleep better. Bright LEDs with blue light can disrupt your ability to sleep by suppressing melatonin.
Interestingly, a bright daylight lamp could be useful, because some research shown that it can keep you alert, focused, and even help with symptoms of depression.
What Should I know about light Brightness?
Lighting brightness is measured in lumens.
Lumens is a unit of light based on the International System of Units. It is "…equal to the amount of light given out through a solid angle by a source of one candela intensity radiating in all directions." (source)
In general, what you need to know for LED-based light brightness is that lumens is the measure you're looking for, not watts (which was a measure used in conventional bulbs).
All the lamps below are LED-based lighting systems.
Speaking of brightness, some magnifying lamps have a dimmable function. At first glance, you may think this is no big deal. But, a lamp that you can dim is versatile.
You can use a lower dim light to check how well you've performed your contrast enhancements on your paint job. In dim light, a high contrast model should continue to look good.
And, if you're a photographer and like taking photos of miniatures, being able to dual-purpose your magnifying lamp requires some control of its brightness. Some of the photos you see on this site are taken with the light from an LED magnifying lamp, like this one.
---
---
How Do You Properly Use a Magnifying Lamp?
A magnifying lamp is supposed to reduce pain and discomfort. This means you need to position yourself with good sitting posture. Your back should be arched. No slouching over your magnifying lamp!
RELATED: HOW TO AVOID EYE STRAIN WHILE PAINTING MINIATURES
For those of you who opted to buy a swing-arm lamp, good on you. Move that lens away from your chest and up higher to your neck. With your miniature or model at the proper focal distance (usually between 8-10″ from the lens) while holding it, you should be able to rest your elbows on your desktop or arm rests of your chair.
Stretch!
You should feel a slight stretch in your lower back (e.g., the lumbar region). This stretching in your lower back prevents the muscles that support your upper body from continually contracting, which leads to lower back pain. Don't slouch!
Now, for your eyes and painting comfort: Keep your face away from the lens so you don't crane your neck. A good magnifying lens will keep your subject in focus with a clear picture at a normal viewing distance. With both your eyes open, you should still be able to get a stereoscopic view (e.g., 3D-ness) of your model with good contrast.
Finally, be aware of light flicker. Some light sources create a high frequency "flickering", which is how some lower-end lamps maintain illumination at specific voltages. Also known as a dimming function, light flicker is an artifact of electrical pulsing that lowers the overall light-output of an electrical light source.
Light flicker in some people can trigger headaches or exacerbate eye fatigue (that nasty feeling of sleepiness when you're not actually tired). And, for some people, light flicker can even lead to seizures. I'm not trying to scare you. But, just be aware that it can be a problem in some "budget" lamps.
The magnifying lamps and lights I recommend and review below do not have reported issues with light flicker. Taken together, you'll find with time, using a magnifying lamp will become second nature.
For some people, you can try wearable magnifying visors, like these, which also give you hands-free optical help. For painting miniatures, I personally use both kinds of magnifying aids, depending on what I'm working on.
How Do You Clean the Magnifying Lens of Your Lamp?
If you're a miniature painter, then like me you'll end up getting your lens splattered with a bit of paint. It happens! And it's simple: Every illuminated magnifying lamp works better when it's clean.
For glass magnifying lenses, you can use almost any cleaning solutions you have. Any of the brush cleaners, soaps, or detergents mixed with a bit of warm water will work great for cleaning your lens. Just use a damp clean cloth and wipe your lens down. Acrylic paint and other debris will wash off, easily.
There may be some of you who are asking if there are special coatings on the glass lenses on magnifying lamps. In photography, camera lenses use special coatings to reduce glare and help with color distortion. However, to my understanding, there are no such coatings on any magnifying lamp lenses. The optics simply don't need it.
So, when you're cleaning glass lenses, you can be worry-free that you won't damage the surface. When in doubt, of course, use the gold standard for cleaning glass: Windex. It's great for removing dried up acrylic paint and fingerprints. I even use Windex for cleaning my porcelain dry palettes.
For plastic lenses, you'll have to be more careful. Harsh chemicals can "eat" into the plastic surface and cloud the surface. So for plastic lenses, I suggest using simple dish soap and water to clean your lenses. If you need something stronger, you can use Windex (as you do with glass lenses).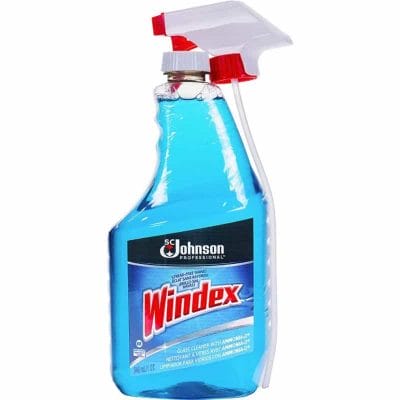 ---
Top 10 Best Magnifying Lamps for Painting Miniatures and Models
The Brightech LightView Pro Flex Magnifying Lamp is a glass lens equipped desktop lamp. The lens is a 2.25x magnification power, which is perfect for painting miniatures or small details on models. As a miniature painting magnifying glass it works well!
The LED is a daylight color temperature, but is on the dimmer side at only 570 Lumens. This is the equivalent brightness of a regular 40-60 watt incandescent bulb. In my opinion, this is probably the biggest drawback of the lamp.
Another weakness is that the lens is only 3 inches in total diameter. That's not a very big lens compared to the other options below.
However, with a flexible swing arm, you can get the lens where you need it. The overall dimensions of the lamp are good, which allows it to have a small footprint while allowing you to maneuver the light where you need it. Because of this relatively small size, I would consider this fairly portable.
For example, if you wanted to work in your kitchen table, then move somewhere else, this lamp would help you out. There is even a clamp, so it can operate in different locations (e.g., clamp it on an overhead shelf).
At around $40 USD, the lamp is a good deal cheaper than it's competitors. If you're a light-work hobbyist, or just want to add the option of magnification on a part-time basis, this is a good value. Just be aware that it might not produce the very bright light you would want for professional work, or will provide only a limited view of your subject (e.g., small lens diameter).
---
This is the magnifying lens I have. The Brightech LightView Pro is a modern classic design. The reasons I purchased this magnifying lamp is because of the daylight LED lights built into the lens housing.
The 2.25x magnification lens (5″ inch diameter) is well-suited to painting miniatures. A neat feature of this lens is the lens cover. This allows you to keep the light shining only on your working surface, instead of through the lens when you don't need the magnification.
The cover protects the lens, too, and essentially turns this into a regular office lamp. Neat!
The swing-arm clamps to the side of my desk. The thickness of my desk is about 1.5 inches, but the clamp will allow this lamp to attach on much thicker surfaces.
The brightness of the LEDs is on the dim-side, at about 650 lumens (about a 40-50 watt bulb equivalent). So, for my needs, I usually supplement this light with another lamp. You can see that light and others I recommend here.
For long painting sessions or hobby work, e.g., soldering, model-making, this is probably the most cost-effective magnifying lamp for painting you can get.
---
The Brightech LightView Pro LED Floor Lamp is essentially the same as the Brightech LighView Pro LED Desk Lamp (above).
This lamp has the same feature set. 5″ glass magnification lens that is made of glass. It has the 2.25x magnification power, which is my recommendation for hobbyists working with miniatures (which provides a good working focal length).
The brightness is similar as well, at 800 lumens (providing 60 watt bulb equivalent of light). With both dimmable and color temperature adjustable settings, this lamp is also versatile.
The major difference with the lamp is the wheeled stand. You can move this around your room! Or, if you want, you can maneuver this around your desk or to another room entirely.
The fact it is a floor stand model also means that it's great for those of you who have precious little desktop space. This takes up zero footprint on your table.
The overall stand is quite tall, but the swing arm on top provides a high degree of movement range. Of course, the entire lamp assembly is heavy (at close to 30lbs).
Overall, this is a fantastic magnifying lamp for its mobility and other features.
---
This is actually the very first magnification "aid" I ever purchased. The reason I got the Carson DeskBrite is because it was battery-powered. I was able to take it around my small apartment without need to plug it in.
For small, short spurts of detail work, this magnification lamp was fine. It was also very cheap (less than $20). So for a supplemental tool for my burgeoning hobby (I wasn't a commission painter back then), this lamp was useful.
The lens is made of plastic, but it is fairly large (about 4 inches in diameter). The magnification power is also the highest on this list at 5x power.
However, because of this magnification power, you don't have a very long focal length and I did find myself bumping into the lens a lot with my brush handles.
The flexible neck was kind of a stiff and hard to maneuver, but once in place the lamp stays there.
The LED is a simple two bulb affair, which kicks out a poor bright level of light (ambient overhead kitchen lights were probably brighter). But, again, it was battery operated and did the job for small tasks.
If you're looking for something really small, useful for light task work, this is the best you'll find in the sub-$20 price range.
As an alternative, if you're looking for a really good portable light, minus the magnifying lens, I do highly-recommend this portable LED light.
---
The NUEYiO LED Magnifying Lamp is the direct competitor with the Brightech LightView Pro LED. Nearly the same in price and functionality, there are several notable differences.
The NUEYiO Lamp is brighter than the Brightech at 2200 lumens (compared with 650 or 800 lumens of the Brightech desk or standing lamp, respectively). Although the NUEYiO Lamp has a glass lens that is only 4″ in diameter compared with the Brightech, the NUEYiO has slightly more magnification power at 2.25x.
Because of the diffuse very bright LEDs on this lamp, the quality of the lighting could be arguably better in general. With full-spectrum daylight color temperature, the light quality is perfect for painting miniatures.
The bright LED bulbs are dimmable, which is very useful for reducing potential glare or hotspots on some reflective surfaces. If you're reading, for example, or assembling models, you may want less light to keep the glare down.
Less glare means lower risk of eye fatigue. You're more comfortable.
As with other clamp-on swing arm lamps, the NUEYiO can be placed on the side of a hobby desk. The steel articulating arms mounted on the side of a desk have a high degree of freedom so you can place the light source right where you need it.
The lens has cover that both protects the glass lens and keeps unwanted light from saturating other areas of your hobby space. In general, this is a great lamp for professional work, painting miniatures, and other modeling activity.
---
The Brightech LightView Pro LED Magnifying Lamp is similar to the XL version with the rolling base. However, instead of wheels, the base of this lamp is weighted to prevent the lamp from tipping over.
This lamp uses a flexible arm instead of a swing-arm system. You can change the height of the vertical stand from between 24 to 44 inches. This is a versatile lamp with the ability to use it alongside tables or work benches of different heights. Because the lamp has a floor stand, it won't take up any room on your desktop.
The LEDs are average bright, emitting 540 lumens (close to 40 watt bulb equivalent of brightness). The color temperature of the light is on the cooler side of the daylight spectrum (6,000K), which is great for reproducing accurate colors on your subject. Unfortunately, you can't dim this light or change the color temperature.
The glass lens has the same large rectangular shape of the Brightech LightView Pro XL lamp (6″ wide and 4.5″ long lens). The magnification power the lens is 2.25x, which provides a really nice 8-10″ focal length for working space.
---
Summary: 10 Best Magnifying Lamps for Painting Miniatures and Models
---
---
---
---
---
---
---
---
---
---
---
Tangible Day on YouTube (Miniatures and More!)