If you're in the market for a quality magnifying desk lamp, the Brightech Lightview Pro Magnifying Desk Lamp might be just what you need. This lamp is perfect for anyone who needs to do close work, such as painting miniatures or models. It features a cool white light that helps your eyes see color contrast and fine details better, making it ideal for miniature work and hobby modelers. Plus, the height and placement of the lamp can be modified to fit your needs. The LightView Pro comes with a strong table clamp so you can attach it securely to your working surface without using up too much space.
In this article, I share my full review of the Brightech LightView Pro Magnifying Desk Lamp, and let you know if it's worth your money. After using this lamp for more than two years I thought it was about time to share my thoughts and experience with you!
So, is this lamp worth your money? Well, let's take a closer look at exactly what it offers…💡
---
Summary Recommendation (TL;DR):
I do recommend the Brightech LightView Pro Magnifying Desk Lamp to any miniature painter or scale modeler who need to do detail work up close. The Brightech LightView Pro Magnifying Desk Lamp is one of the best desk lamps you can possibly get for painting models or miniatures due to its sturdy build, great light quality and clean magnification capabilities. It's also affordable!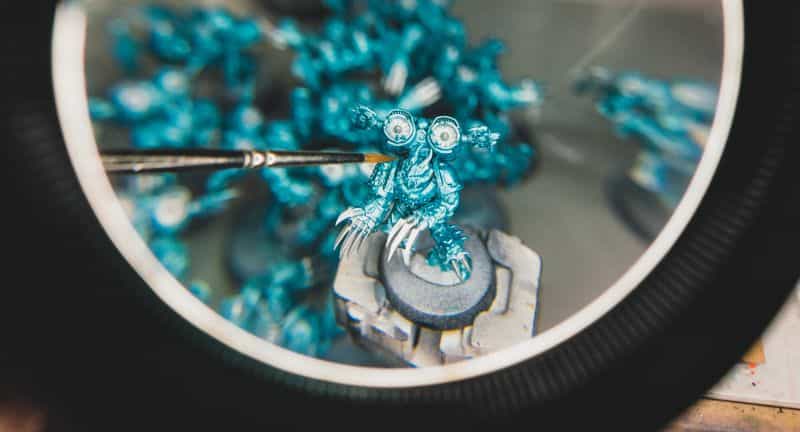 PROS:
Flexible design lets you move the light and lens where you need it
Small desk footprint (just the clamp on the edge of your table)
Cool, neutral soft illumination (6000 Kelvin color temperature; 800 lumens)
Crystal-clear glass lens with 2.25x magnification power (8-10″ working focal distance), perfect for painting miniatures with a normal length brush
Long service life LED bulb (20,000 hours or 10 years continuous use)
Sturdy metal and plastic build quality
Budget Friendly, Affordable Price
CONS:
Not dimmable, lamp only has an on/off switch
Single color temperature (cool, neutral)
Dust cover is not removable
Read on for more details about the Brightech LightView Pro magnifying lamp and my experience using it for painting miniatures.
---
Key Features: Brightech LightView PRO Magnifying Desk Lamp
More comfortable than headsets (for some people)
Clamp for desk or workbench and gooseneck style swing arms to keep magnifying light in place
Bright 800 Lumens with cool, neutral color temperature 6,000K
Glass magnifying lens is 4.5 inches wide with a 2.25x magnification (5 diopter)
Height of the lamp is 33 inches, with an outward reach of up to 42 inches
Weighs 6 and a half pounds
Two piece, easy assembly, plug-in, flip the switch and you're set to go!
---
Who is this Magnifying Lamp Good For?
The Brightech LightView PRO Magnifying Lamp is ideal for all kinds of hobbyists who need more magnification assistance when doing precise, more detail work. Are your eyes struggling to see contrast and details up close? Then in my experience, I would think something like this the LightView magnifier would be ideal for you.
There are benefits to head worn magnifying visors, too. But they can also be cumbersome for painting or modeling in longer sessions.
This lamp is great if:
You do lots of miniature painting with small brushes or detail work with model kits, etc., and want to see small details up close
Struggle with headset worn magnifying visors and don't like using them
The Brightech LightView PRO is essentially a desk mounted magnifying glass, with an adjustable arm and clamp to let you position it wherever you need. The large 5″ lens is also one of the biggest available in a lighted magnifier on the market right now, making it perfect for painting models and miniatures.
---
What to Look for in a Magnifier Lamp for Miniature Painting?
Here are some notable features you may want to know about when you're looking for the best magnifying lamp for painting miniatures or working with scale model kits.
Choose glass over plastic lenses
Clamp-on lamps take up less desk space
2-2.25x magnification (or 5 diopters) is the best optical power for working with miniatures and scale models
Ideal light brightness is at least 800 lumens (60-100 watts) or brighter
Neutral, daylight color temperature between 5000-6000K
High Color Rendering Index (CRI) values over 90 provide the best color reproduction
Expect a cost between $50-200 for a high quality hobby magnifying lamp
The Brightech LightView PRO is a great example of a high quality magnifier lamp for painting miniatures with all of the features I just listed. It's one of the most affordable ones too, coming in at under $100 USD. From my years of using this lamp, I've had zero problems and have had many returns from the initial investment. Want to know more?
Read on for my review and thoughts of the Brightech LightView Pro Magnifying Desk Lamp.
---
Look and Feel: My Impressions
Black or white colors available. I got the black version because I wanted my desk to have a more "classic" feel. I also think at the time, the lamp was cheaper by a few dollars if I went with black.
Ultimately, I think I made the right choice since black tends to stay "clean looking" for a longer period of time; where as the white colored version would have looked dirty and yellowed after a year or so of use (maybe).
The lamp feels solid. It is made from metal and plastic, with an LED bulb that produces 800 lumens and 6,000 Kelvin color temperature. The magnifying glass lens is made of "real diopter" glass, which is very nice and clean and helps produce a clear
The clamp is actually very large and even comes with clamps that can go onto the side of a desk, table or even the back of a cabinet or shelf so you can attach it where ever you need. There are two screws that you use to tighten/loosen the clamp. I have it attached to the side of my desk and it has never fallen off, even when I accidentally hit it while working. Overall, the system is very sturdy!
The swing arm is also adjustable and can be moved up or down as needed. When I put the light where I need it, the illumination doesn't move. This is especially important when I'm working with the magnifier lens on some small detail work and need both hands free.
Although there is no dimmer adjustment (a limitation of this lamp), the ON/OFF switch is click-y and the tactile response is a nice touch. It's also worth noting that the LED bulb has a
The LED light is bright, but not blinding. The ring light has a soft diffuser cover which gives you a soft light over your working surfaces. I found this helpful for photography as well some some amateur videos I made of my work sessions. I would recommended, however, that for more serious videography or photography that you get other supplemental lighting setups, such as a ring light.
---
Professional Impressions Working with Scale Models and Miniatures Under the Brightech LightView Pro Magnifying Lamp
I've been using the Brightech Lightview Pro for a few years. I've tried other magnifying lamps, but I think this one is the best overall. The clarity of the glass is fantastic and I really like how crisp and clean the light is. The color temperature is perfect for my needs and it doesn't produce any weird "flicker" that some other lamps have.
I also appreciate how sturdy the build quality is. I've had other lamps where the swing arm was a bit flimsy or the clamp wasn't as secure. With the LightView Pro, I never have to worry about it tipping over or falling off my desk.
For painting Warhammer miniatures or whatever wargaming models I've got on my plate, I find that the Lightview Pro is more than adequate. I can see all the details I need to without any strain on my eyes. The LED lights aren't giving off a yellow light that can distort my painting.
The contrast from the light output or through the glass lenses is diffuse enough and more than sufficient for preventing eye strain and combating that universal fatigue some of us feel when we stare at something small for too long.
Of course, unlike the cheap lenses in plastic magnifying systems, visors, the built in magnification with the Brightech LightView doesn't detract from the work. Even if you don't need the magnifying lamp head, you can still take advantage of the bright led bulbs as a light source to paint miniatures, work on fine scale crafts, e.g., repairing electronics, pulling out that splinter from your finger (which I've done), and other tasks.
---
Notable Limitations in My Experience with the Magnifying Lamp
In my experience, the focal length of 8-10″ you get with the 5″ diameter glass lens is just outside of perfect. I do wish it was a tad longer for some of my work, though I know that physics would also force me to have less magnifying power. It's a fine balance between magnification power and the need for distance between the lens and working surface.
A lower power lens would give me a lot of space to work under the lamp. But, the inability to magnify details closely would contribute to potential eye strain or problems with getting focus on the right spot on your project.
To perform continuous close focus work, a magnification lamp should reproduce natural light as well. While the Brightech magnifier lamp does a fine job, it does not use a full spectrum bulb and leans toward the cooler 6000K color temperature. For most users this is a good color temperature, providing a cool light that is comfortable and neutral enough for art work. However, it does not necessarily provide the most accurate color representation.
Although I do prefer this cooler color temperature over warmer color illumination, it can be problematic if the light transmission properties through the lens isn't neutral either. In other words, if you're working with the glass magnifying lens a lot, it is possible that the led lights may lose further color accuracy. So, while the better light transmission properties of glass outclass a plastic lens, it still relies on the quality of the bright lens embedded in the magnifying lamp head.
Despite the advertised genuine diopter glass, the bright LED panel, the quality of the light may not be up to par when you compare it dedicated artist desk lamps. I mean if I had the money for it, I'd totally grab a Daylight Luminos LED Lamp (though it is does not have a magnifying glass).
I'll finally note that the flexible gooseneck design has served me well over the years with the Brightech LightView Pro. The flexible arm stays in whatever position you set it and the light doesn't vibrate or shake. Even after years of use, moving to a different home (packing the light into a box, etc), the flexible arm continues to work well.
---
The Debate: Swing Arm, Desktop Stand, or Floor Lamp?
For anyone on the fence, I continue to recommend getting hobby desk lamps that use a flexible swing arm system. They take up less space, provide more versatility than floor lamps or desktop stand lamps, and–with a good quality lighting setup–will keep a lamp stable for long-term hobby sessions.
Interestingly, there are floor lamps with magnifying lenses built into them, too. Brightech makes a magnifying glass floor lamp version even with a large diameter 5 diopter glass lens.
A floor lamp or table lamp are useful in my opinion when you're doubling these lights not just as hobby lights, but also as office space lamps, or when you want to use one to illuminate the a living space, such as a TV den, living room, or bedroom. The best magnifying lamps, of course, are those that work within whatever your budget can afford and suit your specific needs.
---
---
Conclusion
Overall, the Brightech LightView Pro magnifying lamp is a great magnifying lamp for anyone that needs a little extra magnification and illumination for close work. It's especially useful for painting miniatures, models, and doing other precision work. The LEDs provide cool and even light, while the glass lens ensures better clarity than plastic lenses.
Although the blue light might be tiring for the eyes after extended use, it's still a great lamp for the hobbyist. While I think the lamp works fine as a standalone light source, for those more committed to the hobby or for longer sessions of work, you may want to add supplemental lighting systems to your hobby lighting setup.
I hope you found this review helpful. If you have any questions about the Brightech LightView Pro or other magnifying lamps, please leave a comment below! Happy hobby lighting! 💡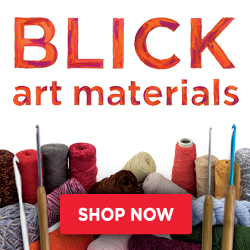 Tangible Day on YouTube (Miniatures and More!)