So, you've spent hours painting miniatures. Now, you want to protect your work with a varnish. What is the best varnish for painted miniatures, e.g., Warhammer and military scale models? If you're a gamer, this is especially important since your models will have to endure a lot of handling. To protect your minis, you need to seal them with a varnish. Varnishes also improve photographs of your models. There is a need to varnish your miniatures and models.
In this article, I provide the core information you need to know for properly varnishing your models for gaming, display, or photography. I also recommend my favorite varnishes and sealants for protecting painted miniatures for travel, display, and tabletop gameplay.
---
Recommended Varnishes for Miniatures
The best matte varnishes for protecting miniatures include:
I highly recommend these varnishes for any painted miniature or model for gaming or display. They are easy to use, durable, and work great to retaining the color and contrast of your paint job. The matte finish of these varnishes help even out surface reflections that can easily distort the appearance of your painted miniatures, and will protect the hard work you put into the model.
Here's a bit more detail about what I think about these varnishes and my tips for how to use them to get the best results.
(Note: An alternative to Testors Dullcote, if it is unavailable, is Tamiya Clear Flat Spray. Tamiya produces a similar matte finish).
I use this on every miniature that I finish painting. This is the best spray-on enamel varnish you can buy for our painting hobby. It comes in a small can, but lasts a long time. I've covered at least a hundred 28mm scale miniatures with a single can.
The varnish from Testors Dullcote spray dries into a hard, matte finish. This means that my varnished miniatures retain their overall color saturation, while at the same time gain an even non-reflective surface.
RELATED: WANT BETTER MINIATURE PHOTOS? CONSIDER A PHOTO LIGHT BOX
This is particularly great for photography where you want to reduce "hotspot" light reflections. Check out my gallery where you can see models that I used Testors Dullcote on. With a matte finish, your models retain their color and contrast under a variety for lighting conditions. Suffice it to say, a varnish does all the final work for completing a professional paint job.
QUICK TIPS FOR HOW TO USE TESTORS DULLCOTE SPRAY VARNISH
Spray more than 6″ away from the miniature
Don't use in ambient humidity greater than 50%
Try using a hairdryer before and after spraying to avoid "frosting"
Here's a useful video showing how to varnish miniatures using Testors Dullcote.
In general, a spray-on varnish is the best way to achieve an even coat of varnish. However, there are specific uses for a brush-on varnish. First, a brush-on varnish is really helpful for the final sealant over wet-slide decals. If you've ever tried to apply wet transfer decals to a model, then you know how hard it can be to "hide" the sticker look. A thin coat of brush-on Testors Dullcote will help merge the decal texture with the painted model underneath.
Second, a brush-on enamel based varnish like Testors Dullcote hardens into a fairly rigid surface. This is useful for custom-made banners that you might printout on computer paper. Coating paper-made banners, capes, or other accessories on miniatures with Testors Dullcote protects the printer ink from bleeding from paper and helps hold their shape (see examples below). I use Testors Dullcote brush on primer often when I want to control the overall look of specific parts of a model.
QUICK TIPS FOR HOW TO USE BRUSH-ON TESTORS DULLCOTE VARNISH
Apply in super-thin layers with a synthetic brush, e.g., a wide flat-thin brush
Clean off your brushes and work surface with clear mineral spirits or turpentine (Testors has a branded cleaner/thinner here)
Useful for concealing wet-slide decals on models ("a perfect finish")
Protecting custom inkjet printed banners and standards
Try to apply the brush-on varnish on a horizontal surface to prevent running or sagging. If you're applying on a vertical surface, only use very thin coats at a time.
Side note: There are water-soluble brush-on varnishes, such as Vallejo Matte Varnish or those from Army Painter. But these do not have the same durability as the enamel-type varnishes from Testors. Certainly, The Army Painter makes a spray-on enamel varnish, but is a bit more expensive and may have a slight satin finish (semi-gloss appearance when dry) in comparison with Testors Dullcote.
---
A Quick Guide for Using Varnishes on Miniatures
In a survey of several website forums and social media sites (i.e., reddit, Facebook, Cool Mini or Not painting forums, etc), it is clear that almost all miniature painters know that varnishing is important for protecting their gaming miniatures and board game models. The anti shine matt varnish was the top kind of clear coat they all chose.
A few people suggested that varnishes aren't necessary, especially when models were destined for display purposes only. However, the vast majority suggested that new miniature painters learn how to varnish their models with a matte finish. There are several key reasons why: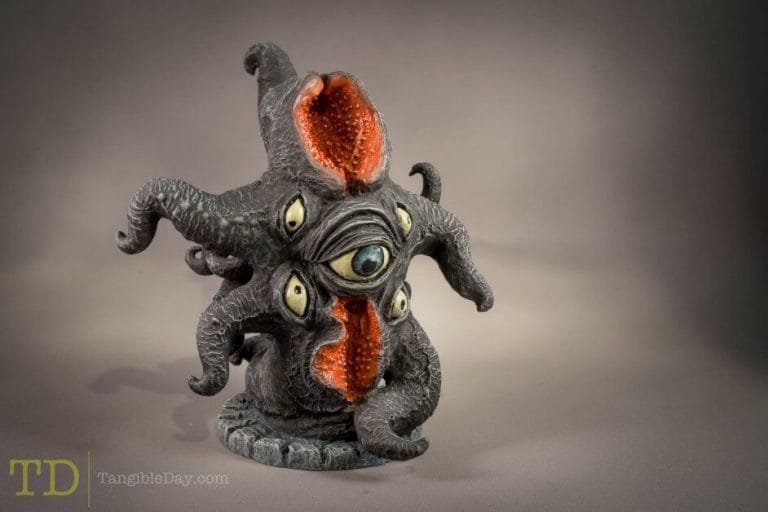 Varnishing miniatures is important for protecting the paint job and improving photography of the models. If you're sharing images of your models, present them in the best light possible. Use a matte spray varnish to create an evenly lit surface across the entire miniature.
The best matte varnishes are spray-on type sealants, such as Testors Dullcote. Overall, the best clear coat for miniatures for gameplay or display are those you can spray with even layers that enhance contrast and protects surface detail.
---
My Alternative to Testors Dullcote: a Water-Based Matte Varnish
Spraying a varnish is the best way to evenly coat a model. However, if you don't want to use an enamel or lacquer (shellac) based varnish, such as Testors Dullcote, there are water-based alternatives. Testors Dullcote spray varnish is an aerosol based medium, which means that it could produce harmful vapors. Additionally, Testors Dullcote spray varnish is vulnerable to adverse "frosting" behavior if not applied under optimal conditions (low humidity <50%).
In this case, you might want to try and alternative water-based matte varnish. I currently recommend Liquitex Matte Varnish. But, if you go in this route your best method for applying this varnish is to use an airbrush. Thin the varnish with water (approximately 1:1 ratio) and airbrush it onto your model.
Advantage of non-aerosol water-based varnishes: A huge side benefit of using a non-aerosol spray varnish, such as the Liquitex varnish is the cost-effectiveness of it. It is much, much cheaper to airbrush a non-aerosol water-based varnish than it is to use cans of aerosol lacquer spray varnishes.
Disadvantage of water-based varnishes: The disadvantage of water-based varnishes is that they are essentially acrylic mediums (with suspended dry particulates). This means they aren't very different in composition to the paint you used to paint your miniatures. So, the varnish won't be as durable or long-lasting as an enamel-based spray varnish like Testors Dullcote. It can be relatively easy to rub-off a water-based varnish (just soak a cotton tip in water and scrub).
Overall, I'd use a non-aerosol based varnish on models where you don't want to create a hazardous environment for people (or pets) around me. Or, where you don't want the strong odors from an aerosol to disturb others in my immediate surroundings (like if I'm working at a convention or trade show). Some models in my gallery have a water-based varnish coating, but I eventually cover these with a stronger enamel-based varnish for longer term storage and display.
---
Difference Between Matte or Satin Varnish?
This is a common question. Here's a quick answer.
In general a good matte finish creates a "clean" look to miniatures. It evens out all the reflections. If applied properly, a nice matte varnish will look smooth and keep your color contrast high. A matte varnish protects and maintains all your hard work painting the model.
Satin is similar to a matte varnish with some subtle differences. Satin varnishes or sealants will have a slight sheen or shine. This doesn't mean that satin varnishes will have a glossy finish, but your models will have a light reflective quality to it. This is great for smaller models that you might want to have stand out on the tabletop a bit more.
If in doubt between the two types of varnishes, matte vs. satin, lean toward a well applied matte varnish for your miniatures. The models will have a more consistent overall look.
Do I Need a Gloss Varnish Before a Matte Varnish?
This is a good question that arises from traditional art methods. For a 2D canvas painting, an "isolation" varnish coat is useful for long-term preservation of acrylic paintings. An isolation coat is usually a gloss medium and a permanent non-removable sealant that physical protects the paint surface from overlying varnishes. An isolation coat helps protect the painted canvas if there is every a need to clean or conserve the painting in the future.
An isolation coat also seals any absorbent surfaces on the painting. Acrylic paint absorbs water easily, so an isolation coat would decrease the chance of water entering into the painted surface. This provides additional protection for cleaning and dusting a canvas painting.
The #1 Reason You Want to Use a Gloss Varnish
An isolation coat (usually a gloss medium) prevents the "cloudy" or "frosted" appearance that can occur when applying a matte varnish (more about this below). Briefly, frosting or clouding can occur when a matte varnish is applied to a porous or absorbant surface. A matte varnish contains dry particulates (like microscopic powder), which provide the non-reflective attributes of the medium. These particulates are suspended in the varnish. When the matte varnish is applied via spraying, the solvent the particulates are in helps coat the surface evenly. When a surface is coated evenly before the solvent evaporates, the dry particulates act as a non-reflective and transparent surface.
However, if the solvent dries poorly (e.g., absorbed into the paint underneath or mixes with ambient moisture) the dry particulates previously in solution clump-up. This clumping, congealing, or aggregation of the powder-like substances in the matte varnish cause the cloudy, frost effect that obscures the paint job underneath. By using a gloss medium first (no particulates), you reduce the risk of the matte varnish appearing as a cloudy surface.
The Reason You Don't Want to Use a Gloss Varnish
For miniatures, there is no added benefit in terms of protection for your models. A gloss varnish will not make the overlaying matte varnish stronger or more durable. You're merely adding extra layers of a transparent medium over your model.
If anything, adding that extra layer of gloss varnish may reduce the amount of detail and color that shows through the final coating. Each layer of varnish reduces the "clarity" of the paint job underneath. As a routine procedure, I try to apply no more than 3-4 layers of any varnish.
How to Prevent the "Cloudy" or "Frosted" Appearance When Applying a Matte Varnish
Okay, so we've decided that you don't want to use an isolation coat gloss varnish before applying the matte varnish. But, you don't want your hours-long paint job to be ruined because of a poorly applied matte varnish that clouds over.
Here's what you can do to prevent the frosted appearance of miniatures when you use a matte varnish:
Shake the spray matte varnish can vigorously for at least 60 seconds

This ensures that the varnish solvent and the powder/particulates in the matte varnish are mixed.
If you can cool your aerosol spray varnish down (~12C or 53F) before spraying it, this will also help prevent the frosted effect.

Spray a matte varnish when the ambient humidity is less than 50%

Water moisture in the air may be absorbed into your acrylic paint (on your miniature), which then interacts with how the matte varnish coats your model. Acrylic paint loves to absorb water (even when you think its dry).
Water moisture in the air can also interact with the solvent from your matte varnish spray as it travels toward your model, creating an uneven coated surface
Any of these humidity-related factors can contribute to a poor coating of the matte varnish, ultimately leading to the matte particulates in the medium clumping up and forming an opaque, cloudy surface.
You can get a humidity gauge/monitor from a cigar shop or online
Use a hair dryer to reduce the moisture on the model and the local air around the miniature

I strongly advocate the use of hair dryer for all kinds of purposes in miniature painting.
A low-cost hair dryer removes ambient moisture and warms the models, which reduces the chance that water on the surface of the model will disrupt the spray application of the matte varnish.
Hold your hair dryer about 6-12 inches from the model and apply hot air until you feel the model is warm to the touch. Then, spray the matte varnish as you normally would in a thin layer. Re-apply the hair dryer heat until the solvent evaporates from the matte varnish. The result should be a fully clear, transparent and non-reflective surface.
---
How to Restore a "Frosted" Miniature Following a Matte Varnish Application
Oh no!
Did you just ruin your miniature with a frosted matte varnish?
The following methods work with aerosol based spray matte varnishes, such as Testors Dullcote, Army Painter, Krylon, and GW Citadel matte spray varnishes. Because of the similarities of these varnish formulations, the methods for restoring frosted models should also work for other solvent based spray laquer/shellac-type matte varnishes.
A proven 5-step method for restoring models that have a badly frosted finish:
Use olive oil
Apply a thin coat of virgin olive oil over the entire miniature.
Let this coat of oil dry (or "cure", which is the appropriate term) on the model for at least 1-2 hours. The olive oil removes or displaces some of the moisture on the model's surface and lubricates the dried particulates that cause the frosted effect. As the oil cures, the varnished surface smooths out which helps restore the transparent effect.
After a little time has elapsed, wipe off the oil with a clean paper cloth. Most the transparency should have returned to the miniature. You can carefully wipe off the oil from the model with a dampened paper towel with soap and water (do not soak the miniature).
After the model has dried, re-apply the matte varnish using the frost-prevention methods described above.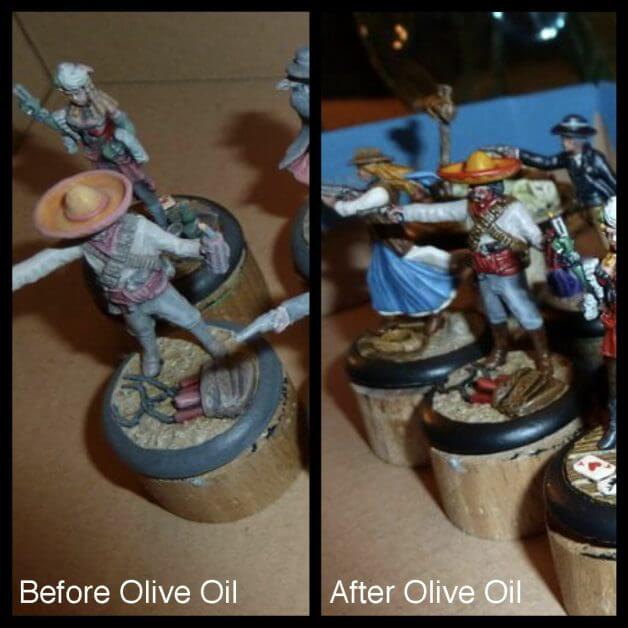 Final Thoughts
These are the 3 best varnishes I recommend for sealing miniatures after an acrylic paint job.
You don't need a gloss varnish to improve the protective qualities of a matte varnish. But, an isolation coat with a gloss varnish can prevent "frosting" of a matte varnish. Ensure proper ambient conditions to reduce the risk of a matte varnish clouding over a painted model. Don't fret, however, a miniature with a poorly applied varnish can be restored with a few simple steps.
Sealing your miniatures with a high quality varnish is the final step to a completed paint job. You'll be happy you took the time to protect your models! They will look great for photographs, too!
Did you find this article helpful? I'm always looking for ideas and ways to improve the information you find here. Leave me a comment below! 😃
---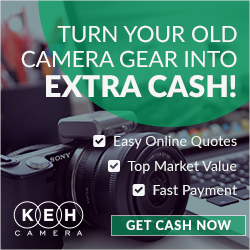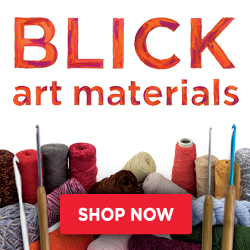 Tangible Day on YouTube (Miniatures and More!)