The world of miniature painting and scale modeling demands precision and attention to detail. The Lume Cube Flex Light Pro positions itself as a top-of-the-line solution catering to those to who need optimal lighting for all kinds of creative situations.
In this article, I take a closer look at the Flex Light Pro in it's application for miniature hobbyists, examining its performance, build, and features. Designed specifically for artists, beauticians, and creators, I hope this review helps you decide if this lighting system is right for you.
Disclaimer: Lume Cube provided me with a Flex Light Pro unit for testing and evaluation. But, as a miniature painter and freelancer, I loved the product so much I bought a 2nd one for the studio.
---
Summary: Is the Lume Cube Flex Light Pro Worth it?
The Lume Cube Flex Light Pro is a highly versatile lighting system, designed with the needs of professional miniature painters and photographers in mind. Equipped with two huge and wide LED panels that can rotate and flexible arms, the Flex Light Pro offers precise control over lighting angles. The system also includes a gooseneck holder for smartphones, ideal for content creators. While lightweight, its solid construction reflects a premium feel.
Pros include ease of use, high-quality light with a 96+ CRI rating, and built-in flexible phone mount. The system also comes with an attractive carrying case, enhancing portability. Some minor cons include stand/gooseneck stability and its premium price tag.
In terms of performance, the Flex Light Pro enables precise painting with flicker-free light and clear visibility, even revealing small details. Its balanced illumination is excellent for photographing miniatures, and its flexible positioning helps highlight specific details.
Compared to other products like NEEWER Esthetician Light or Double Head Architect Desk Lamp, the Lume Cube Flex Light Pro stands out for its illumination output, color accuracy, and versatility. Though on the expensive side, its features seem to justify the investment for professional users.
Overall, the Lume Cube Flex Light Pro is a quality investment for miniature painting and photography, offering a balanced blend of brightness, accuracy, comfort, and versatility. Whether you're a hobbyist or a professional, this lighting system could be a valuable addition to your creative toolkit.
(I enjoyed the Lume Cube Flex Light Pro that I purchased a 2nd system for my studio)
---
The Importance of Good Lighting in Miniature Painting and Scale Modeling
Good lighting is the unsung hero in the miniature painting and scale modeling space. I've been testing lighting systems for various hobbies for a long time, e.g., photography, painting, and more.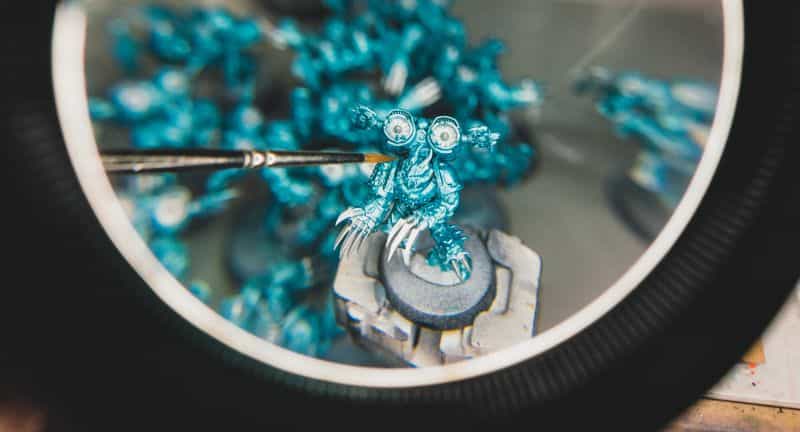 As someone who now operates a basement painting studio, I rely almost entirely on artificial lighting to get more work done.
Good lighting, in particular for miniature painters and scale modelers ensures visual accuracy, improved comfort, and enhances the overall experience of working in the creative space.
From a health perspective, proper lighting reduces eye strain, allowing hobbyists to work for extended periods, and adds depth to the painting, revealing the true colors and details that might otherwise be missed.
I love taking photos of my work, and of course, proper lighting is everything in capturing images that engage viewers. Ever say to yourself "Wow! That's cool", but unsure why the image you're viewing looks so good? It's because of the proper lighting.
Sure, the next question you may want to ask is what makes a good light source? Well, I'll tell you!
---
What Makes a Good Light Source?
A quality light source is more than brightness; it includes factors such as:
Diffusion: Soft, flicker-free light that doesn't create glaring hotspots.
Brightness: Adequate lumens to reveal small details without causing discomfort.
Color Temperature: A range of 5000-6000K that replicates natural daylight.
Color Rendering Index (CRI): A high CRI rating ensures accurate color reproduction.
Area Coverage: Wide enough to cover the entire working space without a lot of fuss
Reliability & Simplicity: Easy operation and dependable performance.
The best light for professional miniature work should embody these features.
Cost: A good light system should provide value for money.
READ MORE: QUICK GUIDE AND OVERVIEW FOR FINDING THE BEST LIGHTS FOR PAINTING MINIATURES AND MODELS
Now, you must be asking if the Lume Cube Flex Light Pro fits the bill? Let's find out.
---
Unboxing & Setup: Lume Cube Flex Light Pro
The Lume Cube arrived safe and sound, as expected. It comes packaged in a sleek black motif box. Inside you'll find a comprehensive setup consisting of the Flex Light Pro housing control unit (with two 13" x 2.25" Edge-Lit panels on flexible 11″ arms), a gooseneck smart phone mount, a 70″ light stand, power cable and travel case.
Setup was a breeze: all I had to do was attach the Flex Light Pro controller onto the stand, screw in the smartphone holder and plug in the included power cables.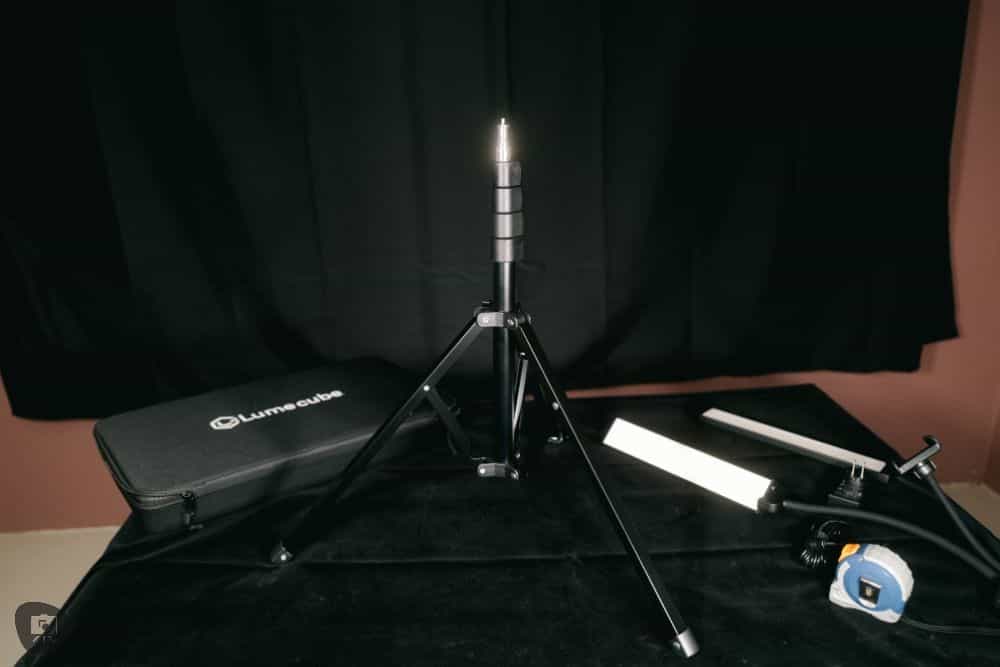 The presentation immediately signals a premium product, creating an impression of quality and sophistication.
---
Key Features of the Lume Cube Flex Light Pro
Light Specs: 3000K – 6200K color temperature | 256 LEDs | 2300 Lumens | 96+ CRI rating | 1800 lux at .5 meters.
Edge-Lit Technology: Balanced light, reducing shadows.
2-Point Lighting System: Rotating Edge-Lit panels.
Flexible Arms: Independent positioning.
Smart Settings: Auto-save output settings.
Adjustable Brightness: 5% – 100%.
Charge Ports: One USB-C and a USB 3.0 keep your other devices operational.
Travel Case: For experts on-the-go.
---
First Impressions
The travel case caught my attention given my perchance for moving my hobby setup around the basement and other parts of my home. I often like to find different places to do my art, painting, and photography. You may have noticed the different locations I take photos throughout the site.
A quick note on the two LED panels. They are huge and wide! The coverage area of the panels themselves I knew would be impressive, but it was larger than I expected. The closest match for area coverage I have reviewed is the Redgrass Creative R9 Desk Lamp (more details and price here).
How does the system feel?
Upon handling the Flex Light Pro, one notices the sturdy build and the seamless integration of the Edge-Lit Technology. The 270º rotating panels and flexible arms promise versatility, and the overall design speaks to a product crafted for professionals.
The on-off switch is a tactile rocker type button. It clicks audibly, which gave me that sense of assurance and quality that I was looking for.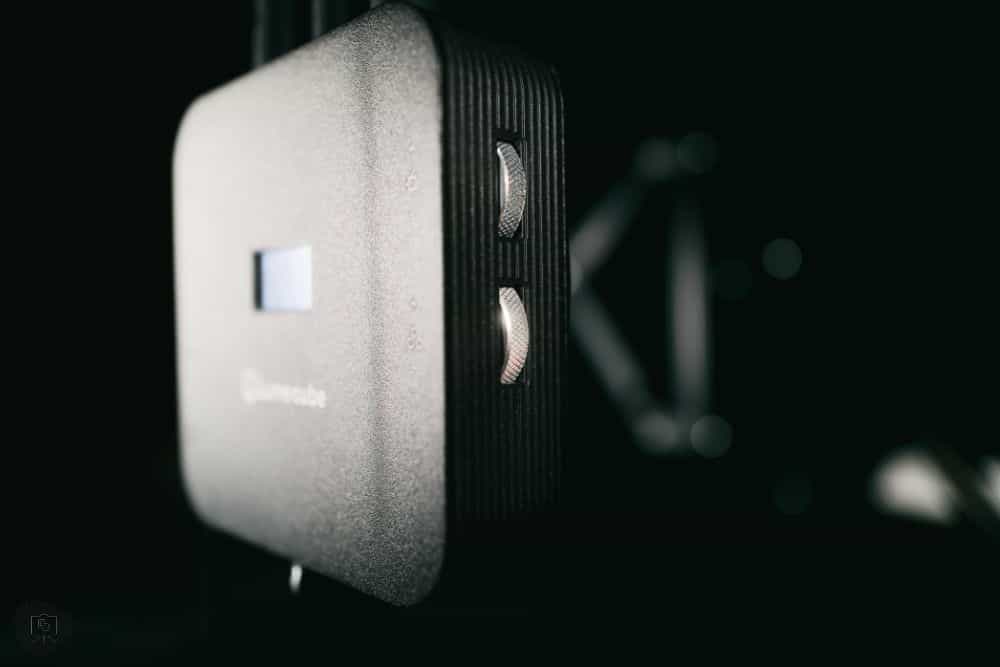 There are two metal rolling knobs with knurled texture on them that control the brightness (5-100%) and the color temperature of the LED panels.
Although each panel cannot be controlled independently–I'm not sure why you'd need to anyway, but just something I noticed–the overall control system is simple, easy-to-use, and reliable. I enjoyed this setup.
---
Ergonomics and Use
The gooseneck holder for a smartphone is cute. It holds almost any sized smartphone on the market today, including my iPhone Max Pro sized phone.
If you're a content creator that wants a lightning system to seamlessly work with your phone to record video of yourself, your work, or whatever project you're doing, I can say this works really well. It's all integrated and stabilizes your smartphone camera.
You may want to a remote of some sort to operate the phone's camera, as none comes with this Lume Cube Flex Light.
Also note that the gooseneck phone stand does wobble a bit. It'll take a few seconds to allow the arm to steady itself, after you put the flexible arm in place.
Two flexible arms also hold the two LED panels and allow you to swing them in wide arcs. For my needs, there was more than enough degree of freedom to position the lights where I wanted.
To attach the Flex Light Pro to the included tripod stand, it's simply a matter of inserting the control unit on top of the stand and tightening a locking screw. I was able to move the light on and off the stand in seconds. The whole unit is very lightweight despite the power it provides.
Once in place on the tripod, the overall lighting system is sturdy and provided reliable, steady performance.
The Flex Light Pro as a Desk Lamp?
For fun and the sake of discovery, I wanted to see if I could use the Flex Light Pro over my hobby desk as a replacement or adjuvant to my current lighting systems.
Indeed, this took some creativity on my part. I used a Manfrotto Articulated Arm with Clamp to hold the Flex Light Pro above my desk.
This worked well, but took up a tad more space than I wanted. Nonetheless, I was able to light up my entire work space. The illumination was bright enough to paint miniatures with and perform some model assembly.
If I was recording my work flow for YouTube, I could have used the phone holder to hold my smartphone to film with.
While I'm not sure how steady the flexible arms are over a long session, as they aren't designed to stay horizontal I think this would suffice for most short recording sessions.
Interestingly enough, I did successfully take some cool flat lay photos using the Flex Light Pro.
---
Performance and Light Quality
The Edge-Lit Technology provides an even light source with minimal shadows, making it great for miniature painting and scale modelers. The light is bright enough to reveal small details without adding strain on your eyes.
The LED panels are not the brightest lights out there if you compare them to enclosed lighting units, but they are still quite powerful and very portable. The light intensity is adjustable from 5% to 100%. At full brightness, the panels can provide up 1800 lux at 0.5 meters with a 96+ CRI rating, which is quite good for a small LED panel.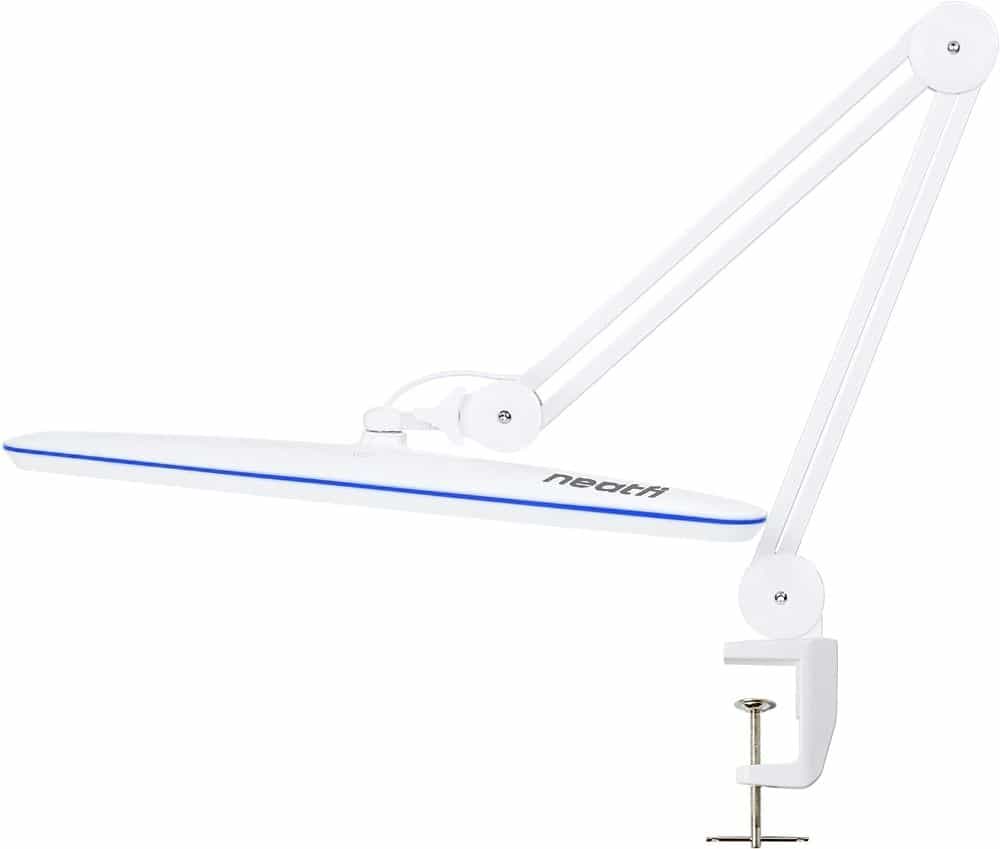 For reference, this is a tad brighter than my Neatfi XL desk lamp which, however, is frankly a more affordable dedicated hobby lamp. If you're looking for something to illuminate your hobby desk, check out this highly recommended desk lamp for miniature hobbyists.
The color temperature of the Edge-Lit LEDs range from 3000K to 6200K, which should be sufficient for most hobby related tasks. For those looking to film themselves and in various environments, the ability to adjust color temperature can add that creative stylistic flair to your videos.
If you're a photographer, the constant color temperature of the LEDs should make for consistent and accurate white balance settings.
For best results with still life photography, I suggest you use the highest brightness setting for the LEDs to avoid any artifacts that may arise from the dimming software in the Flex Light Pro.
---
Pros and Cons of the Lume Cube Flex Light Pro
Pros
Flexible Lighting System: With 270º rotating panels and 11″ flexible arms, the Lume Cube Flex Light Pro allows for precise control over the lighting angle, enhancing both miniature painting and photography sessions.
Ease of Use: Setting up and adjusting the lighting system is intuitive, making it accessible for both professionals and hobbyists.
Attractive Appearance: The sleek and elegant design adds a touch of class to any workspace.
Solid Construction: Built with quality in mind, its construction ensures durability and a premium feel.
High-Quality Light: With a 96+ CRI rating, the Flex Light Pro captures detail and color with accuracy, essential for intricate work on miniatures.
Balanced Illumination: The built-in diffusion ensures an even light spread, eliminating harsh bright spots, and contributing to a more visually pleasing work environment.
Built-in Flexible Phone Mount: An added convenience for those who might want to document their process or engage in live sessions.
Easy Control: The brightness and color are effortlessly adjusted via two user-friendly dials, allowing for quick adaptations to specific needs.
Attractive Carrying Case: The carrying case, fitted with molds, not only protects the light system but does so with style, reflecting the product's overall aesthetic appeal.
Cons
Stand/Gooseneck Stability: The included tripod isn't weighted, so the lighting unit could make the system top-heavy. With the flexible arms extended, there is some effort required to stabilize the LED panels precisely where you want them. But once set, the lighting unit is steady.
Expensive: May be considered a premium investment for the casual hobbyist and content creator.
---
In the Hobby Creative Space
Painting Miniatures?
As a commission miniature painter, I found the Flex Light Pro's diffusion and color temperature essential. The flicker-free light and clear visibility under varying conditions enabled precise painting without discomfort or fatigue.
Color Accuracy: With a 96+ CRI rating and a color temperature range of 3000K – 6200K, the Flex Light Pro allowed me to see the true colors of my paints, ensuring that what I saw under the lamp was what I would get in natural light.
Detailing: The 2300 Lumens provided enough brightness to reveal even the smallest details without causing eye strain, enabling me to work on intricate patterns and shades with confidence.
Versatility: The 270º rotating panels and flexible arms allowed me to position the lights precisely where I needed them, illuminating the subject evenly and eliminating shadows. This flexibility was particularly valuable when working on complex shapes and angles.
Comfort: The flicker-free, balanced illumination was gentle on my eyes, allowing for extended painting sessions without fatigue. This was essential when working on time-consuming projects that required long, uninterrupted focus.
Professional Needs: As someone who paints professionally for clients, I need lights that perform reliably. The Flex Light Pro met this need by offering consistent performance that complemented my professional standards.
The Lume Cube Flex Light Pro does make painting in various locations a bit easier because of the flexibility with the LED panels. I can move them around at a near-infinite number of angles. Because they cover a large swath of my workspace in good light, I'm able to place and forget all about the system.
The on-off switch and adjustment are located on the control box. This is helpful as I don't have to move the LED housing to control the light's brightness or color temperature.
In my experience with miniature painting, the Lume Cube Flex Light Pro is fun to use. Its design also seems mindful of the unique needs of the miniature painting enthusiast, offering a balance between brightness, accuracy, comfort, and versatility.
If you find yourself miniature painting in various environments, this might be a tool worth considering. It aligns well with the specific requirements of our craft without overly complicating the setup process.
Photographing Miniatures?
The two-point lighting system, combined with the quality of the LEDs, facilitated exceptional photography, rendering true colors and eliminating harsh shadows.
Photographing miniatures requires a precise and nuanced approach to lighting.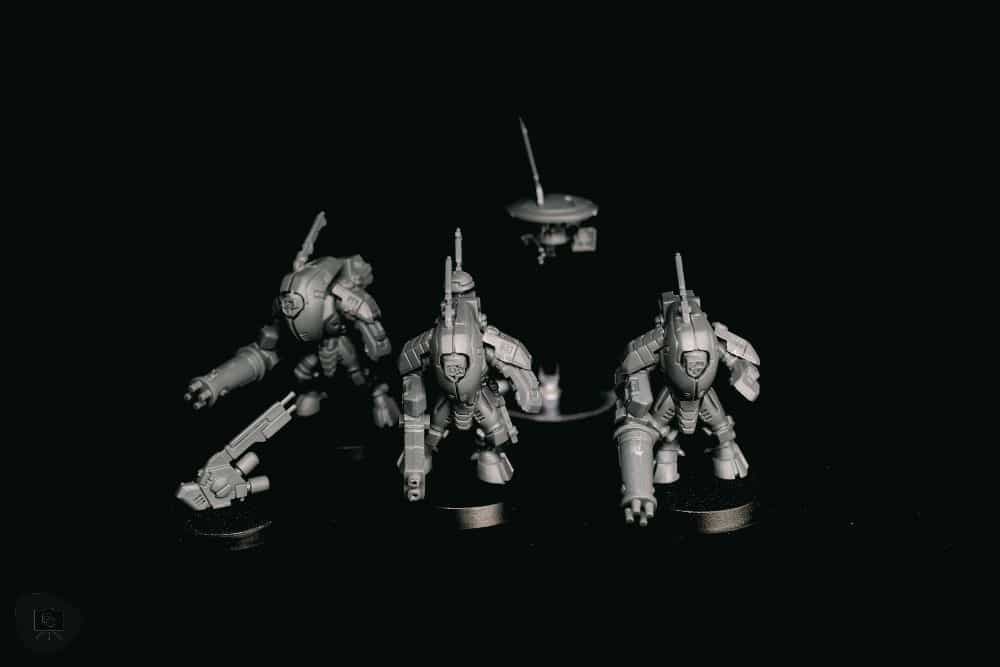 Capturing the intricate details and vibrant colors of a miniature in a photograph is no small feat, and the Lume Cube Flex Light Pro provides several features that make this task more manageable:
Balanced Illumination: The Edge-Lit Technology with 128 high-quality LEDs per panel provides a soft and balanced light that can reveal the details without overpowering the scene. This uniformity is essential for photographing miniatures, where uneven lighting can create misleading shadows or wash out the details.
Adjustable Color Temperature: The ability to adjust the color temperature between 3000K and 6200K allows photographers to match the lighting to their subject's color palette. Whether photographing a warm, earthy diorama or a cool, futuristic model, the Flex Light Pro can be tuned to complement the subject, resulting in more lifelike images.
Flexible Positioning: The 11″ flexible arms and 270º rotating panels provide the freedom to position the lights at almost any angle. This flexibility is invaluable when photographing miniatures, where slight adjustments can change the entire appearance of the subject. By fine-tuning the lighting angles, photographers can highlight specific details, create dramatic effects, or mimic natural lighting conditions.
High CRI Rating: A CRI rating of 96+ ensures that the colors in the photograph are true to life. This accuracy is critical when photographing miniatures, where the subtlety of shades and tones can be the difference between a flat, lifeless image and one that leaps off the screen.
Variable Brightness: Adjustable brightness from 5% to 100% allows photographers to control the intensity of the light, adapting to different scales, textures, and finishes. Whether capturing the rough texture of a stone fortress or the glossy sheen of a sports car model, the Flex Light Pro can be dialed in to match the subject's unique characteristics.
On-the-Go Capability: With a convenient travel case and smart settings that remember the last used output, the Flex Light Pro is ready for fieldwork. For photographers who need to shoot miniatures on location or want to quickly set up a portable studio, this feature adds an extra layer of convenience.
If you're dabbling or serious with studio photography, content creation for YouTube or making short films for TikTok, the Flex Light Pro lives up to its namesake: The Flex Light Pro is a flexible light with professional use in mind.
---
Comparison with Other Products
When selecting a lighting system for miniature painting and modeling, the Lume Cube Flex Light Pro stands out, yet it competes with several other similarly-priced products in the market. Here's a brief comparison:
NEEWER Esthetician Light with Phone Holder: Smaller coverage with dual LED panels, but brighter output with similar color temperature adjustment and high CRI rating
Neatfi Supreme LED Light Kit: The closest competitor with the Lume Cube Flex Light Pro in regards to comparisons with specifications and overall feature set
Four Arms LED Light for Photography: Are four LED panels better than two? The extra LED panels may provide better illumination coverage, but has an overall, much lower max brightness output and a mediocre CRI rating than compared with the Lume Cube Flex Light Pro
Choosing the right lighting system involves weighing these differences and aligning them with individual needs. The Lume Cube Flex Light Pro's unique combination of features seems to position it favorably for professional use, especially in terms of illumination output, color accuracy, and versatility.
---
Conclusion
So, there we have it! Any exploration of lighting solutions tailored for miniature painting, photography, scale modeling, and other creative pursuits, requires that we make illumination quality and versatility a top priority. The Lume Cube Flex Light Pro offers a glimpse into the possible advancements in this field.
In my experience with the Flex Light Pro and other hobby/artistic lighting solutions, I've learned that there's no single perfect system. There is no one-size-fits-all answer. What is crucial is finding the tools that enhance, not hinder, your creative process. The "thing" needs to stay out of your way. Sure, you may want to admire your pricey toys and tools. But, ultimately, it's about the craft and the results–not the technology that enables them.
The Lume Cube Flex Light Pro is a great tool that can help you stay focused on your creative work. Yes, as a professional-level product, it comes with a bigger price tag. And yet, its features, performance, and durability make it a great value for miniature hobbyists looking for a reliable lighting system.
I hope you found this review interesting, useful, and maybe even inspiring. Thanks for reading!
Happy painting and creating!
Find Your Base Color Scheme
Tangible Day on YouTube (Miniatures and More!)