Do you paint miniatures professionally, or want to take your hobby to another level? Commission miniature painting, along with pro studio painting, requires reliable tools and equipment that must meet certain standards. Miniature painting lamps need to provide even, consistent light without any hot spots or glare. This is essential for seeing small details clearly, maintaining contrast and color vibrancy without leading to eye strain.
In this article, I share my top pick for the best miniature painting lamp and light for professional use, based on my personal experience.
---
Summary (TL;DR): Best Professional Miniature Painting Lamp and Light
The Neatfi XL LED Task Lamp is an affordable, high-quality light for professional miniature painters. It's bright, has a decently high CRI, comes with a versatile c-clamp mount, and has a sleek design.
The Neatfi XL LED Task Lamp is a high-quality light that is perfect for professional miniature painters
It emits a soft and diffuse light across a wide area over your working surface
The light is also bright enough to see small details clearly, while being easy on the eyes
The lamp also comes with a versatile c-clamp mount that makes it easy to attach to a variety of surfaces
The sleek design and affordable price make the Neatfi XL LED Task Lamp my top pick for best miniature painting lamp and light for professional use
Continue reading to find out more about my thoughts about why I believe the Neatfi XL lamp is ideal for professional miniature painters and power users. For other lights for painting minis and working with scale models, check out this hobby lamp guide and review!
---
What is a Professional Miniature Painter?
A professional miniature painter is someone who paints miniatures for a full-time living or as a side job through freelance work, e.g., contract-based. A miniature painter may also take on gigs as a hobbyist, trading service-for-service, e.g., I paint your models and you wax my car, or for some hourly or by-project cash recompense.
Pro-level miniature painting work may include painting Games Workshop Warhammer models, Dungeons and Dragons figurines, or any other type of small scale model. Professional miniature painters usually work on commission, meaning they are hired to paint specific models or armies for clients.
Sometimes, a professional miniature painter will offer their services to paint an entire game or display board for a customer. You can see some of my commission work in my gallery or on Flickr.
---
Lighting Requirements for a Professional Miniature Painting Setup?
When it comes to miniature painting lamps, there are a few key features that are essential for professional use. The light needs to be:
Diffuse and flicker-free, without causing any glaring hotspots on a working surface
Bright enough to see small details clearly
Easy on the eyes, without causing eye strain
The right color temperature for painting (more on this later)
A lamp for pro studio work is more than a tool that produces bright, softly diffuse light or casts a natural-colored light in the daylight range (i.e., 5000-6000K). For professional miniature work, a task lamp should be reliable and simple to operate.
RELATED: REDGRASS GAMES R9 DESK LAMP FOR ARTISTS AND MAKERS (FULL REVIEW)
You need to come to your desktop and know you've got a light setup that won't fail. It's a workhorse; the kind of overhead utility lights that a factory may rely on for daily operation…survival.
---
Professional Means Reliable Work
Hey, so a quick work on my thoughts about what it means to do pro painting work for clients. And, I won't hold back because I find a lot of people tend to want to know everything about the work before they're willing to start paying for it.
As a professional miniature painter, I get paid to do two things: make someone's models look awesome, and do it in a timely manner. The first part is accomplished, in part, by being able to see what I'm doing. The second part is important too. It's one thing to get paid for a project or two; it's another to be able to maintain a reputation for doing what I say and meeting or exceeding expectations.
So, why the piece about lighting? Well, it's a utility, like any other tool we might use, e.g., airbrush, paint, wet palette, and it needs to be just as dependable.
---
Deadlines and deliverables: "Stress"?
No one cares about your effort painting minis when you can't get the work done because some piece of essential equipment failed you. Ever try to do a job and miss a promised deadline? It's a stressful time. That stress is multiplied when you're trying to paint tiny details on very small models and things just seem to break down.
RELATED: 5 DE-STRESSOR TIPS FOR A MINIATURE PAINTER'S "DAY OFF"
---
Simplicity Beats Fancy Anything
Call it my philosophy. When it comes to choosing equipment, technology, or whatever, I always lean toward the simple. The more bells and whistles, the more things that can go wrong, right?
The best desk lamp don't just have excellent light bulbs or LED bulbs, whatever, they are a system that you can trust to get the job done every time (I'll say this over and over, because it's so important!).
So, after comparing a range of miniature painting lamps and light systems, I've come to the conclusion that simplicity beats any fancy features on a workhorse, professional light for working with miniatures. Now, of course, the best hobby desk lamps will depend on what you enjoy using or whatever works for best for your current needs.
Value budget lamps, magnifying lamps, portable lights, or those with fun-to-use lighting modes with USB charge ports are great for the office space or casual arts n' crafts person. But, when it comes to professional miniature painting work, it's all about reliable lighting that will help you get the job done.
---
Why is an Even, Consistent Light so Important?
An even light source is important for several reasons. First, it helps you to see the model clearly from all angles without having to adjust your position or the lamp constantly. Second, an even light source prevents hot spots and glare, which can distort the colors you're seeing and make it difficult to paint with precision.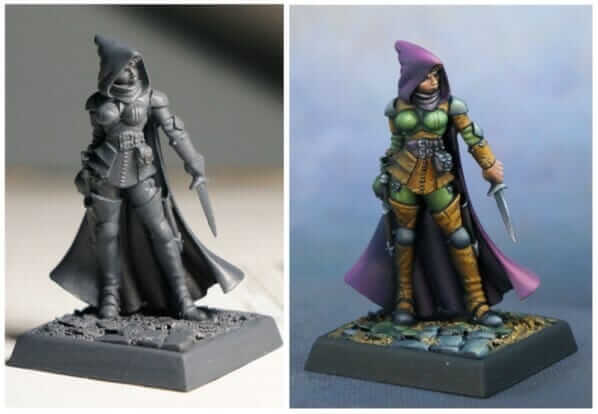 Third, an even light helps maintain contrast between the different colors on the model. This is especially important when painting with a limited palette or when trying to achieve a specific color effect.
Finally, an even light helps to prevent eye strain, which can be a major problem for hobby painters who spend long hours staring at small models under bright light.
---
Best Miniature Painting Lamp (My Pro Use Review): The Neatfi XL 2,200 Lumens LED Task Lamp
After working at home for an extended period of time, e.g., with the day job and the hobby, I can confidently say that the best miniature painting lamp for a professional is the Neatfi XL 2,200 Lumen LED Task Lamp.
RELATED: REDGRASS R9 DESK LAMP REVIEW
I've used the lamp for more several years now and it has key features that make it a standout, including an ultra-bright LED light source that continues to work as well today as it did when I first got it.
Additionally, the lamp structure itself has stood the test of time. It is sturdy and well-constructed, with a flexible neck (swing arm) that allows for easy adjustment and positioning. Finally, I appreciate the long lifespan of the LED light and low power consumption of this lamp, which is much more environmentally friendly than traditional light sources.
If you paint miniatures or work in fine scale modeling, e.g., doll houses, model trains, and looking for an upgrade or supplemental light source, I highly recommend the Neatfi XL 2,200 Lumen LED Task Lamp. It's an investment that will pay off in terms of both productivity and quality of your work over the long term.
---
Lamp and Light Key Features for Painting Miniatures
Here are the 8 reasons why I think the Neatfi XL Task Lamp is the best lamp and light for painting miniatures:
1. The wide lamp head throws a soft, bright glow over your entire miniature painting work area
The wide lamp head on the Neatfi XL is ideal for lighting up your entire hobby work area in a soft, bright illuminated zone. While, it is not the brightest light, the Neatfi XL 2,500 Task Lamp is brighter, the Neatfi XL is more than enough to do the job and it will not hurt your eyes. The on/off switch is a big round button, and pressing it gives a tactile response so you know that it is on.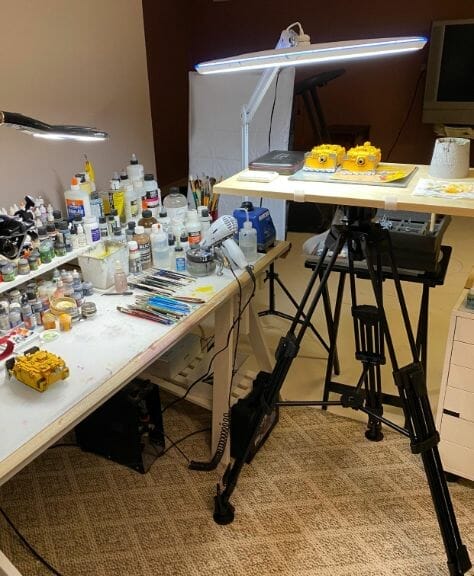 2. Multi-position light shade allows you adjust exactly where you need the light
With a 32″ adjustable, spring-loaded swing arm, you have plenty range of motion to move the light just where you need it. I have mine setup on my desk, which is also.next to my airbrush spray booth. I can swing it back and forth, depending on whether I'm at the desk or need the illumination to spray paint miniatures.
3. Dimmable LED brightness gives you flexibility when you need it
The LEDs are bright and have a dimmable function to four-levels (25%, 50%, 75%, 100%). For most of my use, I leave it on the brightest setting. But, if you're using the lamp for your office or as a reading lamp as well, you may want to lower the brightness setting. As mentioned above, you sequential presses of the on/off button will cycle through the brightness settings. Simple!
4. The default neutral-cool color temperature is easy on your eyes and helps keep model paint colors vibrant
Although there is no color temperature control on the LED panel for the Neatfi XL, I'm pleased to report that at 5600-6000K, the lighting is in the cool-neutral range for reproducing surface color. With a color-reproduction index (CRI) of 80, there are better lights for studio miniature photography. But, as you can see throughout my site, photos taken at my hobby desk with this mini painting lamp are quite good.
5. The c-clamp mount reserves your desktop space for more important things, like painting miniatures
Hobby desk space is always at a premium. If you don't have room for a floor lamp, the Neatfi XL comes with a C-clamp that attaches to surfaces up to 2″ thick. The clamp is easy to use and allows you to put the light exactly where you need it without taking up any valuable desktop real estate.
6. The aesthetic design, look and feel, follows the lamp's main function
The lamp looks professional and clean! It comes in a white, black, or gray ABS plastic housing with a thin blue LED panel that gives it a nice accent and doesn't distract from the lighting. The lite blue accent is nice because you can tell the lamp is on from a distance even with other ambient lighting in your room, e.g., natural sunlight through a window.
7. The Neatfi XL LED Task Lamp is environmentally friendly
All LED lamps are a more sustainable option than conventional fluorescent bulb lights. LED lights use less electricity, produce almost no heat, and have decades long service life. As with my advocacy for recycling empty plastic sprues from plastic kits, I think it's important to consider the environmental impact of our hobbies. The Neatfi XL has been a workhorse for me and many other pro painters.
8. Affordable for any miniature painter, professional or hobbyist
Compared to other high-end miniature painting lamps, the Neatfi XL is quite affordable. At around $100 USD on Amazon, it offers great value for your money and is a no-brainer recommendation for those looking to take their hobby skills to the next level.
The closest competitor in terms of features for miniature painters is the brighter, more powerful Neatfi XL 2,500 Lumens LED Task Lamp mentioned earlier, or the highly-desired Daylight Luminos LED Lamp, which costs 3x as much.
The latter lamp is beyond the need of any casual hobbyist, I think; but perhaps if my commission work picks up a notch, I may splurge on an upgrade!
---
A Cheaper Alternative to the Neatfi XL Task Lamp?
Yes, a great hobby desk lamp for anyone on a budget that I recommend is the YOUKOYI A16S Metal LED Swing Arm Desk Lamp or the generic LED Desk Lamp with Clamp. Both swing-arm desk lamps are under $30-50 USD and provide close to the optimal 800 lumens you would want for painting miniatures.
For this cost, they are easily the best value desk lamps for hobbyists, scale modelers, and miniature artists. Just note that you have to be careful with the cheaper ones, as they may not last as long or remain stable when clamped to your desk surface. In my copy, the springs in the swing-arm squeak, and while I find it endearing (like the jumping lamp in the Pixar Movie splash screen), it may bother some people.
You can also find a great selection of clamp-on lamps on Amazon, like the PHIVE LED Desk Lamp, Architect Clamp Task Table Lamp, which is one of the highest rated and most popular office/desk lamps on Amazon.
Just be aware that some of these "universal" desk lamps aren't quite ideal for painting miniatures, as they often don't provide enough light (less than 600 lumens), produce a lot of glare, or have a very "blue" light spectrum that can make it difficult to see subtle color variations in your paint job.
---
Final Thoughts
It's a great lamp for any miniature painter, whether you're a casual hobbyist or a professional artist. At small scales, visualizing good contrast (e.g., the difference between shadow and light textured surfaces) become even more crucial.
For pro use, the Neatfi XL lamp provides a clean, bright light that illuminates your work surface while minimizing glare and reflecting off the miniature paint job itself. This keeps natural surface contrast high, while avoiding the eye strain that can arise from looking at surfaces lit by harsh, bright light sources.
The white/black/gray color scheme with cool blue led accent gives it a clean and professional look for any space you're working in. The minimalist design also means it takes up very little desk space. The light emitted is on the "cool" side of the spectrum, which can help with focus and concentration for long hours of work.
So, if you're in the market for a new desk lamp, whether for general office work or for your miniature painting hobby, I highly recommend the Neatfi XL LED Task Lamp. It's an affordable, well-designed, long-lasting light source that will provide years of service with little maintenance.
Are you looking for the best miniature painting lamp for more serious work? What do you think makes a great lamp for painting miniatures? Let me know in the comments below.
Thanks for reading and happy miniature painting!
Tangible Day on YouTube (Miniatures and More!)