Are you looking for a review of a high quality portable hobby station? For a compact, all-in-one system you can take on the road or store easily under a bed or desk, the Frontier Wargaming Paint Case may be your best option. The Paint Case 2.0 is an elegant, simple, and compact way to organize your miniature painting workspace and take your hobby with you.
In this article, I review the Frontier Wargaming Paint Case 2.0 and show you why I bought one for myself.
Continue reading for the Frontier Wargaming Paint Case 2.0 review and tips for choosing the best hobby station for painting miniatures and models.
For those looking for an alternative to the Frontier Wargaming Case, take a look at this look-alike on Amazon or these other recommended portable paint workstations.
---
­­­­Here are the 7 key features of Frontier Wargaming Paint Case (Summary)
When you're looking for the ideal painting station, these are the features that make the Frontier Wargaming Paint Case a strong product.
Workspace
Lighting setup
Portability
Versatility
Paint compatibility
Security
Price
Workspace
For a portable hobby station, your tabletop or desk space limits your workspace area. The Paint Case 2.0 is a great size for any standard tabletop or hobby desk space. Notably, your kitchen table or the outdoor patio table are great places to unpack the Frontier Wargaming Paint Case.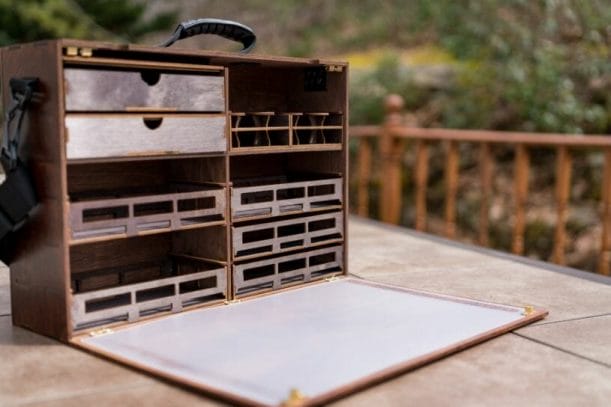 Lighting setup
Not every hobby station comes with a lighting kit. The Frontier Wargaming Paint Case can be equipped with a bright attachable LED light. The light comes with a wooden frame that slots over the edge of the open workstation. You can plug the included cable into a portable power bank for additional travel utility.
Portability
The FW Paint Station is cut from solid Birch, a sturdy wood that is lightweight and strong. The overall dimensions of the Paint Case 2.0 is 46cm wide x 31cm height x 11.5cm deep. This gives the Paint Case a classic size and look of a small suitcase, or art box, like this one. Additionally, the Paint Case is fairly light at 3.7kg (8lbs) with all accessories and shelves installed and a handy shoulder strap and carry handle also make moving the case around easy, convenient, and comfortable.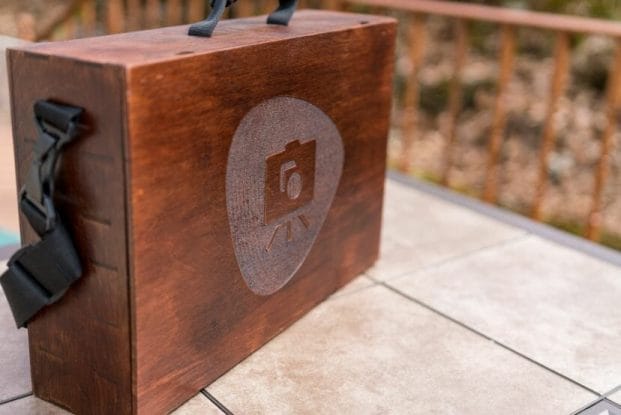 Versatility
A hobby workstation can often serve different purposes. The FW Paint Case is no exception. Although the exterior casing is a solid shell, the interior is designed with modular components. You can change the shelves, drawers, and compartments to fit whatever you want or need for your particular hobby. If you need more space for assembly tools, merely exchange two small drawers for a larger compartment. If you want to hold more paint pots or bottles, add more shelves.
Paint compatibility
The FW Paint Station can hold any sized model paint pot or bottle from any major brand, e.g., Vallejo, Citadel/Games Workshop, Reaper, Scale 75 and much more. It will even fit larger bottles of primer! You can lay larger bottles sideways in the shelves, or stand them upright with the proper shelving configuration. You can download a free bottle sizing chart of major paint brands below.
| Model Paint Brand | Diameter | Height |
| --- | --- | --- |
| Army Painter/Vallejo/Master Reaper Series/Scalecolor | 0.75″ (20mm) | 3″ (77mm) |
| Citadel (Games Workshop) – 12ml | 1.25" (32mm) | 1.75″ (45mm) |
| Citadel (Games Workshop) – 24ml | 1.25″ (32mm) | 2.4″ (61mm) |
| P3 (Privateer Press) | 1.2″ (30mm) | 2″ (50mm) |
| Testors Enamel Paint | 0.94″ (24mm) | 1.9″ (48mm) |
| Minitaire (Badger) | 1.2″ (32mm) | 3.2″ (80mm) |
| Vallejo wash or pigment bottles (35ml) | 1.5″ (35mm) | 2.75″ (70mm) |
| Vallejo surface primer bottles (200ml) | 1.9″ (50mm) | 5.75″ (14.5mm) |
| Vallejo surface primer (60ml) | 1.5″ (35mm) | 3.8″ (97mm) |
| Kimera color paints (*not round bottles) | *1.6″ (40mm) | 3.75″ (95mm) |
Security
All of your hobby supplies, paints, and secured in drawers or shelves inside the Frontier Wargaming Paint Case. When you close the Paint Case, two very firm snapping mechanisms keep the front "door" panel in place. You don't need to worry about the case cover opening, even with a very bumpy ride. You will, however, find that some paint bottles and pots will shift around and require some rearrangement after a long journey. Of course, you shouldn't turn a fully-loaded Paint Case upside-down unless you want your things to fall out of their shelves and drawers. 😅
Price
The Frontier Wargaming Paint Case is competitively priced at around $120 USD (shipping is not included). Other portable paint cases you may find on Etsy of similar size and feature load fall within the $100 USD range. The value in the case comes from its simple, elegant aesthetic (e.g., you can have your custom logo engraved on the front, as I have), it's workstation feature set, including LED light, and its overall great utility as a portable paint station. For those on a budget, you can check out other portable hobby paint cases and organizers here.
---
Real world use of the Frontier Wargaming Hobby Paint Case 2.0
When I received the Frontier Wargaming Paint Case, I was immediately impressed by packaging. Although I didn't take photos of the unboxing (I rarely do), the Paint Case appeared pristine with a rustic varnish over the wooden exterior.
Whoever emblazoned the Tangible Day logo did a wonderful job aligning the image on the front of the Paint Case. When I sent in the image for the custom engraving, I did not expect it to look this good!
I was never one to think custom engraving to be a worthy expense. But, now after seeing the logo on this Paint Case, I have changed my mind. Although I didn't actually do anything, I felt a sense of pride in this product, a sentimental attachment perhaps?
In either case, you may not find this custom-touch necessary. Ultimately, I wanted a portable paint case that did its job well. That is, I wanted a compact, highly-functional painting workstation that I could store all my hobby stuff and unpack anywhere I wanted.
---
My first impression of the Paint Case 2.0?
I had purchased the first iteration of the Paint Case from Frontier Wargaming a few years ago. I was so impressed by how well it worked for me, that I was curious about the second iteration. My first impression of the Paint Case 2.0 is similar in many ways to the original I purchased, and has a few notable improvements.
(Although I purchased the original Paint Case, Frontier Wargaming sent their second iteration, the Paint Case 2.0, for this review.)
There are two features I looked forward to the most in the new version of the Frontier Wargaming Paint Case: the organized shelving and drawer system, and the LED light attachment. And of course, I asked the same questions when it came to identifying what I think make a portable paint station ideal for a miniature painting hobbyist.
Could this be an all-in-one workstation that liberates me from my home hobby desk? Can I travel with all the essential tools/supplies I need for my miniature painting hobby in this single paint case?
Continue below for more details in this review!
---
Fit and finish: How does the Paint Case look and feel?
The Frontier Wargaming Case arrived preassembled. All I had to do was unpack the box and play. I opted for the default standard layout with the shelves, miniature holders, and drawers (which come with sub-compartment dividers if you want them).
The Paint Case is a veritable box of goodies. On the outside, the minimal, even rustic appearance belies a trove of compartmentalized shelves and drawers. Everything is cut with precision and there aren't obscene gaps or cracks in any components inside the Paint Case.
This was true for the original version I purchased, as well as the second iteration, Paint Case 2.0.
The drawers and shelves slide in and out of the Paint Case with a satisfying tactile sensation, a subtle feel of sand-smooth wood against wood. You can see in the images how the constructed tolerances work inside the Paint Case.
This is a sturdy, well-built workstation for the avid hobbyist who needs his tools and equipment to last, even when he/she travels.
---
A modular system lets you customize your Frontier Wargaming Paint Case
The organized shelving system is similar to the original. You have several options to configure your Paint Case. The standard comes with two large drawers, six shelves for holding paint bottles and pots, and two smaller miniature holders with painting handles.
RELATED: BEST MINIATURE PAINTING HANDLES AND HOLDERS
You can purchase additional add-ons to outfit your Paint Case the way you like, or have those modules ready for occasions when you need your Paint Case for something else, e.g., a giant paint caddy, or a drawer farm for all your tools.
The versatility in the Paint Case is in the design of all these modular features you can mix and match to fit your hobby needs.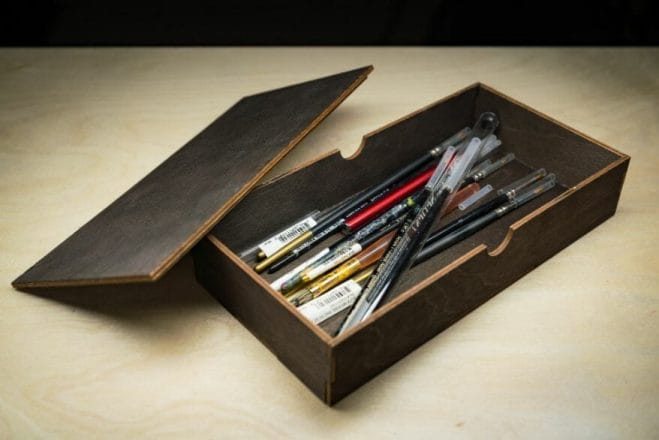 I was particularly impressed by the compartmentalization of the drawer spaces, which lets you separate hobby tools from loose bits, e.g., gaming tokens or model kit parts. You can store playing cards, glues and adhesives, small gaming books, or even electronic gadgets, e.g., batteries, smart phone, or camera.
The shelves for holding paint are spacious, holding any sized standard model paints you can think of, including Vallejo style dropper bottles, Citadel paint pots, even the tall ones, and small cans of primer or varnish (if you lay them sideways).
The overall build quality is excellent. The shelves and drawers are cut well, and slide smoothly in and out of their slots inside the Paint Case. This quality was impressive for the original and still continues with the second version in the Paint Case 2.0.
---
The compact LED light brightens your hobby journey wherever it takes you
The compact LED light bar that comes with the Paint Case is a very nice feature. When not in use, it slides completely and snuggly into the case above the top drawers and shelves. The light comes with a USB adapter that can be connected to a standard USB power outlet with a minimum recommended power output of 2.0A.
This is perfect for those who have a portable battery (i.e., a power bank for charging your smartphone) that outputs 2A. You can be completely wire outlet free with your paint station.
The LED light is bright enough for most hobby painting work. But, I will say that for those of us older folk who have trouble seeing small details, you may want to bring along another light source. It can't hurt, right?
RELATED: PORTABLE HOBBY LIGHTING FOR PAINTING MINIATURES (OTTLITE REVIEW)
But, again, as a compact and portable system, the LED light bar is perfectly suited for this painting station.
When you're deploying your Paint Case, the LED light bar slides into wooden slats that slot on to the top of the paint case. You can see how this works in the photos. The LED is a neutral, cool light, which is perfect for painting miniatures and seeing decent texture contrast. It also works well for basic photography of your miniatures while they are still a work-in-progress (e.g., WIP photography).
---
Other cool features in the Frontier Wargaming Paint Case 2.0
The front door folds down and has a thick plastic sheet that lets you use the front door as a workspace. You can spill paint on the plastic and wipe it off. Whereas if any paint got on the wooden case interior, you'd have a bit more work to keep things clean.
The plastic sheet also has a durable matte finish that protects your Paint Case door from scratches, dings, and other abrasions that your hobby tools might inflict during modeling. Overall, this plastic workspace feature was a very nice touch!
If you're creative, you can adjust the shelves and drawers to fit a water pot for rinsing your paint brushes. Along with a small cup or mug that will fit nicely inside the Paint Case, you should be able to fit a travel ready paper towels, too.
Here's an affordable portable brush wash and rinse bucket that will fit inside the Frontier Wargaming Paint Case.
RELATED: TOP 15 WATER CUPS AND BRUSH RINSERS FOR HOBBYISTS
The carry handle over the top of the case has a rubbery grip. The case is well-balanced, so picking the entire case up with a single hand and walking with it like a briefcase is easy and comfortable. If the weight of the case becomes too much for your over a long distance, you can sling the paint station over your shoulder with the included adjustable strap.
Depending on how you arrange the drawers and shelves, you do want to be careful about swinging the case too much. Things can jostle about inside and could dislodge out of place when you open the case back up. Just be aware that turning the case upside-down will likely make all your paint bottles come out of their shelves. Not too hard to remedy, but just a word to try and keep your travels with the Paint Case as level-normal to gravity as possible. 😃
---
Check out 3 other popular hobby paint cases and stations!
READ MORE: TOP 13 PORTABLE HOBBY PAINT STATIONS FOR MINIATURE PAINTERS AND HOBBYISTS
---
Summary: Frontier Wargaming Paint Case 2.0
Pros
Aesthetically pleasing
Assured quality control
Durable and sturdy build
Modular shelving and drawers

Feature rich
Cons
Fairly expensive, but maintains good value compared with similar paint cases
May be bulky for lightweight travel needs (a smaller case is available)
---
Final Thoughts
Is the Frontier Wargaming Paint Case 2.0 worth it?
I'm glad I purchased my original Frontier Paint Case. I still use it to this day to store and move about with my hobby supplies when painting miniatures on the go. As a commissioned miniature painter, I often like to taking my projects with me when I travel or want to move around to different rooms in my home.
The Paint Case has made doing this a lot simpler. The second Paint Case (2.0) version reviewed in this article is just as good with notable improvements, including rubberized grips for the handle and shoulder strap, and a plastic sheet to protect the interior cover when the station is deployed.
I can confidently recommend the Frontier Wargaming Paint Case 2.0 to any hobbyist and miniature painter looking for a compact, portable hobby workstation solution. The size of this Paint Case is perfect for holding almost all of your essential supplies with space for other accessories, such as water cups/pots, assembly tools, and painting handles for miniatures.
The Frontier Wargaming Paint Case is fairly expensive, but compared with similar paint cases in size and feature set, the Paint Case is a very good value. Here's a review of other portable hobby paint stations for painting miniatures and models.
If you're serious about painting minis and want to experience your hobby wherever you go, or want a dedicated "work-and-stowaway" hobby space, I suggest you give this paint case brand a try.
If you found this review helpful or would like to leave us your thoughts, please leave a comment below. I'd love to hear from you!
Happy painting!
---
Tangible Day on YouTube (Miniatures and More!)