Are you a new miniature painter, or want to help another painter get started? At first glance, the sheer amount of stuff you think you need may be intimidating. But, I'm here to tell you that you don't need much at all to start painting miniatures. In fact, I think you'll only need three things: a good brush, paint, and the model. You likely already have a miniature that you want to paint. Maybe it's for Warhammer 40k, AoS, or other tabletop wargame. Maybe you want to paint up your favorite board game or Dungeon and Dragon (D&D) minis for your next RPG campaign.
In this article, I highlight the basic tools that you'll need to get started painting miniatures and models. I'll also show you other supplies and tools that will make your hobby life easier.
Continue reading for more details about the essential tools and supplies you need to get started painting miniatures.
---
You only need three things to paint miniatures
The barrier to entry for painting miniatures is lower than you think!
To keep things simple and budget-friendly, remember that you only need three things to jump into the hobby. Don't get over your head. This hobby triad consists of:
Paint
Brush
Model
If you focus on getting the best model paint, the best brush, and the model that you are keen on painting, then your job is more than 90% done toward completing your starting miniature painting kit.
What is the Miniature Painting "Triad"?
Yes, of course, you'll need other supportive things. For example, you'll need a way to care for your brushes, which includes a brush rinsing water cup, a bit of soap, and clean running water. To make sure you can see what you're doing, a good light for painting miniatures will help, too. And, the list goes on.
This is my philosophy. Keep your hobby simple when you're first starting out, and let the other "needs" emerge.
Through years of experience, I've come to understand the profound impact of simplification. It not only enhances your skill as a miniature artist but also fuels productivity. Painting minis is a hobby that grows as you gain experience. For example, things like high-quality, expensive paint brushes or a painting handle (which makes life more comfortable for you) aren't 100% needed, but they help a lot when your skills match their use.

The key is to focus on the basics and build upon them, don't be overwhelmed with all the bells and whistles that come with miniature painting. Start by understanding the basics such as types of paints, brushes, primers, etc. Once you have a good grasp of these tools, then you can branch out.
READ MORE: RECOMMENDED "BUDGET" BRUSHES FOR EVERYDAY MINIATURE PAINTING
If you're on a limited budget, the essential miniature painting triad also helps you focus how you spend your money wisely. Get the best paint and brushes you can afford, then work up to other helpful supplies (see below).
Well, what if you're a bit more ambitious?
---
Things You'll Want to Make Your Hobby Life Easier
| Supplies | Details |
| --- | --- |
| Paint | To add color to your miniature |
| Brush | To apply paint to your model surface |
| Model/miniature kit, e.g., tabletop wargames, board games, D&D, RPG minis, display busts and figures | Your essential working surface, your canvas |
| Light or lamp | To illuminate your work |
| Palette | Somewhere you can mix and thin your paints before applying to your model |
| Brush cleaner or soap | To clean and maintain your brushes and other essential tools |
| Primer | To prepare your model's surface for paint application |
| Varnish sealer | To protect your completed painting, especially if the model is for gaming |
| Water pot or cup | For cleaning brushes and easy access to water for thinning paints |
| Miniature or model painting handle | To clean and maintain your brushes and other essential tools |
| Hobby knife or blade | A versatile tool for cleaning a model's surface or other cutting needs |
| Sprue cutters or clippers | Useful for parts removal from sprues and kits, e.g., plastic, metal, or resin |
| Glue | Bonds parts together during assembly, e.g., super glue is best for most materials |
| Hands-free model assembly holder | Holds very small parts for you while you wait for glue to dry |
---
Brush SOAP is always useful
If you want to save money and time in the long run, make sure you clean your brushes after every miniature painting session. For this, you'll need specialized brush soap formulated to condition and care for miniature brushes.
Of these other supportive supplies, a good light source will be your next important investment in the hobby. Here is what I now use for most of my work. The Neatfi XL lamp is an amazing lamp that keeps my work space lit with even, bright light.
---
Are you comfortable with your desk and chair?
Although I didn't list it above, you'll also want a comfy chair and a good solid desk to work on your miniatures. Here are some hobby desk setups that I've played with over the years. When it comes to a good chair, just make sure it's comfortable for you to sit upright in for long periods of time without slouching.
While a good armrest may be useful for office work involving keyboard typing, I prefer avoiding large executive chairs for hobbies to have more freedom of movement.
---
Use a Paint Palette to Mix and thin hobby paint
If you're planning to do any mixing or blending and thinning of your acrylic paints (which most painters would highly recommend you do), then you'll love having a good palette that is easy to clean or toss away when you're done.
RELATED: BEST MODEL PAINTING HOLDERS FOR LESS PAIN AND DISCOMFORT
Finally, if you want the best results for the miniatures and models, I strongly suggest getting a good primer and varnish. A primer application prepares your model working surface for paint; whereas a varnish acts a protective seal over your finished paint job.
---
Recommended Tools for Assembling Model KITs
Do you notice how quickly this hobby outpaces your ability to keep your wallet from withering into a dried husk?
So you want to know about model kit assembly. Well, you'll need these key things if you're going to be doing any assembly of plastic, resin, or metal miniature and model kits:
You'll find that nearly every miniature you want to paint at some point will require some assembly work or preparatory effort (e.g., sanding, filing, mold-line removal) before you can start priming and painting.
A sharp hobby knife, such as a X-acto blade, will be versatile and useful for the majority of your assembly work.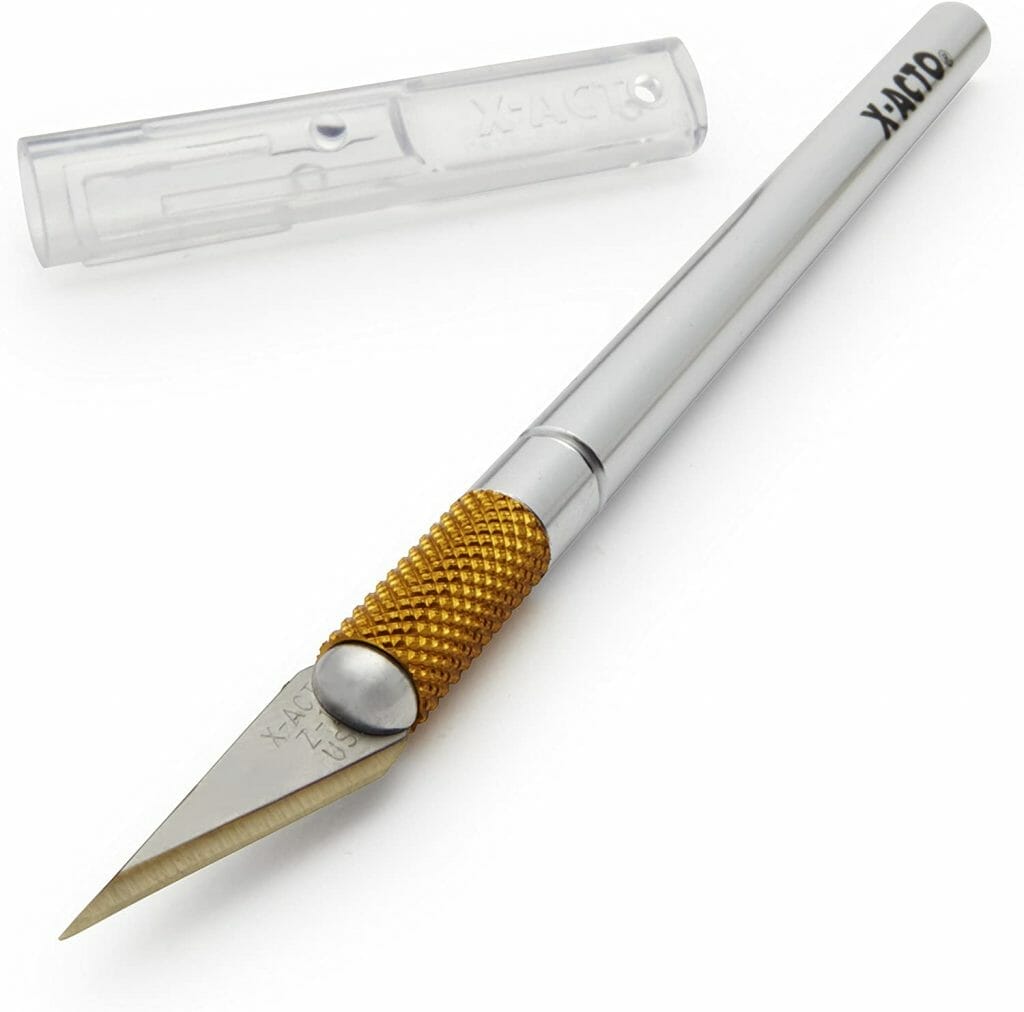 Good sprue cutters or clippers will be a vital tool for removing parts from mold/cast sprues and kits. A good pair should last years and won't require sharpening if you use them as intended.
Most plastic, resin, and even metal kits are soft malleable materials and should not dull a good pair of clippers. I often use hardware store-grade wire cutters and clippers, which are less expensive than hobby-grade cutters. Of course, if you want the smoothest experience working with plastic or resin model kits, then check out the Redgrass Games Sprue Cutters, for a premium example.
If you're like me and have slightly less fine motor skill for tiny parts, or hate waiting for glue to dry while holding pieces together, a third helping hand holder can be super useful for assembling miniature kits.
---
Do I need an airbrush to paint miniatures?
Nope. But, it can help. To read more about why (or why not), you can check out the comparison article of "airbrushing versus regular brush work".
If you're still interested to know more about airbrushing miniatures and models, take a look at this super-duper, engaging 18k word comprehensive guide about airbrushes with accompanying top 10 airbrush review.
In general, I don't think airbrushes are necessary at all for painting miniatures. They can help with certain advanced techniques and effects, but aren't an essential tool for miniature painters to achieve amazing effects and results. They can be a hassle to use, and require the use of an air compressor, which can get expensive.
Instead, take a look at the professional, award winning work by Marike Reimer. She did not use any fancy expensive tools.
What are my most frequently used supplies for painting miniatures
In case you missed it, here are the supplies and pieces of equipment that I use for my miniature painting work:
---
Conclusion
Miniature painting is an amazing hobby enjoyed by millions around the World. A strong community, an shallow learning curve with high reward, and low barrier to entry make the the miniature painting hobby fantastic for anyone age 2-200.
You don't need much to get started painting miniatures. Remember the essential miniature painting "triad": paint, brush, and model. Start your hobby from this point and you'll find the search for what you need will be simply and easy.
If you're looking for a do-it-all starting kit, I highly recommended the Reaper Core Skills Painting kit. It is an self-contained hobby box that includes, paint, models, brushes, and easy-to-follow instructions. I've given this kit away as a gift to those interested in the hobby, but didn't know where to start.
Whatever you decide during your search for getting into the miniature painting hobby, remember there are tons of resources out there. My only take home message here is to keep it simple. It is easy to fall into the trap of buying everything you see as the excitement drives you forward.
I hope this article was helpful. I'm sure I may have missed a few points, and would love to hear your thoughts. Your feedback is always helpful and appreciated!
Thanks for reading and happy painting!
---
Tangible Day on YouTube (Miniatures and More!)