A desk magnifying glass is an essential tool for a lot of hobbies. It is a very popular desk gadget. But with all the choices out there it can be hard to choose one that's right for you. As a miniature painter, model maker, and someone who enjoys arts and crafts, e.g., coloring books with my kids, paint by numbers, I need to see details and focus on small features. If you're looking for table top magnification to help you see whatever object or surface you're working on, then check out what I found below.
In this article, I cover a few of the best desk magnifying glasses out there, what they're used for and give you my recommended top 7 picks! My personal favorite for working with miniature hobbies and crafts is the Brightech LightView Pro Magnifier Lamp. It serves a variety of purposes, including as a simple desktop light source.
---
Great Reasons for a Desk Magnifying Glass With Light
Aside from improving our visibility of fine detail, and reducing eye fatigue, a tabletop magnifying glass with bright, soft light is helpful in a huge number of hobby and craft activities, including:
Scale model making
Rock painting
Cross-stitch
Paint by numbers
Miniature painting
Needlework
Soldering
Cross word puzzles
Couponing
Leatherwork
Nail art
Of course, there are tons of other activities where you could use a hobby magnifying glass. With the convenience of magnification and illumination of a lighted magnifying glass you have the potential to do more detailed work with less eye strain.
---
How to Choose a Desk Magnifying Lamp (Features Overview)
Here are a things you may want to look for in a desk magnifying glass with or without a built-in light:
Floor or tabletop lens
Magnification power
Lens material (i.e., plastic or glass)
Features (e.g., dimmable function, light color, and charging ports for smart devices)
Cost
Shopping for a good magnifier lamp isn't simple. What you're in line to find is a veritable ocean of different systems, some with great light or none at all. Even the shop or brand you buy from may look similar to other competitors, but end up being a poor deal. So, to help make your desk-magnifying purchase easier, here's a closer look at some things you should check for before clicking that buy button.
Floor or tabletop lens
Not all magnification is create equal. Then again, your needs will vary from mine! If you don't have the space in your hobby room, for example, you may want to conserve your desk area. In this case, you could attach a table lamp with a clamp to the side of the table. Or, you could get a floor magnifying lamp that stands next to your work area.
Features
With the flexible arm of some table lamp models with magnifying lenses, you can move your lights anywhere on your work surface you need. Swing arms work alongside other great magnifying glass features. To adjust to your particular craft or hobby, the bulb or LED lights should also have brightness settings. A dimmer with a warm or cool lighting temperature will also give you a more comfortable experience, whether you're trying to read or work on detailed needlework.
For miniature painting, I know I enjoy a white light that is provides a neutral color temperature (in contrast to the lighting style of incandescent lighting). A cool white light is often preferred by artists working with color. The light source could come from LEDs or energy saving halogen bulbs. Note that the latter can give off heat, but may be brighter than LEDs.
RELATED: BEST LIGHTS AND LAMPS FOR MINIATURE AND MODEL HOBBIES
Lens material
Portable magnifying aids often have plastic lenses, whereas a desktop version may have a glass lens with weighted stand. Some more expensive magnifying aids have a lens cover or shade to keep the bright light contained, which is important if you have a tall system in a bedroom or other place, e.g., home office, where others sleep work.
For a more complete, focused illumination of your work area you can also consider a desk magnifying lamp with a LED light strip within the base. This will allow you to adjust the brightness and contrast precisely where it matters most for your project. I personally do not use these for my work, as I find this kind of illumination unnecessary.
Cost
Finally ask yourself if you need to spend the money on a expensive magnifying lamp or lens system. Those interested in simply adding visual aid to their existing lighting, including natural daylight, may not need to spend much at all. Lamps around your home may be good enough, and all you may want is to have a desk magnifying lens available for those times you need it.
Read on for an overview of my recommended 7 magnifying systems for hobbies and crafts.
Tangible Day on YouTube (Miniatures and More!)
---
7 Great Options for a Desk Magnifying Glass with Light for Hobbies, Art, and Crafts
Here is a short list of popular and recommended desk magnifying glass options for a variety of craft and hobby project tasks. There is certainly no perfect system, as any magnifying glass you get will have limitations along with advantages. See what I think about these hobby magnifying glasses below.
The desk magnifying glass by Brightech is a great tool for hobbyists and crafters. It's a durable, functional lamp that comes with a table clamp so you can position it right where you need the extra magnification.
The magnifying lens is made of glass, which makes it easier to clean and less prone to damage (e.g., scratches). The lens magnifies up to 2.25x, which is a widely practical magnifying power. You can read, craft, or paint with this visual magnification. The 8″ focal length (the distance to which things are in-focus) is perfect for using tools under this lens without hitting it. A paint brush or a soldering iron, for example, will easily fit under this lens while you work.
With the built-in ring light, you won't need a separate lamp. The LED lights are adjustable for brightness and color temperature. For reading, you may want to use a warmer light as this leads to less eye fatigue. For arts and crafts, a cooler neutral light will help you see color more accurately. The LEDs in most lamps today have incredible service lifetimes (up to 20,000 hours), so you won't need to replace these bulbs anytime soon. All in all, this is a highly versatile magnifying glass for your crafting and hobby needs!
Best Features
Magnifying desk lamp with LED ring bulb
Glass lens with 2.25x magnifying power and 8″ focal length
Dimmable lights for different uses
Swing arm and clamp for any desktop space
Energy efficient LEDs with excellent durability
---
This is 2-in-1 magnifying glass is a hand-held magnifying glass with a desktop stand that fold out. There are small LED light bulbs built into the magnifying ring. Though, I'll note that they are not very powerful lights. The magnfying lens is plastic, which makes the entire unit light-weight and easy to hold. There are two magnifications, a 10x and small 22x lens, for those times you need to see something extra close up.
This magnifying glass is great for a huge number of tasks, such as reading fine print on different things, e.g., bottles, technical literature, inspecting maps, working with miniatures, scale modeling, sewing, jewelry, electronic repair, and much more. Maybe you're hiking, searching for the perfect rock to paint? This is the perfect compact magnifying glass you can take with you in a small bag, purse, or backpack.
The 2-in-1 handheld/desk magnifying glass travels easily and because of the folding stand, you can free up both your hands if you need to. Overall, this magnifying glass improves on the traditional magnifying glass with added levels of functionality and flexibility.
Best Features
Handheld or desk magnifying glass
Great for rock painting at home or outdoors
Compact, travel ready
Two magnifying powers, 10x and 22x
Power the LED lights with batteries or wire & plug
---
This magnifying glass desk lamp is one of the most affordable units I've found what comes with a table clamp and swing arm. The magnfiying glass is real glass, using the all-purpose 2.25x magnification power and 8″ focal length. This gives you the freedom to work under the len with tools without worrying about bumping into the lamp. Objects within 8″ distance will be in-focus and you'll have a good depth of field, clearly letting you see most of your working surface.
Unlike most plastic lens magnifying systems, the glass lens won't distort optics or fog up easily. This is a great desk magnifying glass for those who need to work longer sessions with it. This desk lamp has also brighter power than any other desk lamp I've seen in the same price range (up to 960 lumens). This is a fantastic option for those engaging in arts & crafts, computer work, sewing, reading, jewelry making and more. The diffuse lighting combined with the magnifying glass will help reduce eye strain (e.g., you won't need to squint to focus on small details). Take a closer look!
Best Features
Bright and diffuse lighting (up to 960 lumens)
Large clamp for attachment to a variety of table styles
Swing arm for moving the lamp where you need it
LED bulb produces no heat and will last thousands of hours
Great for a hobby workstation desk
---
Are you looking for a simple, quick way to work on that miniature hobby or craft? If you're looking for a light duty way to magnify a small object while holding it steady, this may be your best and most affordable option. The Carson magnigrip is a two-in-one magnifying glass with integrated needle nose tweezers.
The 4.5x magnification lens (made of plastic) is lightweight, convieient, and there whenever you need it. It's handy to have in anyone's toolbox. As a simple tool, there isn't much to say about this magnifier, except there aren't really any like it on the market. The tweezers fold up into the handle so the entire magnifying glass stores up easily. There isn't much to clean or worry about.
The only drawback I see is that the tweezers aren't clamping and you'll need to use one hand to hold it closed until you're finished working. For quick tasks this is fine, but may not be useful if you're working for longer periods of time.
Best Features
Small, compact
Built-in tweezers for precision tasks
Lightweight, functional
Great for short, quick tasks
Very inexpensive
---
The Carson MagniFlex Pro is a hidden gem in the magnfiying glass universe. The weighted stand keeps the entire magnfying head steady, while the flexible gooseneck arm allows you to the move the lens where you need it. The powered LEDs illuminiate your subject while you're working on whatever hobby or craft you're doing, e.g., soldering, model building, elecgtronics, sewing, coin inspection, whatever.
The lens is plastic with a two magnification powers, 2x and 4x spot lens. The cool part about the MagnifFlex is that you can detach the magnifying glass and light from the stand, which are held together by magnets. This allows you to hold the magnifying glass as a handheld system or work with it on your desk. The light is powered via batteries for protability, or with an included power adapter.
As a desk system, this gives you a lot of flexibility to use this as your needs arise. Do you need both hands free to work on your project, e.g., painting a miniature, or assembling a model kit? Or, do you want to carry this with you to inspect that diorama at the local trade show? Do both, or anything!
Best Features
Two-in-one system (handheld or desktop magnifier)
Stable magnetic base holds the magnifying system in-place
Battery or adapter powered LEDs bulb
2x or 4x magnifying power
Flexible gooseneck for adjusting the magnifier to the optimal position
---
The Brightech Lightview pro floor lamp has a HUGE magnifying lens attached to a flexible, 24″ gooseneck arm. In my opinion, this is one of the best floor magnifying glass systems you can get for a number of hobby or art and crafting tasks. I purchased one as a reading lamp (next to my favorite reclining chair) that doubles as a magnifier when I need it.
The glass lens is a unique rectangular shape, which magnifies a huge swath of surface area (e.g., enough to see the entire page of a typical A4 sized book). The magnifying power is on the lower end at 1.75x, which is useful for a lot of tasks, but not for for the finest detail work. Though I'll note that the 13 inch focal length is great for doing things under the lens that require a bit more space, like reading a magazine, drawing or sketching, quilting, wood working, tattoo work, and other things.
The LED system in the lamp is as you might expect, long lasting, softly illuminating (870 lumens), and has a cool neutral color temperature. Notably, the light isn't dimmable, but will last a long, long time (15-20 years without replacement). Lower power consumption also make this lamp sustainable and produces almost no heat.
In general, I highly recommend this to anyone who needs magnification near their working/hobby area, needs both hands-free, and don't want to use up space on their tabletop for another lamp.
Best Features
Floor lamp with flexible gooseneck arm
Huge glass lens with 1.75x power and 13″ focal length
870 lumen LED with neutral color lights
Stable base
Wide variety of industrial or hobby use
---
The Neatfi Elite is one of the more popular, high end magnifying desk lamps for doing arts and crafts and hobbies. The large 7″ magnifying glass is gives you a large view of your working area on your desk or tabletop. The lens is glass on this desk lamp with a secure frame and cover. The light from the LEDs is very bright that you can use a standalone desk lamp.
Similar to other modern magnifying desk lamps, the LEDs will last thousands of hours. This model boasts up to 100,000 hours of service life, which is insane. But, after 20,000 hours, who's counting? I'll note that Neatfi is the maker of many types of desk lamp systems, including my favorite hobby desk lamp for miniature work, the Neatfi XL task lamp.
The swing arm chassis saves you space by clamping to almost any horizontal or vertical surface (e.g., a shelf or tabletop). As with any swing arm lamp, you can move the light and magnifying glass to where you need it. The spring loaded pivots will stay in place, so there's no need for tightening knobs. If you're looking for a combo magnifying glass with light, the Neatfi Elite XL magnifying lamp is a great choice. Take a closer look!
Best Features
Powerful magnifying desk lens with swing arm and clamp
Bright, powerful, low-energy consumption LEDs
Versatile lamp and magnifying glass
Neatfi reputable lighting brand
Magnifying desk lamp with long-lasting bulb
---
Summary: Desk Magnifying Glasses for Hobbies and Arts & Crafts
| Image | Product | Key Features | Price |
| --- | --- | --- | --- |
| | Brightech LightView Pro Magnifier Lamp | Magnifying glass desk lamp with clamp and swing arm | Check Price |
| | Lightweight Magnifying Glass (Handheld or Desktop) | Two-in-one handheld or desktop magnifying glass with built-in battery or AC adapter powered LED lights | Check Price |
| | LANCOSC Magnifying Glass Desk Lamp | Real glass magnifying lens with very bright, 960 lumen LED bulbs | Check Price |
| | Carson MagniGrip Magnifier with Precision Tweezers | Compact, magnifying glass (4.5x) with attached needle nose tweezers for fine hobby crafting or other precision tasks | Check Price |
| | Carson MagniFlex Pro Lighted Gooseneck | Handheld or desktop magnifying glass system with flexible gooseneck | Check Price |
| | Full Page Magnifying Floor Lamp | Huge magnifying glass with LED floor lamp stand | Check Price |
| | Neatfi Elite HD XL Magnifying Glass Lamp | Popular hobby, office, or other tabletop task lamp with magnifying optical glass lens | Check Price |
Frequently Asked Questions (FAQ)
How do I use a magnifying lamp?
Good lenses are designed to keep the subject within sight with a good working distance between the lens and subject. The best way to use a magnifying desk lamp is to place the lens a set (comfortable) distance from you, and view your subject through the magnifying glass with both eyes open.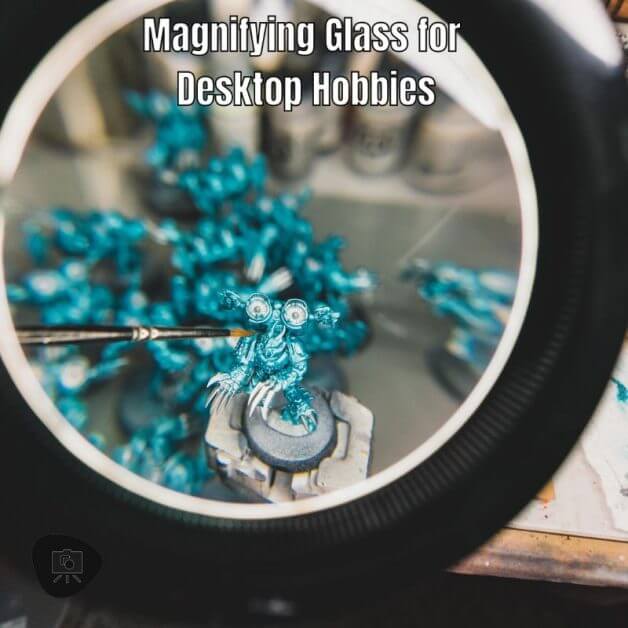 Move your subject through the focal distance so it remain sharp. If you have to move your working surface too far or too closer to the glass, then move the lens as needed. You should be comfortable while using a magnifying lens. It is important to keep both eyes open to maintain stereoscopic vision (3D view) of the object you're working with under the lens.
What is the recommended lumen setting for most lighted magnifiers?
In general, I look for a lamp or lighted magnifying glass that can produce at least 500-800 lumens. With 800 lumens, a light source is sufficient to work on almost any hobby without auxiliary light. In other words, with 800 or more lumens, you may not need another light source, e.g., desk lamp, to work comfortably. Of course, brightness isn't all you want to look for if you're buying a magnifying lamp. There are other features you should consider. Check out this guide for more information if you're shopping for a magnifying lamp.
How do you clean the magnifying lens of your lamp?
You'll want to avoid scratching the lens of your magnifying glass. To start, make sure you aren't using any harsh chemicals that can degrade the surface of your magnifying lens. This is particularly important for plastic lenses, which are more prone to scratches, scuffs, and other irreversible damage.
Start with a clean, microfiber cloth (usually these are made for cleaning lenses) to wipe off any debris or dirt. If you need a more aggressive cleaning, you can use a cloth dampened with a bit of soap and water. Of course, make sure to keep any moisture away from electronic components. To be safe, unplug any powered magnifying desk lamp before cleaning with fluid. Glass cleaners work great to remove fingerprints and other oily residue. But, try not to use any cleaners that aren't specifically formulated for cleaning glass or plastic lenses.
What is a lumen?
Lumen (symbol: lm) is the SI derived unit (i.e., industrial standard of unit) of luminous flux, a measure of the total quantity of visible light emitted by a source. Luminous flux is measured in lumens using a photometer. One lumen is defined as the flux of light emitted within the solid angle of 1 steradian by a point source with an effective radiance of 1 candela.
The number of lumens required to light a certain area varies depending on the brightness and type of light bulb. In short, more lumens means a brighter lamp or light source.
What is the focal length of a magnifying glass?
The focal length of a magnifying glass is the distance between the lens and the point at which the light is focused. This distance affects how clear the image will be and how large it will appear. A magnifying glass with a shorter focal length will produce a larger image, while one with a longer focal length will produce a smaller image.
Note that a short focal length gives you less space under the lens; while a long focal length gives you more space under the lens. From a practical stand point, you'll need to balance how much magnifying power you want versus how much space you want for working under the lens.
What is the best magnification power for hobbies and arts & crafts?
When choosing a desk magnifying glass for hobbies and arts & crafts, it's important to consider the magnification power. A higher magnification power will allow you to see details more clearly, but it may also require you to be closer to the object you're working on. A lower magnification power will give you a wider view, but you may not be able to see as many details. It's important to find the right balance between magnification and viewing area that works best for you. In general, I recommend between 2-4x magnification power for most hobby project or arts & craft work.
---
Conclusion
Desk magnifying glasses are a great tool for those who enjoy hobbies or crafts. A desk magnifying glass can be used to see intricate details of the object you're working on without having to move as close, which is perfect if your desk space is limited or your eyes tend to get tired quickly. Whether you're looking at fine art paintings or building an airplane model kit, these desk magnifiers will make it easier and more enjoyable to work on what interests you most.
As a hobby photographer, scale modeling hobbyist, and miniature painter, I rely entirely on seeing my work clearly. As such, I have tried many lamps and magnifying devices, now owning a few. Each magnifying system serves a different purpose (or located in a different place in my home), and I tend to bounce between them depending on where I am or what I'm doing.
Of course, the types, models, and styles of magnifying glass systems on the market can be overwhelming. This information above and my magnifying lens recommendations are only a small sampling of what's out there. I hope you found this article helpful, giving you tips and ideas for finding the right hobby/craft magnifying glass that works well for your needs.
Thanks for reading! Want to learn more or leave feedback about this article? Leave a comment!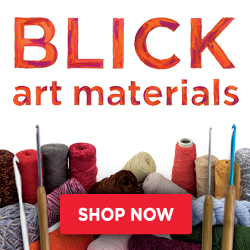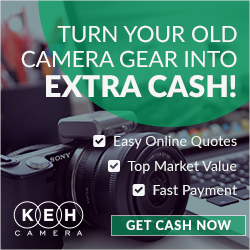 Tangible Day on YouTube (Miniatures and More!)