A spray booth to airbrush miniatures is an great tool for painting indoors efficiently and safely. The ventilation fan combined with an air filter keeps the contaminated air from spilling into your room. Most spray booths come with a built-in light source to make it easy to see the miniature while you are painting. If you're wondering whether to get a spray booth, or want to know more about how to use one, this post is for you!
In this article, I show you how to use an airbrush spray booth for painting miniatures. I also give you some professional tips on how to get the most out of your spray booth.
---
How to Use an Airbrush Spray Booth for Painting Miniatures
You can use an airbrush spray booth for all sorts of models, including painted models.
Place models on the turn table inside the spray booth
Turn on the spray booth fan
Ensure your airbrush and paint spray is working
Spray your miniatures with an even coat
Leave the spray booth fan on until the air is clear of paint fumes
In the last step, I also recommend leaving the spray booth fan running until the paint or primer dries over your entire model.
RELATED: BEST HOBBY SPRAY BOOTHS FOR AIRBRUSHING AND PAINTING MINIATURES (REVIEW)
---
10 Important Tips for Airbrushing with a Spray Booth
Don't crowd the spray booth
Use the appropriate airbrush air pressure
Keep the airbrush nozzle inside the spray booth
Keep your face outside of the spray booth
Spray toward the back of the spray booth (toward the filter)
Do not turn off the spray booth fan immediately after spraying
Avoid spraying flammable solvents in a hobby spray booth
Try using good lighting inside the spray booth
Turn models periodically while spraying to avoid pooling
Paint sub-assemblies in phases for large models
1. Don't crowd the spray booth
When using an airbrush spray booth for painting miniatures, it's important to avoid overcrowding the booth. This will help to ensure that you can spray paint your models efficiently and without any problems.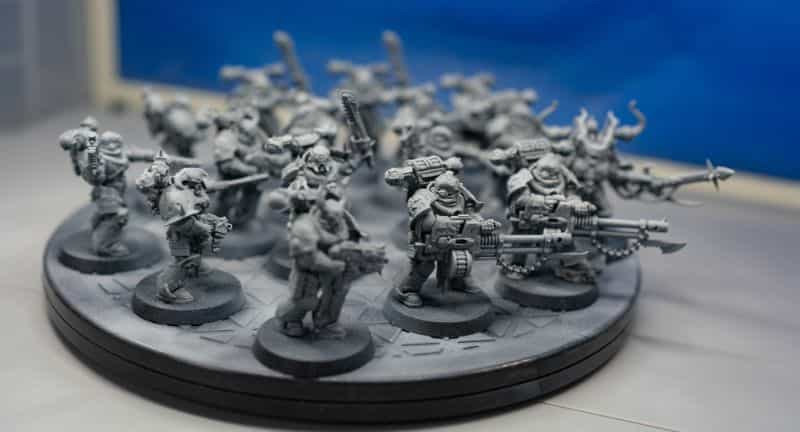 Your paint spray can only hit your models from a single direction. If another model obstructs the spray, you'll get "shadows" of unpainted surfaces on models in the back.
Sure, you can turn your models in the booth, but trust me, this will slow you down. You'll end up spraying the same number of miniatures slower than if you did multiple smaller batches at a time in your spray booth.
2. Use the appropriate airbrush air pressure
The great thing about spraying your models, instead of using a regular brush is that you can apply thin layers of paint over large surfaces. However, if you spray with an airbrush at high air pressure you'll end up wasting paint. Most of the overspray won't hit your miniature, or you'll end up apply layers of paint that are much thicker than they need to be.
For priming models, I recommend an air pressure of no more than 25-30 PSI. If you need more air pressure to get your airbrush to work, you are using a primer that is too thick, or your airbrush nozzle is too small. For more information about spraying primer with an airbrush, check out this article.
3. Keep the airbrush nozzle inside the spray booth
To avoid making a mess and keeping any accidents contained, make sure you keep your airbrush nozzle inside the spray booth. The air turbulence of spraying from outside, into the spray booth can take some of the atomized paint away from the spray booth. This means that more of the atomized paint will end up on the floor, your clothes or worse–in your lungs.
4. Keep your face outside of the spray booth
It bears repeating for those who like to get "close" to their work. I'm not sure what else to say!
5. Spray toward the back of the spray booth (toward the filter)
As with the above tips for keeping your paint job contained in the spray booth, you'll want to make sure you point your airbrush in the correct direction–away from yourself and toward the back of the spray booth.
I've been guilty of getting overzealous when airbrushing inside my spray booth. I end up pointing the nozzle toward the walls and the sides of the spray booth; especially when I want to paint those hard-to-reach places on a model. This gets messy.
It's much better practice to turn your model on a turntable, than moving your spraying angle too much in any other direction except toward the back of the booth.
6. Do not turn off the spray booth fan immediately after spraying
In a spray booth, the air may still be contaminated even if you stopped spraying. It takes time for paint particles in the air to settle or filter out through the spray booth. good rule of thumb is to wait at least 10 minutes after you've finished spraying before turning off the fan. This will help to ensure that the booth is clear of any overspray or fumes.
7. Avoid spraying flammable solvents in a hobby spray booth
Spray booths and volatile solvents don't mix. When you aerosolize flammable liquids, they have a great risk of exploding and starting fires. With a spray booth, this is made worse because the electrical motor that drives the fan can create sparks.
Moreover, tabletop or portable spray booths that we use for hobby airbrushing aren't designed to contained flammable aerosols. Only laboratory or industrial fume hoods with fire containment systems, i.e., sprinklers, have the capacity for more hazardous spray applications, and are very expensive.
8. Try using good lighting inside the spray booth
A spray booth is a dark place to work without lights. I recommend using one with built-in LED lights or getting a swing arm lamp setup nearby so you can see what you're doing. More about this below.
9. Turn models periodically while spraying to avoid pooling
To avoid applying too much paint or primer on your miniatures, make sure you turn them as you spray. I use a turntable so I don't have to touch the models to rotate them while paint is still wet. This keeps me working efficiently with an airbrush inside the spray booth. For large models, see below.
10. Paint sub-assemblies in phases for large models
When spraying large models, it's best to break the model down into sub-assemblies. This makes the job of painting and finishing a model more manageable. If you can, paint each sub-assembly (such as the torso) separately before assembling your model. When applying primer or paint to large areas (like a vehicle's hull), rotate the model on its stand while painting to avoid build up in one area of the spray booth filter.
---
Maintenance and Care Guide for Your Spray Booth
Here's a bit more info about how to keep your spray booth working for years into the future. A good spray booth is a low maintenance system. You shouldn't need to clean up much inside except for the filter, which may have paint build up.
To maintain a spray booth filter, it's good to know how the air filter works. Most airbrush spray booths comes with two-stage filters, which have a coarse (blue) and fine filter material (white). The coarse filter captures larger debris and pigments, and the fine material traps the residual dust and smaller particles that get through the first stage, before the air leaves the booth exhaust system.
The coarse filter is washable up to a certain point to keep your filter functional. But, after a while your entire filter builds up paint (back to front) and gets loaded down. At this point, the spray booth becomes less effective. The fan will not be able to pull the contaminated air out of the spray booth and back flow from spraying will leave the booth into your room–and your face.
Can you clean a hobby spray booth air filter?
Even though the filter pad in a hobby spray booth is disposable, you can clean it and reuse the filter a few times.
To clean your spray booth filter, I've tried a few methods that work. Here's what you do to clean your spray booth air filter so you can keep using it a while longer before throwing it out. Check out these steps to clean and reuse your air filter in the spray booth:
Soak the filter in soapy warm water for about an hour. This will help to dissolve the built-up paint and other contaminants on the filter. For a more aggressive cleaning, you can also use a non-toxic acrylic paint stripper and scrub the filter surface with a soft sponge.
Rinse the filter off with water and let it air dry.
Once the filter is dry, use a vacuum cleaner to suck all of the debris off of it.
Reinstall the filter in the spray booth.
How to check if your spray booth fan is working?
After a while, it's possible that your spray booth fan has stopped pulling air through the filter. To check if your spray booth fan is working and you're getting enough suction, use the proven "tissue paper method".
Turn on the fan, place a strip of tissue paper about the length of your hand on the edge of the spray booth hood. If the fan is working sufficiently, you should see the tissue paper swing inward toward the air filter. This means the air is being pulled through the filter and the booth is functioning properly.
If the tissue paper does not move, the fan is not working well or the filter is clogged. For a fan that doesn't produce enough airflow, you may need to replace the unit (which usually means a new spray booth). For a clogged air filter, simply replace the filter or try and clean it using the steps above.
---
Useful Accessories for Your Spray Booth
Most hobby spray booths include a turn table for placing your model on while you paint them. I recommend this useful turntable because it's elevated. This raises your model so you can spray more of its surface easier from the floor of the spray booth.
Additionally, the pedestal lets you turn the elevated platform without touching the painted surfaces which keeps your fingers from getting paint on them. It's also inexpensive for how often you will use it, and will last a really long time!
This is a larger version of the turntable that comes with most spray booths. It can hold up to 65lb (or ~30 kg), so you can even use it to hold large models, terrain pieces or other projects. The base has rubber feet so you can be sure it won't slip on the spray booth floor.
The rotating mechanism uses metal bearings for durability and smooth turning while weighed down. As with other turn tables, paint on the plastic surface will wash off easily if you want to keep it clean (but I don't worry about it).
You can recycle air filters (see details above). But, even these two stage filters require replacement after they get clogged up with too much paint and debris. Your spray booth will work better and keep your local air safer to breath with clean filters. Similar to how the air filter on your car needs replacement after a while, so too does the filter on your spray booth.
This is a 4-piece set of filters, and much less expensive than buying single filters at a time. I find I need to replace filters every 2-3 months and I airbrush quite frequently in my spray booth. So, this set should last you at least a 6-12 months or longer depending on your miniature painting habits and overall use of the spray booth.
The inside of a spray booth is dark, depending on where you set it up. I review the Neatfi Task Lamp in another article. If you're only going to use this desk lamp for lighting your spray booth, I don't think it's worth it. But, if you can swing this lamp to your workspace and your spray booth (making it work double duty), then the Neatfi lamp is one of the best hobby lamps you can buy.
Clamp the lamp next to your spray booth and swing it around to light up your spraying area inside the booth. The diffuse light will light up everything nicely. There's no need to buy a separate light for your spray booth.
Don't have a spray booth? Check out 3 popular airbrush spray booths!
---
Conclusion
I hope you found this article useful for how to use an airbrush spray booth for painting miniatures. I paint a lot of miniatures for commission work as well as my own models, and airbrushing is an essential tool I use on a regular basis.
When painting indoors, the spray booth is an important safety measure, reducing the hazard risk of breathing in aerosolized paint and primer particles. It's also a useful way to keep your hobby space clean and neat.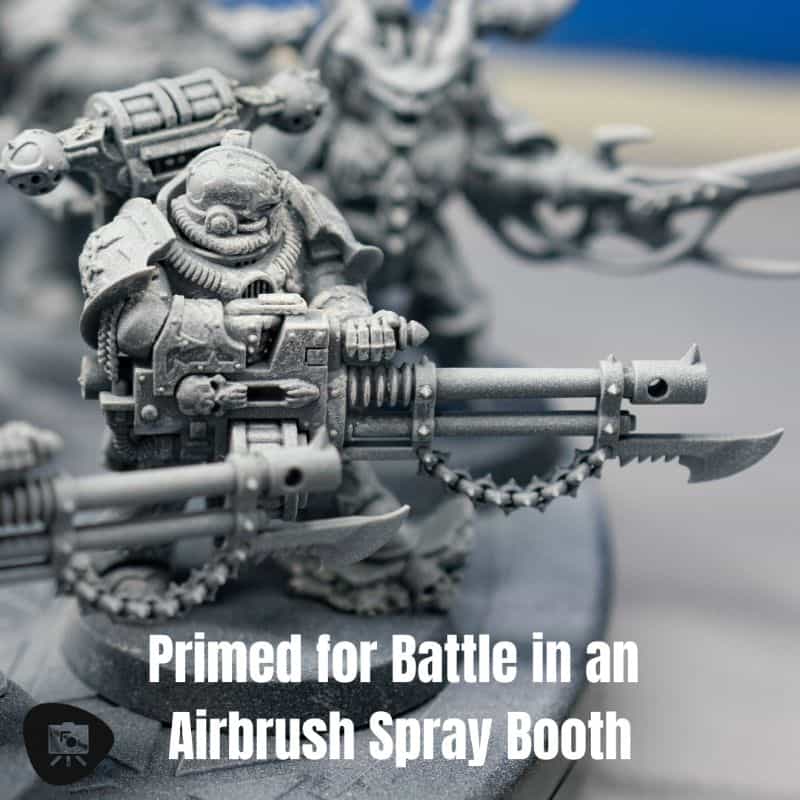 I love using my spray booth for priming and painting miniatures because it's so easy to use and doesn't require much maintenance. In fact, it's one of the lowest maintenance tools I have for the hobby, right next to the venerated hair dryer.
Do you use a spray booth? Does it cause you any problems? If you have any feedback about this article or questions about using your spray booth, let me know with a comment below.
Happy airbrushing (in your spray booth)!
Tangible Day on YouTube (Miniatures and More!)