The RGG Sprue Cutter and Precision Nipper have curved handles that naturally fit the relaxed position of your fingers and palm in a rested posture. You want tools that can help reduce hand cramping as they are designed to work within your natural range of motion. The rubberized or non-slip grips give you more control over the course of your work. The orange color also gives you a visual cue of where your hands should go.
But with cutting tools, a light weight system that fits your natural grip make these types of tools easier to use, and improves comfort and performance. The RGG cutters and nippers are a perfect size for these reasons and they also happen to travel well. Just remember to use the blade tip covers when you're storing them in your travel bag or case.
---
---
Efficiency?
The Nippers' angled blade design is indeed sharp and offers an edge over other models I've tried before. This feature came to the fore when I was working on delicate parts, such as hands, heads, and weapon parts.
The Precision Nippers do come at a premium price. But considering the superior cutting experience, reduced cleanup time, and comfortable, ergonomic design, I consider it a worthwhile investment.
---
For working with plastic modeling kits, the Sprue Cutter with its broad, flat blades, is a workhorse. It cuts through plastic parts effortlessly, making it ideal for quickly removing larger parts from sprues. It's an excellent general-purpose tool for plastic model kits.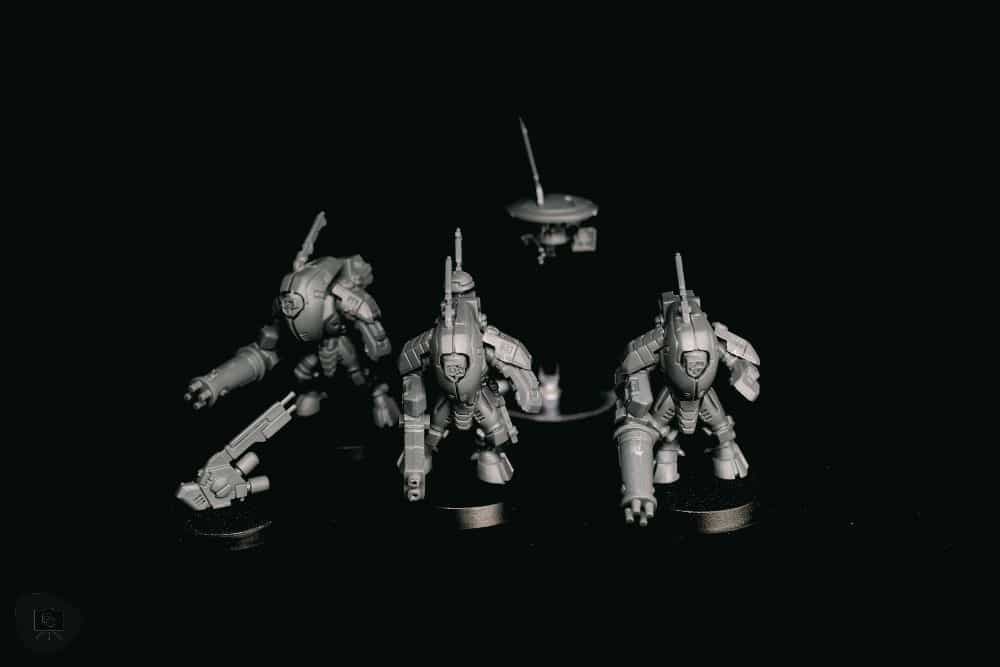 ---
While I won't bore you with the same experiences I had with plastic (as resin snips and cuts easier), the character of an effortless cut through resin model pieces with either RGG tool was super easy. As with plastic, I felt that the low profile of the precision nipper in particular helped to reduce hand fatigue when working on detailed, intricate parts.
---
First, use the sprue cutters to cut off the connectors close to the sprue, leaving a small nub on the part. Then, use the precision nippers to remove the nub from the part, cutting flush with the surface. This way, you can avoid damaging or deforming the part and achieve a clean and professional look.
---
---
---
While I can't tell you exactly what kind of metal the RGG blades are made of, they are certainly strong and seem quite durable. If I had to guess, based on their performance and the common materials used in such tools, I would hazard they are possibly made of one of the standard steels used in blades for wire cutting tools, such as carbon steel, stainless steel, chrome vanadium steel, or even tungsten carbide.
If they are made with any of those steels I mention above, I know that knife oil can maintain a sharp-edged tool's performance. A light dab of tool or knife oil on the blades and the pivot will keep any sprue cutter or nipper going for a very long time.
---
Tangible Day on YouTube (Miniatures and More!)