Are you looking for a modular hobby paint rack for storing and organizing your miniature paints? If you're like me and have collected a lot of model hobby paints over the years, then you'll know the struggle. Organizing your paint collection and hobby tools is essential for a productive time at your desk. It also makes you feel better knowing that you can find what you need quickly, without embarking on a treasure hunt. As a commissioned miniature painter, who tests a lot of products and can't stand using junk, I was grateful for the chance to review these paint racks from Plydolex.
In this review, I'll be covering Plydolex's corner rack and modular paint racks, made of high-quality laser cut wood. These shelves are meant to store your paints, hobby tools, and whatever else you want to throw at them. To see other featured Plydolex shelves and organizers, check out the Plydolex homepage.
Disclaimer: Plydolex sent me these two racks for review, but placed no restrictions on how I tested and used these shelves. Here I provide my open thoughts on this paint organization solution for hobbyists, sharing both the pros and cons, and whether I think these are worth the cost in comparison with other similar products.
RELATED: OTHER RECOMMENDED PAINT STORAGE RACKS FOR MINIATURE PAINTERS
---
What to Look for in a Good Hobby Paint Rack?
There are some really good reasons you want to stay organized with your hobby supplies and paints. Here are four things you need to know about when shopping for a hobby paint organizer rack:
Paint storage capacity – The best paint organizers have good storage capacity. They can hold your burgeoning paint collection with space to spare. Check out this paint dimension chart to see if your favorite brand(s) will fit in a particular storage rack.
Tabletop size – Some paint storage units require a lot of flat surface area. For those with limited space, but want more paint capacity, you can consider a rotating storage rack. Tall, rotating racks are great for holding a lot of paint bottles without a large footprint. But, these racks can be expensive or have limited storage for other tools and supplies.
Modular design – Many storage and display hobby solutions are modular. They are designed to fit together and grow as your need increases, e.g., they come together like Legos. I like modular paint racks for their simplicity and growth potential. The Plydolex rack reviewed in this article is a great example of a modular style storage system.
Price – The most affordable and common paint display racks are made of MDF (e.g., medium density fiber board). The most expensive storage units are either branded by a well-known company or have moving parts, like in rotating or spinning racks. The Plydolex paint rack are a middle ground choice. They are budget friendly and have an excellent quality laser-cut birch plywood construction.
---
Top Impression of the Plydolex Paint Rack Shelves
Plydolex uses plywood construction for these shelves, which has advantages over medium fiber density (MDF), including durability and excellent build tolerance.
Excellent fabrication without warped, chipped, or splintered corners, edges, or panels.
Some limitations include the need for assembly. The high tolerances between parts make some pieces difficult to fit together.
You will not need glue for secure fitment, but it can help for long-term durability.
Some paint brushes and tools may be too large to fit into the holes in the paint rack but will fit nicely in storage drawers.
A lot of storage space for paint bottles and pots of all sizes and brands.
Open shelving space is great for storing work-in-progress miniatures, larger hobby supplies, and art mediums, i.e., bottles, glues, etc.
A tall and handsome design with a modular build, allows you to expand and customize the perfect organization system for your specific hobby desk space.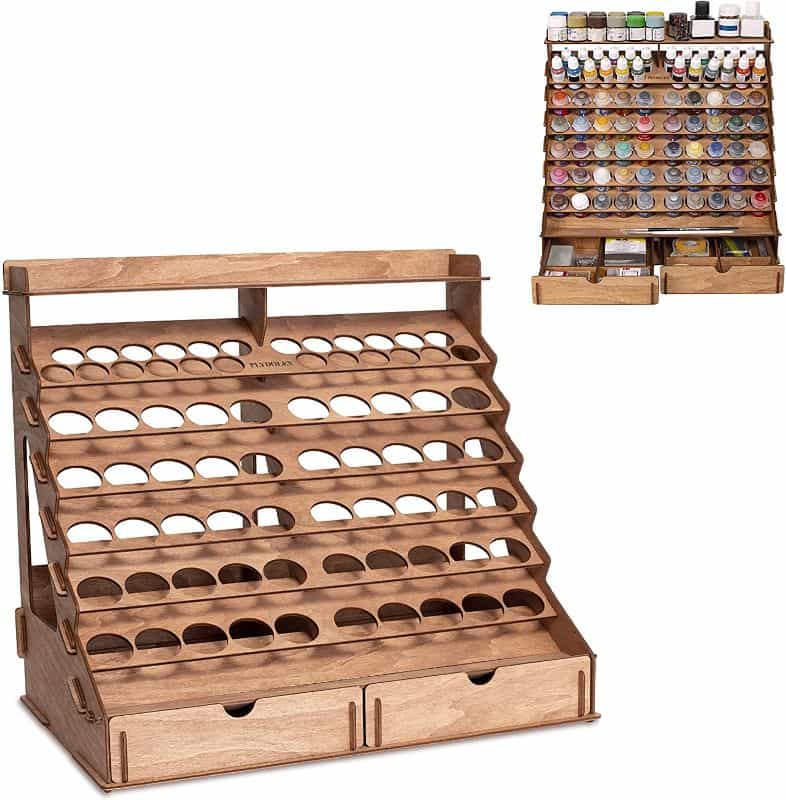 Read on to learn more details of my thoughts about these paint racks for your hobby organizing needs!
---
Unboxing Impression (Plydolex Paint Racks)
The shelves both arrived well packed in flat boxes. With foam sheets and paper backing, the laser-cut wooden components were organized and secure. I had no issues finding the instructions for assembly right as I opened the cardboard cover.
For someone who doesn't enjoy assembling anything, including miniature kits, I was pleasantly surprised at how easy the Plydolex paint rack assembly process is.
Based on prior experience with assembling laser-cut parts for various hobby projects, e.g., terrain kits, wargaming buildings, scale models, I expected some sanding or trimming to make parts fit well.
Luckily, this is not the case with Plydolex products. The tolerances were near perfect, making it easy to assemble without any sanding or trimming of the edges! Plydolex included a few spare connector pieces in case you lose one or two during assembly, too, which is very thoughtful–connector pieces hold different panels together, like nails or screws.
---
Modular (Straight) Shelf Assembly
I assembled the modular (straight) shelf unit first. There were a lot of parts to go through, but nothing unexpected or overwhelming. With any assembly project, it's a good idea to spread out if you can.
Here, the instructions didn't need much explanation. They are clear and easy to follow. Trying to fit the pieces together was the only part that required some finesse. Once pieces are pressed together–no glue necessary, though it can help–they aren't easy to remove.
For me, the most challenging part was actually getting my hand into some of the smaller holes to push inserts through. You can use a screwdriver or other flat implement. Just be gentle.
Other than that, the assembly of the paint rack went well, and I didn't have any issues. I finished assembling the first shelving unit in about 30 minutes. I'm sure I could have done this quicker, but I was taking my time taking photos for this article.
---
Corner Paint Shelf Assembly
The corner paint rack assembly did take a bit more time, because of the angular parts. I assembled this rack in about 45 minutes, taking my time to make sure each piece locked into place, as per the instructions.
I'll admit I'm slow at assembling anything. So, if you're like me, gather your patience, pour a cup of coffee and find some music, as these aren't a plug-and-play shelving unit.
An important tip for the corner paint rack assembly is to make sure you note each paint shelf panel number, as they aren't all the same. For example, the small hole shelves go on the very top of the rack; whereas the larger paint holder shelves line up below.
Because each shelf panel is angled downward, you'll discover that each shelf provides the "floor" for the holder above it. This open concept design does help make seeing each paint pot easier. More about this below.
---
Look and Feel of the Plydolex Paint Racks
When you're done putting the paint rack together, you'll be rewarded with really professional-looking shelves for your hobby desk. They are tall with a minimalist aesthetic, and immediately invite you to use them.
There is a rustic feel to them as well with the light brown wooden finish. Even the earthy smell of the wood adds a bit of atmosphere to your workspace. Though, I don't expect my paint shelves to stay fresh and new for very long. I plan to organize all my excess paints on these hobby racks.
A closer look at each part reveals how closely each piece fits. Computer controlled lasers cut each piece with such precision that you can't see the light of day between the components.
Although this made assembly a bit tricky, the overall fit and finish is top-notch. Of course, there are some notable caveats to the appearance.
I have several types of modular paint storage systems now. Plydolex is better than MDF in terms of the smell and appearance, but worse in terms of weight–these are much lighter to pick up compared to say, solid wood or galvanized steel. But it is heavier than MDF or even the clear acrylic shelves I have.
Maybe this weight is an advantage as it plants your hobby shelves onto your desk. And, if you're not planning to move around, then the extra solid feel to these racks will be just what you're looking for.
For more portable workstations for miniature painting, check out some of these travel- and storage-ready paint stations.
---
Other Features of Plydolex Paint Racks
In each rack, the modular or corner system, there are drawers that conveniently tuck away under the rack. They are a good size and fit almost any sized tool, brush, or another implement you'll need for assembling and painting miniatures and models.
If I did have an issue with these drawers, it would be that they do not slide smoothly when opening or closing. The friction between the main shelves and the drawers is just enough to make it feel like you're working against something.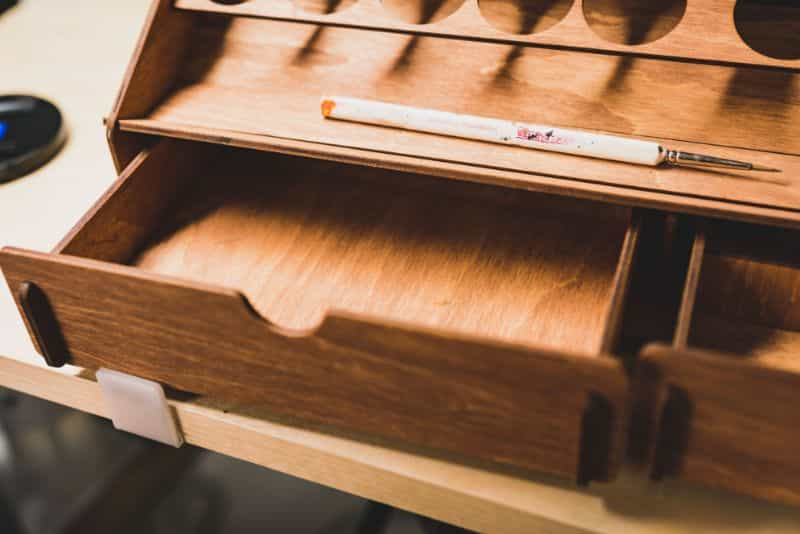 This is not a deal-breaker for me, but I'd imagine this may annoy some hobbyists. Though I would add that to have a shelving system with drawers that operate smoothly, you would have to find one with a rail and slider system–a more expensive and complex organizer you would have to find elsewhere.
On the shelves of the paint rack are holes for storing your paint brushes upright, much like a pencil cup. Storing your paint brushes vertically with the bristles upward is a good way to prolong the life of your brushes (e.g., the bristles won't get damaged). Though the holes are a bit small for larger brushes or tools you may have around your hobby space.
The good thing is that the racks have a plethora of nooks and crannies that you can organize and store your larger tools and brushes horizontally. Just lay them down on the shelves or lean them sideways against the rack. They won't go anywhere!
For those looking for a place to put miniatures or work-in-progress models, there is a handy cul-de-sac in the corner module. You can exhibit your work there or use it as a miniature backdrop for photographing your models!
So, despite the simplicity of the design of these Plydolex racks, they are feature rich with a lot of emergent utility.
---
How Much Paint Will the Plydolex Racks Hold?
Here's a handy table listing the common dimensions of hobby paint bottles and pots. Use this information to find out if your favorite paints will fit any hobby paint rack.
| Model Paint Brand | Diameter | Height |
| --- | --- | --- |
| Army Painter/Vallejo/Master Reaper Series/Scalecolor | 0.75″ (20mm) | 3″ (77mm) |
| Citadel (Games Workshop) – 12ml | 1.25" (32mm) | 1.75″ (45mm) |
| Citadel (Games Workshop) – 24ml | 1.25″ (32mm) | 2.4″ (61mm) |
| P3 (Privateer Press) | 1.2″ (30mm) | 2″ (50mm) |
| Testors Enamel Paint | 0.94″ (24mm) | 1.9″ (48mm) |
| Minitaire (Badger) | 1.2″ (32mm) | 3.2″ (80mm) |
| Vallejo wash or pigment bottles (35ml) | 1.5″ (35mm) | 2.75″ (70mm) |
| Vallejo surface primer bottles (200ml) | 1.9″ (50mm) | 5.75″ (14.5mm) |
| Vallejo surface primer (60ml) | 1.5″ (35mm) | 3.8″ (97mm) |
| Kimera color paints (*not round bottles) | *1.6″ (40mm) | 3.75″ (95mm) |
These are estimated dimensions. You may want an organizer or miniature paint rack that has a bit more room than the actual paint bottle size (to avoid a tight squeeze). For example, if you're looking for a Vallejo paint rack, you could just use the dimension of Vallejo dropper bottles and find a paint rack that fits.
Modular Rack Paint Storage Capacity
The Plydolex modular rack has 50 large holes that will store larger paint bottles or pots, including those that hold Vallejo pigments or the larger metal color airbrush paints. Although the big holes work for larger bottles, you can certainly store your 17ml Citadel or Vallejo paints there, too.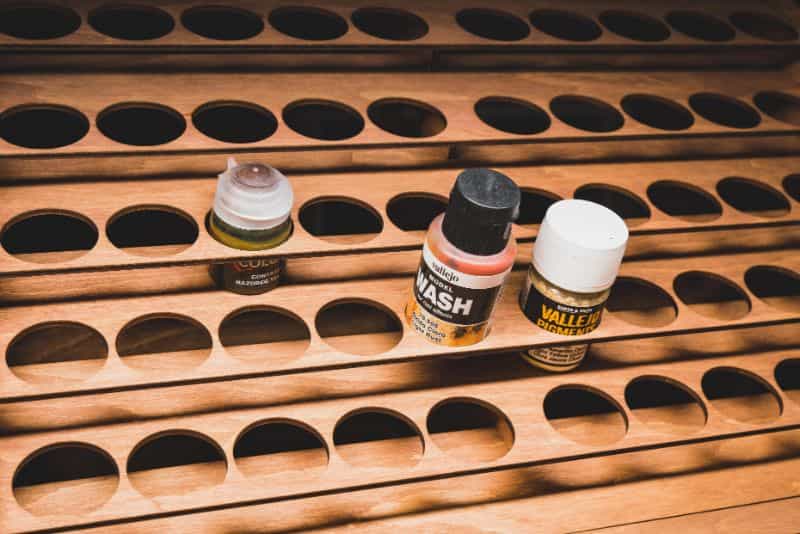 On the top shelf are 24 smaller holes for storing dropper style paint pots, e.g., Vallejo, Army Painter bottles. All the paint shelves are tilted down toward you so you can easily reach for your paints, as well as see the labels and caps of each bottle or pot.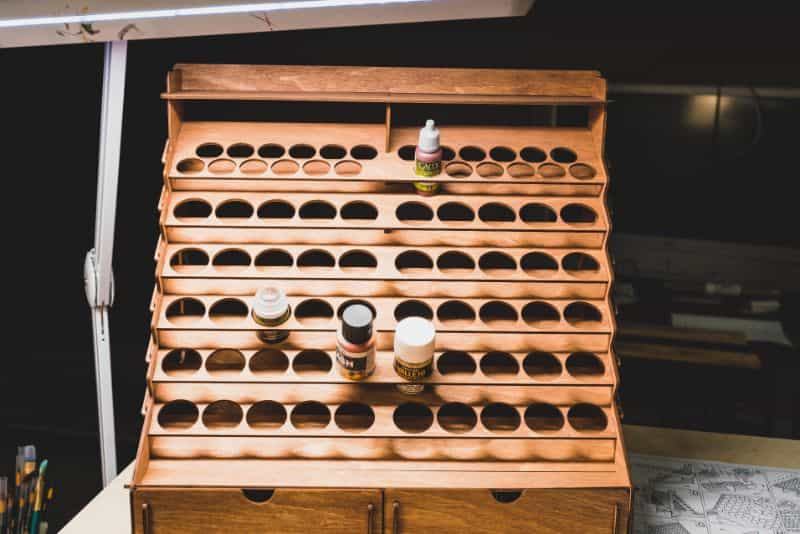 Corner Paint Rack Storage Capacity
The Plydolex corner rack has 18 big holes that will store larger paint bottles or pots, including those that hold Vallejo pigments or the larger metal color airbrush paints. Although the big holes work for larger bottles, you can certainly store your 17ml Citadel or Vallejo paints there, too.
On the top shelf are 14 smaller holes for storing dropper style paint pots, e.g., Vallejo, Army Painter bottles. All the paint shelves are tilted down toward you so you can easily reach for your paints, as well as see the labels and caps of each bottle or pot.
Although there are fewer holes than the modular or straight rack, the design of the corner shelves are similar, e.g., tilted and open concept, so that you can easily see and access any of the paints without peeking around things.
On both the modular and corner rack, there are drawers for other tools (2 on the modular rack; 1 on the corner rack). On each rack is a top flat surface shelf that will let you place anything else that doesn't fit in the provide shelving holes.
Although I didn't note it above, each paint rack comes with stands to hold miniatures. These model/miniature stands require that you add putty or other sticky substance to attach your models.
RELATED: MODEL HOLDERS AND STANDS FOR PAINTING MINIATURES
Once you do, however, you can paint your miniatures without touching the surface. Some assembly of these stands is required.
You can see the stands in-use in the photo below.
---
Do I Recommend the Plydolex Paint Rack System?
Compared with other hobby paint organizers and racks that sit on your desk or table, the Plydolex is a high quality system.
The build quality, functionality, and versatility of the paint racks, i.e., modular and corner modules, are top-notch and I would place these in my top 5 picks for those who have a moderately good budget. They aren't expensive and I think for this set you're getting a solid value.
I'll note that one of the advantages of this system over some others is that this is a modular set. This means that you can get either a single rack if you have limited desk space, or multiple racks to arrange an entire wall of paint organizing shelves that look great together. The corner racks make a good bookend for your paint collection.
Overall, I would highly recommend Plydolex Paint Racks for those looking for a versatile and functional paint organization system that can grow with your hobby (and burgeoning paint collection).
---
Other Top 3 Editor's Paint Rack Favorites 🏆
Wooden Rotating Essential Oil Rack (Huge capacity)
---
Conclusion: The Plydolex Wooden Hobby Paint Rack Organizer
Are you looking for a good paint rack system that will expand with your hobby needs? If you have a small hobby paint collection now, and love painting miniatures, I'm certain that you'll run out of storage space soon! Collecting model paints is addictive!
The Plydolex rack system is one of the best modular systems you can get for your paint storage and organization needs. If you're starting out or want to upgrade your hobby desktop, these racks are future proof–they will grow (or shrink) with your available space.
Do you currently have a good organization system for your hobby supplies and paints? What do you think of this article? Let me know with a comment.
Tangible Day on YouTube (Miniatures and More!)