Are you looking for an honest review of The Army Painter Regiment Brush for painting miniatures? Your paint brushes are your most important tool for your miniature and model painting hobby. The AP Regiment Brush has become one of my favorite workhorse brushes for painting miniatures and models. The Regiment is fantastic for a host of techniques, from simple base coats and washes, to more sophisticated wet blending.
In this article, I provide my full-review of The Army Painter Wargamer Regiment brush after using it to paint miniatures and models.
---
Summary (TL;DR): Review of the Army Painter Wargamer Regiment Brush
After a full year using the same Regiment brush, I decided it was time to write a review.
The Army Painter Regiment brush is one of the most cost-effective, valuable paint brushes for any miniature painter. It is a bonafide workhorse for getting your models painted.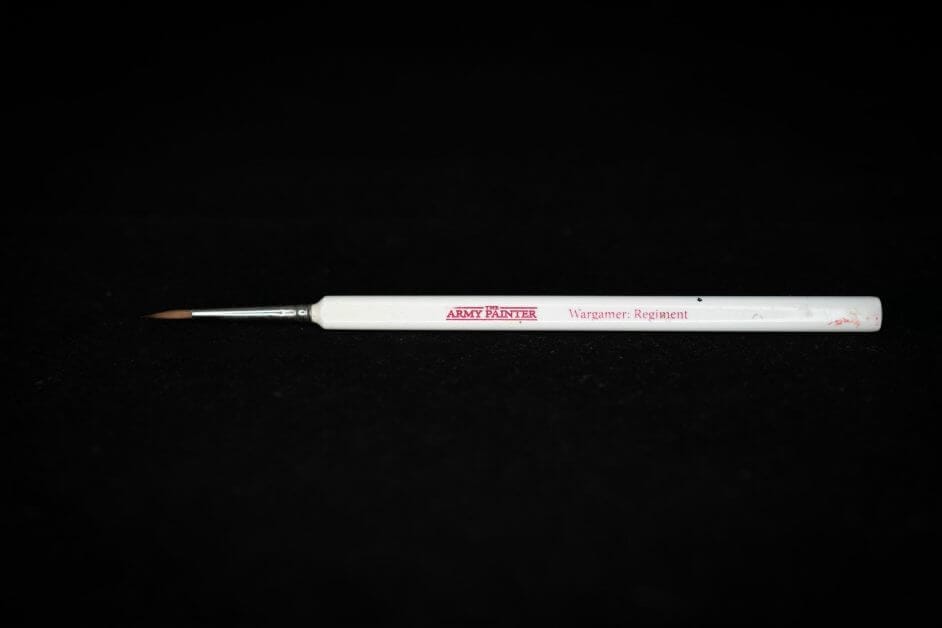 I am a commissioned miniature painter, so I paint a lot, and the Regiment brush has held up well with regular use and care. With some exceptions, the brush is versatile, durable, and will prove itself over time. I highly recommend the Regiment to anyone looking to paint at a tabletop quality standard or at an advanced display, competitive level.
If you're interested in picking up the Army Painter Regiment brush, you can pick it up a la carte, or as part of a bundle with other Army Painter tools. Read on for the full user review!
---
Best All-Purpose Brushes for Miniature Painting
---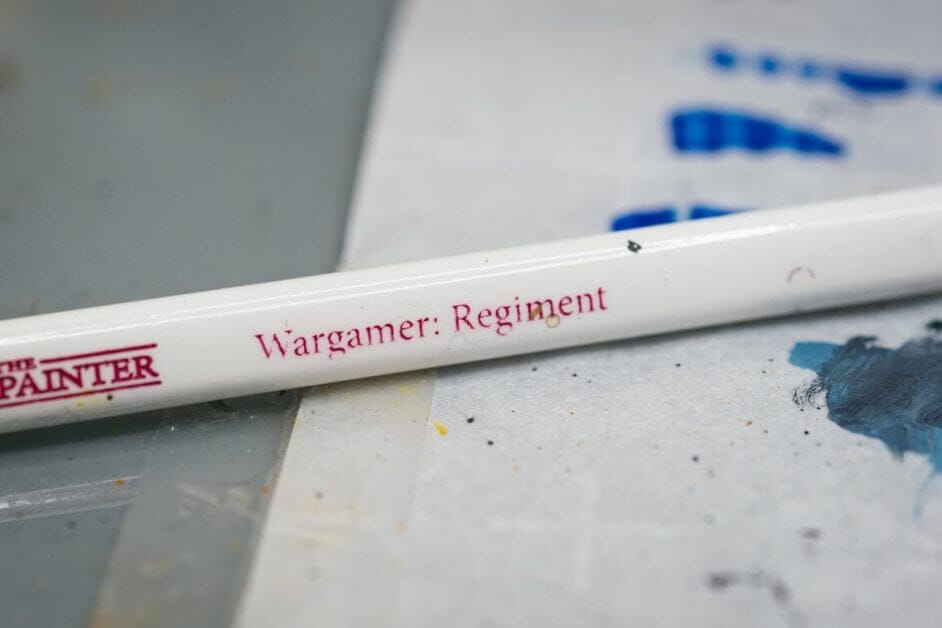 Must-Know Features of Any Paint Brush
Point (tip shape) – how well a brush keeps it bristle tip
Paint capacity – the amount of paint a brush can hold in its bristles
Bristle snap – how fast and easily a brush will return to its original shape after a brushstroke
Bristle spring – a description of brush stiffness, or the pressure required to bend the bristles
Paint flow – the way paint flows predictable off of the bristles during a brushstroke
READ MORE: TOP 5 FEATURES OF PAINT BRUSHES YOU NEED TO KNOW
Keep an eye out for these paint brush characteristics in the Wargamer Regiment brush review below!
---
Full Review of The Army Painter Wargamer Regiment Brush for Miniatures and Wargame Models
Look and Feel
At first glance, the Regiment brush has a sleek white handle with a triangular profile. This is a unique aspect to the Regiment brush (and the other Army Painter Wargamer brushes). Almost all other hobby or art brushes use the conventional cylindrical handle. Of course, the triangular handle of the Regiment serves more function than just looks.
The triangular handle of the Army Painter Regiment brush provides a really nice grip in your hand. The three flat sides gives you a sure grip with your fingers when you're holding the brush and is especially useful for painting details. Moreover, the flattened sides prevent the brush from rolling off your table! This subtle, but significant convenience should not be ignored.
RELATED: SIMPLE BRUSH CARE TIPS FOR HOBBY PAINT BRUSHES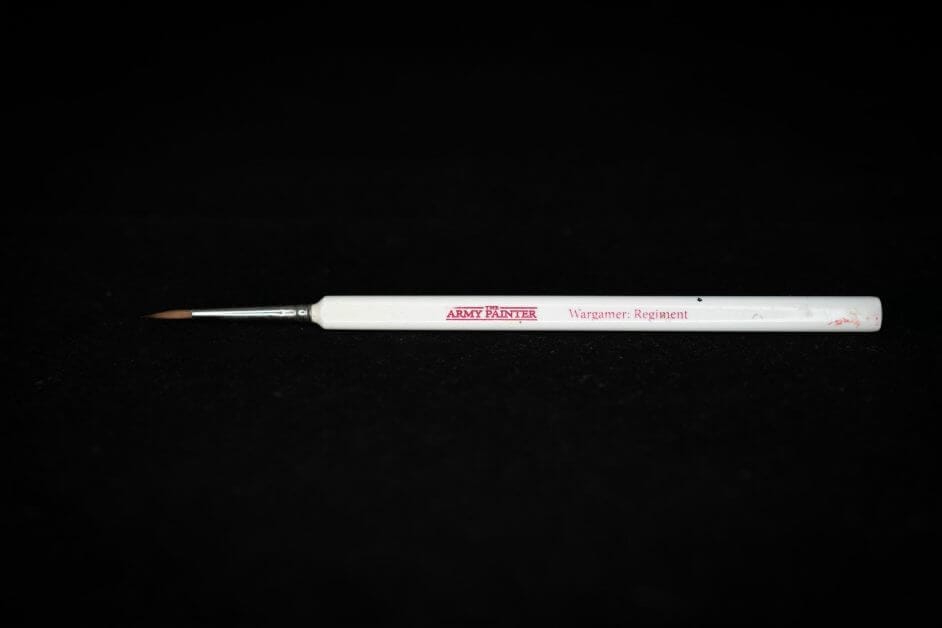 It is a refreshing to know you can simply lay your brush down on a table and know it will still be there when you need it again. Certainly, you can buy cool brush holders and stands, but with the triangle shaped handle on Regiment brush, these doodads are redundant.
Ergonomics
The general consensus is that the best standard sized brushes for miniature painting are pointed round size #1 or #2. These brushes have a bristle length of about 8-12mm, and a belly diameter of 1.5-2mm. This size spectrum includes brushes like the Winsor & Newton Series 7 size #1 or the Raphael 8404 size #1 brushes.
The bristled tuft of the Regiment brush has a length of ~12 mm and a maximum diameter of ~2.25 mm. This places the regiment brush on the larger end of the standard size #1-2 pointed round brushes for miniature painting. But, the Regiment is by no means too big or unwieldy. In fact, bigger is better when it comes to choosing the best miniature painting brushes as it allows you to work more efficiently and confidently on a wide range of model types and sizes.
Handling
The handle has a smooth glossy white lacquer that feels great with a normal pencil grip. The brush feels premium (though its not expensive!) and well balanced and comfortable. The center of balance is just above the metal ferrule, which gives you nice sweeping brush strokes, e.g., for blending, or finer detail lining strokes with little effort. You can make consistent brush strokes with confidence.
I think the best brushes are those that you don't need to think about when you're painting. You just paint. The Regiment is such a brush; it is practical.
As a workhorse brush, the Regiment brush is near perfect. The brush has excellent paint capacity, good spring and point, which combine for an all-purpose hobby paint brush. It will do anything you need: base coating, applying washes, and with practice, can help you paint fine details with ease.
Use and Brush Character
There is no one-size-fits-all paint brush for miniature painters. That said, there are some objective measures you can rely on to understand if you'll like using a brush or not. These include brush characteristics like snap, spring, point, paint capacity, and paint flow.
RELATED: HOW TO PAINT BETTER DETAILS ON MINIATURES
The Regiment brush is a mixed synthetic and sable paint brush. This means that the bristles are a hybrid of fibers from natural sources, e.g., animal hair, and synthetic manufacturing. Unlike other budget hobby brushes, the synthetic bristles give the Regiment the spring, e.g., stiffness, and snap to help you paint details. The sable component of the brush is more hydrophilic (likes water), and gives the Regiment improved paint capacity and flow than pure synthetic brushes.
You won't achieve the same brush qualities as pure Kolinsky sable which have renowned paint handling characteristics, e.g., amazing spring, snap, and flow. But, the Regiment compromise of mixing affordable synthetic and less exotic natural sable bristles come together to make the brush better than the sum of its parts.
With practice, you can do 90% of what a pure Kolinsky sable brush can do when it comes to most advanced miniature painting techniques, e.g., loaded brush blending, wet-blending. You'll need a lighter touch with the Regiment brush, as the snap and spring of the bristles aren't as robust as expensive pure Kolinsky sable brushes. On the other hand, you'll be at liberty knowing your Regiment brush isn't costly. If it fails/breaks/splits, you won't be out for much money.
Brush Durability
I've painted with my Wargamer Regiment brush for nearly a year before this review. It has held up to a myriad of painting tasks. I painted Warhammer 40k models, military scale miniatures, large vehicles and terrain, tokens, and other gaming doodads.
Through these paint jobs, I base coated with the Regiment, and dipped the brush in pots of Citadel Shade beyond the metal ferrule. I even used the brush a few times when painting miniatures with oil paints. All in all, the Regiment held up with flying colors and still holds a respectable fine point.
Of course, I think a main contributor to the longevity of this paint brush is how well I took care of it. Check out these simple tips for extending the service life of your favorite brushes. I also suppose that the synthetic/sable mix in the bristles of the Regiment are of a decent quality to hold up over time. The balance of synthetic and sable seems to help maintain the brushes paint handling qualities even with regular or heavy use.
As you see in some of the images (above), there is some paint and pigment stuck in the Regiment's ferrule. But, the bristles have not split or splayed on me. I'm sure at some point the brush will need to be replaced. It just doesn't seem to be anytime soon. Ironically, in this same time frame, I've already replaced one or two Da Vinci kolinsky sables. Though, these brushes were used in some heavy body acrylics and inks for a fairly large commission project.
---
Comparison with Other Brushes
READ MORE: 10 THINGS YOU CAN DO WITH YOUR RETIRED MINIATURE PAINT BRUSHES
You can go in several direction when comparing brushes. To keep things simple, I provide you with my side-by-side observations with 3 other great brushes for painting miniatures. For a more in-depth review a comparison with the venerated Winsor & Newton Series 7 paint brush, you can check out this review of the Blick Masterstroke brush, or this more complete brush guide article for miniature and model painting.
You'll notice that all of the brushes in this comparison are nearly the same size in length and handle width. The balance of these brushes are also similar with excellent ergonomics for painting miniatures and fine scale models with a lot of detail. Of the brushes shown here, the Regiment has the most weight and girth due to its unique triangular profile.
Raphael 8404 vs Regiment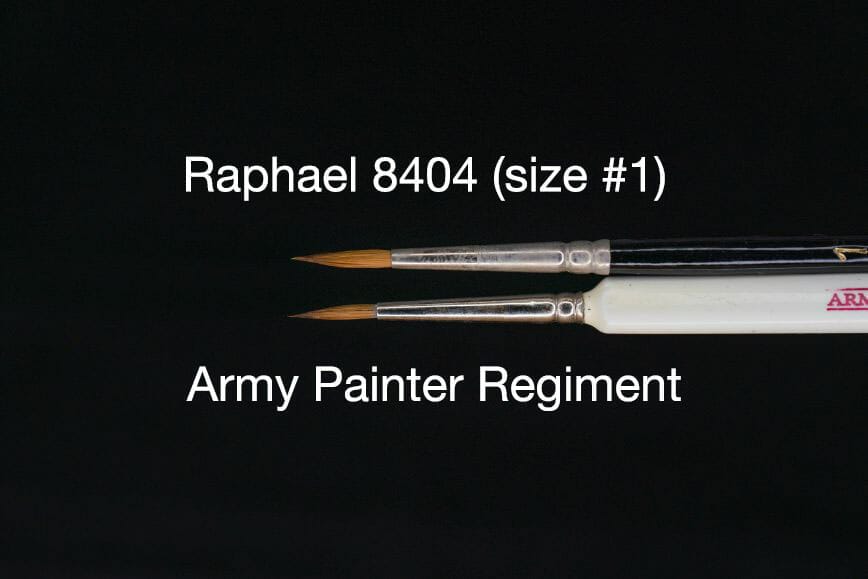 A direct comparison of the Regiment with the Raphael 8404 (size #1 pointed round) shows them to have fairly equal bristle lengths. However, the Raphael 8404 has a large belly in the bristles, which gives it more paint capacity overall. The Regiment makes up for this reduced capacity by having a bit more spring, or stiffness in how it handles brush strokes. For detail painting, I prefer the Regiment over the Raphael 8404, which may be more suited to blending and glazing due to its "softer" feel.
Artis Opus S vs Regiment
In comparison with the Artis Opus S (size #1), the Wargamer Regiment brush has a large bristle width altogether, a subtle increase in length. This gives the Regiment a bit more versatility for army-sized painting (e.g., painting a lot of models at the same time). The Artis Opus S has a snappier brush feel and better spring than the Regiment. In my experience, I reach for the Artis Opus S when I need paint fine lines, freehand, or want work on smaller surfaces.
Blick Masterstroke vs Regiment
Given the budget considerations of many miniature painters, I compared the Army Painter Regiment to my other favorite budget paint brush, the Blick Masterstroke sable brush. The size #2 pointed round Blick Masterstroke is closest in size and form to the bristles of the Army Painter Regiment.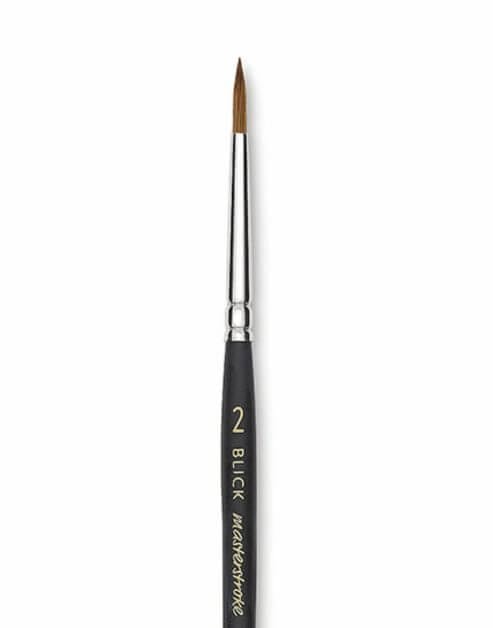 The handling and character of these two budget brushes are very similar. Interestingly, the Blick Masterstroke is a pure natural sable brush, whereas the Regiment is a mix of synthetic and sable hairs.
I'll also note that although I've used both brushes in equal measure, my Regiment brush does seem to last longer than the Masterstroke brushes I've used in the past. In this regard, I'll also underscore that the Masterstroke brushes are less expensive than the AP Wargamer Regiment brush.
Here are a few more close up side-by-side comparisons between the Regiment and the smaller Blick Masterstroke brush (i.e., a size #1 pointed round).
The Army Painter Regiment is a fantastic standard workhorse brush when compared with its closest competitors. Of course, more expensive Kolinsky sables will have better brush handling characteristics that will help you control paint. However, for most day to day painting, I prefer relying on less costly tools that can do 90% of the job for most miniature painting work. By the way, you can see some of my work in the gallery.
RELATED: ARMY PAINTER REGIMENT AND WINSOR & NEWTON SERIES 7 BRUSHES COMPARED SIDE-BY-SIDE
---
5 Ways to Buy the Wargamer "Regiment" Brush
There are 5 ways you can buy the Army Painter Wargamer "Regiment" brush:
You can get the Army Painter Regiment brush as a solo purchase. The paint brush has a triangular handle for a great grip and preventing the brush from rolling off your hobby table. The Regiment brush uses a mixed sable/synthetic mix for its bristles and holds a sharp point. It's an all-purpose workhorse brush for miniature painters of any level and experience.
---
You can find the Regiment brush in this wonderful set of 3 wargamer Army Painter brushes. The set includes the Wargamer Regiment paint brush, a Wargamer Small Dry Brush (for small surface dry brushing technique), and the Wargamer Insane Detail brush.
---
The Regiment paint brush comes in this set of 10 wargamer brushes for miniature and model painting. The other brushes in this set have mixed reviews, but for the most part will come in useful for many types of miniature painting techniques. Nine of the brushes are the Wargamer line of mixed synthetics or hybrid sables with synthetic bristles. A bonus brush (the 10th in the set) is a higher end Kolinsky Masterclass paint brush (black handle). If you're looking for a brush set to jump right into the hobby, then this set could be your ticket to trying a bunch of different brush types.
---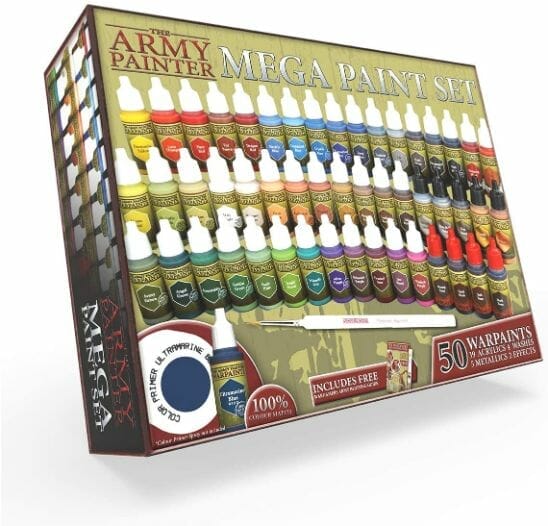 This is a complete set of Army Painter paints, which is a great bundle for new miniature painters or those looking to expand their paint collection. Here is a review of 10 other great miniature paint sets and bundles. In particular, this Mega Paint Set comes with the Wargamer Regiment brush. This is no surprise, given how versatile the Regiment brush is for a variety for miniature paint job needs.
---
---
Conclusion
For a workhorse paint brush for miniatures and wargaming models, the Army Painter Regiment is perfect. It has all the qualities of a standard sized brush you'll want for the majority of your army-sized paint jobs. The Regiment brush will also handle more advanced painting techniques with practice and without hassle. For it's cost, accessibility, and shear utility, I highly-recommend the Wargamer Regiment brush for any scale modeling hobbyist or miniature painter.
I hope you found this review helpful. As always, I'm happy to answer any questions!
Happy painting!
---
Tangible Day on YouTube (Miniatures and More!)