Miniature painting requires fine motor skill, good eyesight, and your ability to use a brush. If you're looking to improve your miniature painting skill, the easiest thing you can do is paint more. The more time you use your brush to paint minis, the greater your motor skill will adapt to the required precise movements. Nothing can replace "doing" a skill you want to learn. To improve your ability to paint miniature details, there are a few things you can do to speed up your proficiency and accuracy.
In this article, I share with you my professional 5 tips for things you can do to improve your ability to paint fine details on miniatures and models.
---
How to improve painting details on miniatures
How do you paint tiny details on scale miniatures or models? Whether you want to paint Warhammer 40k Space Marines, the eyeballs on a 75mm bust, or hand-paint the camo pattern on a historical tabletop wargaming model, e.g., tank or infantryman, you'll need fine control over your brushwork.
How do you paint really fine details on miniatures?
The best piece of advice for how to paint tiny details on miniatures better is to invest time into doing it! That is, practice. Practice painting really fine details on your models over and over again. Actively challenge yourself with miniatures that have lots of details, like gems, eye sockets, freehand elements, weathering scratches and more.
The best piece of advice for how to paint miniature details better is to invest time into painting details. That is, practice. Practice painting really fine details on your models over and over again. Actively challenge yourself with miniatures that have lots of details, like gems, eye sockets, freehand elements, weathering scratches and more.
When you invest in something, you expect a return, a reward. Investments are often a gamble, e.g., the stock market, but when it comes to skill sets for artistic endeavors, time in the activity is never wasted. Your brain and body doesn't like wasting energy, and may be one reason why we need to sleep (source).
Okay, so bottom line: Be prepared to invest time with your paint brush to improve the way you paint details on miniatures. It you truly want to improve in this hobby, at some point you'll need to stop reading blogs, watching YouTube, and just get to doing the painting.
My hope for this article is to quickly give you tips and tricks to keep in mind when you're painting miniatures and struggling with details, e.g., eyes, edge highlights, hairlines, or freehanding.
Continue reading for 5 simple tips for painting details on miniatures and models.
READ MORE: 5 WARNING SIGNS OF MEDIOCRE MINIATURE AND MODEL PAINTERS
---
Here are 5 simple tips for improving how you paint miniature details
Maintain a comfortable body posture
Take painting breaks
Use a larger brush
Thin your paints (but not too much)
Use a dry palette
1. Maintain a comfortable body posture
The first thing you do when you sit down at your hobby desk is probably the easiest thing to overlook as a way to improve your ability to paint details. If your back isn't straight, i.e., your hunched over, then your entire body core isn't aligned for optimal use of your hands. Yes, it's all connected!
Hands, body, feet, head, neck…all of your body plays a role in your ability for your hands to do their job. Learning how to paint precisely also means understanding that your posture needs to be adjusted for comfort and control.
For example, if you can't place both feet on a solid surface (the floor or foot rest on a stool), then your chair might be too tall. You want to stabilize your body somehow when you need to.
If your chair is too tall or your desk is too short, you'll slouch. A curved lumbar lower back will become uncomfortable. You'll feel pain at some point and pain is the enemy of productivity in any task. If you must, it is better to have a chair that you perceive is too low than too tall. You can always learn to stretch your neck and straighten up your back.
I've explored standing desks, which may also be an option for painting miniatures, but they can be expensive. And, most people, including myself aren't keen on having a desk could potentially tip bottles of paint and water pots when it moves. Though, I'm still exploring the idea of finding an affordable standing desk for painting miniatures.
What you can do to immediately improve your body posture for painting miniatures
Bring your model closer to your face, rather than the other way around. Keep your head back, if possible, aligned with your back.
Stretch your shoulders, e.g., don't slouch forward. You shouldn't feel any tension on your side neck muscles.
Keep moving your entire body when you paint miniatures. Shift your weight around in your chair. You'll avoid the stiff, tightening of muscles and joints if you constantly let different muscle groups relax as you move about.
Don't cross your legs off the floor for long periods of time. If you're like me, you tend to pull one leg under the other. It is a bad habit. Rather, keep your feet on the ground or other solid surface to remove pressure off your spine and improve blood circulation.
2. Take painting breaks
You might be like me and tend to paint in long, drawn out sessions. Don't. Instead, break up your painting sessions into spurts of no longer than an hour (maybe even shorter). I find when I'm trying to paint highly detailed parts of a model, I mentally (and physically) lose an edge when my body has been sitting for a long time.
30 minutes on, 5 minutes off, works for me. In the 5 minute rest period, I'm checking my email, social media, or cleaning my brush for the next bit of painting.
I can't stress this enough. This is especially true if you're freehanding a design on a small surface. When you try to push through an effort like that for too long, your hands start to shake. Perhaps, this is an older age thing, but I'm sure this holds true for anyone. Stop. Breath a moment and get back at it.
Here are other key things that will happen when you take more breaks between detailed miniature painting:
You learn to breath. Detailed painting requires intense focus and concentration. In doing so, you may find yourself holding your breath when placing your brush close to your model. This is bad. Your muscles and brain need oxygen to do their job. Inhale and exhale. Relax. When you take breaks between painting details, be mindful of your breathing. Feed your body with air. Don't be anxious. Breath. You're doing well!
Lighten your brush grip. Taking breaks will allow you to put your brush down. After painting for a long time, you may tend to grip your tools/brushes more tightly. Naturally, holding your brush with a firm grasp is good, but after a while your fingers, wrists, and forearm will fatigue and stiffen, all a bad recipe for fine detailed miniature painting. Taking breaks will lighten the grip you have on your brush and you'll instinctively find yourself painting better.
3. Use a larger brush
Tools are a key part of painting miniature details well. How you use your brush is more important than the kind or type of brush you use. Though, I have favorite brushes that I recommend for painting minis, I would say that practicing with what you have already is a much more effective way to skilling up your painting mojo.
With all other things being equal in the tool, e.g., brush quality and condition, a person who has had the most time with their equipment will be a much better painter than someone who spends more money in the hobby. Money can't buy true skill.
Okay, so why do I recommend using a larger brush if you're having trouble painting miniature details? Although it's counter-intuitive, a larger brush is generally much better than using a brush that is too small. That single bristle detail brush is a bad idea. It's insane really. For example, don't buy this brush for painting details.
A brush that is too small may look like it can help you paint details; when in fact, it is the worst thing you can use. Here's why.
Small brushes with short or narrow bristle tufts hold very little paint. And, although you may be a quick painter in general, when you paint details you will inevitably slow down. That's when the paint dries on your brush too quickly. You can't paint details with dried pigment!
READ MORE: BEST BUDGET BRUSH FOR PAINTING MINIATURES
Use a larger brush with a large belly (the fat middle part of the brush) and sharp point. A brush that can maintain a fine pointy tip and holds a good amount of paint acts like a fine-detailed pen that holds a lot of ink. You can draw and draw without going dry. The sharp fine point will help you with the more precise paint application you need for applying pigment where you want it on a miniature.
I use pointed round size #2 brush for most of my detailed miniature painting work. This includes highly-detailed painting, such as freehanding or blending for non-metallic metal (NMM) on small surfaces of swords and armor. If you're looking to paint eyes and irises, you'll want a good Kolinsky sable brush, which naturally have good paint capacity and bristle snap characteristics. A Winsor & Newton Series 7 miniature size brush works well for the finer detail work you'll want to do.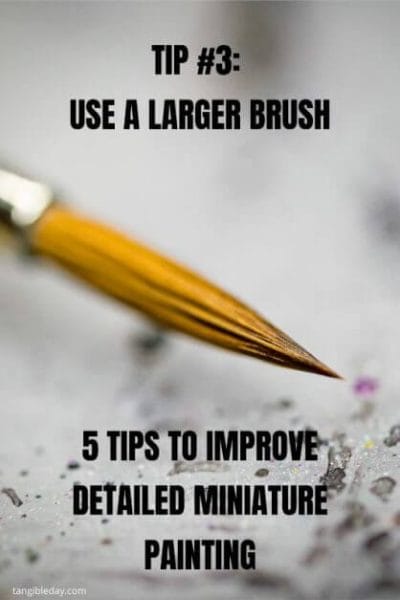 4. Thin your paints (but not too much)
To improve detail miniature painting, your paint needs to flow off your brush predictably. You need to be able to control how much paint will come off your bristles when you touch it to the model's surface.
Obviously, if paint is too thick, you'll slop on a pasty layer of acrylic paint on your model and obscure the detail altogether. Or worse, you paint with the thick paint and it makes a mess onto areas that you previously painted.
Mistakes were made with thick paint…
To thin your acrylic model paints to the proper consistency, I first recommend using water. Water is the best way to thin acrylic model paints because it keeps most of the properties of the paint medium the same. Also, water is cheap (free) and easy to clean up if you spill it.
For base coat layers of paint, especially for small areas and fine details, you only want to add enough water to your acrylic paint to allow the pigments to disperse evenly, but hold their binding properties (e.g., they don't become "runny"). This might mean you only add a single drop of water to your paint.
Now, for really fine details or freehanding, this is my suggestion: When you're painting details, also remember that it is better to layer up multiple thin, transparent coats to build up color than it is to do it thickly in a single base coat. Go slowly when painting details. To help you go slowly, thin your paints to keep the pigments flowing easily from your brush.
Don't thin your paints, too much, and make sure you don't have too much moisture on your brush. This is because when your press your brush tip to the model, the liquid will squash out like a sponge wringing out. You don't want excess paint wringing out on your model.
Be patient. Use multiple thin layers of paint (mixed with a bit of water) to improve your ability to paint details.
5. Use a dry palette
This may be controversial. Don't use a wet palette when you really want to paint miniature details.
Maybe, this is blasphemous for those thinking a wet palette is the best tool to improve one's miniature painting skill. Certainly, a wet palette has its place in a miniature painters toolkit. Wet palettes help you mix paint, keep paint from drying out (saves paint), and even helps you keep paint thin (see above), with exceptions.
RELATED: BEST DRY PALETTES FOR PAINTING MINIATURES
On the other hand, wet palettes have several notable limitations. You need to maintain a wet palette, e.g., fill it with water, keep it clean from mold, and can make paint too thin and hard to control if excess water seeps into the palette paper. The proper use of a wet palette is different skill that I would argue is just as separate from other techniques used for painting miniatures.
For new painters, the best reason for why I advocate the use of a dry palette is that it will teach you how paint behaves in its natural form. A wet palette distorts paint behavior. In a dry palette, you have the opportunity to observe paint when it's straight from the pot or thinned out with some water.
Learning how paint behaves is essential for knowing how to paint details on minis. A dry brush helps you improve your understanding of paint dynamics. As you learn to mix and thin paint in a dry palette, you'll grasp the ins and outs of how the paint loads and unloads from your brush. Importantly, with a dry palette you'll avoid the overthinning that often occurs with a wet palette.
If you're painting detailed parts of your model, you don't want to fuss with paint you can't predictably control with your brush. A dry palette will simplify the variables you need to control. Focus instead on the actual brush application on the detailed job in front of you.
In the long run, you'll improve control over your paint with a dry palette. Try using a dry palette for better detail painting!
Final Word
I've been painting miniatures for a long time as a hobby as a commissioned painter. I've spent a lot of time and money trying new things and techniques. When it comes to painting miniatures, there will be a point when your skills plateau and improvements come more slowly. For fine detail painting, you may think your tools are the limitation, but there are other things you can do you help you.
To summarize, here are 5 ways to improve miniature detail painting:
Maintain a comfortable body posture
Take painting breaks
Use a larger brush
Thin your paints (but not too much)
Use a dry palette
There are more ways to improve precise detail painting on miniatures, including advanced brush handling skills (e.g., finger placement, etc., a topic deserving its own article), and surface preparation (including mold-line removal, sanding, gap-filling, priming, etc).
Of course, if I missed a tip or trick that you found helpful for painting miniatures, I'd love to hear from you. Thank you for reading!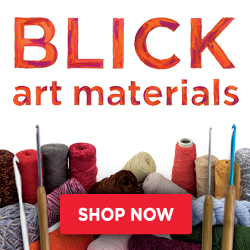 Tangible Day on YouTube (Miniatures and More!)