Searching for a paint tube rack to store and organize your favorite paints? I've searched high and low for a hobby paint rack that can store my acrylic and oil paint tubes. Although I've found a few good acrylic paint tube organizers that may do the job, a general hobby rack that holds paint tubes is not an easy product to find. Serendipitously, Plydolex reached out to ask if I would test out their Plydolex Modular Tube Organizer Rack. Of course, I agreed.
Disclaimer: Plydolex sent their modular paint tube rack to me for this review. As with any products I review, I'm under no obligation to give any opinion other than mine. You'll find that I discovered clear pros and cons of the paint rack, which I share with you below.
In this article, I share my first-hand use review of the Plydolex Modular Tube Organizer Rack and whether or not I think it's a worthy option for storing paint tubes.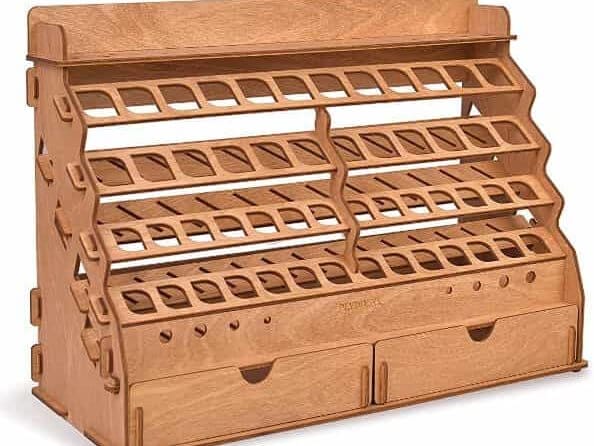 ---
What Else is Available? Here are 8 Other Paint Tube Rack Ideas:
Read on to see the full review of the Plydolex Modular Paint Tube Rack!
---
The Problem with Paint Tubes
It's an engineering challenge. The problem with designing a rack for storing paint tubes has always been their irregular shape. Paint tubes aren't exactly cylindrical, or conical, or whatever primitive shape you can name. Worse, as you dispense paint from a paint tube, like you would toothpaste, the shape changes. The bottom of the tube gets flatter and flatter until, finally, it's a pancake.
---
Conventional Ways of Storing Paint Tubes
For these reason, the odd and changing shape of a paint tube, the most common ways to store paint tubes has to been to hang them from the cap. You may have seen this shopping at a local art store. Paint tubes are stored in hanging shelves with slots. This makes the paint tube hang downward, avoiding the weird shape, and keeps the label visible to the shopper.
The problem for the hobbyist is that these kinds of "hanging shelve" systems take up a lot of space. And, the only way to store a lot of paints is to store them in deep rows, one behind the other; which obscures the labels of all but the front row of paint tubes.
The other option is to store the paint tubes upright, like in a pegboard. Again, this method avoids the weird tapered shape of the paint tube. But you have to either drill holes into your storage area or find some corner that can be reconfigured for pegboard hooks and mounting spots.
A different solution is to lay the paint tubes down flat in a storage box or tray. This keeps the paint tube organized, but you can only store a limited number of paint tubes this way before you run out of space. Plus, it's easy to lose track of which color is which.
---
What is an Alternative Paint Tube Rack System?
The alternative to all of these conventional ways of storing paint tubes involves using a rack that can accommodate the odd shape of the paint tube, while allowing you to keep the label visible. It's not an easy design problem and until now I haven't found any good solutions for my own storage needs.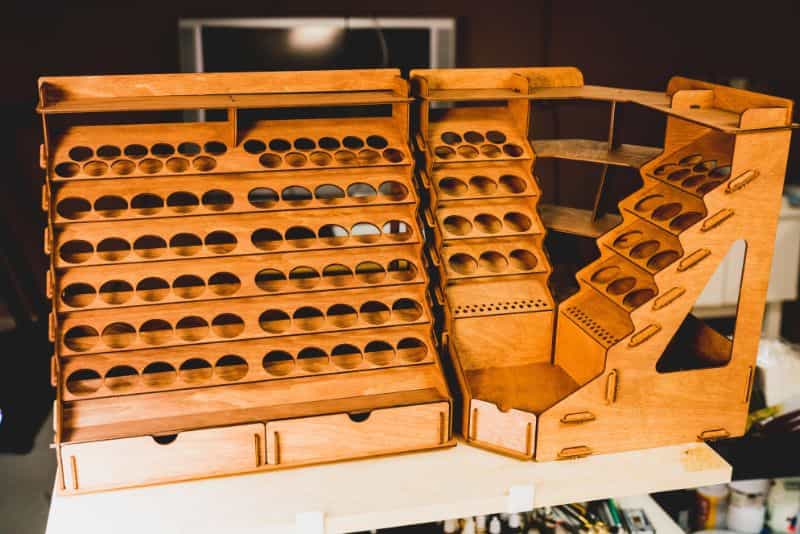 I want a shelf that can store my paint tubes on my desktop, like the Vallejo Paint Rack or similar modular systems for organizing, storing paint bottles and pots. For a clear-acrylic paint rack, which provides the best visibility for your paint colors, no one has made one as well constructed with minimalist design features as the JKB Concepts hobby paint system I reviewed.
That's why I was so excited to try out the Plydolex Modular Tube Organizer Rack. It's a paint tube rack system that is designed to store your paint tubes vertically (bottom up) with the label visible. Importantly, the shelves dynamically adjust to the changing shape of the paint tube as they are used up.
Of course, there are some limitations and issues that could be improved. But, overall, I think it's a worthy solution for storing paint tubes on your desktop. There is even a corner module that slots together with the modular tube rack to complete an ecosystem of shelves that that can fit in even the most cramped space. I will have a review of the complete set in another article.
---
First Impressions of the Plydolex Modular Paint Tube Rack
Are you painting miniatures with oil paints or acrylics sold in paint tubes? The Plydolex Modular Paint Tube Rack is an excellent way to store your paints vertically with the labels visible. It is made with plywood construction, which is more durable than MDF. The rack is easy to assemble, and you will not need glue for secure fitment.
The rack has a lot of storage space for paint bottles and pots of all sizes and brands, and the open shelving space is great for storing work-in-progress miniatures and other hobby supplies.
Because each shelf of the paint rack can adjust its height, the rack can accommodate the dynamically changing shape of a paint tube as it is squeezed flat. Are the slots the perfect size? Not exactly, but perhaps good enough and better than other DIY options you may find out there.
So if you are looking for a handsome, modular paint tube rack system for your hobby desk space, the Plydolex Modular Paint Tube Rack is definitely worth considering.
There are some limitations to the rack, such as the need for assembly and the fact that some paint brushes and tools may be too large or small to fit into the pre-cut holes, but overall it is a great way to organize your paints and keep hobby supplies in one place on your desktop or work bench.
---
Unboxing the Plydolex Modular Tube Rack
When I first opened the box of the Plydolex Modular Tube Rack, I was pleasantly surprised. The craftsmanship is excellent, with hardwood plywood cut with high tolerances. There were no sharp edges or rough edges, and no glue residue or other finishing issues.
I was also impressed with the assembly instructions that came with the rack. It was easy to follow, with clear diagrams and written instructions for all parts of the rack system. Total assembly time took only about 15 minutes, and everything fit together snugly without any glue or other fasteners.
There are connector pieces, small locking "nuts" that you slot into each shelf and hold the assembly together. These are fairly easy-to-use, but Plydolex included a few extra in case you needed spares. It's a thoughtful touch that shows the attention to detail in this rack's design.
The rack is comprised of three main components: the base shelf that houses the two bottom drawers for storing various things (and come with dividers); the top shelf that has holes for paint brushes and tools; and the four shelving units that hold up to 52 paint tubes (depending on their size and shape).
---
Modular Paint Tube Rack Assembly
I approach all assembly the same. I make sure all the parts are included, and ensure that none of the parts are damaged or missing. Then I read (more like, skim) through the instructions fully before beginning assembly.
This allows me to have a better understanding of what I need to do, and reduces the chance that I will miss an important step. Finally, I assemble everything methodically.
In this case, it only took me 10 seconds to figure out how the entire rack should go together. It was that simple. The main pieces just fit snugly into the base and lock together with a short, sturdy connector. As mentioned above, there are spare in case you need them.
Each shelf unit have "keys" that you slot into the side/frame. Working my way through the assembly, I had no trouble at all. Everything fit together perfectly.
I'll note that you should be aware that the "shelves" do not lock into the side frames. Rather they "rest" in keyed slots, so you are able to move the height of these shelves to accommodate changes in the paint tubes as you use them (e.g., they get flatter and/or shorter as they empty). That said, there is enough friction to keep the shelves from sliding out if you move the rack around.
Take together, the assembly of the entire paint tube rack was quick, easy, and without any problems at all. Easy-peasy!
---
Fit and Finish of the Plydolex Paint Tube Rack
The real wood construction, i.e., plywood, is sturdy and does not flex. Each piece has laser cut edges without any rough edges. As with the other Plydolex shelves, there is a subtle, inviting rustic smell like you would sense from freshly cut hardwood. I really like that.
There were no manufacturing defects that I could see, and all of the hardware pieces fit perfectly into their defined slots.
The drawers don't have sliding rails or anything. So, they rub against the sides and base of the frame and the friction keeps them in place. Although I didn't mind the tactile sensation of wood rubbing against wood, I would have preferred some type of slotted design to reduce the effort to open/close the drawers.
For those who like to organize, the drawers also come with two removable dividers. These are great for separating your smaller items, paper clips for pinning, cotton tipped applicators, etc. I would have liked to have seen these be more secure. The divider pieces do shift around a bit, but they are still helpful in terms of organization.
There is also a good sized shelf for storing more frequently used items that you want accessibility to, such as your paint brushes, sculpting tool, or other doodads, like those airbrush parts while you have it disassembled.
The entire rack has a nice finish that is smooth to the touch and does not snag anything when you move things around in it.
---
Plydolex Modular Paint Tube Rack in Use
I filled the rack with a variety of different size/shape paint tubes (oil-based and water-based) from my current collection. As you can see from the photos, there is plenty of room to grow my paint tube collection.
RELATED: ABTEILUNG 502 OIL PAINTS FOR MINIATURE PAINTING (REVIEW)
The rack sits on my desk in front of where I work painting minis. It's at a comfortable height and arms-length for me to reach over and grab what I need without having to get up or lean too far over.
As mentioned, the tube holders slot so that the paints are upright and the labels are all visible. As the paint tubes shrink when paint empties, the rack shelves hold them sufficiently so I can continue to see and reach them.
The shelves have some adjustable height to them to accommodate the paint tubes shortening. I currently have the lowest setting as shown in the photos, which lets the rack hold the taller, less-frequently used tubes stay fast.
On the top shelf, there are holes for standing your paint brushes upright. However, I found that most of these holes are too small or too large for the handle diameters of brushes that most of us miniatures painters use.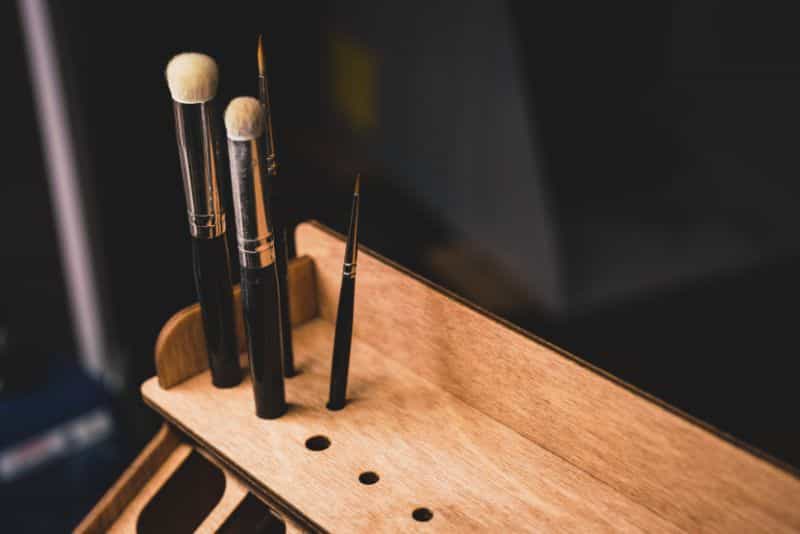 RELATED: 10 FUN PAINT BRUSH RESTS AND HOLDERS FOR ARTISTS AND HOBBYISTS
I have relayed this issue to Plydolex and heard they will fix this in future iterations of this paint tube rack. Other than this one issue with the brush holes, I have been really happy with the performance of this rack.
I think this is a really useful option for those looking for a desktop solution for paint tube storage and organization. Having your paint tubes easily accessible where you work is a time saver and makes the task of painting miniatures that much easier.
---
Notable Features of the Plydolex Paint Tube Rack
The Plydolex Modular Paint Tube Organizer uses shelves that move (up and down) to adjust for the size/height of full tubes, half full tubes, and almost finished tubes that you've emptied from painting all those beautiful miniatures and models.
If there is a weakness to this design, it is that the shelf for each "row" needs to move as one unit. Let me put it another way. This means that if you need to raise or lower the rack for a single paint tube, all the other paint tubes in that row will be affected.
One paint tube that you may frequently use (which makes it smaller over time than the rest of your paint tube collection) may adversely affect the storage capacity or function of that entire shelf row. This is not a deal breaker in my opinion but it may be for some.
Built into the rack are shelves that can store 28 smaller paint tubes between 5ml to 22ml, and larger 24 paint tubes with volumes between 5ml to 50ml. Paints like Arteza, Gamblin Oils, Winton Oil Paints, and other popular brands fit in the rack. My complete collection of Abteilung 502 hobby oil paints fit in the rack, too!
You'll notice there are holes on the top shelf for storing brushes. Although the holes aren't optimized well for the majority of brush handle sizes that miniature painters use, they work well for larger brushes and tools like hobby knives, tweezers, forceps, and other useful widgets.
On the bottom of the rack, situated above the drawer compartments, is a shelf that I find useful for keeping my regularly used brushes, airbrush accessories, and other things I want within easy reach.
Overall, the convenience of having everything I need for painting neatly organized and accessible in one place has made a big difference to the enjoyment of my painting hobby.
---
How Many Paint Tubes Will the Plydolex Modular Tube Rack Hold?
This will depend on the type, size, and kind of paints you're hoping to store in the organizer rack. Depending on your collection, it can hold a lot of paint tubes. I have put a range of sizes and brands in mine, from very small 5ml to 50ml.
As mentioned above, there are slots to store paint tubes diagonally. As paint is consumed, the rack can shift to make sure those paints stay in their place. Take a look at the schematic to see if your particular paint brand fits and how this rack may work for your needs. As for myself, it has worked great.
---
Advantages and Weaknesses of the Plydolex Paint Tube Rack for Hobby Miniature Painters
Pros:
Sturdy, durable construction
Has lots of space for paint tubes and other items
Holds a variety directories/brands of paints, which is nice
Adjustable shelves that can accommodate different paint tube sizes andshapes needs
Modular system works well with other Plydolex hobby organization products
Looks great on any desk
Good value, affordable
Cons:
The holes for tubes and brushes on the top shelf are too large or small, which could be better designed for miniature painting applications
Internal drawer dividers are a bit loose (I don't use them)
Adjustable rack height affects all paint tubes in a row
My Recommendation: Who is this Paint Tube Rack for?
Overall, I would highly recommend this product to other miniatures painters who need a desktop solution for paint tube storage and organization. It's a great space saver and time-saver, not to mention it looks pretty darn cool on my hobby desk, too!
---
Still Not Sure? Check Out 3 Other Paint Tube Rack Favorites 🏆
Mezzo Artist Paint Tube Organizer Rack and Display Stand (Desktop Paint Tube Rack)
Small Paint Rack for Oil Paint Tubes (Simple, Tube Hanging Rack)
Sanfurney Paint Storage Tray (Simple Desktop/Drawer Paint Tube Organizer)
---
Conclusion: The Plydolex Wooden Paint Tube Rack
It's hard to find a desktop hobby organizer designed specifically for storing and accessing paint tubes. Although not as common as bottles or pots, miniature paints do come in tubes, such as Abteilung Oil Paints, Scale 75 Artist Tubes, and other brands.
If you're in the market for a paint tube storage and organizer rack, then I would definitely recommend checking out the Plydolex Modular Tube Organizer Rack. It's well-constructed and can hold a variety of different brands and sizes of paint tubes.
The adjustable shelves make it easy to customize to your needs, and it looks great on any desk or workstation. Plus, it's very affordable, making it a great value for hobby painters of all skill levels.
Are you a miniature painter or scale modeler using colors or other media dispensed from paint tubes? How do you store your paint tubes? Let me know with a comment below!
Until next time, happy painting!