Oil paints are a popular medium for miniature painters, because they offer more control and give smoother coverage than acrylics. With oils, it's also easy to go back and change colors if you make an error in the painting process. The downside to oil paints is that they take longer to dry, so you'll have to be patient. Abteilung 502 oils are a fantastic choice for oil painting miniatures, because of their quicker drying time as compared with conventional artist grade oils. Most Abteilung 502 oils will dry in about 8 hours or less. Abteilung 502 oils also work great when applied over an acrylic base coat.
In this article, I review my use of Abteilung 502 oils for painting miniatures, e.g, Warhammer 40k, and other tabletop gaming models. Read on to see what I think about these oil paints, how I tend to use them, and their limitations as compared with conventional artists' oil paints.
Summary: Abteilung 502 Oil Paint Review
Quick drying (or curing) in about 1-8 hours
Inexpensive for a high quality oil paint
Abteilung 502 oils can be used in the same way as conventional oil paints
Abteilung 502 oils are better than conventional oil paints for painting miniatures because they have a high pigment density, which means you can paint quicker with them
Abteilung 502 oils are not as thin as conventional oil paints, which some painters may prefer
The thicker consistency may make painting details more difficult and harder to blend colors
Abteilung 502 oil paints can be more difficult to clean up than conventional artist grade oil paint because of the thicker consistency
On a price per tube basis, Abteilung 502 oils are generally more expensive than conventional oil paints
---
A Note About the Difficulty in Reviewing Paints
I'm not a chemist. I'm also not a painter who delves deep into the behavior of each and every color I use. Rather, I'm an avid hobbyist painter, who loves playing with different art materials and techniques. When it comes to reviewing products, there is usually some metric or standard I can use. For example, I can look at a paint rack or organizer and say that it is well built, has a so-and-so capacity for paint bottles of a particular size, etc.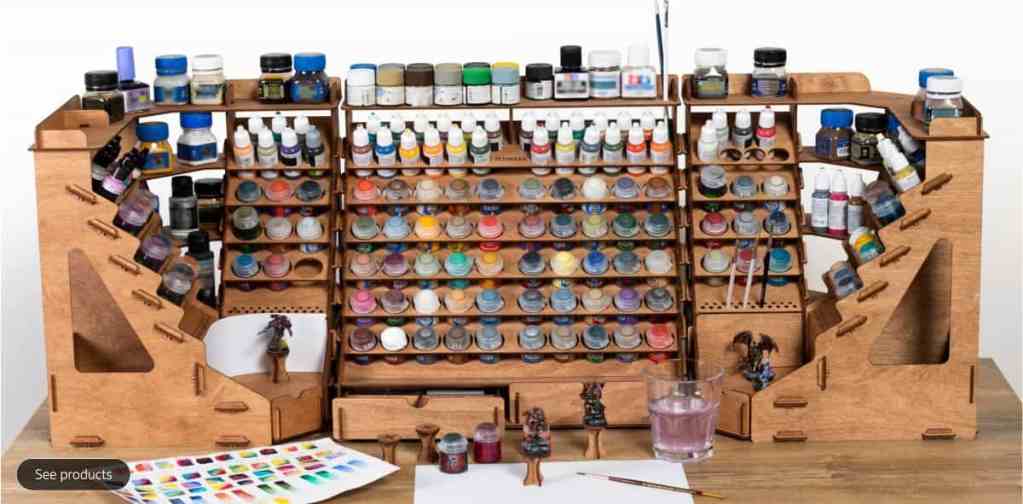 But, when it comes to paints, there are too many metrics to judge, and of all sorts, e.g., color, formulation, and more. So, ultimately, I think the best paints for your hobby comes down to knowing a few core elements: Are the paints of a quality that make them useful for painting miniatures? Are they enjoyable and fun to use? Does the color range in the brand meet the needs of miniature tabletop painters and scale model artists?
When it comes to reviewing paints, I look for the potential and in the moment "feeling" that working with such a paint gives me. If I'm frustrated by how poorly paint covers, I note that down. If I'm able to blend colors in a way that feels natural with my hands and methods, then I'll be delighted to tell you.
And, that's how I review products, such as paint, which meet (or disappoint) the varied tastes for different people. I take a big picture view of how a paint line can address the broader needs and wants of an artist. Taken together, this review is my perspective on using Abteilung 502 oil paints. As someone who paints miniatures on commission (and paints a lot!), I don't have patience or time to work with anything that slows me down or fails to meet some purpose.
I love working with oil paints on miniatures, which is why I dove right into experimenting with the Abteilung 502 oil paint line in my workflow. Suffice it to say, I recommend the Abteilung 502 oil paints to any miniature painter who wants to expand their repertoire of techniques and augment their current arsenal beyond conventional acrylic paint.
Check out this article for more thoughts about other oil paint brands for miniatures and models.
---
What are Abteilung 502 Oil Paints?
Let's start with the easiest question. What are Abteilung 502 oil paints?
Abteilung 502 oil paints are owned and distributed by AK Interactive, a Spanish company that produces a wide range of model paints and weathering products. They have a storied and fascinating company history, which you can read on the AK Interactive website.
To the point, Abteilung 502 oil paints are artist-grade oils, but they're not made for fine art painting like the kind you would see in an art museum. They're meant to be used by miniature painters and scale modelers.
For example, if you want to paint Warhammer 40k minis or tabletop gaming models, Abteilung 502 oils are a unique choice because you can blend colors easily with them to create smooth gradients. It does take a bit of skill to use oil paints, but with time and practice oil painting miniatures is a beloved method by many artists. Here's a more in-depth overview of using oil paint for miniatures.
If oil paint sounds like something you'd want to try out then keep reading to learn more about oil painting miniatures, or skip ahead to see what I think about Abteilung 502 oils for painting miniatures!
---
Can You Use Oil Paints to Paint Entire Miniatures A to Z?
Yes, you can use oil paints to paint entire models exclusively with oil paints. I have a few example where I used oil paints to paint RPG miniatures, wargaming models, 50mm scale miniatures, and 3D printed miniatures.
Up until a few years ago, most miniature painters only recommended that oil paints be used to paint certain parts of a model that were hard to color blend with acrylics. Model surfaces such as flesh and skin tones on the face, or body, and clothing often worked great with oil paints.
It is true that oil paints do work best over a base coat of acrylics. Artist grade oil paints have a natural translucency to them, even the opaque colors. This makes it more challenging to create a useable basecoat on a 3D sculpt. And, because oils take longer to dry (or cure), it can be very time consuming trying to paint a model purely with oils. Starting with an oil base coat on bare primer can take hours to get smooth and even coverage.
Of course, as the miniature painting community expands, so has the level of innovation and creativity. James Wappel, I would argue, has been a huge influence in broadening the field of oil miniature painting. James has popularized a method for painting entire miniatures with oils.
---
Why Paint a Miniature With Oil Based Paints?
The biggest reason to use oil paints to paint miniatures is the level of control you have in blending colors and achieving the final look. Acrylics are a fantastic medium, but they don't allow for as much flexibility or layering while painting.
Oil paints are great for miniature painters. Of course they are harder to use, but powerful. With practice, oil paints give you a lot of control over how the paint color feels and looks on a model. The downside of oil paints is that they dry slowly, and may not be good if you want a quick project.
You can learn more about painting miniatures with oil paints in this article. Here, you can also learn what oil paint brands I recommend most for painting miniatures.
---
What are the Limitations to Using Oil Paints on Miniatures?
The main drawback of using oils for miniature painting is that they take longer to dry. In an ideal world, you would have a place set up with very good ventilation to let your mini paint cure overnight. This means it's challenging if you want to paint a lot of minis at once, or if you're painting outdoors.
Oil paints can be difficult to work with because they take a long time to dry. You need to wait about two days before touching the paint or it will smear. This means that if you want to work on other minis while this one dries you will need to plan ahead for this too!
Lastly, with oils you will likely need to use solvents, e.g., mineral spirits, to thin the oil colors and clean your brushes. Oil paint will stick to every surface it touches, smudging and spreading everywhere if you're not careful. Using mineral spirits is the best way to clean up your oil painting mess. Using soap and water is useful, too, but can often lead to a bigger mess in my experience.
Pros and Cons of Painting Miniatures with Oil Paint
Pros
Longer working time
Easy color blending
Natural transparency
Cons
Long cure (dry) time
Requires solvent for thinning and cleaning
Technically more challenging to use
---
The Most Effective Way to Paint Miniatures with Oil Paints is to Use an Acrylic Base Coat
The most popular way to paint miniatures with oil paints is with an acrylic base coat. This is a great way to avoid the slippery and messy early steps of basing coloring a model purely with oil colors. Using an acrylic color first, and then oil on top, speeds up the paint job. It also maintains the flexibility for a painter to use the translucency of the oil paint.
Abteilung 502 oil paints actually work most effectively over an acrylic base coat. That's because these oils are easy to spread over small surfaces (using a fairly stiff brush; more about this below) and come in a wide variety of colors that match closely with popular hobby acrylic colors.
Note that also won't need to worry about splotchy oil colors. The acrylic undercoat diffuses (e.g., hides) uneven changes in color value from overlying oils that aren't evenly applied.
Using Oil Paints Over Acrylic is Easy
The "oil over acrylic method" basically calls for using an acrylic basecoat and then applying layers upon layers of oil paints over it. With this method drying time is reduced to about 12-24 hours from the normal 36 hour to full-week curing times you see in pure oil painting methods with miniatures (or traditional canvas painting).
Overall, with an acrylic base coat and overlying oil painting, you get the best of both worlds. Speed and coverage of acrylic paints, combined with the blendability, and gloriously smooth application of oil colors that empowers your ability to paint more freely (e.g., maybe using alla prima or an "all at once" approach).
---
Best Use for Abteilung 502 Oil Paints?
Abteilung 502 oils are specially formulated for use with miniatures. They dry in about 8 hours, which is much quicker than the 24 to 36 drying time of conventional oils. This means that you can paint your favorite models without having to wait days before they're finished and ready for varnish!
You can layer colors a lot quicker and methodically because Abteilung 502 oils become "touch dry" quicker. Because they have better coverage and work well when applied over an acrylic base coat, Abteilung 502 oil paints are a fantastic option for experimenting with different color combinations and blends.
---
What Else Should I Know About Abteilung 502 Oils?
Abteilung 502 oils are easy to mix and blend. You can use them in the same way as conventional oils. This means that you can take as much time as needed to get the paint colors perfect for your models. They come in an assortment of great opaque and transparent paint colors, so they are versatile enough for all types of model painting.
The oil paints have a natural translucency that makes them ideal for painting skin and flesh, or other dynamic details on miniatures. They are fantastic for weathering miniatures, giving your Warhammer or military scale models a more realistic appearance. Dot color filtering is a popular technique for oil paints, and Abteilung 502 oils are wonderful for this purpose.
Although they are pricey from a price-per-volume standpoint, they have much higher pigment density than most artist oils (except the more expensive stuff, like Gamblin). As such, you could argue that Abteilung 502 oils are more economical than artist grade oil paints because they provide better coverage.
I should note here that a tube of oil paint will last a very, very long time when painting miniatures. A single 17ml tube of any oil paint can potentially paint hundreds of 28-35mm scale miniatures. For this reason, I don't think you should worry too much about value or how expensive oil paints are for miniature painting. The overall cost comparison between oil color brands is nearly negligible in my opinion.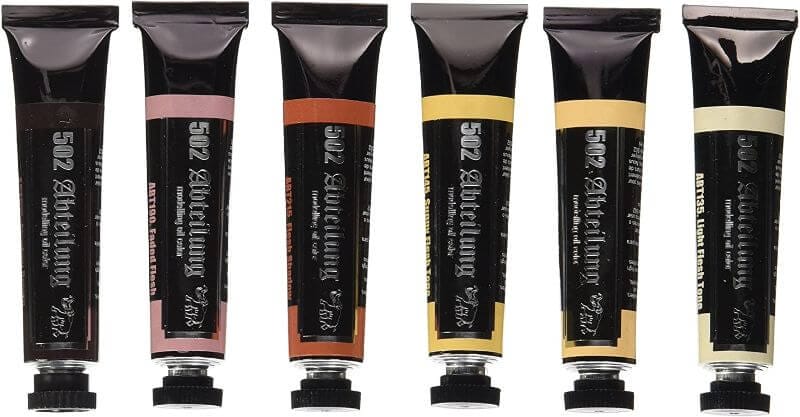 ---
How Does the Color Look with Abteilung 502 Oil Paints?
The color saturation and vibrancy of Abteilung 502 oil paints is top-notch. I love working with oil paints, because the colors you see when the paint is wet is the same as when they are dry. Acrylic paints by contrast will dull out or lose some of their vibrancy as the paint dries on a miniature.
The Abteilung 502 oil paint line comes in a huge variety of colors that I'm sure many of us will find useful. If you're an oil painting enthusiast for minis, you may be remiss if you don't collect them all at some point.
Of course, my review of these oil paints doesn't cover every single color. And, that wouldn't be very helpful for many of you anyway. You would need to try these oil paints out for yourself to really know if you'd like them. I will say that of the oil colors I've tested, I have not been disappointed in how they look when finished.
---
The Problem with Abteilung 502 Oil Paints
Until now, I've written about the good things with using Abteilung 502 oils for painting miniatures. To keep this impression review balanced, here's the bad (and it wasn't hard to notice it):
Abteilung 502 oil paints don't contain a lot of oil in them. At first glance, this is what makes these oil paints dry quicker than regular conventional oil paints. This is great for those who want to paint more quickly with oil paints, reaping the benefits of a long dry time for blending colors.
On the other hand, the lower oil content (or what seems like it) isn't all that nice.
Abteilung 502 oil paints are stiff.
The problem with low oil content in Abteilung 502 oil paints is the lack of smoothness or flow when applying the paints to a surface. Combined with the fact that Abteilung 502 pigments aren't ground very finely, you have an oil paint that is often a bit unpleasant to work with in terms of brush control and overall feel of the paint application.
The thicker consistency of Abteilung 502 paint also make painting details harder. The paste-like oil color doesn't like sticking on really small areas. You'll probably need to use a brush with stiffer bristles, e.g., synthetic brush, to paint small details such as dots or fine lines with Abteilung paint. Though, I'll counter balance this observation and say that the thicker paint and pigment density make blending Abteilung oil color pretty easy and fun to do.
Nonetheless, the slight discomfort is hard to describe when you compare painting miniatures with Abteilung 502 oil paints to regular oils. Although it is a bit harder to use regular oil paints, because they take a lot longer to dry, I find they are more immersive to use than Abteilung 502.
I think that if were to use Abteilung 502 oil paints on any regular basis, I may consider adding a bit of oil back into them as I paint. Perhaps a bit of linseed oil in a small cup? Then, I could smooth out the paint a bit more to make it flow. Of course, this would slow down the cure time of the oil color. So… maybe I won't do this?
Ultimately, you'll have to see if the lack of oil content in Abteilung 502 is okay with you. The high pigment density with coarser pigment may also be a good or bad thing for your work. It depends on what you prefer. And, I know from my experience that I can't tell if I like a product, e.g., paint, brush, whatever, until I try it out myself.
---
Abteilung 502 Versus Winsor & Newton Oil Paints?
The key difference between Abteilung 502 and Winsor & Newton oil paints is the viscosity of the paint. As mentioned, Abteilung 502 paints have a much stiffer paste-like feel to them; whereas artist grade oils have a smoother, buttery feel to the paint. In terms of color vibrancy and pigment coverage on a miniature, I think Abteilung 502 and other artist grade oil paints, like Winsor & Newton and Gamblin, are about the same.
The good news about using Abteilung 502 or regular oil paints is that you handle them the same when you're painting miniatures. You only need a bit of mineral spirits to thin the paint, and a bit of practice with applying colors to your model. Avoid using too much mineral spirits to prevent wiping away your previously applied color on your miniatures.
If you're having trouble with paint consistency that is too thick, there are oil painting mediums and additives you can use. However, I think for most of us who paint miniatures, the surface areas we work on are small. Learn how to use brushes with stronger, less flexible bristles to work with thicker paint, pressing the paint color down with your brush as you go.
The technique with painting with any oil color, whether it is Abteilung 502 or Winsor & Newton artist oil paint, is based on the idea that oil paints remain "wet" for hours. Almost everything you do with oil paints will be on a surface that continues to change as you apply color. Painting with oil paints is both a dynamic and engaging process, but takes patience to enjoy it.
Overall, I'd say that Abteilung 502 paints are on par with most of the important aspects of regular oils paints like Winsor & Newton. The main difference is that Abteilung 502 oil paints are thicker and have a noticeably lower oil content. Normal artist paints will have a smoother feel to them, but take a lot longer to dry which can be frustrating if you're painting miniatures.
---
How to Use Abteilung 502 Oil Paints?
I tend to start with a base of earth color oil paint. Earth tone colors dry quicker and set the overall tone of my entire model, shading recesses, and defining textures. Abteilung earth tones are beautiful for this purpose.
For the example model I painted for this review, I started with a layer of Abteilung 502 Shadow Brown color.
I find that once I paint a similar base color with Abteilung 502 oils (similar to the underlying acrylic color), I can then use a blending brush to spread on additional layers of oils. From here I start mixing in different shades and highlights. This is much quicker than using the traditional method of painting from dark to light.
My method for painting miniatures with oil paints over the years has evolved to the point that I don't really have a "true" workflow. In contrast to acrylic paints–where I start with a base coat, followed by a shading wash, then mid-tone and highlight paint job–with oil paints, I work in a circular fashion.
MORE DETAILS: HOW TO PAINT A MINIATURE WITH OIL PAINT (EXAMPLE PROCESS)
There are no sequential "layers". Just a continuous application of oil to the model surface, using a dabbing motion, followed by a mixing and blending of colors until I achieve a desired level of the final color tone with good coverage of an area on my miniature.
Cleanup involves adding highlights, tightening up shadows, e.g., darkening armor panel lines or delineating recesses between surface elements, like cloth-to-skin.
---
Which is a Better Paint for Miniatures: Abteilung 502 or Artist Grade Oil Colors?
Abteilung 502's biggest advantage is that they are quick drying. These oils also have a paste-like thickness, which gives you more control with the paints straight from the tube. Some painters may find this to be a disadvantage, and prefer a thinner medium to work with on their miniatures.
But, I like using thicker oil paints, and thinning the color directly on my glass palette with mineral spirits. Because of its pigment richness and density, I can paint quicker with Abteilung 502 oil paints than conventional oils. Of course, I think a lot of this has to do with your particular workflow.
---
Are Abteilung 502 Oils Worth It?
Overall, I strongly recommend you try out Abteilung 502 oil paints for your next miniature project. This is especially true if oil painting miniatures is something you would like to do more regularly.
Abteilung 502 oil colors are higher quality than student grade oils, and most importantly have a high pigment density with a quicker drying formula that will likely save you time.
I'll note that Abteilung 502 paints are more expensive per volume when compared to similar high-quality oil paints such as Winsor & Newton.
---
Conclusion: Final Thoughts and Recommendation for Abteilung 502 Oil Paints for Miniatures
Abteilung 502 oil paints are a good paint for miniatures, because they provide high pigment density and color coverage over your models. This means you can paint quicker with them. This is especially true if you use an acrylic base coat before applying your Abteilung 502 oil colors (though I personally don't use them this way).
The seemingly lower oil content gives these oil paints a paste-like viscosity, which is a pro or con depending on how you look at it. For one thing, this gives you more control with the paints straight from the tube because they are thicker. But, the paint is harder to spread and thin out on small surface. Also, the harder consistency of the paint makes them less comfortable or pleasurable to use.
I would say that Abteilung 502 oil paints are "stiff", and lack the nuanced subtle character of using traditional oil paints that have a smooth buttery feel to them.
Suffice it to say, with any hobby tool or art medium, you won't know till you try it yourself. If the characteristics of a faster drying, great coverage oil paint sounds good, then Abteilung 502 oils may be a great (if your only) choice.
I hope you found this review of the Abteilung 502 oil paints helpful. If you have further ideas and comments about oil painting miniatures in general, or specifically your experience with Abteilung 502 oils, I'd love to hear from you! Leave a comment below. 😃
Tangible Day on YouTube (Miniatures and More!)