Are you looking for a 3D printable Star Wars Mandalorian you can paint? The Mandalorian is a hit-TV show in Disney+ that has driven millions of fans back to the Star Wars Universe. This time, however, there is an element of seriousness and might I add gloom and doom. The time period setting for the Mandalorian is right after the Fall of the Empire (see The Return of the Jedi). Without spoilers, the show also forebodes the coming of the First Order (which is revealed in The Force Awakens).
In this article, I express my fandom through a 3D printed Mandalorian miniature. Oddly, I decided to use oil paints instead of acrylic model paints to color up this fantastic representation of this respected Star Wars character. Miniature painting takes on a new level of fun when you start using oil paints instead of conventional model acrylics.
RELATED: AWESOME 3D PRINTABLE MINIATURES FROM MOVIES, VIDEO GAMES, AND MORE
You can get the Mandalorian 3D printable file for free in the shop, or buy the highly detailed version on Gambody.
Who is the Mandalorian?
The Mandalorian is the mysterious protagonist in the Mandalorian Star Wars series on the Disney+ streaming service. I admit I've fallen in love with the lore through the Mandalorian series, more so than through the theatrical Star Wars releases. The character-driven story line reminds me a bit of FireFly or Knight Rider.
The anti-climactic hero doesn't want to save the day, but ends up being thrust into the role anyway. You cheer on his antics and rough, take-no-prisoners nature, while embracing the humanity that peaks through his Beskar armored helm.
---
What is "alla prima" miniature painting?
Alla prima is Italian for "at first attempt", and often refers to a painting approach where paint is applied wet-on-wet. Paintings created alla prima are usually finished in a single session. In other words, when painting miniatures "alla prima" you're essentially speed painting. Of course, this takes on a new meaning when you're using oil paints that takes days to dry.
For a challenge (and fun), I wanted to paint the Mandalorian alla prima. Would it be possible to finish painting an entire miniature using oils in a single session? And, would it even look good?
Hint: I think the painted model came out well. The result surprised me, in fact, and I would love to share with you how I did it.
Read on for tips and tricks I learned and how I painted the Mandalorian 3D printed model.
---
A quick word on 3D printing
The world of 3D printing moves at such a fast pace that I'm not able to keep up with the technology. All I know is that for the best 3D printer for creating miniatures, you'll likely want to use an SLA or DLP 3D printer. These use lasers or high-resolution displays to cure resin with specific patterns at discrete time intervals. Over time, the 3D object emerges as the resin substrate solidifies and stacks up.
For this model, I used a fairly expensive 3D resin SLA printer. But, you can get an affordable 3D printer for miniatures and model making now. There are a lot of options out there, so I suggest doing some research.
Here are a few 3D printers I recommend for making miniatures:
---
Here are the 7 steps for speed painting a 3D printed miniature with oil paints:
Start with primer
Pre-glaze shadows
Remove excess pre-glaze
Add color (use your photo reference)
Blend the colors on the model (cyclical approach)
Consider and increase contrast
Finalize the details and varnish
With this process, the total time to paint the model was about 3 hours.
---
Step 1 – Start with primer
Any miniature painting should start with a suitable primer. For 3d printed miniatures, the primer takes on a new importance. The primer evens out the texture from the 3D printing process. Those tiny print layers should be as smooth as possible for the best painting result.
My go-to primer for any miniature paint job is Vallejo Surface Primer, which I review here. It comes in many colors, but in this case, I went with white. A white primer lets you see you all the necessary details that may be hidden with a dark, or black colored primer.
To see what you're doing, remember to use a good hobby lamp with high CRI and a neutral daylight color spectrum (5K). If you need further help seeing details, use a magnifying lamp or wearable visor.
READ MORE: HOW TO SPEED PAINT RPG MINIATURES FOR TABLETOP GAMES
---
Step 2 – Pre-glaze shadows
To quickly get all the shadow tones on the model, I take a dark brown and green and mix them together. Vandyke brown and a dark olive green oil paint work great together for this purpose. As you see below, I also follow a photo reference for choosing colors.
A little mineral spirit (or white spirit, which is the same thing) will help you thin your oil colors before applying it to the model. Don't use too much of the thinner, otherwise you'll lose control of the paint. The benefit of oil paints is that you don't need to worry about paint drying on your palette. For now until I find a better solution, I use a simple sheet of baking parchment paper as a paint palette.
Apply your pre-glaze oil paint mixture over the entire model. Cover every surface. All some of the mineral spirit solvent to evaporate. This helps stain the model's recesses and crevices with the dark pigment. Because it will remain wet, you will have to be careful to blend other colors nearby without staining and muddying up the tones. But, this is the challenge isn't it?
RELATED: 10 BEST OIL PAINTS FOR MINIATURES AND MODELS
---
Step 3 – Remove excess pre-glaze
To reveal even more details, naturally adding contrast to the model, remove the pre-glaze using a clean cosmetic sponge or cloth. The dark paint will come off the raised surface. This is almost like a reverse dry brush technique.
The results of removing the pre-glaze are two-fold. First, you have a thin oil film over the entire model that will help subsequent colors stick to the model. Remember, this is oil paint, so there are some challenges with colors "layering" over each other. Second, the darkened recesses will help you see details and distinguish the visual forms from each other, e.g., armor from cloth, flesh from metal.
Completely wipe off any excess oil paints where you want to paint more color on top. Oil paints will be added to these cleaned surfaces. As you can see in the photos, your model already looks a lot more "3D". It has details and a bit of pop to it. For those looking to paint a bulk army of miniatures, you could even foresee yourself stopping here and calling this finished, right?
Okay, maybe not. We do want a bit more color… Keep reading!
---
Step 4 – Add color!
Check your photo reference. In this case, I have a paper print out of the poster for the Mandalorian TV show (season 1). From here, I see there aren't too many colors. The motif is muted and warm for the most part. The balance of warmth comes from surface sky reflections on the armor and the dark-ish blue in the clothing on his legs.
It's quite a stunning image. A lone wolf who travels in a Galaxy torn apart by war. The backdrop is a smoke filled desolate atmosphere, perhaps on a dusty outlying planet.
Taking these colors and ideas in mind, I squirt out a few oil colors that I think would work together. You can see this on my DIY paper palette. I do a few color test mixtures to see if I have what I need to match the photo reference. I even dab a bit of color on the printout.
I start with the base colors first. This base means applying oil paint colors to the big blocks of surface area on the model. What elements make up the larger whole? These colors make the model stand out from the "blank canvas" I started with.
For example, I paint the cape, the cloth and armor first. I use a thinned mixture of oil paints (keeping it thinned without going overboard with mineral spirits is an experiment by itself). The idea here is to slowly build form the dark tones to the highlights.
Some oil paint colors are more opaque and easier to apply than others. I'm still learning this myself. I discovered that student grade oil paints tend to have a more oily texture and feel to them. The pigments don't stick as well and are more transparent. Added up, this means that student grade oil paints are harder to work with on miniatures.
---
Step 5 – Blend the colors on the model
Rotating the model, working wet-on-wet, I try my best to add pigment upon pigment. I realize that to do this properly I needed to use thicker paint with less thinner. This of course slow down the drying process and makes the surface "slick" and difficult to manipulate when blending.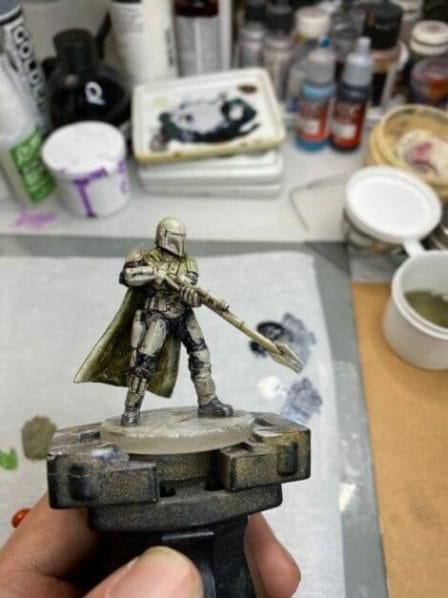 To get around this challenge, I worked around the model in sections. I applied oil paint here, then moved to another part of the miniature. This allowed each section to dry just a bit (e.g., the mineral spirits helps this process). This way, the pigments behave somewhat when I return with the blending brush.
I mixed paints as I went on the palette as well as on the model. Pushing and pulling pigments with a clean brush (no mineral spirits) was a cyclical process that it hard to put into words.
After an hour or so, I got to the point where the entire model was covered in some oil paint color (no primer showing through the layers). If this had been any other miniature paint job, I might have stepped away for a day or so to allow the colors to cure.
But, the alla prima (all at once) technique principles compelled me to keep going. So, what's next? Well, I took stock of my palette and decided that I didn't want to add more color. Instead, I thought about the key to a great miniature painting job: contrast.
---
Step 6 – Consider and increase contrast
How do you add more contrast to a miniature? There are two ways to add contrast. Contrast is the distance between dark and bright values. But, contrast is also the distance between color temperatures, hot and cold.
Looking at the model under a good lamp with a diffuse illumination shows where I needed more contrast. I start with darkening the shadows. I don't add more oil paints to my palette. That would be a bad idea and complicate the process.
Instead, I use the color values, tones, and hues I already have on my palette to make the paint colors I need. For shadows, I add some blue and black together. I also add some brown, because warmth feels like a requirement for the cloak. As before, I thin the oil paint mixture with a tiny drop of mineral spirits to help it flow and apply the paint with my brush (this is the brush I used).
Then with a clean brush, without mineral spirits, I blended the edges of the oil paint colors back into the surface. With oil paints, you don't actually layer and blend like you do with acrylics. There is really only a single layer of oil paint. At least, I think you have to think that way to understand how to work with oil paints on a miniature.
To blend oil paints on a miniature, you use a feathering motion with a light touch of the bristle tips to the edge of the paint transition zone (e.g., where two colors meet). The process of wet blending oil paints is similar to working with acrylic paints.
READ MORE: HOW TO WET BLEND ACRYLIC COLOR ON MINIATURES
---
Step 7 – Finalize the details and varnish
To balance out the warmth in most. ofthe model, I add a bit of sky blue oil paint to the reflective surfaces of the piece. I follow the photo reference as a guide for color placement. But, I also use my imagination of what colors may reflect on what surface. The model isn't exactly in the same pose as the art reference I'm using (which is a 2D image if you haven't noticed).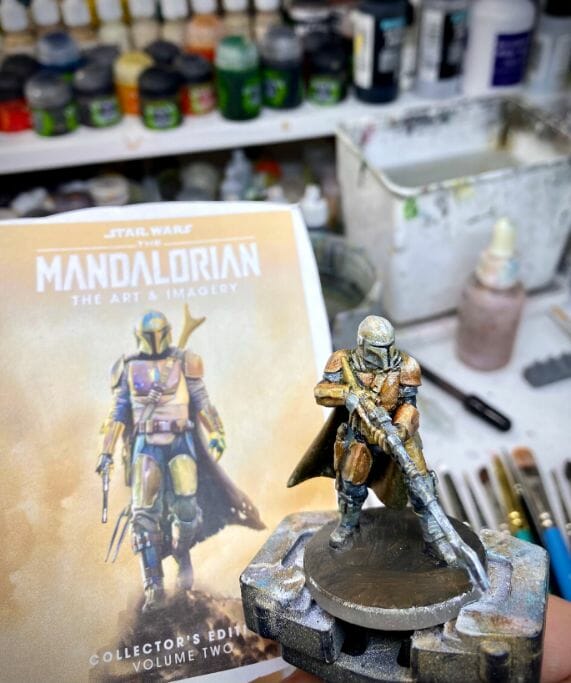 To finish the piece, I paint the base a dark brown, closely matching the basic surface color in the photo. And, that's it. I call this finished. Sure, my brush strokes are visible and my blends are haphazard and streaky. But, taking a step back, I think I accomplished the goal. I present to you the oil painted 3D printed Mandalorian!
To protect my work, I hit the model with a single coat of Testors Dullcote. The oil paint is still wet and requires oxygen to cure. But, I think with a single coat of lacquer, the oil paint can still breath. Ambient air can still get to the oil and work it's curing magic.
In a few days, I did come back and added 2-3 more coats of varnish. This helped even out the surface reflections, removing some of the shine that often distorts colors and contrast in photos.
Final Thoughts
If you like this model and want to give printing and painting it a shot, you can grab a much better version of the Mandalorian on Gambody.
For this project, for all the things that I had to learn on-the-fly for painting this miniature, I'm pleased with the outcome. It was a fun paint job, but it was also a pain in the butt, a true effort in seeing my limitations. Suffice it to say, painting with oil paints alla prima turned out to be a real challenge.
For next time, for a truly enjoyable experience I will approach painting miniatures with oil paints a bit slower. A considered approach works better with paints that take hours or days to cure/dry.
Of course, don't let these issues stumble you from your temptation to give this approach a shot. I love experimenting with miniature paints and models. There's something thrilling about playing around with new art mediums and techniques. It's easy to lose motivation and get bored when things become tedious and same-y.
I hope you enjoyed this article and visit again. Happy painting!
---
Tangible Day on YouTube (Miniatures and More!)