Want to paint miniatures faster? Have a horde army collection that still wears bare plastic gray? Speed painting and quality don't usually mix well. But, with some planning and a few shortcuts, you can get a decent quality paint job on a miniature with little effort.
---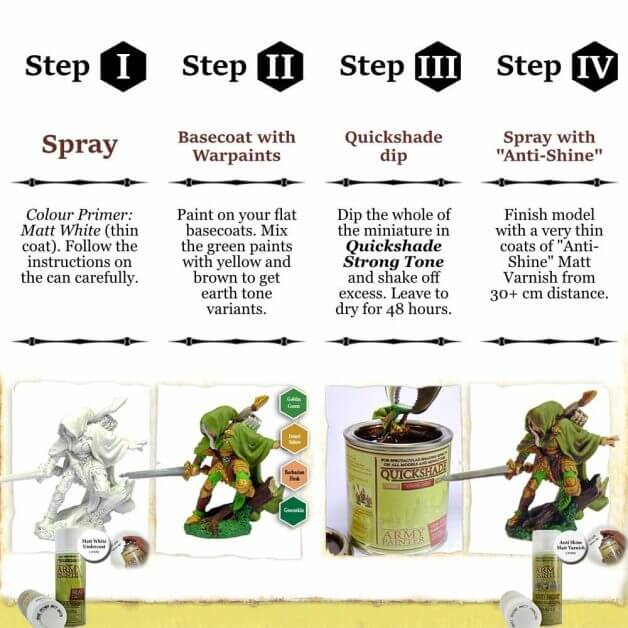 My results using the Quick Shade approach are fantastic, especially for board game miniatures. Speed painting Zombicide? The Army Painter Quick Shade approach is awesome.
1. Paint with a Simple Color Palette
If you don't have a reference photo available, such as the box art, then don't try and incorporate too many colors into your miniature painting. Keep it simple.
Games Workshop models are some of the easiest to paint, because they don't require a lot of colors to look good. The company has tailored the Citadel paint line for this simplicity as well.
Tip #1: Choose 5 colors maximum
The best tip for speed painting is to keep your palette clear of excessive color choices. The number one thing that slows people down is having too little or too many choices. Remove choices by limiting your color palette.
RELATED: A DRY PALETTE CAN HELP YOU PAINT FASTER
Tip #2: Use a warm color, a cool color, two neutral colors. Then, choose an accent color that ties the miniature together.
Remember that your goal is to incorporate vision, contrast, and good figure-to-ground into your painted miniature. You want to do this quickly. The easiest way is to add contrast through dark and light color choices, and a consideration of "temperature".
What is "contrast" and what does it do in miniature painting?
Contrast is the distance between light and dark value and warm and cool color.
For example, if you're painting a trooper model from World War 2, there's green as the main color. The green might be dirty, grundy from the mud and dirt from the battlefield. This would give that green tone a "darkness" and a "warmth".
So, add another color to contrast this green with, such as a blue-toned backpack or boots, or a deep purple shadow color in the folds of the cloth.
When you're looking to improve your figure-to-ground (the ability to distinguish the model from its environment), adding contrast is the fastest way to do this.
Additionally, basing the model with a contrasting color tone helps as well. For example, if your miniature is a lighter tone, then add a dark mud or asphalt looking surface.
Tip #3: Remember, if you can keep your miniature painting approach simple and maintain high contrast (with light/dark and warm/cool colors), you can be a bit messy.
Speed painting is often messy. But, if you keep your approach simple (e.g., not too many colors), and maintain high contrast, you will find that being messy is okay!
Speed painting successfully is embracing a different way of thinking.
Everyone will have a preference for their best workflow when it comes to speed painting.
Tip #4: Paint your models faster with a factory mindset.
I use multiple Citadel Painting Handles to accomplish my assembly line. There are many types of ergonomic handles designed for painting miniatures.
---
---
Summary
If you want to paint miniatures faster, simplify your color palette, use an assembly line approach, and choose your tools wisely.
I should emphasize that you shouldn't over-think how to paint your models.
Over-planning can slow you down, too!
I personally find that if I just relax and enjoy the process, I enter into a flow of work that keeps me moving at a nice clip.
That also means I don't take myself too seriously and remind myself why I'm painting these miniatures.
Happy painting!!!
---
Do you have a lot of miniatures and models to paint? Do you have any other suggestions for painting miniatures faster? Let me know with a comment below!