Are you looking for a shortcut to paint miniatures faster? A trick for painting miniatures quickly is to use the dipping method. Using a good "dip" solution is an easy way to shade models and add contrast. I think using the Army Painter Quickshade dipping method is one of the best ways to speed paint a lot models.
In this article, I share the Army Paint Dip Method that I have relied on for speed painting miniatures en bulk. Army Painter is a hobby game company with many great hobby painting products. The Army Painter Quickshade is a fantastic tool for dipping your miniatures for a rapid shade that makes details come alive in a single step!
There are some limitations to using Quickshade and miniature dipping. I also share these with you below. If you're looking for other articles about how to quickly paint miniatures, check out my popular miniature speed painting article or a photo-journal of how I repaint a used miniature.
Continue below for a simple use guide for how to dip miniatures for speed painting and a review of Army Painter Quickshade.
---
Why "Contrast" is Really Important for Painting Miniatures
Contrast is what makes a painted miniatures standout from the tabletop. When someone talks about the 3D pop of a miniature paint job, they are referring to contrast. Contrast is defined as the difference in brightness value between the darkest dark, and the brightest bright on a miniature. It is also known as the "dynamic range" of a paint job.
In photography terms, contrast helps you to distinguish objects from each other through the appearance of shadows and light. When you paint miniatures, your challenge will always be to maintain contrast while adding color. As others have said, "contrast does all the work–but, color takes all the credit."
In short, contrast is what gives your model life on the tabletop or wherever you display your miniatures. The good news is that once you understand how contrast works as a principle for miniature painting, then you have a host of techniques you can explore. One of the easiest methods for enhancing contrast in your miniature paint jobs is using the shade dipping method.
What is the "Dip Method"?
The "dipping miniature" technique is a classic. Historical military war gamers and scale miniature battle reenactments required huge numbers of models. To get armies painted, techniques were developed to speed up the process. The need for hobby efficiency bred the miniature dip method.
After a base coat of color, a miniature's details still required more definition. This required another step to add contrast through shading (or adding shadow to recesses). This was done through "dips" in all sorts of darkened pigment chemical solutions. Suffice it to say, a lot of products appeared in the market to aid the hobby tabletop gamer.
RELATED: HOW TO ACHIEVE A TABLETOP STANDARD OR BATTLE READY MINIATURE PAINTING?
The Army Painter Quickshade is a specialized product revolving around the technique for quickly shading a model. Quickshade comes in three different tones (e.g., light, medium, dark), which I detail their uses further below. Quickshade is a liquid solution that adds definition to your models by darkening (i.e., shading) the recesses and deeper textures on your miniature's surface.
For best results with Quickshade, you'll want to paint a model with colored paints that are a brighter than you may be used to. This is because the Quickshade dipping step will reduce brightness across the entire model, including the recesses. For example, if you want a deep blue cloak on your finished model, you'll want to start with a bright blue base coat before dipping the miniature in Quickshade.
---
What is Army Painter Quickshade?
Magic sauce to some and messy garbage to others.
Quickshade in principle is a wash. You use Army Painter Quickshade like any acrylic wash for painting miniatures. An added benefit to Quickshade is that the final dried coat is a durable and acts as a robust sealant that protects your underlying color paint job. In fact, after dipping a miniature and a bit of clean up (more about how to use Quickshade below), you could consider yourself finished with the paint job.
Because of the durable finish on Quickshade dipped miniatures, you can use the product on anything that requires a clear protective shell. For example, if you are scratch building terrain, a coat of Quickshade will not only help you pull up the textured definitions in your piece, the dried solution will form a strong clear "shell". This is great for models and terrain you'll use for gameplay, heavy handling, or even travel.
READ MORE: COOL WARGAMING TERRAIN ON ETSY
Army Painter Quickshade is formulated to work on plastic, metal, and resin painted miniatures.
---
How Much Quickshade Do You Need?
Army Painter Quickshade is sold in a small paint can tin (250ml). The opening in can itself is about 3 inches wide, which is good for "dipping models" that aren't too big. You can open the lid and dip small or medium-sized model right into the can.
For larger miniatures, e.g., Warhammer Dreadnoughts or Warmachine Warjacks, or even odd shaped models, you may have to use a brush to apply Quickshade. See below for more about how to use Quickshade on larger models.
In terms of how much Quickshade you'll need for your model collection, depends on the number of miniatures, the size of the models, and the amount of details with recesses. For the latter, the more recesses and deep pockets on a model, the more Quickshade will be used.
For reference, I used Quickshade to shade or dip about 300 Tyranid termagants and used about half the can of solution. For many of you, this means a single Quickshade can could help you paint an entire 2000-3000 point space marine army (minus vehicles).
Note that as the solution in the tin depletes, you'll have a harder time because the Quickshade liquid will be too shallow to coat a model in a single dip. In this case, you can apply the remaining Quickshade at the bottom of the can with a brush or sponge.
---
In hindsight, the dark tone may be great for those scale modelers looking for a quick way to fill in panel lines in armor, vehicles, or other mechanized pieces. Note that to apply any Quickshade on large models, you'll have to apply it with a brush or sponge.
For best results, wiping off excess Quickshade is always my recommendation. The more excess Quickshade solution you wipe off, the better your original color will show through in the final product. Repainting over areas of the model to pull up the color vibrancy again can also help improve the quality of the paint job.
Finally, if you're painting an entire army collection, it may be an obvious suggestion, but try and use the same Quickshade tone for the entire project. You'll create an attractive cohesive aesthetic.
---
How to Dip Miniatures with Army Painter Quickshade
The dipping process for shading miniatures is simple, and the results are amazing and fast. Here is a summary of the steps to dip your miniatures in Army Painter Quickshade:
There are variations to how you can apply any Quickshade or wash solution, e.g., dip, brush-on, or splash methods (see below). But, in principle, all you're doing is getting the liquified pigment on your models and then removing the excess.
Apply more Quickshade solution on your miniature than you would if you were painting them. The purpose is to saturate the model so the dark pigment can fill-in all the recesses and crevices. You want the pigment to pool in the deeper textures of your model to improve the definition in the final piece. Allow the model to sit for a 5-10 minutes so the excess Quickshade drains down.
Remove Excess Quickshade for Best Results
For best results, you'll want to remove as much of the excess Quickshade from the model as possible. How do you know what is "excess"? What was the point of drowning your models in Quickshade?
Excess Quickshade solution is any pigment that obscures the original paint color on the model. You'll find pooling quickshade in places that you may not want. That is excess. You'll also want to remove Quickshade from recesses that fill them in too deeply and spill "up" onto areas that don't need any shading.
Aside from "shaking" or "tapping" the model against the side of the can after dipping, the best way to remove excess Quickshade is either with a clean brush or a makeup sponge. Don't use a paper towel or tissue paper, as the paper fibers will stick to the Quickshade solution, forever.
Quickshade is a very sticky solution. A more aggressive method for removing excess Quickshade is to attach your model to a power drill. You can glue or drill a pin into the base of your model before your dip or apply Quickshade. Then, after you dip your model, you attach the base to a drill head and spin off the excess Quickshade. Do this inside a bucket, a jar, or a deep sink. It will make a mess!
Spin the model for about 10-15 seconds, or as long as necessary. Be careful as the centrifugal force of the drill may dislodge your model and the whole thing could fly off. If done properly, your Quickshade dipping results should appear nearly perfect!
Of course, a drawback of using the drill to remove excess Quickshade from dipped miniatures is that it takes time to prepare, e.g., attach the model, spin, and clean up. This whole process runs counter to the whole idea of speeding up your miniature painting process. And, this isn't a practical approach for shading a large number of models, quickly.
In my experience, the best compromise for removing excess Quickshade is a mix of passive and assertive shade removal. I let my dipped models sit on a paper plate for 5-10 minutes and then use a clean brush to "push" excess Quickshade down off the miniature. I do lose a bit of the Quickshade solution in the process, but I think this is normal. '
Allow the Quickshade to completely dry for at least 1-2 hours before moving on to any other finishing steps, e.g., more paint or varnish application. Quickshade is sticky, so make sure you allow your models to dry in a clean, cool place without any dust or debris floating around.
Be Warned: Quickshade Ruins Bases
In the all the methods of applying Quickshade, e.g., dipping or brush-on, you will probably want to finish painting your base afterwards. This is because the pooling Quickshade as it flows off your model will cover up any basing material on the bottom of the miniature.
Once Quickshade dries, it is nearly impossible to remove without soaking the entire model in a solvent like Simple Green or Purple Power. More about this below.
Use a Matte Varnish to Complete the Miniature
Army Painter Quickshade dries very glossy. I would even say that Quickshade makes your model slippery to hold. Be careful when picking up models for the first time that you've dipped in Quickshade. I've heard stories of miniatures slipping and dropping to the floor only to break apart in a crash.
For best results with any miniatures, you'll want to even out any uneven reflective surfaces or tone them down completely. To remove the gloss from Quickshade, I recommend using a good matte primer. Here's a full guide on the proper use of matte varnishes for miniatures. I like using Testors Dullcote or Tamiya's Matte varnish, a favorite among scale modelers.
If you don't want to use rattle can aerosol varnishes, you can spray-on a water-based matte varnish like Liquitex Matte Varnish with an airbrush. But, note that a water-based matte varnish (as opposed to lacquers such as Testors Dullcote) are not as durable.
Finally, to avoid the dreaded frost or cloud effect with spraying matte varnishes, make sure you're applying them in low humidity (under 50%). Humid ambient air will lead to varnish clumping on your miniatures and obscure color and contrast, e.g., "frost". If this does happen to you, you can remove the cloudiness with a coat of virgin olive oil.
RELATED: HOW TO AVOID AND FIX FOGGY AND CLOUDY VARNISH ON MINIATURES
How to Strip Models Dipped in Quickshade (Complete Removal)
If you want to remove Army Painter Quickshade from painted plastic, metal, or resin miniatures, soak your model in Simple Green, Purple Power, or Pine Sol. Pour any of these "cleaners" into a large container, big enough to fit your entire model under at least an 1″ of the liquid solution. Do not dilute the chemical solutions. Use Simple Green straight from the bottle, for example, and place your model completely under the liquid.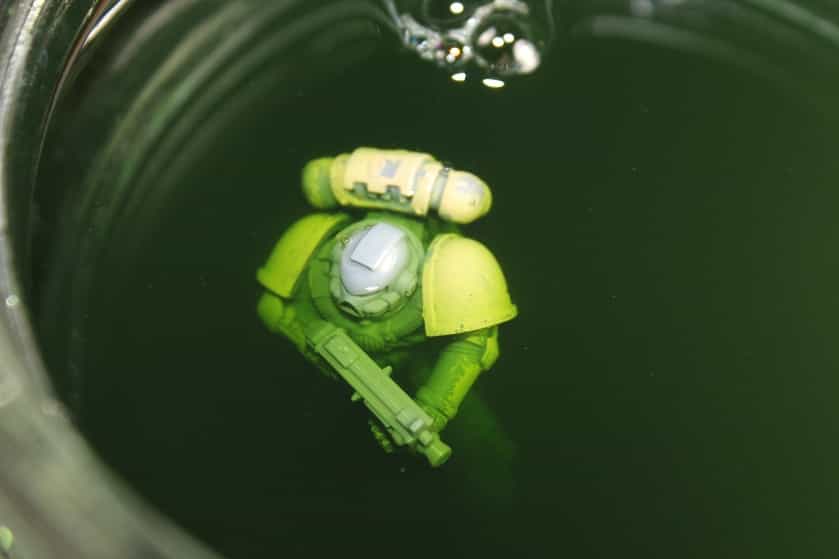 My recommendation for stripping miniatures to submerge models for at least 24-48 hours at normal room temperature. After this period of time, remove the models and use a toothbrush or other similar brush and scrub until you remove as much of the Quickshade and paint from the model's surface. Rinse the model off under a running faucet tap. Repeat the submersion process as rinse as many times as necessary.
Remember that this stripping process will also remove any underlying paint as well loosen any glue bonds on your miniatures. In other words, this is a good method for re-starting a miniature paint job from scratch.
Limitations of Using Army Painter Quickshade
There are quite a few limitations of using the Army Painter Quickshade. Some of them aren't a big deal and I would still recommend using Quickshade for all its other advantages, e.g., speed, ease, and final results on painted miniatures.
The size of the can is suited to dipping small- to medium-sized miniatures. The opening at the top of the can is about 3 inches, which precludes dipping larger or weirdly-shaped models directly into the Quickshade tin. For coating larger models with Quickshade, apply the solution with a brush or sponge (see the tips above).
Army Painter Quickshade is very sticky and gooey. If any Quickshade drips on your desk or on other surfaces, e.g., clothing, you're going to have to do a bit of work to completely clean it up. Forget trying to clean up a spill on a carpeted floor. To properly clean off Quickshade (i.e., not the acrylic stuff in dropper bottles), you'll want to use an odorless thinner, such as mineral spirits or white spirits. These solvents will also help you clean off your brushes dipped in Quickshade.
The Army Painter Quickshade solution smells. When you first open the tin can of Quickshade, you'll notice a strong chemical odor. If you're in a small room or a place with poor ventilation, the fumes can get heady. Do your miniature dipping outside, or indoors with good ventilation. I used to use Quickshade in a bathroom with the shower vent fan running. You can try using a spray booth, if you have one.
Quickshade takes some time to dry, which risks having unwanted debris sticking to your models. As Quickshade dries, it becomes even stickier, and tends to attract dust in the air and other bits if you're not careful. Try and find a clean place without a breeze or draft for your models dipped in Quickshade to dry.
All you have are brown tones for Quickshade. There are 3 tones (mentioned above), but all of them are a warm brown color. If you're looking to a different color for dipping your miniatures, you'll have to look elsewhere. You can try to mix pigments into Quickshade (I haven't tried this), or find alternative washes or "dips". I list below some alternatives to Army Painter Quickshade below.
All models coated with Quickshade have a glossy, wet look. Even those of you who like a gloss finish may not like the super wet shine of Quickshade. Models look "wet", even when they are dry. The high gloss of Quickshade tends to make photographing your miniatures difficult. My recommendation would be to varnish any model dipped in Quickshade with a matte or stain varnish. There are many different products. You can read an article about my favorite varnishes for miniatures.
Quickshade isn't cheap. A single 250ml can of Quickshade costs about $30-40 USD. At the same time, however, Quickshade can make "quick work" out of a mass paint job project. If you have a lot of miniatures you want to paint to a decent tabletop quality, then the HUGE time you save will make the cost of using Quickshade worth it.
Here are a few alternatives to Army Painter Quickshade that will help you add contrast to your paint models:
RELATED: BEST OIL PAINTS FOR PAINTING MINIATURES AND SCALE MODELS
The advantage of using an oil wash is that it dries very slowly. You can take your time using an oil wash. If you want to move an oil wash around, you can. After some of the solvent evaporates, you can use a clean cloth, cotton-tipped applicator, or cosmetic sponge to wipe-off any oil wash you don't want. Additionally, you can make an oil wash from any oil paint color.
A disadvantage of oil paint washes is that you'll have to make the mixture yourself. And, it can be messy. Because of this, oil washes will be more work than using Army Painter Quickshade. Though with practice, you could easily incorporate oil washes into your miniature painting workflow.
I like using oil washes to help me paint more realistic looking miniatures. I also don't have to worry about repainting areas that oil washes cover because I can wipe off any excess. Oil paints, in general, are much more versatile than Quickshade, but take a bit more effort to use properly.
You'll have to experiment with diluting your watercolor paints to make a wash. Every brand of paint differs when you use it as a wash. To apply a watercolor wash, use a brush and allow the paint to dry. The good news with watercolor washes is that you can't really screw up. If you make a mistake, just use a water damp brush to clean up, even after your watercolor has dried. To seal in your watercolor after you apply it, you will have to varnish your model so the pigments don't come off.
Watercolor washes have similar advantages and disadvantages to oil washes. You can make a wash (or dip) in any color you like, and manipulate pigments on a model until you're pleased with the result. Of course, the limitation with a watercolor wash is that you have to DIY make it yourself, and learn the proper ratio.
You'll have to work a bit more to get the watercolor pigment to settle where you want (e.g., you may be fighting water surface tension). I do not recommend you use flow improver or other similar detergents to help your watercolors flow. This will disrupt how the pigments settle and make your model look splotchy. Use pure water to make a watercolor wash.
The best advice I have for those of you interested in trying an acrylic ink wash is to thin the media down with a lot of water and testing it out as a glaze first. Use the acrylic ink wash to filter, or shift underlying paint colors to a different hue, rather than as a darkening or contrast enhancing medium, e.g., Quickshade or oil paint washes. There are a lot of ways you can thin acrylic inks to make washes and glazes.
Of course, as a possible alternative to Army Painter Quickshade, hobby washes are much, much slower to use. You can't dip your models in a hobby acrylic wash and expect the same results. A hobby wash will darken, shift color hues, and shade every color on your model. To restore your model's color vibrancy, you'll want to continue layering colors after an acrylic hobby wash to restore midtones and add highlights to your miniature.
The greatest advantages of minwax stains is that you can find them a large variety of colors (most of them are for wood staining), and in much larger cans (e.g., dip bigger models!). I recommend Walnut colored polyurethane stains or other warm-brown hues, as these will give you more versatility for the different types of model you'll be painting.
Although you may notice that the per unit cost of minwax is similar in cost to Army Painter Quickshade. So, if you're looking to save money you may be able to find other, less expensive brands of polyurethane floor stains. I just haven't tested them myself.
The limitations of using polyurethane stains is that they are messy, very smelly, and will require work to remove excess pooling on your miniatures. You can use a brush to apply polyurethane stains, but as with Army Painter Quickshade, but don't expect to use the same brushes for regular acrylic painting. (i.e., you can use paint thinner or white spirits for clean up).
Finally, floor stains are very, very glossy when dry. For best results, you'll want to matte varnish your miniatures. You may also want paint over some spots on your models first to bring up the color, and then apply a matte varnish.
In general, follow the same methods using Minwax polyurethane stains as you would with Army Painter Quickshade. This includes miniature dipping or brush-on, cleaning excess shade pooling, and post-dip finishing, e.g., varnishing or painting.
I have not used this method, partly because there were other less "risky" methods, such as oil paint washes, available to me. But, I've heard first-hand how using a floor wax or magic wash type dipping method works great for adding contrast to painted miniatures. Additionally, using a homemade DIY floor wax dipping mixture is really inexpensive. You can mix up a HUGE amount of dipping solution for less than a few dollars.
If you've tried this method and it works well, I'd love to know! It may even give me the incentive to try it myself out of pure curiosity as a cheap and effective alternative to AP Quickshade.
Is Army Painter Quickshade Worth It?
Despite its cost and notable limitations, yes, I do recommend Army Painter Quickshade with some conditions (see below). It works as intended for the miniature dipping technique and produces reliable results. Quickshade is an indispensable tool for anyone looking to speed paint hordes of miniatures. This means Quickshade could be a wonderful way to get your board game miniatures or horde/swarm armies painted up to a decent quality with less effort.
Quickshade works well for enhancing contrast and pulling definition from a painted model. As such, you can use Quickshade to quickly get models up to a decent tabletop quality. Or, you can add Quickshade to your workflow to speed up the shading phase as part of a more involved, higher quality paint job. Just remember to use a matte sealer to tone down the extra shine and gloss from the Quickshade step. Reducing a model's reflections helps bring up contrast.
For those of you who have old painted models that seems to lack some "pop", you can use Quickshade to liven them up. A quick dip into Quickshade will bring up the contrast of models you painted and weren't completely pleased with. Most likely, enhancing the contrast will bring older models to a satisfying painted quality. Using Quickshade is ideal for models that lack detail because you didn't use washes, inks or other methods to bring up details.
Because of the cost of Army Painter Quickshade, I would say that a can is only worth it if you have a miniature painting project that requires shading a lot of models (20 or more). If you're only painting a small collection of minis, e.g., Kill Team, or a board game model or two, then you may find Quickshade to be very expensive. On the other hand, Quickshade has a very long shelf life. With a good shake and stir, you can use Army Painter Quickshade years later and it'll still work like brand new.
There are a lot of tools available to us for increasing the contrast on a painted miniature. Using a shade dip is just one method, albeit one of the fastest. If you're looking for examples of some of my miniature painting work, you can check out the miniature painting gallery. I'm always painting something, and will update the gallery on a regular basis.
Have you used Army Painter Quickshade or its alternatives for dipping miniatures? Let me know how'd it worked out for you?
Tangible Day on YouTube (Miniatures and More!)