The Badger Patriot 105 airbrush is the best airbrush for new and veteran hobby miniature painters and scale modelers. This gravity-fed brush features a 100% chemical-resistant paint cup with solvent-resistant internal seals. This gives the airbrush the durability and versatility to paint with acrylic, enamel, or even alcohol based paints. In agreement with many other painters, I've loved how easy this airbrush is to use. It has become one of my favorite workhorse airbrushes for painting miniatures as a collector and as a professional commissioned painter.
In this article, I will explore why the Patriot 105 airbrush is so great for so many miniature painters, spouting off some of its best features, while also listing its disadvantages against other products in the market today.
---
Key Points: Badger Patriot 105 Airbrush Review
Great for new and veteran miniature painters
Awesome for painting all sorts of miniatures and models!
Must-have airbrush with versatile performance
Gravity feed airbrush for low air pressure spraying
Easy access to paint cup
Very durable
Affordable
The Badger Patriot 105 airbrush is the best airbrush for new and veteran hobby miniature painters and scale modelers. This gravity-fed brush features a 100% chemical-resistant paint cup with solvent-resistant internal seals. This gives the airbrush the durability and versatility to paint with acrylic, enamel, or even alcohol based paints.
As an internal mix airbrush, the Patriot 105 airbrush atomizes air and paint into a fine mist, giving you a precision spray pattern. The resolution of the spray pattern, of course, depends on the needle and nozzle combination, e.g., 0.3mm vs 0.5mm sizes. In either case, the Badger Patriot 105 is wonderful for all sorts of large and small scale miniature painting tasks. Tool-less disassembly and assembly make the interchangeable nozzle and needle swaps easy without any hassle.
In agreement with many other painters, I've loved how easy this airbrush is to use. It has become one of my favorite workhorse airbrushes for painting miniatures as a collector and professional commissioned painter.
Read on for a quick reference guide and the Badger Patriot 105 review.
---
How to Choose the Best Airbrush for Painting Miniatures?
You want to make sure that before you purchase an airbrush, you think about the type of art that you are going to be doing and what type of mediums you will need. If you are going to be painting real cars or motorcycles, or even apparel, a bottom-feed airbrush might work best for your tasks. These kinds of airbrushes will allow you to switch out large volumes of paint color quickly without stopping your workflow.
On the other hand, if you are doing something like miniature painting or constructing and painting scale model dioramas, a Badger Patriot 105 would be a great option because it is easy to use with small amounts of primer and paints. It is also a versatile airbrush in terms of what types of paints and solvents you can use with it.
You can read more about how to use your airbrush for priming miniatures, paint with higher contrast using a airbrush zenithal highlighting method, and a review of other great airbrushes for painting miniatures.
---
Are Badger Airbrushes Any Good?
Absolutely, yes! And, here's why…
Durable construction
Badger constructs their airbrushes out of strong and durable components, e.g., steel, brass, nickel. Their airbrushes are as close to "bomb proof" as you can find. I've dropped my Patriot 105 on the floor, bumped it into things, and thrown my other Badger airbrushes in hobby tool boxes when I travel. They've always continued to work. Of course, I've had to replace a few needles over the years due to careless handling, but that is to be expected.
With a regular maintenance schedule, a light cleaning after every painting session, a Patriot 105 will serve you well as a true workhorse airbrush for years.
Company reputation
Looking at the company itself, you'll find a lot of good things to say (which is echoed by many in the miniature painting community). Badger is an American company that specializes in airbrushes and other tools for use by artists. They are a leading manufacturer of airbrushes, of course, and are very popular for new and veteran painters.
Badger aftermarket customer service is responsive and friendly, which is great news when working with tools that a miniature painter needs on a regular basis. You can find more company information on Badger's website.
Price and value
Another reason I think Badger airbrushes are a great value is because for their features, function, and practicality as tools for painting miniatures, they are amazingly affordable. The Badger Patriot 105 can be had for under $70-80 depending on where you shop. For their higher end offerings, such as the Badger Krome or Sotar 20/20, you are still under the $150 mark for price.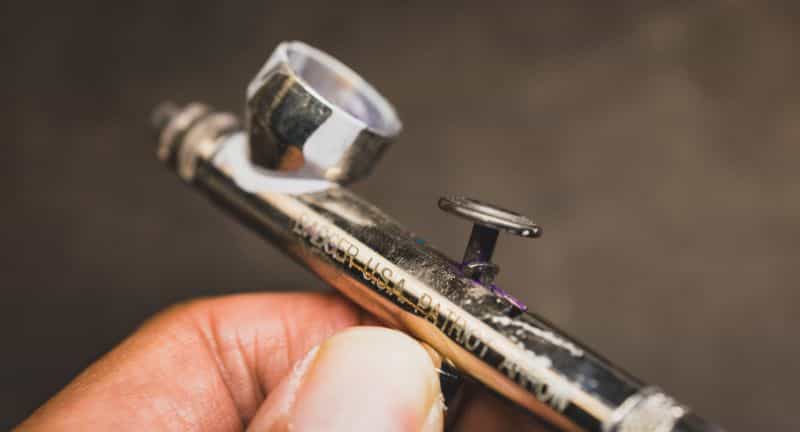 Overall, airbrushes from Badger are among the best you can get for the money. They are durable, have high-quality parts, and will work well for all kinds of artists: from professional painters to hobbyists.
---
Badger Patriot 105 Airbrush Review for Miniature Painting
In my opinion, the Badger Patriot 105 is one of the best hobby airbrushes available today. It can be used with any medium that you would use in your miniature painting, whether it be paint, ink or even water-based varnishes. The Patriot 105 is also great for any skill level, as it has a fairly low learning curve.
The parts are easy and inexpensive to replace. The nozzle assembly with proper paint thinning and air pressure does not clog easily. Clean up is also a simple affair. Rinse and wipe down the paint cup after every painting session, and do a deeper cleaning with the disassembled parts after a few weeks of painting.
---
The Badger Patriot 105 Airbrush: A Great Tool for Beginner and Professional Miniature Painters
I have owned two Badger Patriot 105 airbrushes over the years, along with many others, including two H/S Infinity airbrushes, a number of IWATA models, Aztek and Paasche bottom-feed airbrushes, and other Badger airbrush models. There's no comparison at this point. I'm very comfortable saying that the Patriot 105 airbrush is one of the easiest to use and beginner-friendly airbrushes, because it is really hard to break if you screw up!
I'll note from experience that one of the most vulnerable parts in an airbrush is the needle. If an airbrush needle is bent, the spray pattern will no longer be reliable or precise. In fact, even a slight curve in the needle or offset in the nozzle will render an entire airbrush neigh useless for painting miniatures.
With a 0.3mm or 0.5mm nozzle size, the Patriot 105 won't clog easily and the needle is fairly robust. But, if you do break or bend a Patriot 105 needle, they are inexpensive to replace and easy to find.
---
The Badger Patriot 105 Airbrush Has Two Paint Cup Sizes
The Badger Patriot 105 has two iterations depending on the paint cup attached to the body. There is the Badger Patriot 105 with the more common paint cup size (1/3 oz or 8.5mL), and a version with a small paint cup size (1/8 oz or 3.5mL). The latter model is also called a Patriot 105 Arrow or Patriot 105-2XR.
The reason you may choose one over the other depends primarily on how much paint you need to spray with the airbrush. For painting miniatures, I opted for the smaller paint cup because I didn't need the volume. I'm not spraying very large models or big terrain pieces. And, if I need more paint in the airbrush, I know I could simply add more.
These Patriot 105 airbrush versions are exactly the same in form and function except for the different paint cup sizes. You can't go wrong with either.
Note that the parts between the two Badger Patriot 105 versions are also interchangeable and compatible. Buy one or two and you can swap parts, as needed. Sometimes you'll find one is less expensive than the other. You could do a price comparison to help you decide.
Ergonomics: Fit and Feel of the Badger Patriot 105 Airbrush
The Patriot 105 is a standard sized airbrush with an overall body length of 7 inches. The airbrush is hefty (8-10 ounces, or 250-280 grams), and feels dense in the hand. This airbrush accepts standard Badger needles and nozzles (more about this below), which are incredibly versatile. The Badger Patriot 105 works great with any model hobby acrylic paints out there, including brands from Vallejo, Citadel, Army Painter and more!
When I first got my Patriot 105, I didn't have to do much to get it working. All I did was attach the quick release attachment I purchased separately, and hooked it up to my adapted air hose connected to my air compressor.
One of my favorite parts about this brush is its ergonomics for my medium sized hands. It fits comfortably in with a natural pencil grip. Both the trigger and body handling have a nice stabilizing tension and weight to them, respectively.
Some people don't like how heavy this airbrush is, but I enjoy using it for long periods of time and have no problems with its weight. The heft actually allows me to keep a steady hand, and gives me control for painting long periods of time without fatigue.
Is the Badger Patriot 105 Any Good for Painting Miniatures?
I have talked to other painters who have said that Badger's customer service is quite good. In my experience, I've noticed this as well.
On the second Badger Patriot 105 airbrush I got, there was an issue with one of the o-rings leaking compressed air. A quick email to Badger customer support got the issue resolved with a part replacement. In general, I've found Badger's customer service prompt and helpful. If you do have any issues with your airbrush, don't hesitate to contact them!
The Patriot 105 can spray almost any type of paint you can think to throw at it, as long as the viscosity isn't too thick or thin. If the paint that you're using is too thick, you can thin it down with water.
How Do You Clean a Badger Patriot 105?
Disassembly of the Badger Patriot 105 is easy, requires no tools, and every part is durable or replaceable without spending a lot of money. In the latter point, Iwata airbrush parts are expensive to replace if you break them.
I use an ultrasonic cleaner with warm water and soap or Simple Green to clean my Patriot 105 after every month of use. You can also use Iwata airbrush cleaner with this airbrush, though I've found it no different than regular soapy water.
---
The Patriot 105 Price: Is the Airbrush Worth It?
My Favorite Things About the Badger Patriot 105
Badger Patriot 105 is built for new, intermediate, and advanced level painters
Works with any model hobby acrylic paints including Vallejo, Citadel, Army Painter and more!
If a part breaks you can just replace it inexpensively
Easily cleanable by disassembling the parts (no tools required)
Comes with instructions on how to set up and use your brush
Recommended by miniature painters everywhere (including me!)
All in all, the Badger Patriot 105 is a great first airbrush for beginners who are looking to paint miniatures as a hobby, but don't feel like they want to make a huge investment on an airbrush.
It is also versatile, durable and reliable enough for experienced painters who are looking for a new brush to add to their arsenal. Although this airbrush costs more than similar knockoff brands, e.g., Master or some no name on Amazon, I think that a Badger Patriot 105 is worth the money when you consider its longevity, versatility in any painting style, and Badger after market support.
---
Who Should Use the Badger Patriot 105 Airbrush?
The Badger Patriot 105 is great for those who want to start airbrushing right away. It features simple access to spraying acrylic paint on miniatures and requires no training. Experienced miniature painters will benefit from all of the available features, i.e., exposed needle chuck, tool-less assembly, smooth dampened trigger action, etc.
A wide variety of aftermarket upgrades ensures that you can use it long term as you learn. I expect any Patriot 105 airbrush will last a very long time, even if used everyday for hours on end.
Finally, a Patriot 105 airbrush is the perfect for those who want to paint miniatures large and small, but are a bit nervous about diving into the higher end, more expensive airbrushes. In other words, the Patriot 105 airbrush is the best value airbrush for anyone starting or wants to get a durable workhorse for painting miniatures, scale models, or other hobbies.
---
Best Nozzle and Needle Combo for the Badger Patriot 105 Airbrush?
You can buy a Patriot 105 airbrush with different sized needles and nozzles. For detail work, I recommend getting a 0.3mm nozzle/needle size (also known as "fine"). This is good for precision in most detail painting work, as well as spraying inks and other thinned media.
| Patriot 105 Airbrush Series Use | Nozzle Size |
| --- | --- |
| Fine | 0.3mm |
| Detail | 0.4mm |
| General Use, e.g., priming, varnishing, basecoating | 0.5mm |
For general use applications, I'd start with a 0.5mm nozzle and needle size in a Patriot 105 airbrush, as this is the best combo for spraying primer, basecoating paints and layering. You'll even be able airbrush most water-based varnishes.
Both the 0.3mm or 0.5mm nozzle/needle size will give you a good mix between precision and the lower risk for clogging with thicker paints and art media. Clogs are the most annoying thing about airbrushing. Taken together, for an airbrush that spray whatever you need, the Patriot 105 is an amazingly versatile package with its interchangeable parts.
Do you need smaller airbrush needles and nozzles for better miniature painting?
Not really. Sure, you can get an airbrush with smaller needles and nozzles for even more precision. But, I think smaller nozzles from the 0.3mm size will make it unnecessarily difficult to paint miniatures (most anyway).
Regarding nozzle sizes, here are my condensed thoughts. Nozzles that are too large will make paint run, overspraying everywhere, and cause drips down your model's surface. Too small and you'll be fighting clogs and "tip dry" every few minutes (unless you know what you're doing and patient to upkeep your airbrush in top operating condition).
For 95% of what I expect you'll likely be painting, e.g., scale models, miniatures, DIY terrain, 3D prints, either a 0.3mm or 0.5mm sized nozzle and needle combo on a Patriot 105 is a good choice.
---
Frequently Asked Questions (FAQ)
1. What is an Airbrush?
An airbrush is a tool that applies paint or ink (or other fluid), with the capability of spraying different amounts of fluid with different patterns and resolutions. The work of an airbrush artist can range from fine artistic detailing, e.g., miniatures and models, to large-scale mural paintings.
RELATED: BEST AIRBRUSH-READY PAINTS FOR MINIATURE HOBBIES
In today's artistic world, the air brush has become a versatile tool used by many types artists for various purposes including wearing apparel design to automotive stenciling in addition being useful as decorative finishes on furniture pieces such as armchairs or chairs. Artists use all sorts materials when it comes to their mediums which includes acrylic and lacquer paints.
---
2. What Types of Airbrushes Are There?
Gravity-Feed Airbrushes
A gravity-feed airbrush, which includes the Patriot 105, uses a paint cup on top of the airbrush body to feed paint into the the airbrush. Gravity is the main force that helps paint mix with air inside the airbrush. The use of gravity instead of negative air pressure (e.g., vacuum) has many benefits for painting miniatures.
A gravity feed airbrush allows a user to operate the airbrush at very, very low air pressures (<10 PSI) with thinned media. This gives anyone precision and the ability to spray with fine detail.
Gravity-fed brushes are also generally easier to clean than other airbrush types (see below), because most modelers don't have to disassemble them as often. The paint cup is allows quick fill ups with cleaning solutions, and easy to access for a quick wipe down. They're also less prone to clogging, because they are designed with fewer air passages and internal hoses.
Bottom-Feed Airbrushes
Bottom-feed airbrushes, like the Badger Anthem, feature a paint reservoir that attaches directly to the brush handle. The advantage of this design is its ability to hold more fluid than many gravity-fed models and the ease with which you can remove and replace paint from the bottle attached unit.
Bottom feed airbrushes do require more air pressure to operate properly. Airflow through the airbrush "pulls" paint up into the airbrush like a vacuum. Normal operating air pressures can be as high as 40-50 PSI (or higher) in some units.
Side-Feed Airbrushes
Side-feed airbrushes are designed with a paint reservoir attached to the side of the handle. This arrangement is ideal for those who will be using more than one color of paint during their work session or need to change colors often throughout a project. They are in some regards similar to gravity feed airbrushes.
Side-feeders are slightly more difficult to clean than gravity-fed or bottom-feed models, because you may have to remove the entire reservoir from the handle. There is also more internal surface for paint to cling to. Air pressures required to spray thicker media may be higher than a gravity feed airbrush, but too much different in all other respects.
---
3. Best 2nd Airbrush to Pair with the Badger Patriot 105?
Well, you could get a 2nd Patriot 105 with a smaller needle like I did (which I sold later). But, given the size of the Patriot 105, and its general design, the airbrush isn't optimized for very low air pressure spraying.
Instead, as a pairing with a Patriot 105 airbrush, I'd recommend looking closer at a Badger Sotar 20/20, an IWATA HP-CS, or with a bigger budget, a Harder & Steenbeck Infinity or Evolution. These airbrushes have very small, super fine needle/nozzle options as standard, and work great with inks, washes, and low viscosity model paints.
You can read more about these other airbrushes in this article.
---
4. Reasons for Using Smaller Nozzles in an Airbrush?
Alright, so tiny nozzles are the hotness in miniature airbrushing. Let's say you are on the fence. In this case, you'd want a different airbrush.
In fact, for those of you looking to airbrush with really fine precision, I would recommend a 2nd airbrush that comes with a smaller needle and nozzle, e.g., 0.2mm or smaller.
Why would you need to airbrush with a smaller needle?
You can use an airbrush to glaze and add color filters over base coats of paint. This often means airbrushing extra-thin color media, like inks or washes, which have the viscosity close to that of water.
You'll need to lower your air pressure, and an assortment of other calibrations when airbrushing with a finer needle and nozzle. Rather than sticking a smaller needle and nozzle on your Patriot 105, I've found it much easier to just get another airbrush for this purpose. Read on to see what I think is the best airbrush to pair with a Patriot 105 with a 0.3mm sized nozzle and needle.
---
5. What Air Compressor Should I Consider Using With My Airbrush?
When buying a Badger Patriot 105, you will need an air compressor to provide the air flow for spraying. If you don't have one, check out this good budget option or the air compressor that I use for my airbrushes.
For other great air compressors, check out this review of highly recommended airbrush compressors for users of any skill level and hobby project need.
---
Conclusion
As you can see, there are many different factors to consider when buying an airbrush. When it comes to a new or veteran hobbyist, I recommend the Badger Patriot 105. This is because of its durability and versatility, combined with its ease of use.
The Badger Patriot 105 is also easy to disassemble without tools and has a serviceable internal construction that is user-friendly! If you're on the fence, the Patriot 105 airbrush is an affordable workhorse that will serve you well for years to come. I still use mine after years in the hobby!
What aspects of the Patriot 105 airbrush interest you? Are you looking to start airbrushing and have any questions? I'd love to help. Leave a comment below!
Tangible Day on YouTube (Miniatures and More!)