How do you thin acrylic paints to airbrush miniatures? As a best practice, you should thin your model paints to the proper viscosity for your airbrush. The proper viscosity for airbrushing depends on the air pressure, the resolution, and the airbrush nozzle size. For simplicity, of course, you could buy "airbrush-ready model paints". But, these can be costly and may still need thinning for best results with your airbrush setup. I always recommend to anyone with an airbrush to learn how to thin acrylic paints for painting miniatures.
In this article, I show you an established way to thin acrylic paints for airbrushing miniatures. These methods work well with almost any brand of water-based, acrylic hobby paints, including Citadel, Reaper, Vallejo, and Army Painter model paint brands.
RELATED: 10 USEFUL WAYS TO THIN ACRYLICS FOR MINIATURE BRUSHWORK
---
Ideal Airbrush for Painting Miniatures?
The best airbrush type for painting miniatures is a gravity-fed, double action airbrush.
In general, a gravity-feed airbrush, such as the Badger Patriot 105 or IWATA HP-CS, will work great for base coating, priming, and painting details. These airbrushes have nozzle openings of 0.3mm or larger, which make clogging less likely and more useful for spraying regular hobby paint (which you'll need to thin–see how to do this below).
Of course, the larger the nozzle on an airbrush, the less capable the airbrush of spraying finer detail. Ultimately, I find that airbrushes with a 0.3mm nozzle size is the most versatile for almost all miniature painting needs.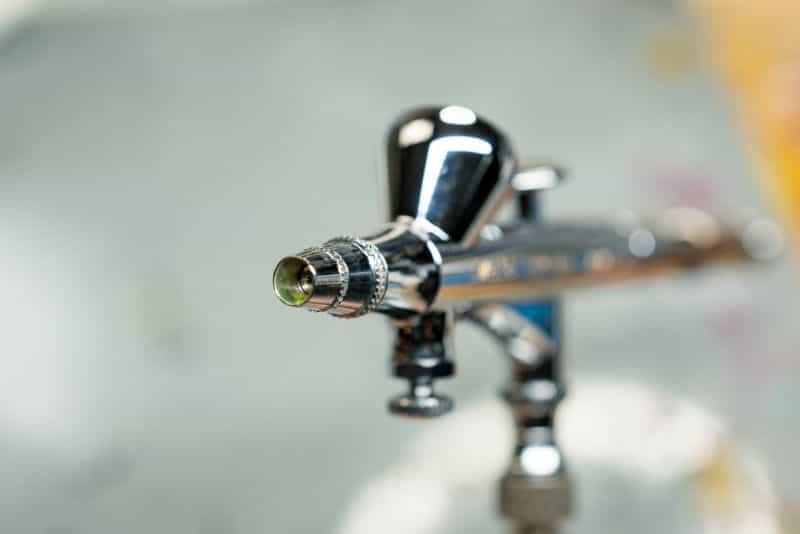 If you're planning to airbrush very thinned paints or inks and washes, a smaller nozzle size will help. But, again, smaller nozzles are prone to clogging if you try to spray thicker paints and will require higher air pressure, which reduces your control.
Best Way to Thin Acrylic Paints for Airbrushes
How do you thin acrylic paints for painting miniatures with an airbrush? The best way to thin hobby acrylic paints for an airbrush is to use water. This is because almost all hobby paints are water-based mediums, and therefore dissolve easily in water (a solvent).
Note that you'll want to use "soft" water rather than "hard" water for thinning hobby acrylics.
"Soft water" is water that contains little or no dissolved minerals, such as calcium. "Hard water" contains minerals that can lead to an undesirable chemical reaction with some art mediums and paints, or react with the metal inside your airbrush, which can form hard-to-clean mineral deposits.
Most household faucets in modern homes have soft water. But, if you live in an place with older pipes or water system, you may want to filter your tap water before using it as a paint thinner for airbrushing. You can use a Brita filter or use distilled water you find at any food market.
Alternative Model Paint Thinner for Airbrushing?
If for some reason you think water isn't working–sometimes you need a kick–then you can try using airbrush mediums or airbrush paint thinner. The two I've tested and work for me are Vallejo Airbrush Thinner and Liquitex Airbrush Medium. Both work great with any model paints, e.g., Citadel, Vallejo, or Army Painter, and provide a great viscosity for spraying with an airbrush.
Both Vallejo Airbrush Thinner and Liquitex Airbrush Medium work to thin your model paints and lubricate your airbrush as the thinned paint mixture travels through your airbrush. In my experience, using these thinning mediums reduce the risk for clogging and produce great atomization (e.g., paint spray production).
Note that Liquitex Airbrush Medium also tends to slow down the model paint dry time, which may be useful if you're a slower painter or want to avoid needle "tip dry" on your airbrush.
The disadvantages of using airbrush mediums is that they cost much more than water, have additional health risks if you are susceptible to inhalation, e.g., working in a poorly ventilated space, and they can have unpredictable results on your models, if mixed with improper ratios. In the latter, for example, some airbrush thinner mediums can make your hobby paints dry glossy, which can make layering and other techniques more difficult.
The bottomline: I often recommend that you try using water first to thin your hobby paints for airbrushing. Using water as a thinner will give your more control and predictable results when thinning your acrylic model paints. This is true whether you're airbrushing or using a regular brush.
Read on to see how to use water or airbrush mediums to thin your acrylic paints for airbrushing miniatures.
How to Mix Thinner and Paint for Your Airbrush
There are two popular ways to mix thinner and paint for your airbrush:
Mix thinner and paint outside your airbrush
Homogenize thinner and paint inside your airbrush
1. Thin Paint Outside the Airbrush
The most widely-accepted method to mix thinner and paint for airbrushing is to pre-mix in a dish or palette. After mixing your thinner, e.g., water or airbrush medium, transfer the thinned paint mixture to your airbrush paint cup with an eyedropper or a clean brush.
The reason you want to pre-mix your paint with water before loading it into your airbrush is to avoid debris or other particles from clogging your airbrush nozzle. The risk for clogging your airbrush is higher if you try to thin paint inside the paint cup of your airbrush.
Of course, the limitation of premixing your paint outside your airbrush first is that it's slower and does waste a bit of paint. Pre-mixing is best used for those who are planning to airbrush a decent amount of surface area. If you're only "spot" airbrushing a small amount, then you could thin your paint in your airbrush paint cup.
2. Thin Paint Inside the Airbrush
Here is the way I recommend you mix your thinner (e.g., water or airbrush medium) and paint directly in your airbrush paint cup. First, add the thinner into your airbrush paint cup. Then, add your paint. The mixture ratio depends on how thin you need your paint. To mix the thinner and paint, you can use a stirrer like a cheap, clean brush, or a toothpick.
If your airbrush has a closed-type nose cone, you can use a back airflow to agitate the mixture in the paint cup. Simply, place your finger over the front of the nose cone, blocking the airflow, and slowly push the trigger down for air. The back pressure from the air will lead to bubbles the paint cup.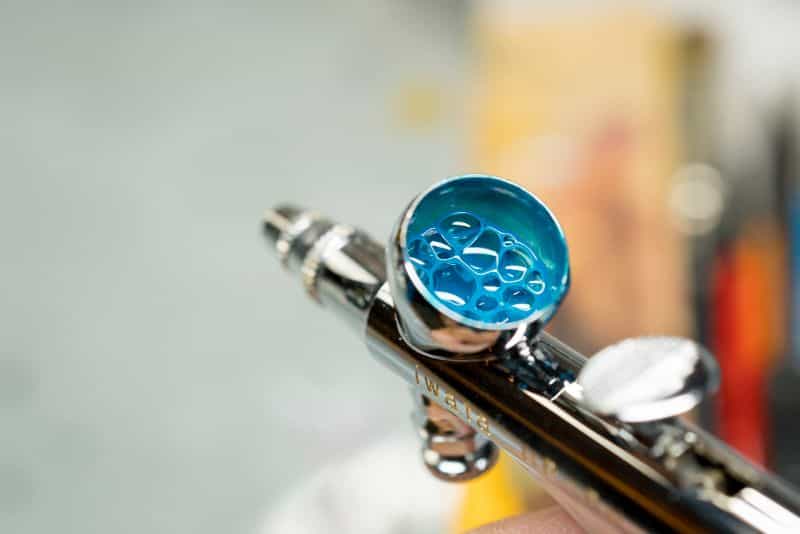 The backflow bubbles will mix the paint and thinner for you inside the airbrush paint cup. I often allow the bubbles to work for 1-2 seconds at a time, repeating the process if needed, to properly mix the paint inside the airbrush cup. If it worked well, then you can expect to have a nicely thinned paint that is ready for enjoyable airbrushing.
What is the Best Thinner-to-Paint Ratio for Airbrushing?
The proper ratio to thin common hobby acrylic paint to the viscosity of whole milk is approximately 1 to 3 drops of paint to thinner (i.e., add more thinner than paint). This baseline paint-to-thinner ratio is derived from my experience with Army Painter and Citadel Paints. For Vallejo or Reaper Paints, you may need less thinner since these brands of acrylic paints start out less thick.
Here is a useful chart for recommended settings for airbrushing miniatures.
Recommended settings
Small models (less surface)
Large models (more surface)
Airbrush nozzle size
0.2 – 0.3 mm
0.30 to 0.5 mm (or higher)
Air pressure
15 – 25 PSI
25 – 35 PSI
Paint viscosity for airbrushing
(use thickness similar to)
Ink or whole milk
Coffee creamer or melted ice cream
The proper viscosity or thickness of paint you'll need for airbrushing miniatures depends on the size of your airbrush nozzle, working air pressure, and the detail you need to airbrush.
Starting with a ratio of paint-to-thinner of 1:3 allows you to experiment with your airbrush. You can spray this thinned mixture to see if the paint flows properly and produces the spray pattern you can control, i.e., sprayed paint isn't runny, dripping, or making spider web patterns when it hits a surface.
Following the chart above, you'll notice that the smaller your nozzle, the thinner you'll want your paint, e.g., ink or whole milk-like viscosity. It also follows that if you have thicker paint (e.g., less thinner added), you'll need to use higher air pressure and want to use an airbrush with a larger nozzle size. All of these variables are directly related to each other.
How to Avoid Clogging Your Airbrush: Thinning Paints for Large and Small Models
For larger models and airbrushing more surface area, I recommend using a higher air pressure along with thicker paint. This will help you cover that larger surface area more effectively.
For better control airbrushing smaller miniatures with less surface area, a lower air pressure along with thinned paint will give you the finer atomization you'll want. You may also need to thin your primer more to account for the lower air pressure and reduce the risk of clogging the nozzle.
How much thinner you add to your hobby acrylic paint will depend on your airbrush application. For example, if you're base coating a model, you can use thicker paint and spray at higher air pressure–of course, you'll likely also want to use a larger nozzle with you airbrush to reduce the risk for clogs.
A product I use to avoid clogging in any airbrush application is to dip my airbrush needle in Regdab needle juice. Regdab is made by Badger Airbrush Company. It is an airbrush lubricant that helps smooth trigger action, reduce friction of the moving needle, and reduces paint tip dry and clogging.
To use Regdab oil, dip your airbrush needle into the oil, inserting the pointy end directly into the Regdab bottle, and wipe off the excess with a clean tissue or towel, before inserting back into your airbrush. Regdab lubricant oil works by lubricating the metal surfaces inside the airbrush, which makes it difficult for drying paint to stick.
For longer airbrushing sessions, I'll always apply a bit of this oil to my airbrush needle. I've certainly noticed that it makes painting much less frustrating since I'm able to paint longer without worrying about paint drying on the front end of my airbrush. A single bottle has lasted me more than 5 years, and it's been worth every penny for airbrushing miniatures.
Avoid Using Ammonia-Based Products to Thin Hobby Paint
Do not use ammonia-based products, e.g., Windex, to thin paint for airbrushing. Ammonia is a toxic chemical and can seriously harm your lungs if inhaled or ingested. Additionally, ammonia-based cleaners can degrade metal coatings, e,g., brass, inside your airbrush and reduce the service life of the tool.
I also try to avoid using non-airbrush flow improvers like Winsor & Newton Flow Improver to thin paints because they make paint behave unpredictably.
Artist grade flow improver or flow aids for traditional acrylic painting are great for brush work, but aren't safe for inhalation or ingestion. It actually says it on the bottle. They are toxic surfecants, e.g., soaps, that can exacerbate existing respiratory issues. Play it safe and only use water or thinners formulated for thinning paint for airbrushing.
Recommended Airbrush-Ready Paints for Miniatures and Models?
Let's say you want to skip the entire step of thinning regular hobby paints for your airbrush. In this case, you'll want to use airbrush-ready paints, in which case you're in luck because there are a ton of options.
I've written up a full list of my recommended model paints that are airbrush-ready. For these paints, all you need to do is open the cap, transfer the paint to your airbrush paint cup, and adjust the air pressure and spray. Note that many of these airbrush-ready paints still work great with a regular brush.
Here are 5 popular airbrush-ready paint sets for painting miniatures:
Sure, some of these airbrush-ready paints may require a bit more thinner if you're using a smaller airbrush nozzle or want to spray at a lower air pressure for finer detail. But, airbrush-ready paints are great because they already start you off on the right foot right away. No experimentation or thinning ratio formulas to follow.
For more details and my thoughts about these airbrush-ready paints, check out this article.
Conclusion
An airbrush is a great tool for miniature painters. They allow you to paint surfaces quickly and, with practice, airbrushes allow you to blend colors in ways that would be difficult with a regular brush.
If you have a collection of hobby acrylic paints and want to use them in your airbrush, then all you need to do is thin them down. I've tried a lot of methods to thin hobby paints. For airbrushing, my recommendation is to start with water since it is the best solvent for thinning water-based acrylic paint.
Of course, everyone has their favorite method. To airbrush miniatures, you'll want to try thinning paints out for yourself to see how it works. The great thing about the miniature painting hobby is the space you have to explore and discover new ways of doing things.
I hope you found this article helpful! Do you airbrush miniatures regularly? How do you thin your hobby paints?
Tangible Day on YouTube (Miniatures and More!)