Looking for a fast way to apply digital camouflage or hex patterns on your Gunpla, Warhammer 40k or other sci-fi tabletop miniatures? Need that extra flair on your flying ships, tanks, or RC vehicles?
If you're a scale modeler, then some of these stencils will help you reproduce the realistic camo pattern on historical replicas.
Not all stencils and pre-cut patterns are useful for miniatures.
Most of the stencils you'll find at arts & craft stores will be too big for scale miniatures and tabletop gaming models. If you want miniature stencil designs, then you'll have to find these at more specialized hobby or art stores.
Check out 11 awesome airbrush stencils for miniatures and models.
---
When to use stencils for airbrushing?
In the first method, you use the stencil to block out the airbrush spray to complete an image. This "stenciling" is simple, but provides opportunities to add variation.
For example, you can stencil in a layer of color with your airbrush. Then, you spray-on another color to create a gradient transition. The blended paint will form only where the stencil allows the spray to cover your surface.
In the second method, artists may use the stencil as a base outline. They will quickly paint the basic shapes using the stencil, then use this as a structured way to freehand the rest of the picture.
This is an incredibly powerful tool for miniature painters looking to paint tiny murals on their models. Many of the veteran artists who do this also make their own stencils.
Do-it-yourself (DIY) stencils allow for all sorts of amazing ways for creating unique artwork on scale miniatures and models.
---
What should airbrush stencils be made of?
In general, the stencils you need for airbrushing miniatures need to be water-resistant. This is because acrylic hobby paints are water-based media.
When you shop for airbrush stencils, look for stencils that are made of plastic, mylar, vinyl, or coated paper card stock. Cheaper stencils may not resist airbrushing with water-based paint.
The best stencils are made of plastic or vinyl, which can also resist more volatile automotive paint spraying.
---
How to use mini-stencils to airbrush freehand designs and patterns?
The use of stencils on miniatures is a bit unique compared to regular stencil work.
The smaller size of minis and scale models dictates the need for some creative ways to prevent over-spray (i.e., airbrushing areas you don't want to).
Check out this simple video for how to use airbrush stencils on small surfaces.
A major challenge for using stencils on miniatures is how to attach a stencil to the working surface and masking.
Any low-tack masking tape will work to help attach your stencil to your model.
You can cut smaller pieces of tape if you need to using a scissor or hobby knife on a hobby cutting mat.
The idea here is to keep your stencil from blowing away with your airbrush spray.
You can use sticky mounting putty to help you stick your stencil to your miniature.
The nice thing about putty is that you can shape it for whatever area you need to work on.
Both painter's masking tape and putty will work great as "shapeable" masks over areas of your model that you don't want to airbrush.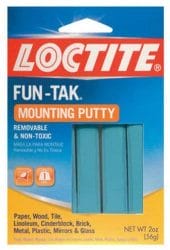 For the more advanced miniature painters, you can also use liquid frisket to block off areas of your model when you're airbrushing.
Liquid frisket is a paint-on way to mask areas of your model. You can use liquid frisket to block areas of your model and stencil that you want to protect from your airbrush spray.
As a liquid masking fluid, frisket that you paint-on is made of a fast-drying latex (e.g., plastic).
Make sure you dip your cheap (not your best) brush in hand soap before you use liquid frisket. The soap will keep the frisket solution from drying in your bristles and ruining the entire brush.
After you're done painting, you can use your finger or a kneaded pencil eraser to remove the dried frisket.
I recommend using a dental pick or a silicon sculpting tool to help you place your stencil and push your masking tape into groves, panel lines, to block out the airbrush spray.
Here's another video showing how to use stencils as a base outline for more elaborate freehand design.
There are a lot of other videos on YouTube that have inspired me to try new things with my airbrush and stencils.
Continue reading for more inspiration, ideas, and awesome stencils you can try with your airbrushing mini adventure.
RELATED: COMPLETE HOBBY AIRBRUSHING GUIDE FOR PAINTING MINIATURES AND MODELS
---
This is a 4 stencil set with skulls. There are negative- and positive-space stencils, which gives you a lot of options for how you airbrush these on your models.
The mini-size is great for small surfaces. Try these on vehicles, cloaks/capes, and other places skulls might fit the style you're looking for.
---
The hexagon, honeycomb style of texturizing miniatures is one of my favorite looks on sci-fi models. The patterns work great for recreating camo or carbon-fiber looking surfaces.
The stencils are reusable, easy-to-clean, and store. They even come with a small hole on the top to thread in a binder.
You can use these stencils with your airbrush to easily paint these patterns on your scale miniature aircraft, armor, or on terrain features like the sides of buildings and industrial facilities.
Mix and match stencils to create layered effects.
---
This is a 9-piece stencil set for those looking for a ton more options with their airbrush.
These are mini-stencils that are made especially for stenciling small surfaces. There are letters, numbers, and all sorts of textured patterns for you to experiment with.
Use the diamond pattern stencils, for example, for your Harlequin and Eldar needs. Warhammer 40k players rejoice! There are some cool special effects you can apply to your models with this set.
---
Are you looking for some cool, awesome looking stencils for creating textured battle-worn airbrush effects? This set might be the way you do it!
You get four stencils here, each with a unique textured look. Freehand airbrush these on your armored vehicles to add subtle depth to your paint job.
Color modulate in style with these random pattern stencils.
Cracked surface, rusted, and scratched metal effects needed? Maybe these stencils can help you speed up your freehand work. Combine your airbrushed stencil worth with regular brush techniques and take your paint job a level.
---
The number of things you can do with the right stencil is overwhelming. That's why in my painting, I prefer to keep things simple.
Here are simple repeated patterns that I find useful for adding a unique flair to painted miniatures.
Use these stencils with your airbrush to create more depth to your flat surfaces.
Hexagon, piping, and diamond-shaped stencils of different sizes give you the opportunity to experiment on your models.
These are reusable stencils and completely solvent proof. Come back to them year after year.
---
Looking to paint flame effects on your miniatures? Want to add that extra oomph to your Imperial Knight or Titan figures?
Add the fire with flame stencils. These are mini sized flame templates for airbrushing flame effects.
Of course, there are many other stencil variations of fire that you can buy out there. These are merely a suggestion for your search.
Airbrush red, orange, yellow, and white for the classic flame look. Or, go different, and use tones of mystical green to add that magical fire.
---
Who knew that computer circuits would be a good look? I didn't.
I've seen some spectacular paint job with that computer-circuit look painted on them.
Use these circuit-board stencils to reproduce circuit patterns on your models.
With a few layering techniques, you could use these stencils to help you create object-source-lighting (OSL) electrical glowing effects.
Dynamic glowing circuit boards on your model machinations, anyone? Mechwarrior models or broken bits of exterior building material?
Maybe you just want to decorate your army transport hard case…
---
Animal pattern stencils…these are great for those WWII tanks, e.g., German Tiger tanks or other historical vehicles, and airplanes.
These are the classic animal patterns for your airbrushing needs.
The set includes wild animal patterns like zebra, giraffe or panther, reptilian (e.g., snake) and even fish scales.
Use normal paint colors, or go for more flair, and airbrush these stencils with fluorescent colors.
---
I've seen some amazing work done with these stencils.
Dynamic lightning effects (e.g., OSL) and planetary bodies festooned all over your models make for a unique tabletop presence.
Maybe you want to use your airbrush for more than painting models. You can use these stencils to paint murals and other artwork. Do you have a bullet journal or sketchbook? Maybe, you have a scrapbook.
Stencils like these are great tools for decorating your other hobby crafts.
---
I love, love, love these stencils. I've used these to great effect on a lot of my miniatures.
They are freehand special effect stencils that allow you to add texture to any surface. Faux marble and stonework is easy to create with these random patterns. In fact, check out a great tutorial on how to paint marble effects.
Use your airbrush to layer-in different patterns to add depth and interest to otherwise boring open surfaces on your model.
Change it up with different paint values and colors and experiment.
---
These are some of my favorite stencil designs for the kinds of model I like to paint.
Hex-pattern stencils are versatile across so many kinds of models. Infinity miniatures and Battletech models are great canvases for airbrush design work.
There's just something extra special about adding hex camo pattern to sci-fi tabletop minis. The design adds an extra "pop" and interest to large armor plates, and mechanical parts on all sorts of other-worldly, cool-looking machines.
This set comes with 3 sized hex-pattern stencils. They are perfect for large, medium, and small scale miniatures (e.g., vehicles vs. troops).
Check these out!
---
---
Tangible Day on YouTube (Miniatures and More!)