As an avid miniature painter, I've been looking for ways to get my kids into the hobby. But, painting miniatures can be difficult for young children. Young children still have developing fine motor skills, which take time to mature. To get my kids used to working with acrylic paints, I figured I'd try out a few paint sets for kids I found online. Suffice it to say, acrylic painting on canvas or paper is a fantastic way to expose children to the hobby. With supervision, acrylic paints are the ideal medium for children. It is easy to use, non-toxic, dries fast, and cleans up well.
In this article, I review a paint set for kids that I found on Amazon. This is one of the best paint sets for kids that I tried. Quick disclaimer: BASEIN generously provided this acrylic paint set for review. But, as always, I'm committed to giving you my honest opinion on every reviewed product. In general, this paint set is wonderful, but I noted a few limitations and things I think could have been improved. See my thoughts below.
Of course, I also gave the painting set to my kids (2-5 year olds). They painted and played with the acrylic colors, brushes, and other the accessories. They made a giant mess, but as you'll see below, they had a lot of fun painting!
---
Unboxing the Deluxe Acrylic Paint Set for Kids: The Travel Case
The Deluxe Acrylic Paint Set arrived to my home in a well-packaged box. My first impression of the kit was excellent. The entire set is self-contained in a soft case travel case with carry handle. The clear plastic lets you see what's inside the set, which could be useful. No need to dig around. Just flip the case around and find what you're looking for.
Given how much comes with this kid's paint kit, I appreciated the simplicity of the travel case. It's compact and versatile. You can use the case for storing and organizing other art supplies.
A zipper keeps the case closed, and when full, the kit doesn't take up much space. It fits inside a normal sized backpack or large tote. If you're looking for a kit you can bring with you on a road trip, I would consider this set very portable.
I also noted that the travel case is waterproof and durable. You can stuff the case with even more things that was it originally comes with. This could be useful, if you have other art supplies lying around and want to have it all in one place. This is a huge time saver when you're trying to clean up or want to keep your children's arts and craft stuff centralized.
I did not find any limitations with the travel case. For what it is, the case is almost perfect for its purpose. The paint set's case is a compact, durable, and travel-ready way to take your kid's painting supplies wherever they (and you) go.
---
What's Included in this Acrylic Paint Set?
This Deluxe Paint Set for Kids is stuffed to the brim with art goodies. Inside, I found a well organized and neat package of paints, brushes, and other supplies. Here's what included in the paint set:
24 acrylic paint colors (tubes)
6 small acrylic pots (core colors)
1 plastic palette
6 paint brushes (various shapes)
4 sponge brushes with handles
3 round sponges
6 nice quality canvas boards
1 collapsible wooden easel
1 waterproof smock (good size for kids)
Of these components, I found the paints, canvas boards, and the wooden easel to added the most value to the set. The brushes, sponges, and palette are fairly cheap quality and probably won't last long with regular use. Of course, you could purchase better replacement brushes online. The waterproof smock is a good size and would fit most boys or girls under 6 years old.
---
What Acrylic Paints are in the Set?
My standards for art supplies is pretty high. As a miniature painter, I expect a lot from my model hobby acrylic paints. But, given that this Deluxe Paint Set for Kids is meant for casual arts and craft painting for children, I was pleasantly surprised by the acrylic colors in the kit.
This kid's paint set comes with 24 colors, which way more than most children's paint sets that I've seen. The variety of colors here reflects the palette you may see in some professional paint collections. You have your standard blues, reds, and yellows. The kit also includes the standard black and white paints.
I enjoyed seeing the other fun shades, tints, and hues. Colors like "Rose" or "Burnt Umber" are often not included in paint sets for kids. So, this was a nice surprise. The color palette gives you or kids the potential for creating sprawling landscapes, beyond simple subject material.
The paint colors are bright and vibrant. You will probably need to assist opening the paint tubes (see why below), but once you do, the paint flows well and has a smooth texture.
Each of the 24 acrylic paint tube holds 12ml (or 0.4 oz), which is a decent amount. But, this is a notable limitation for this kit. Kids often squeeze too much paint out on their palettes. I expect quite a bit of wasted acrylic paint, because acrylic paints dry relatively fast.
I will say that these acrylic paints in this set did take a quite a while to dry. They stayed wet for almost 30-45 minutes. Although I appreciate the variety of colors, I think fewer colors with large tube volume would have been a better choice for a paint set for children.
Opening the Acrylic Paint Tubes: Use the Cap
The paint tubes in the paint set have sealed nozzles. You'll notice inside each cap a sharp tip.
To open each paint tube, unscrew the cap and turn it upside down. Press the sharpened tip to break the seal on the paint tube.
You may need to twist the cap while breaking the seal to make a large enough opening in the tube. A bonus effect is that you'll get a bit of fresh paint inside the top of the cap. This bit of paint is great for seeing what the color looks like inside the acrylic paint tube.
You may need to help children open each paint tube, as this process is fairly involved. Though, I will admit that it was fun cracking the seals on the paint tubes and seeing the rich colors leak out.
Once the paint is on a palette, they are thin enough that you don't need to dilute them. You can use the paints straight from the palette. Kids can. load their brush and paint right away!
Quick Tips for Dispensing the Acrylic Paint on the Palette
The screw caps on the paint tubes are easy to open and close for most kids over 2-3 years old with good fine motor skills. As mentioned above, you will want to help them dispense the right amount of paint on their palette.
Quick tip: A gently squeeze at the end of each tube will prevent any unwanted spurts of paint. Dab the open nozzle on your palette and you should be able to control how much paint comes out.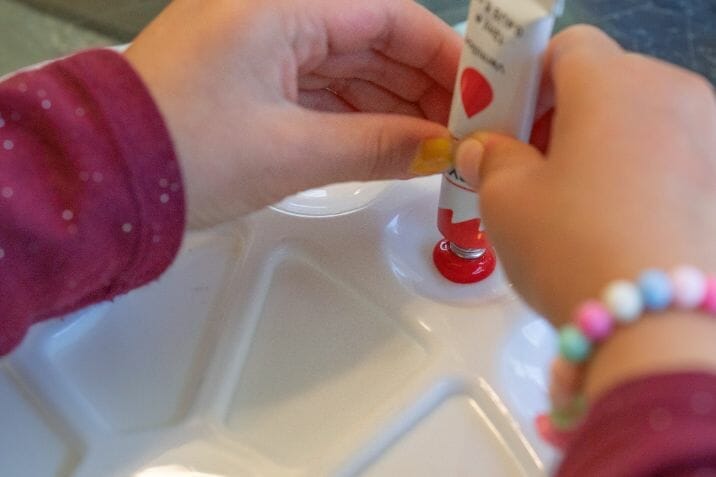 Of course, part of the fun for kids is pouring out the paint themselves. My daughter
Travel-Ready Paint Pots for Storing and Reusing Paint
The set comes with a plastic sprue of small paint pots with 6 core colors: red, yellow, blue, green, white, and black. I think this small pot collection is traveling with acrylic paints in a ready-to-use palette. In contrast to the paint tubes, these small pots allow you to store-away unused acrylic paint.
The limitation with the paint pots is that the caps are small. The flip caps will require two hands to open without tipping the paint pot over. You'll also want to make sure the caps are snapped shut when finished. Otherwise, the paint will dry up.
Another note for using these paint pots is that you'll want to make sure your kids rinse their brushes before switching colors. Of course, learning how to avoid color contamination is also a good lesson for kids.
You can refill and reuse the paint pots when they are empty or dried up. Simply add more paint from the acrylic paint tubes, or buy replacement acrylic paints from any arts & craft store or online.
I expect the paint kit will probably run out of colors with regular use. Here is a good acrylic replacement set if you want more affordable paint.
---
Acrylic Paint Quality: Are They Any Good?
There are many grades of acrylic paints. The quality of acrylic paints often depends on the quality and density of the colored pigments in the medium. If you consider that this is a paint set for kids, I'm happy to report that the non-toxic acrylic paints in this set are of a decent quality.
The texture is smooth, color rich (all of them), and don't require any thinning with water for good brush flow.
My kids had no trouble loading the paint brush with paint. When they painted on the canvas panels, the color maintained their richness and had decent coverage.
When painting with other really cheap acrylic paint sets, I've seen thick, uneven brush applications with areas that end up splotchy. Not so with this Deluxe Paint Set acrylics. All of the colors behave reliably.
On the canvas panel and the palette, the acrylic paints did take a while to dry (30-45 minutes). My guess is that the paint formulation contains some drying retarder. This is great because your kids can take their time painting. If they need to take a break for a snack, for example, then they could come back to painting without worrying about paint drying up too quickly.
If you need to clean up quickly and want to speed up paint drying on the canvas, you could use a hairdryer.
---
Cute Paint Brushes with Different Shapes and Colors
The paint set comes with 6 paint brushes. Each brush has a different color, which is cute and could help young kids distinguish each brush from another. For example, instead of looking for the flat or pointed round brush, a child could merely refer to the "red" or "purple" brush, respectively.
The novelty of using each brush will add to the fun. Using the bigger brush will be easier for really young kids to start with because they'll be able to paint more color at a time. It can a lot more effort to paint with really small brushes. Children will have to reload a small brush much more often.
In terms of brush quality, they are in the "good enough" range. For basic arts & craft painting, these brushes will do a good job. If you want better quality paint brushes, or replacements, you can find great brush sets online. Here's another affordable brush set I would recommend that would be great for kids.
RELATED: CHEAP SYNTHETIC BRUSHES FOR MINIATURE PAINTERS AND HOBBYISTS
---
Fun Sponge Brushes!
A unique addition to the paint set are the sponge brushes. These 4 sponge brushes are great for kids to paint different textures with wide strokes of paint color. I like that the handles are large, which is helpful for kids who haven't yet developed a good steady grip.
Up close, the sponge brushes look durable. Though, you may discover that they are a bit too stiff for the acrylic paints in the set. Thin acrylic paint tended to load poorly on these sponges (which aren't very absorbent). The sponges look and feel similar to kitchen scrubbing brushes. In this regard, this is good because they are likely easy to rinse off and clean. I would give these brushes to younger kids, e.g., toddlers.
My best tip here is to use the sponge brushes as "butter knives". Use them to spread out paint that is already on the canvas panel. Although, we didn't try using them with thinned acrylic paint or other types of paints, e.g., tempera paints, I'm sure they could produce interesting results there, too.
Note that it may take a large palette to properly load these brushes with paint. These brushes would also consume quite of bit of paint, too. So, be prepared to buy more paint when you run out.
---
What Do You Use the Round Sponges For?
The best paint sets for kids usually come with common household products that double painting implements. The 3 round sponges in the Deluxe Paint Set are a fun addition. The round sponge shape are perfect for kids to dab, scumble, and stencil with acrylic paints. They can cover large surfaces with paint, playing with texture and color mixing. The only limitation with sponges is their imagination!
Another good use for these sponges is to keep one of them damp with water in a bowl. Use the dampened sponge to help you rinse off brushes between paint colors. You could also use the sponges to help you clean up after a painting session.
---
The Canvas Painting Panels are Awesome
The Deluxe Paint Set for Kids comes with 6 canvas boards. They are similar to professional artist-grade canvas boards, and I love these are in the set. The canvas boards are the perfect size for kids, giving them ample space to explore the space with paint. They fit nicely on the wooden easel in the set, too (see more below).
If you're looking for more canvas panels to refill the paint set, I recommend this bulk set of 15 canvas panels. They are similar in size, affordable, and will fit into the travel case.
On the other hand, if you want something more disposable and lighter weight for less expense, you can get heavy weight paper for acrylic painting. These work well for kids because you can toss out any mess and conserve supplies by remove and use a single sheet at a time.
The Plastic Palette is a Letdown
The plastic palette that comes with the Deluxe Paint set seems like an afterthought. It is a flimsy piece of plastic molded to look like a "real" palette, and even has the thumb hole. I doubt most kids would use this as intended. Of course, given the price of the entire set, it is nice that it comes with something to dispense paint onto.
I will note that the included plastic palette is fairly hard to clean. Dried acrylic paint will accumulate heavily on this palette. You'll have to scrub hard to remove dried paint from the palette. This will eventually damage the plastic surface and make the whole thing ugly to use for a long time.
You can easily replace this set's plastic palette with disposable dinner plates or with sustainable easy-to-clean option, like a quality durable palette with lid.
---
Keep Your Clothes Clean with the Waterproof Smock
The smock is a thoughtful addition to this kid's painting set. The smock's size is pretty versatile. It works like a kitchen apron that a child wears around their neck. With their arms inserted into the sleeves, the smock will keep almost all of the mess off the front of their clothes.
The smock material is similar to the same fabric you find on umbrellas. A small pocket drip pocket on the front the apron can catch any dripping liquid or paint that gets on the front of the smock. The material seems durable and does block water from passing through (i.e., it is waterproof).
I don't think the smock is machine washable. But, as it seems durable, you could just run warm, soapy water over any soiled bits and get it fairly clean. The material is also thin so the smock will dry quickly if you hang it up for a few hours. Overall, I think the smock is a very useful addition to the set. It'll make clean up at the end of the painting session a lot easier!
---
The Collapsible Wooden Easel (Compact and Portable)
This Paint Set comes with a small wooden easel, which is a miniature version of a full-sized artist's easel. Not only does the set's easel look cool, but it works great too! The wooden easel opens easily and works well to hold the canvas panels upright for painting. The easel is also the perfect height for young kids when placed on a tabletop or desk.
For traveling, the easel is portable and folds down flat. This allows you to fit the easel inside the set's travel case. The light weight of the easel, however, will make it vulnerable to tipping over if knocked on too hard. But, if a child is painting on a canvas panel, the easel is stable.
As a self-contained paint set for kids, the easel is one of the best additions to the kit. The easel is useful, but also adds to the immersion of kids "being real artists".
---
How Fun is this Paint Set for Kids?
My kids loved playing with the paints. They created all sorts of paintings with the different brushes, sponges, and paints. Of course, they made a huge mess on our dinner table, but it was well worth the good time. If you look online at other reviews, you'll find similar observations.
"Definitely a good purchase. My almost 2 year old loves the set with a huge selection of different brushes…."
"I loved that it comes in its own bag so nothing gets lost. It has many parts so definitely worth the money!!"
"Very comprehensive."
---
Alternative Acrylic Paint Sets for Kids
Here are three similar acrylic paint sets for kids:
All of these paint sets for kids have similar quality art supplies. The cost for these also vary depending on what's included in the set. The Deluxe Paint Set is the most comprehensive package.
---
Final Verdict: Is the Deluxe Paint Set for Kids Worth it?
Is the Deluxe Paint Set for Kids the best kit you can buy for children? I think this is a great paint set for kids if you're looking for an all-in-one bundle. The Deluxe Paint Set has everything you may want to get children involved with acrylic painting.
There's something in the set for any child, whether they are meticulous or want to freely throw paint on canvas. For the cost (~$30 USD), this is an awesome kit for getting kids into arts & crafts and indulging in acrylic painting. I highly recommend this paint set!
If you have any questions or feedback, please let me know. I'd love to hear from you!
Happy painting!
---
Tangible Day on YouTube (Miniatures and More!)