As an artist and professional miniature painter with years of experience working across various artistic media, I have come to appreciate the value of truly knowing my materials. The profound impact this understanding can have on the outcome of my work cannot be overstated. One medium that has always stood out for its vibrant colors, versatility, ease of use, and quick-drying nature is acrylic paint. Whether I'm working on a large canvas or a minute Warhammer figurine, acrylic paint has consistently proven to be an excellent choice.
In this article, I'll dive into the world of acrylics, exploring what acrylic paint is for, how it's used, and what it's made of. Additionally, we'll also be discussing the best paint for acrylic miniature painting work, as well as the different types of acrylic paint you can choose from.
Key points
Understand Acrylic Paint: Familiarize yourself with acrylic paint's versatility and the range of techniques it supports, including impasto, glazing, and dry brushing. You'll find it useful for painting on various surfaces like canvas, paper, wood, and fabric.
Discover Its Applications: Learn how you can use acrylic paint for different artistic projects, from canvas artwork to miniature painting, due to its fast drying, vibrant colors, and adaptability.
Master Acrylic Painting Techniques: Master different painting techniques such as stippling, scumbling, and layering. Experiment with acrylic paint straight from the tube for a thick texture or diluted for a watercolor-like effect.
Choose the Right Paint: Select the best acrylic paint for your project. If you're a beginner, start with student-grade paints. For professional work, opt for artist-grade acrylics with higher pigment concentration.
Specialize in Miniature Painting: If you're interested in miniature painting, you should understand why acrylics are best for this. Learn specialized techniques like dry brushing and washing, and choose high-quality paints from brands like Citadel, Vallejo, and The Army Painter.
Introduction: Why Should You Care About Acrylic Paint?
I paint miniatures because that's my chosen medium. However, I learned in school to work with traditional media on "conventional" flat, 2D canvas, museum board, and paper.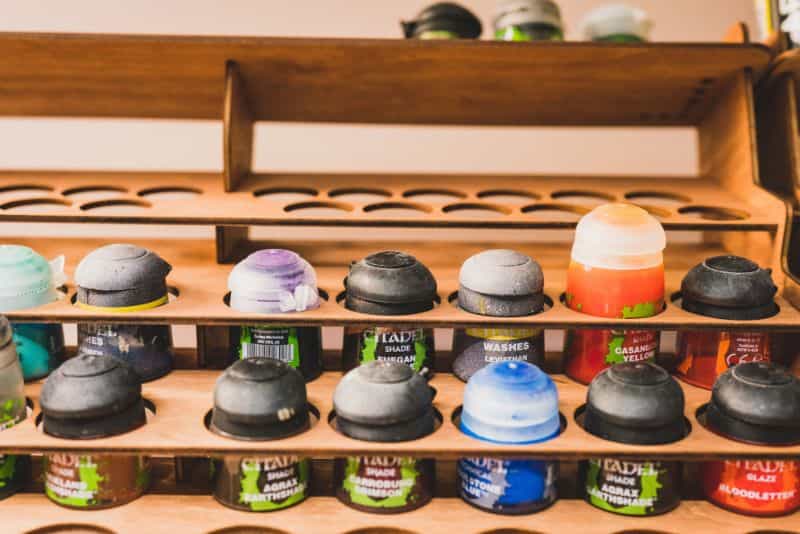 From this viewpoint, I'm confident in saying that acrylic paint is the most versatile medium for a wide range of creative applications. A product of modern technology, acrylic paint is a colorized polymer that hardens into a durable "plastic" film on almost any surface. Water-soluble, evaporation and exposure to air make acrylic paint easy to use, generally non-toxic, and affordable.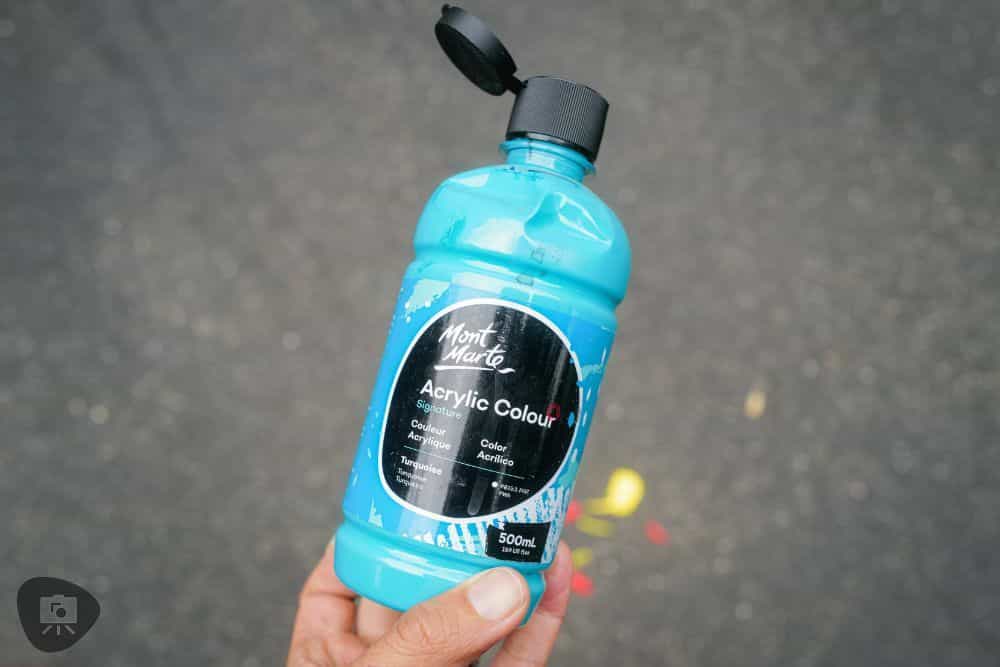 Acrylic paint can mimic the texture and finish of oil and watercolor paints (with some skill and, often with additives). I've used a variety of techniques such as impasto, glazing, and dry brushing to great effect with acrylic paints.
And, while the most popular use of acrylic continues to be on canvas, this type of paint works really well on paper, wood, and fabric. You can also use acrylics in mixed media art, combining different materials and techniques in one piece.
On miniatures, a good coat of surface primer provides the necessary "tooth" for proper acrylic paint adhesion. The fast-drying nature of acrylics makes them particularly suitable for miniature painting. Over the years, I've found acrylics to be an indispensable tool in my painting arsenal.
Why would would anyone care about the ins and outs of acrylic paint? What's the point of knowing about this kind of paint, anyway?
I'll tell you!
Acrylic paint has inspired generations to create art.
Understanding Acrylic Paint: THE ARTIST's Machinations
Known for its vibrancy, durability, and adaptability, acrylic paint is as suited to professional artists' canvases as it is to hobbyists' tabletop miniatures.
One of the key characteristics of acrylic paint is its fast-drying nature. This allows for rapid layering of colors and techniques without long waiting periods between coats, making it particularly popular for artists working on time-sensitive projects. Moreover, unlike oil-based paints, acrylics are water-soluble, making them easier to work with and clean up.
For the miniature painter, this makes acrylic paint the best kind of paint for your hobby work. While historically older, scale modelers who enjoy adding realistic effects to their figures, e.g., model trains, historic military vehicles, and dioramas, first used enamel paints which use volatile solvents and require special ventilation.
While enamel paints like those in this Testors paint set still have their place and have unique properties and advantages in the scale modeling realm, acrylic paints are a game-changer.
RELATED: BEST 10 PAINT SETS FOR MINIATURE PAINTING AND MODELING HOBBIES
As mentioned above, acrylic work well on almost any surface you can imagine. With proper preparation, acrylics will adhere well to plastic, metal, wood, canvas, paper, and fabric. There are, of course, different formulations of acrylics you'll need to explore depending on your specific project. But, in general, painters, illustrators, hobbyists, and crafters widely use acrylic paints for various types of artwork.
Taken together, whether you're working on a canvas, creating a decorative art piece, e.g., pottery, or painting a meticulously detailed scale model, acrylic paint serves as a dependable and vibrant medium that can cater to your artistic vision.
What Can You Use Acrylic Paints For?
The question 'What is acrylic paint for?' has a ton of answers, as is as varied as the artists who use it.
I had to do a ton of research to come up with a small sampling of ways you can use acrylic paint beyond painting miniatures and scale models. For those who 3D print terrain, vehicles, or even smaller miniatures, acrylic paint will also be your best option for making those sculpts come alive.
Here are 10 ways creators use acrylic paint:
1. Canvas Artwork
I was trained in school to paint with acrylics on canvas. The process isn't as straightforward as you may think, requiring a good base of primer, e.g., gesso, before painting. But, the fast drying time of acrylic paints allows you to get your composition set quickly. With rich colors, and easy opacity, you can make your visions come alive in no time.
With other advanced techniques, including the use of additives, you can also make acrylics appear with the translucent character of watercolor or oil paints. For an amazing example of what you can with acrylics in fine art, check out Tiffany Haste's work with (super) tiny landscape paintings.
2. Miniature Painting
The hobbyist community frequently uses acrylic paints for detailing miniatures, such as those used in Warhammer 40k, scale models, and other tabletop games.
Good quality hobby grade acrylic paints have high pigment density, excellent color coverage, thin-well with water, and retain fine texture detail when dry. Of course, acrylics are perfect for these tasks due to their ease of use, durability, and quick drying properties.
3. Murals and Wall Art
Because most acrylics are durable and resistant to light and weather, they are a popular choice for murals and wall art, both indoors and outdoors.
Given the amount of paint an artist may need to cover a large surface area, acrylics also have the advantage in that they are inexpensive to buy in bulk volumes.
4. Mixed Media Art
Artists can combine acrylics with other mediums and materials, such as pastels, charcoals, collaged elements, and more, to create complex mixed-media artworks. While I haven't done this myself, I know this is a great way to get kids into the artistic process of working with color.
5. Abstract Art
The texture and body of acrylic paint make it suitable for creating abstract art, whether through impasto techniques or fluid pouring methods. Let your mind flow with acrylic paint as it decides what to make for you.
6. Art Journaling and Scrapbooking
Acrylics are frequently used to add vibrant color and visual interest to art journals and scrapbooks. Because of how quickly the paint dries, I've used acrylic paints thinned down with water as a useful substitute for watercolor paints, using it as a wash or for that quick tonal-filter shift over a black pen drawing.
7. Crafts and DIY Projects
Painting with acrylics is probably where most of us started when we think of craft projects. Whether you're decorating everyday objects like flower pots, furniture, or clothing, acrylic paints have the attributes for versatility and durability that you're looking for.
8. Textile Art
As mentioned above, acrylic paints are popular for their use on fabrics. And, if you commit to this art form, you can use fabric-specific acrylics that retain flexibility (important if you plan to wear your art) and allow for laundering the clothing.
9. Glass and Ceramics Painting
While less popular for many reasons, including the challenge with adhesion, acrylic paints are often used to paint on glass and ceramics. I will recommend that you use a suitable varnish or sealant to ensure durability.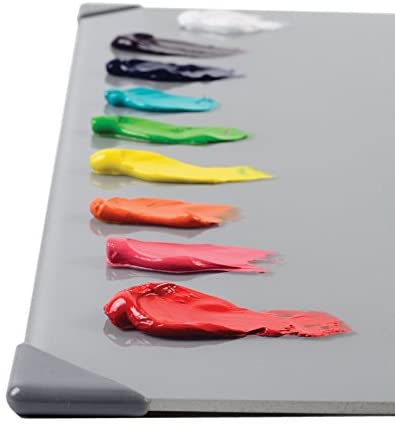 10. Airbrush Art
This is one of my favorite reasons why I recommend miniature painters use acrylic paints. When you think hobby acrylic paints with a bit of water, they become the perfect medium for airbrush spray applications.
Of course, beyond miniature painting and scale modeling, artists can airbrush thinned-down acrylic paint in a wide range of applications, from automotive and mural work to makeup artistry.
Advanced Techniques with Acrylic Paint
Acrylic paints are water-soluble, which opens their utility to a broad range of techniques for blending color on a huge variety of surface mediums. For example, if you're using an airbrush, you can use water as a thinning additive, or an airbrush thinner, to make almost any acrylic paint sprayable.
READ MORE: ADVANCED ACRYLIC PAINTING TECHNIQUES FOR MINIATURE PAINTING
While I won't cover every single technique available to artists using acrylic paints, I want to underscore the amazing versatility of the acrylic paint medium.
If you want to work with color in traditional art, crafting, or in scale modeling hobbies, acrylic paint stands apart from any other modern medium.
a brief list of acrylic painting techniques (Not-All-Inclusive):
Wet-on-Wet
In the technique commonly referred to as wet-in-wet, artists apply fresh (wet) paint onto a wet surface or over paint that is still damp, allowing for smooth blending and transitions. This allows the colors to blend and mix directly on the canvas, creating unique color transitions.
For miniature painters, you may find also find this technique referred to as "wet blending". Here's a tutorial about how to wet blend miniatures.
Glazing
In glazing, artists apply a thin, transparent layer of paint over another fully-dried layer, allowing the underlying color to show through. You can use a glazing technique to finely adjust color, tone, and hue, e.g., like a digital filter you would use over a photograph.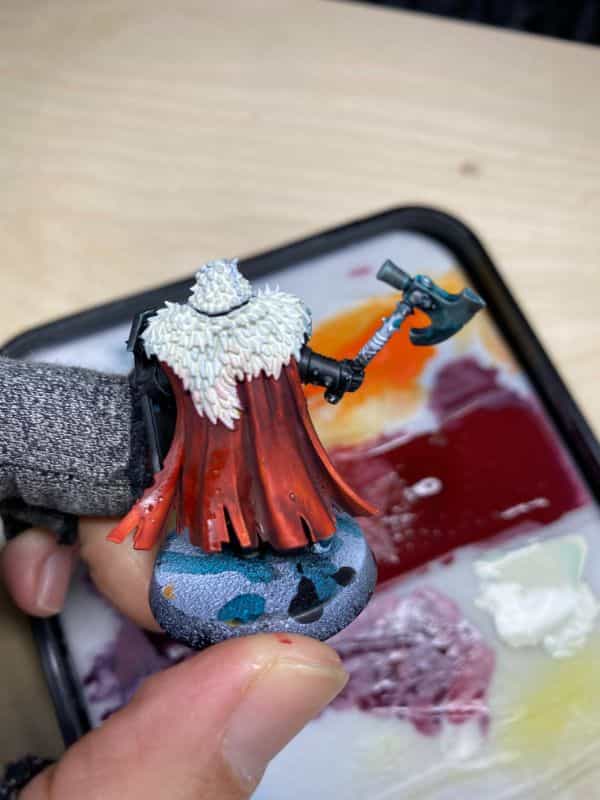 Combining glazing technique with layering, or graduation of color (see below) is a popular method that miniature painters use to create a smooth transition of color over a sculpted surface, e.g., the cloak of a Warhammer 40k model.
Gradients (or Gradation)
In this technique, artists blend two or more colors together to achieve a smooth transition from one color to another. They can do this while the paint is still wet on the canvas for a seamless effect. Indeed, there are several popular methods to create gradients of color using acrylic paints, including "layering", "loaded brush blending", and "wet blending".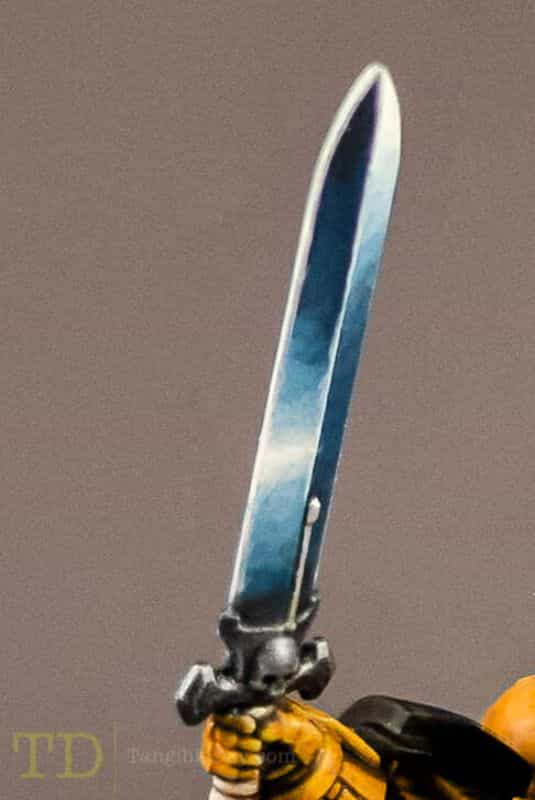 Color Blocking
This involves painting large areas of the canvas in distinct colors, creating a bold and vibrant effect. It can be used to lay down the general composition of a painting before adding details.
For those in the miniature painting world, we may refer to this approach as "base-coating" or "applying a basecoat" of color. This first base of paint sets the stage for the rest of the painting, with its nuanced layering and other finer techniques.
Impasto
Impasto is a technique that involves applying paint in thick layers, often with a palette knife, to create texture and depth in a painting. When used with colors, it can add a three-dimensional effect to your artwork. I've seen some amazing impasto work on miniatures, particularly on models' bases where thicker media help create contextual color and texture.
Tinting and Shading
Tinting is the process of adding white to a color to make it lighter while shading involves adding black or a darker color to make it darker.
This can be used to create different values of a color and add depth to your painting. For any artist or painter working with acrylic or other kinds of paints, learning how to adjust value through tints and shades and essential skill.
Dry Brushing
In the drybrush technique, artists use a paintbrush that is relatively dry yet still holds paint to achieve a textured look.
This technique offers a strong element of "textured" color, adding the to the illusion of depth to the artwork. Of course, the coarseness or fineness of your dry brushing depends heavily on the surface you're working on.
As you apply a drybrush of paint, pigments will adhere first to raised surfaces, highlighting or condensing colors in those elevated textures. In miniature painting, drybrushing is a powerful, yet simple technique for highlighting edges and blending color over open surfaces of a model.
Choosing the Best Acrylic Paint
The best paint for acrylic work depends entirely on your personal preference and the specific demands of your project.
For traditional artwork and beginners, I usually recommend student-grade acrylic paints. They are cost-effective and offer a decent pigment load for learning the basics. Brands like Liquitex BASICS and Winsor & Newton Galeria are popular choices.
As for professional work, artist-grade acrylics such as Golden Fluid Acrylics (which I love airbrushing with, but work great with a regular brush, too) or Liquitex Professional offer higher pigment concentration and a larger range of colors, enabling a richer and more nuanced painting experience.
I've also tested other paints like those from Paul Reubens acrylic paints, which are much thicker media and in my preference require a damp brush to achieve proper flow. It is kind of annoying that some paints come in tubes, though; if you're stuck with paint tubes, check out these alternative storage rack options.
Of course, as my current pastime is working with miniatures and scale models, I've dedicated and entire section to this topic. Keep reading below to learn more about the best kinds of acrylic paints for hobbyists and miniature painters.
The Making of Acrylic Paints
I did a ton of research to find out how acrylic paints are made. And, what I found made my jaw drop. A lot of science goes into the art of making acrylic paint (source). Indeed, as a modern innovation in the art world, manufacturers of acrylic paints all take different approaches depending on the needs of the user.
Here's a quick overview:
I. Formulating a Recipe:
The initial step in making acrylic paint involves formulating a recipe. This includes identifying the desired color, opacity, consistency, and drying time of the final product. The primary ingredients in most acrylic paint recipes are pigment, acrylic polymer emulsion, and additives such as fillers, stabilizers, and drying retardants.
II. Pigment Grinding
The pigment, which gives the paint its color, must be ground into a fine powder. This process is crucial because it determines the color strength and stability of the paint. The pigment is typically ground using a machine called a mill, which crushes the pigment particles into smaller sizes. The size of the pigment particles can affect the color and transparency of the paint.
III. Mixing Ingredients
Manufacturers mix the ground pigment with an acrylic polymer emulsion, which acts as the "binder" to hold the pigment particles together and enable the paint to adhere to surfaces. They blend the mixture thoroughly to ensure an even distribution of pigment particles throughout the binder.
IV. Adding Additives
After the pigment and binder are combined, additives are introduced to modify the paint's properties. These may include fillers to increase the volume of the paint, stabilizers to improve the paint's shelf life, and drying retardants to slow the paint's drying time. The type and quantity of additives used can significantly impact the paint's performance and working properties.
V. Quality Control
Once the paint is mixed, it undergoes quality control checks. This can include testing the paint's color, opacity, consistency, and drying time to ensure they meet the specifications outlined in the initial recipe.
VI. Packaging
After passing the quality control checks, the paint is packaged for distribution. This typically involves filling containers with the paint, sealing them, and labeling them with information about the paint's color, opacity, and other relevant details.
Each of these steps can be adjusted to create a wide range of acrylic paints with different properties. For example, by changing the type or amount of pigment, binder, or additives used, manufacturers can produce paints that are more transparent or opaque, have different drying times, or offer different levels of gloss or matte finish.
Acrylic Paint in the Realm of Miniature Painting
In the world of miniature painting, which includes hobbies like Warhammer 40k, scale modeling, and various other tabletop games, acrylic paints have carved out a significant place for themselves. Their range of colors, quick drying time, and ease of use make acrylic paint ingredients of them ideal for this detailed and intricate form of art.
WHAT MAKES ACRYLIC PAINT SPECIAL for PAINTING MINIATURES AND MODELS?
If you have any experience with painting minis, then you know how challenging (and fun) it can be.
In miniature painting, precision and control are key.
The quick-drying nature of acrylic paint allows for successive layers of color to be applied without waiting for long periods of drying time. This is a feature I have particularly appreciated during my commissioned work when time efficiency is often crucial.
RELATED: THE BENEFITS OF PAINTING MINIATURES WITH OIL PAINTS
Moreover, the water solubility of acrylic paints is a big plus. It allows easy cleanup and dilution, ensuring that brushes and tools can be quickly cleaned, and paints can be thinned down to create transparent layers or gradients.
Techniques and Best Practices in Miniature Painting
When painting miniatures, some specialized techniques come in handy. Dry brushing, for instance, involves taking a brush with a small amount of paint and lightly brushing it across the miniature to highlight the raised surfaces. This technique is useful in picking out details and adding a sense of depth and texture to the miniature.
Another popular technique is washing, which involves applying a diluted paint mix that flows into the crevices and recesses of the model, accentuating the details and creating shadows.
A crucial first step I always recommend is to start by priming your miniatures. This provides a uniform base layer that the acrylic paint can adhere to, enhancing the vibrancy and durability of your work.
HOW TO CHOOSE the BEST Acrylic Paint for Miniature PAINTING
For miniatures, you want to use acrylic paints that have a good pigment load and a smooth consistency. Many companies produce acrylic paints specifically designed for miniature painting, such as Citadel (from Games Workshop, the makers of Warhammer), Vallejo, and The Army Painter. These paints come in a wide range of colors, including many specifically tailored for the common color schemes of popular miniature games.
In terms of the best beginner acrylic paint for miniatures, sets from Vallejo or The Army Painter are great starting points. They often include their own acrylic paints in a wide range of colors, allowing for plenty of variety as you learn the ropes of this precise and rewarding hobby.
Popular Acrylic Paint Brands for Painting Miniatures and Models
There is a wide range of professional-grade acrylics and hobby paint brands you may want to consider (and popular among miniature painters in the community). Indeed, I've relied on using these paints professionally over the years.
Read on to find out my favorites and what I think about each of these paint brands with their best strengths and limitations. Note: I don't cover each in detail here, but stick around as I review each of these in other articles.
Citadel paints are popular in the Warhammer and tabletop gaming communities. They offer a comprehensive range of colors and paint types, including base paints for solid color application, layer paints for building up tones, shades for washes, dry paints for dry brushing, and technical paints for special effects. They're well-loved for their rich pigmentation and consistency.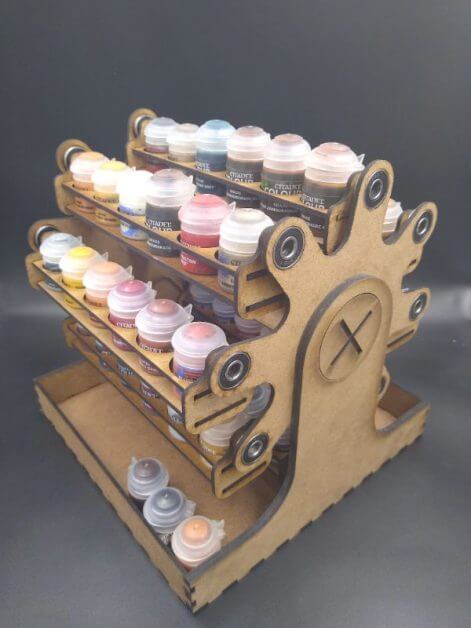 Vallejo paints are renowned for their quality and range. The Model Color line is highly recommended for historical miniatures due to their accurately represented military colors, while the Game Color line is vibrant and geared towards fantasy figures. Vallejo's paints are water-based acrylics and are favored for their smooth application and durability.
This brand offers a wide range of colors in dropper bottles, which many painters prefer for better paint control and longevity. Their Warpaints line is formulated for miniature painting, with excellent coverage and consistency. The Quickshade inks are also popular for easy shading and depth creation.
Reaper's Master Series Paints are artist-grade acrylics designed for miniatures. They are known for their smooth application, excellent blending properties, and broad range of colors. The Triad system, where related colors (base, shadow, highlight) are grouped together, is quite useful for beginners and those looking to improve their shading and highlighting skills.
A brand that's become increasingly popular among more experienced miniature painters, Scale75's Scalecolor range is noted for its matte finish and heavy pigmentation. These paints may require more mixing and thinning compared to others, but they can offer unrivaled results in the hands of a skilled painter.
Originally designed for use with the Warmachine and Hordes miniatures games, P3 paints are praised for their vibrant colors and smooth coverage. They're excellent for blending techniques, and the metallic paints are particularly well-regarded.
Pro Acryl paints have been making waves in the miniature painting community for their high pigmentation and exceptionally smooth finish. They are designed to be thinned down and still retain their vibrant colors, making them an excellent choice for both layering and glazing techniques.
Their range of transparent paints is unique and allows for innovative ways to shade and tint your miniatures. Pro Acryl paints are also noted for their large, user-friendly pots and an exceptionally clear and bright range of colors, which can be a valuable addition to any painter's palette.
Green Stuff World provides a variety of hobby tools and supplies, including a range of acrylic paints. Their range includes specialty paints like their Colorshift, which changes color based on the viewing angle, and their Fluor paints, which are neon colors that can even glow under UV light.
They also offer metallics, washes, and inks. These paints are best used for adding special effects and unique finishes to your miniatures, bringing a distinctive, eye-catching element to your painting.
---
TOP ACRYLIC PAINT picks for MIniatures and mOdels
Conclusion
I've realized over the years that failure, making BIG mistakes, has been the best mentor in my hobby and artwork. When it comes to writing guides and tutorials, I'm always tweaking things to improve the way I communicate what I discover that has helped me.
I hope this overview article was helpful, even if you skimmed along. There are literally millions of resources out there, spanning centuries (if you think about it), that has led to our modern understanding, manufacture, and application of art media. If you take away even a single tip or nugget of information after reading this, I will have considered that a success.
Truly, whether you're painting a grand canvas or a miniature figurine, acrylic paint has the versatility and adaptability to bring your artistic vision to life. From the broad strokes of a landscape to the tiny details on a Warhammer 40k Space Marine, acrylic paint covers it all.
Until next time, happy painting (miniatures and more)!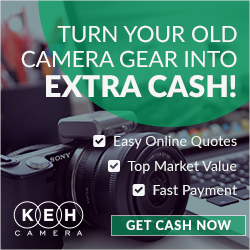 Tangible Day on YouTube (Miniatures and More!)