Miniature painting requires patience of mind and body. More than this, you need a clean brush when you start painting, while you're painting (to change colors), and when you're done with the session. After all the basecoating, drybrushing, and washes you have to do to get that perfect look, the hurdle of keeping your brush damp when you're painting, and clean when you're done can be a real pain. That's where the Green Stuff World Brush Rinser comes in!
In this guest written article, my friend and fellow miniature painter, Alexander Foust of MARLevel Painting, received the Green Stuff World Brush Rinser as a gift from his wife. Suffice it to say, I've been eyeing this unique hobby gadget for a long time, as I've previously reviewed a bunch of art paint water cups.
Key Points
The Brush Rinser provides clean water for brush cleaning, saves space, and is affordable, making it a valuable tool for miniature painters.
Some drawbacks include being slightly larger than a regular cup and requiring careful refilling when wastewater is present in the base.
Overall, the Green Stuff World Brush Rinser is recommended for its convenience and cost effectiveness.
---
Who is Green Stuff World?
Before Alex takes over this article below, I wanted to throw out a quick word about Green Stuff World, the hobby brand and company.
From my read of the internet, and that market eye for new things that keep arising in the hobby space, I've seen Green Stuff World rise from humble beginnings.
If I recall from watching the market, I noted that Green Stuff World started with their "Green Stuff" epoxy product that many of us miniature hobbyists, tabletop wargamers, and scale modelers are familiar with.
The "green stuff" as per the company's namesake is the result of combining two components–yellow and blue putty–to create a powerful epoxy. And that green stuff putty has renown utility in our hobbies. It's strong, malleable, and works in so many applications, e.g., attaching magnets, sculpting, filling gaps, and more.
Today, Green Stuff World is a global-reaching company based in Spain that has expanded its specialization in creating and selling products designed for miniature painting, scale modeling, and other related hobbies. Beyond their "green putty", their offerings include a wide range of items, such as paints, brushes, basing materials, sculpting tools, and innovative gadgets like the Brush Rinser.
In short, Green Stuff World is a company worth watching and whose products are worth evaluating.
Now Alex will take it away as he reviews the Green Stuff World Brush Rinser.
---
Painting Miniatures and Marital Bliss: My Wife's Support and the Game-Changing Brush Rinser
My wife is awesome! She completely supports my hobby of miniature painting, and table top gaming, whether its D&D or Warhammer.
She listens to me when I talk about colors and contrast, and she really listens, not just the "UH HUH" "Oh that's great honey".
In her quest to find the perfect item for my hobby, she scoured the internet until she encountered Green Stuff World's Brush Rinser.
Did I need the brush rinser?
No. Did I want it? Absolutely.
So, let's get into the details and see what makes this such an essential tool for miniature painters.
---
What is a Brush Rinser?
Here is what my favorite AI writer of the moment, ChatGPT, says about the definition of a brush rinser:
Well, I'm not 100% sure how the AI knew I was talking about the Green Stuff World Brush Rinser, but that sounds pretty close! Because I certainly want to give you my personal experience of using the rinser while working on miniatures, I'll continue by adding that the brush rinser is way more than the above.
It's an innovative gift to our hobby-kind, the artist and nerd who loves using gadgets that add value to our experience. Does the brush rinser from Green Stuff World do that? Do I think it makes the hobby of painting minis better?
Let's get two points out of the way of what makes the Brush Rinser useful:
1. Removes dirty rinse water
The obvious function of a brush rinser is to collect dirty water and rinse the bristles of your paint brush. The Green Stuff World Brush Rinser does both without any issues or spillage, in fact it looks great on my desk too!
2. Provides clean fresh water conveniently
The other function of a brush rinser is that it provides a handy source of clean water when painting. The Green Stuff World Brush Rinser has a small water cup or container, like a mini toilet bowl, that fills with clean water after you've flushed away dirty paint water.
Bottomline: I love my Green Stuff Brush Rinser and recommend it to anyone who works with acrylic hobby paints. While it takes up more space, requires some maintenance, the Green Stuff World Brush Rinser works as intended.
---
Specifications for the Green Stuff World Brush Rinser
In general, from my measurements the standard reservoir holds "two glasses" of water, as described on the website. I measured it out and it holds 500mL (16.9 oz).
The base, where the dirty water goes, holds 250mL (8.45) OZ of water. The website touts that this tool will help decrease the amount of space a painter uses for rinsing and cleaning their equipment.
At 185mmL 80mmW and 155mmH (7.2"x3.1"x 6.1") it is a compact device.
Green Stuff World also offers a 500ML (16.9oz) bottle which I don't own currently. It is recommended that you remove the water from the washing area and the base every day, to prevent staining or the dirty water creeping into your clean water by osmosis.
Some assembly is required, but it only take one Phillips screw to hold the plunger in the wash bin to prevent the water from leaking. It took about 2 min to put the whole thing together.
Here are the key features summarized:
Compact dimensions: 185mmL x 80mmW x 155mmH (7.2"x3.1"x 6.1"), making it an efficient use of space in your painting area.
Standard reservoir holds 500mL (16.9 oz) of water, with the base accommodating 250mL (8.45 oz) of dirty water.
An optional 500mL (16.9 oz) bottle is available for extra water storage (not yet owned by me).
It is advised to remove water from the washing area and base daily to avoid staining and water contamination.
Assembly is simple, requiring only one Phillips screw and taking approximately 2 minutes to complete.
---
Is the Brush Rinser Worth It?
I've had quite a bit of hands on experience with the brush rinser. As a fan of painting Games Workshop models, working with hobby acrylic paints, I really need to have clean brushes at all time.
I know that brush painting with acrylic paints, metallic acrylic paints, watercolors, or even traditional art mediums like flow aid, require clean brushes to prevent cross-contamination of colors and also for longevity.
The fact that accidental spills and the need for multiple rinse containers are no longer a problem when you have this brush rinser on your desk is kind of amazing.
The rinser works by automatically refilling the clean water cup while simultaneously flushing away the dirty water. The system is fun to watch and it works really well. And so, admittedly, the hardest part about my use o the Green Stuff World Brush Rinser is trying to avoid the temptation to press the flusher too often (as the base reservoir and clean water bottle has limited capacity).
What about maintenance?
Yes, it is an inconvenience that you'll need to refill the bottle AND wash out the paint cup to maintain the brush rinser. While the brush rinser drain and clean water fill system works, there are some drawbacks.
In part, I know some of you may not mind using a regular paint water cup and a few extra trips to the sink. Also, you won't be able to stir or scrub your brush bristles as easily in the wash bowl with the brush rinser as easily as you would a normal cup. This may slow you down, or lead to a different workflow than you're used to.
The brush rinser also takes up more desk space than a regular paint cup. If you're short on workspace, this could become a problem. Finally, because the waste water in the base may not be the same amount as in the clean water reservoir bottle, you should change both at the same time to avoid overflow. There's a bit of strategy here that you may want to think about.
Are these limitations a problem for me?
Nope! The Green Stuff World Brush Rinser is great for me. I've been using it for a long time now, and it's definitely made my painting more efficient (and interesting). Whether you need a brush rinser or still prefer the old-fashioned way of water cups, at least take a look at this one before deciding.
Green Stuff World Brush Rinser
Pros
Provides clean water on demand without having to get up
Collects dirty paint water with a single button
Simple design
Durable construction
Looks great on any hobby table
Affordable price
Cons
Occupies slightly more space compared to a regular cup
Refilling the reservoir can be challenging when wastewater is present in the base
Standard reservoir might not hold enough water for some users
Brush cleaning method differs from traditional cups
If you're unsure about whether the Brush Rinser is for you, I'll also note that I have used this All-in-One Paint Brush Rinser Cup. It's a good alternative with other useful features you may like.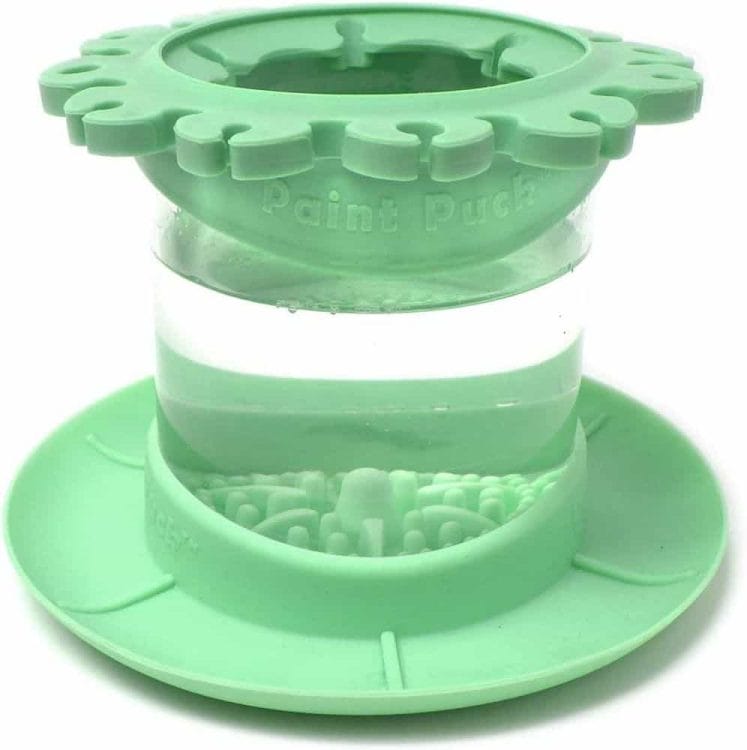 It has brush holders on the side, a drip pan, and a bristle scrubber on the bottom inside the water cup. It's not cheap but it works, too and is less complicated to operate than compared with the Green Stuff World Brush Rinser.
---
Final Impression and Thoughts
The Green Stuff World Brush Rinser is pretty cool! I do not like using dirty water to clean my brushes throughout a longer painting session. Nobody does!
Not to mention if my cleaning up water is dirty, I need to bring other water to thin my paints or refresh my wet palette. Cross contamination is a thing. Trust me, I work in healthcare; though paint and germs aren't the same… but yeah.
This Brush Rinser relieves this issue. While it is larger than my Paint Puck cup it doesn't take up that much more space than I have available. You'll have to decide if you can spare that tablespace for what is essentially a water rinse cup.
Is it affordable?
The cost is affordable for the Brush Rinser. But it isn't cheap either. Also be aware of knockoffs from the original Green Stuff World brand. They may or may not operate the same or with good reliability. But overall, the Brush Rinser is not too expensive when compared against other useful hobby things I enjoy using, e.g., airbrushes and such.
Sure. The price for the brush rinser is way more than just a random coffee cup you have in your house, but I think its well worth this cost.
There's a bit of a learning curve with maintaining the brush rinser. For example, I'm not a fan of trying to refill the reservoir when I have wastewater already in the base. The reservoir uses gravity to feed water in the wash basin so there is no stopping a leak when you turn the system upside down. When the base is empty that's not an issue.
You can't shake or tap your brush in the water like a normal cup or you'll end up with water everywhere, this took me a min to get used to but eventually it felt more natural to just wash the brush against the side of the wash basin instead of how so many of us usually wash our brushes out in our cups.
Overall, I recommend the Green Stuff World Brush Rinser, especially for its cost to value, I think it's well worth it.
---
Conclusion: My Take on Alex's Review
After reading Alex's review of the Green Stuff World Brush Rinser, I'm tempted. As someone who's constantly looking for ways to improve my hobby mini painting experience, having a tool that provides clean water on demand and collects dirty rinse water is definitely appealing.
RELATED: BEST HOBBY AND ART WATER CUPS FOR RINSING OFF BRUSHES
While Alex did mention a few drawbacks, such as the Brush Rinser taking up slightly more space than a traditional cup and requiring a bit of a learning curve when it comes to refilling and brush cleaning, I think the benefits might outweigh the cons. I'm not sold completely on the cost to benefit, but I would certainly look into getting the extended reservoir to make refilling more convenient.
If you're also in search of a way to optimize your painting process and add a touch of convenience to your workspace, this unique hobby gadget might be just the thing for you.
Remember, our hobbies are supposed to be fun and enjoyable. If a tool like the Brush Rinser can make our painting sessions even more enjoyable, why not give it a shot?
I hope you enjoyed this review and found it helpful. Let us know what you think below with a comment!
Until next time, happy miniature painting!
About the Author
Alexander Foust is a loving husband, father of twins, and committed Emergency Room Nurse. Balancing his personal and professional life, he finds strength in his faith and enjoys fitness, miniature painting, and tabletop gaming. You can reach Alex who is open to miniature painting commissions via email ([email protected]) and his MARLevel Painting Facebook page.
Tangible Day on YouTube (Miniatures and More!)