Have you ever wondered how traditional art could translate to miniature painting 3D sculpts, e.g., tabletop figurines, wargaming miniatures? Traditional artists who paint at miniature scale are also known as "miniaturists", and may often be confused with those of us who paint miniatures, which are 3D models.
In this article, Tiffany Hastie writes about her thoughts and insights as a professional miniature artist. She has been a traditional painter in miniature for many years, but recently decided to explore the 3D miniature painting world.
Introduction
When I reached out to Tiffany (see her incredible website with photos, blog, classes and workshops, and much more), I asked her to share her process and insights into her tiny, photo-realistic paintings and how she started delving into 3D tabletop miniatures (i.e., some of them are from popular board games and TTRPGs).
In her post, Tiffany shares the tips and tricks she learnt along the way, as well as her thoughts on why a traditional miniature painting artist might want to explore 3D sculpts (or vice versa).
She also provides a step-by-step outline about how to paint in miniature. Maybe you'll be inspired by her work; I know I have!
And, without further ado, here is Tiffany's experience and exploration into the 3D miniature world.
---
Tiffany Hastie: World Building Art
My name is Tiffany and I've been painting miniature landscapes for over 20 years. I live on Vancouver Island off the west coast of Canada, a beautiful landscape that inspires much of my work.
I've been making art in one form or another since I was big enough to hold a crayon. My artist parents set a precedent for creative expression, and the message of my childhood was that art was necessary and worth pursuing.
So I made a lot of art, especially in my teens, which helped communicate things I couldn't otherwise express, and discovered the value of internal world building when my outer world didn't always make sense.
I've held on to that love of World building and it's one of the things I enjoy most about painting miniature landscapes.
With paint and brush, I try to create tiny portals into other realms where anything feels possible. That's the magic of art, that it can transcend time and place, and for me, adding a miniature format takes the adventure to a new level.
…love of World building

Tiffany Hastie (Miniaturist)
---
How Did I Get Into Miniature Painting?
In the early 2000's I was at a chapter meeting of the Federation of Canadian Artists to discuss an upcoming exhibition and heard someone describing miniature paintings and how we could add them to our show. The concept was intriguing, and my mind instantly conjured up what to paint and how to do it.
I wasn't familiar with miniature paintings then, or even aware of the genre and history, but something fascinated me about trying to paint a very large landscape into a tiny space and the unusual tension it created.
I was already working in realism so the idea of scaling my work down to the size of a business card, while retaining the details, was too good a challenge to pass up. I painted four miniature landscapes for that show and kept going for the next twenty years.
---
HOW LONG DOES IT TAKE TO PAINT A MINI?
My first miniature took well over thirty hours to paint as I was on a pretty steep learning curve. Several hundred miniatures later, I take about fifteen to twenty hours to create a 2 x 4-inch painting.
Even smaller paintings measuring 1 x 1.5 inches or less can still take six or more hours to finish, depending on the subject. Tricky bits, such as painting facial expressions or body postures on a person 1cm small, can take a surprisingly large amount of time.
---
Where Do I Paint?
Over the years I've worked from the kitchen table to home studios to store fronts.
I've painted for fundraisers, auctions, in auditoriums and even plein air on a rickety old dock which proved to be technically challenging as the wind kept drying the paint on my brush before I could apply it. A very kind group of onlookers formed a wall to block the wind which helped tremendously!
Most of my work is now done in a studio and I paint minis on a portable writing desk set atop a flat drafting table. I work under the bright light of a swing arm desk lamp and sit on a drafting chair with my feet on a stool.
RELATED: THE IDEAL MINIATURE PAINTING ROOM (DESIGN PHILOSOPHY AND IDEAS)
It's a pretty good set up until I bend forward and lean down, with my eyes about ten inches from the painting, and get stuck that way for long periods. A lot of how I paint involves keeping very still which isn't great for the body, so I try to straighten up and adjust my eyes fairly often.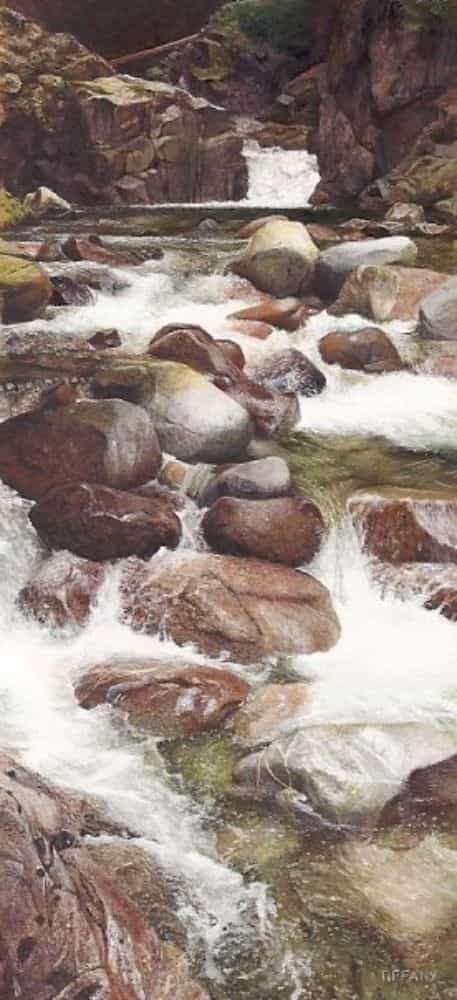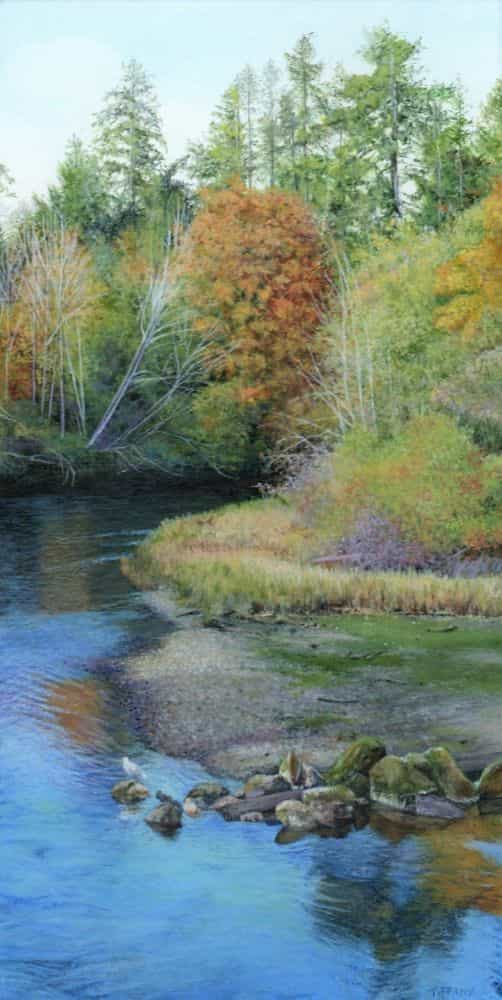 There are other workstations in my studio where I experiment with mediums on a large scale, just to change things up creatively and keep learning.
Next to my art supplies, an indispensable tool is my portable speaker because audio books, podcasts and music are constant companions while I work.
---
How do I Paint a miniature landscape?
My miniature painting process generally works like this:
Start with a piece of very smooth paper artboard with a plate finish (Canson artboard works well). In miniature painting, it's critical to use an ultra smooth surface to keep the finished painting clear and defined.
Use good quality acrylic paint (I use tubes of Golden and Liquitex), globbed out on a small wet palette (Masterson's Sta-Wet).
Have a rinse basin of clean water and a lint free rag beside it to blot excess water on.
Gently tape a small piece of art board in place and lightly wash on a thin coat of white paint to seal and prime the surface, avoid any ridges of paint, and keep very smooth.
Once dry, lightly draw on pencil lines with a ruler to form the margins of the painting.
Keep two pieces of white card stock handy (each 4 x 6 inches) and cut out matching windows the same size as the mini painting. I lay one card over a photograph I've taken to find my subject and will lay the second card over my painting to check my colors and work as I progress.
On the art board, lightly draw the basic outlines of the image in pencil.
Using larger brushes (¼ filbert, a ¼ deerfoot stippler and a size 1 pointed round brush), to block in the basic colors and shapes of the painting, working from the top down, or from the background to the foreground.
Then fifteen or more hours of slowly developing the landscape with different techniques and many thin layers of paint and brush strokes to build up depth and detail (Winsor & Newton Series 7 Miniature brushes with short hairs are ideal).
The last thing I paint are the people and animals, if any will be in the scene, and then give everything a final tweaking with a 000 round Kolinsky sable brush.
At this point, before varnishing, I will scan the painting at a high resolution to keep a record of it and sometimes I'll add a quarter to show the scale on the scan as well.
To finish the piece I'll give it a light, even spray of Varnish to protect the image and bring out the colours, especially the darker ones, and let it dry completely.
Note: Sometimes I'll use an antique frame without glass and will paint on a piece of hardboard instead of paper artboard.
In this case, I use several layers of white paint (finely sanded between layers), to build up a solid primed base for painting. An extra coat of varnish is useful too as there won't be glass protecting the image once framed.
---
What are some Miniature Painting techniques?
With miniature paintings, the more you look – the more you see.
One of the inherent qualities of a miniature painting is that it doesn't reveal itself all at once. The full view appears as the eye moves around the painting and hopefully draws the viewer inward, as though entering into the scene.
There are some great ways to do this and here are just a few of the techniques:
Layering
Alternate tiny brush strokes with thin washes of paint and repeat as often as needed to build up the appearance of depth (distance), and dimension (texture), while keeping the surface of the artboard as smooth as possible.
Hatching
Using a tiny round brush, apply many thin strokes in one direction (such as when painting water and the strokes are mainly horizontal). The brushstrokes can be applied over each other many times to slowly build up the appearance of density to an area.
Cross Hatching
Like hatching, this technique also creates the appearance of density but more robustly. Apply the paint strokes in slightly different directions, allowing for some criss-cross effect. This is great for deepening shadow areas and increasing the appearance of texture.
Washing
Dilute the acrylic with enough water to wash on a very thing layer of paint that will settle onto the surface and harmonize the various colors and values beneath it. This technique works really well over layers of hatching and pointillism, where the under layers show through.
RELATED: MUST-KNOW COLOR BLENDING TECHNIQUES FOR 3D MINIATURE AND MODEL PAINTING
Pointillism
Using the pointed tip of a tiny round brush to dot paint onto the surface and create the illusion of many tiny parts, as in forming individual leaves on trees and shrubs, or flowers in a garden, or individual stones on a beach.
Stippling
I like to use a deerfoot stipple brush for this technique as the angled brush allows for a more controlled application of paint to specific areas. Keeping the brush mainly dry, let the hairs pick up a tiny bit of paint and lightly dab the bulk off on a rag before applying to the miniature.
Holding the brush perpendicular, rapidly pounce it over the surface, lightly and quickly, releasing many dots of paint at one time, to fill an area. This works great for the underpainting of forest scenes, rocky shorelines, riverbeds, and stone architecture.
---
10 Tips and insights for PaintinG In Miniature
Good quality materials can make all the difference in how well executed a piece can be. Synthetic brushes can work but the perfect tip of a Kolinsky sable is hard to beat for the finest details.
Beware fuzzy sweaters, dust and hair when painting because a stray piece of lint is tough to remove once it's trapped under multiple layers of paint, obscuring something in the scene. When you're dealing in millimeters, this happens very easily.
Breathe through the hardest details. It's tempting to hold it in, but I've found it's sometimes easier to exhale slowly while executing the most precise brush stroke.
Let the layers dry completely between intense applications of paint. It's super easy to accidentally lift paint off the artboard before it's set and create a dreaded hole of bare surface. If this happens, just let everything dry completely and take a break. Come back to it and reapply paint to the bare spot slowly and carefully until it blends back into the scene.
A magnifying glass can help if you're comfortable painting under one and, even if you don't use one, should be used to check your finished work to see what others will see. This is very important if you are submitting a piece to a juried show where the judges will view it under magnification.
Presentation is everything with miniature paintings and different societies have specific requirements for size limits and framing materials so be sure to check what they are before submitting a piece.
There are a lot of mediums to work with in the world of miniature painting including watercolor, acrylic, oils, graphite, pastels, collage, and sculpture, and just as many surfaces. What they all have in common is quality of material, excellent craftsmanship and clear presentation.
Painting in miniature is mainly about miniaturizing a subject and therefore scale has a lot to do with choosing the subject. It's a lot easier to do a painting of a car in miniature than it is a ladybug.
For landscape, I keep a camera with a wide-angle lens handy and boots in my truck because I often end up wading through water and ditches to get the perfect shot, which will become my reference material (here are more photography tips and tutorials).
Miniature art societies are a great place to connect with other 2D miniature painters to learn more about the history and to show your work, and local painting groups and art galleries are often interested in showcasing miniature paintings as well.
---
WHY MINIATURE PAINTINGS?
For one thing, they are great conversation starters. Miniature paintings can be surprising, a little odd and strangely charming. They also present an excellent creative and technical challenge for those inclined to give it a try.
Rendering a scene in miniature captures something other worldly that is hard to describe but easy to understand when you see them in person.
There is a fascinating history associated with painting in miniature dating back over a thousand years and throughout the world, serving different purposes at different times. And the expansion of miniature painting continues as artists explore new materials and creative expression while still respecting the tradition and nature of miniature work.
For me, it's a compelling art form that speaks to people in wonderful ways, and it's been a pleasure participating in the ongoing conversation.
---
Thoughts on Cross-Over!
In preparation for this article, and out of sheer curiosity, I attempted to paint my very first 3D miniature from the Talisman Game. It was a great learning experience and a lot of fun to do.
I used my regular painting materials and, with a character card for reference, just kind of went for it. I found it similar to 2D painting but with a few unique challenges and lessons I'll definitely carry forward in painting 3D miniatures again.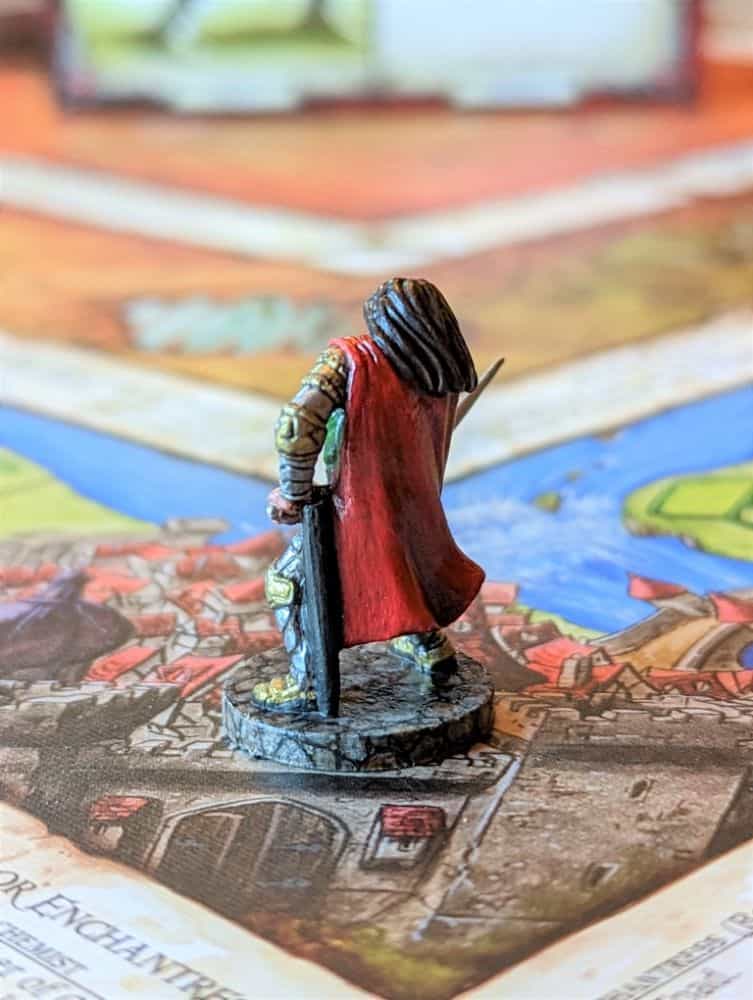 It's been truly inspiring to learn about the techniques and materials available for this type of miniature work and where the cross-over happens with my own style.
The best part of this experience though, without a doubt, is the opportunity to begin a new adventure!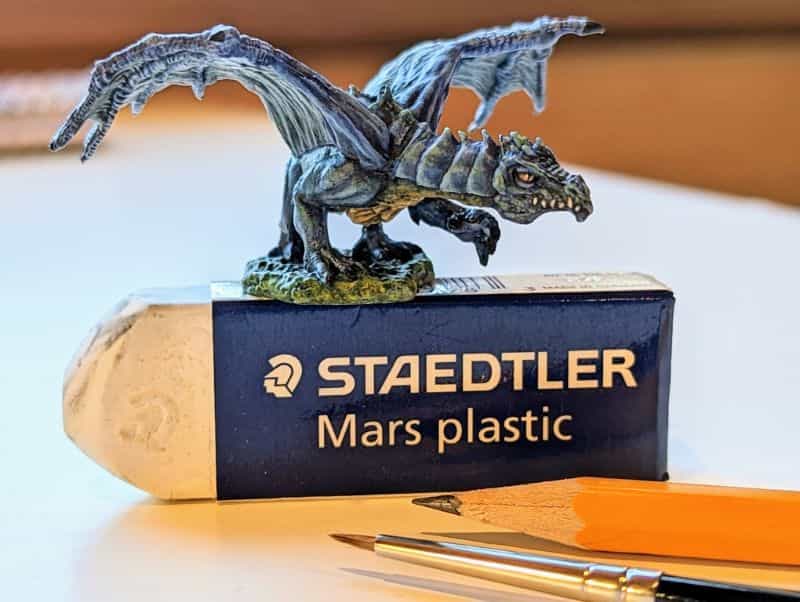 ---
Conclusion
It's always interesting to see how different artists approach the miniature painting world, especially when they come from a traditional art background.
Tiffany Hastie is a great example of an artist who has begun to explore ways to expand from traditional miniature paintings to 3D sculpts. In her post, she provides helpful tips and insights that any artist can use, regardless of their experience level.
For more details of her journey into World building in miniature, check out Tiffany's site. Thanks for sharing your journey with us, Tiffany!
As always, if you guys have any questions or feedback, we'd love to hear from you! Leave a comment below.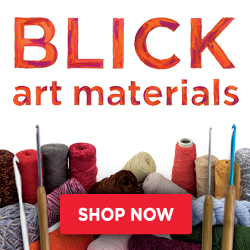 Tangible Day on YouTube (Miniatures and More!)