Is miniature painting difficult? This is a question that has been asked by many people, and the answer is not always straightforward. There are certainly some skills that are required in order to be a successful miniature painter, but with practice and patience, anyone can learn them.
In this article, I will take a look at some of the factors that can make miniature painting difficult, as well as some tips to make the process easier.
---
Key Points: Why is Painting Miniatures Difficult?
Miniature painting is time consuming, often tedious, and won't always produce what you want
Painting miniatures can be an expensive hobby, if you're not careful
It takes a lot of practice to become a skilled miniature painter
There is no one simple way to learn all the skills required for painting miniatures
You may discover personal limitations in your creative potential, self-esteem, and motivation
You will feel judged for uncontrollable aspects of your work
One of the reasons that miniature painting is often considered difficult is that it can be time-consuming and expensive to get started. In addition, it takes a lot of practice to become a skilled miniature painter. There are many different skills that are required for this type of painting, such as color blending, shading, and highlighting.
Some people may find it difficult to learn all of these skills at once, which is why it is important to start off slowly and practice often. There are many different tutorials available online that can help beginners get started. In addition, there are also many different painting techniques that can be learned by watching videos or reading articles.
It is also important to find a painting style that works for you, and to stick with it. Don't be afraid to try new things, but don't feel like you have to change your style every time you paint a new miniature.
The final thing to keep in mind is that miniature painting is a hobby, and it should be enjoyable for you. Don't try to paint miniatures that are too complicated or that require a lot of time and effort. Start off with simple projects and work your way up to more complex ones.
In conclusion, miniature painting is not always easy, but it is definitely worth the effort. With practice and patience, anyone can become a successful miniature painter!
Read on to learn more about why painting miniatures is hard for most people, and quick tips, tricks and insights into how to overcome some of the miniature painting challenges you'll encounter.
---
What Skills are Required for Miniature Painting?
In order to be a successful miniature painter, you need to have a variety of basic skills. Some of the most important skills include knowing how to thin hobby acrylic paint for smooth layer applications, color blending, shading, and highlighting.
Understanding why and how to create high contrast on your models is also crucial for creating that finished, awe-inspiring look in your final work.
It is also important to be patient, take your time, and avoid rushed brush strokes. One of the biggest mistakes that beginners make is trying to do too much in one painting session. Instead, try to focus on one or two aspects of the miniature that you want to highlight and take your time with those areas.
In addition, learning how to use different types of brushes is a learned skill (but not always necessary for every project). Some painters rely on a single brush for all their work; while others–like myself–tend to bounce around with different tools even when I don't need them.
For example, I may enjoy using an airbrush (a luxury in my opinion) for certain things, even when it is not the most effective tool for the job. Sometimes using another skill or exploring a new technique can help keep you motivated in your painting project.
---
Must-Know Core Skills for New Miniature Painters
There are a number of fundamental skills that aspiring painters should know to become confident in the hobby. In my experience as an instructor, and just someone who paints a lot, I find that these are the most challenging miniature painting skills you'll want to hone.
Learning to thin your hobby paints – This is probably one of the most essential skills that you'll need to develop as a miniature painter. If your paints are too thick, they will not flow smoothly off your brush and will likely result in clumpy paint jobs. Thin layers of paint also make other more advanced techniques easier to pull off.
Color blending – This is another skill that is often difficult for beginners. It takes a lot of practice to get good at color blending, but the end result is definitely worth it. Properly blended colors give your miniature a more realistic look and can help hide any mistakes that you may have made while painting.
Shading – Shading is another skill that can take a little bit of time to get the hang of, but is well worth the effort. Shading allows you to add depth and realism to your miniature, and is a great way to emphasize certain details on your model.
Edge highlighting (or general highlighting) – This is the final step in the painting process and is what really brings your miniature to life. Highlights add brightness and contrast to your miniature, and can make even the simplest paint job look amazing. Dry brushing is probably the easiest technique for most new painters to use when highlighting a model.
Base coating the first color – Using a brush or airbrush to apply a base coat well is actually an important skill to learn how to do reliably. This is because a good base coat is crucial for getting good results with other paint techniques.
Paying attention to detail – One of the most important things you can do as a miniature painter is to take your time and pay attention to the details. This includes everything from painting tiny highlights on a model's hair, to making sure the edges of your armor plates are clean and defined.
Paint a fully assembled model – This is something that a lot of painters struggle with, and may be counter-intuitive for some. Simply put, it is better to paint an assembled model because you can finish painting faster. Speed is a skill and knowing how to paint minis quickly is the best unkept secret. Sure, be careful with your assembly, too. Use a hobby knife to remove mold lines; glue carefully, especially plastic, and spend a few dollars on good clippers.
Learn to varnish – Some hobbyists are afraid of sealing painted models with clear coat varnishes. Yes, it is possible to screw up a painted miniature with a bad varnish application. But most of the time, the dreaded frosting or clouding varnish is avoidable and reversible. Use a quality hobby clear coat, gloss varnish or matte varnish, your call, and follow the instructions and you should be fine. A good varnish finish protects a painted model from handling during tabletop games, as well as help retain those colors for years and years.
Understand basic basing techniques for models – For a complete look, always try and base your models. This means either painting the base stand or applying a layer of basing sand with glue. Basing your models gives your miniatures a sense of place and time, and creates that final professional finish without a lot of extra work.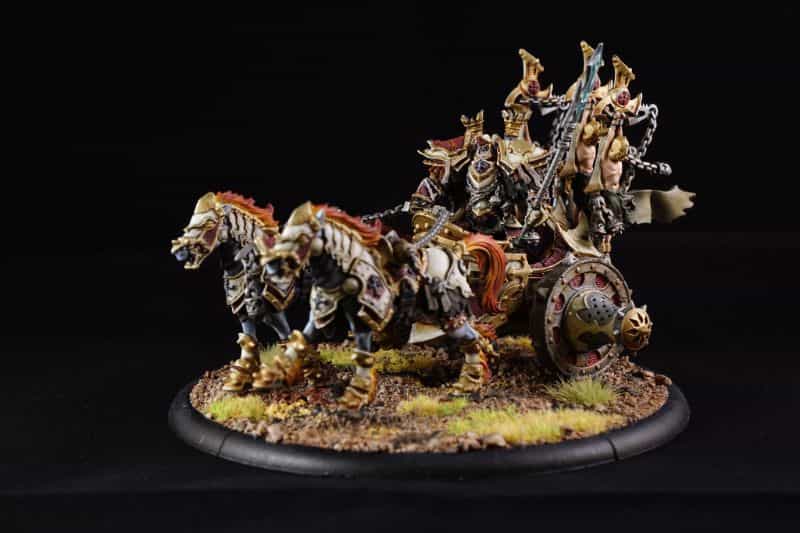 ---
The Benefits of Miniature Painting
I should point out that painting miniatures is worth it! The effort and practice you put in is always rewarded with a sense of accomplishment and joy. Yes, this isn't true for everyone–I know a few tabletop gamers who struggle to find a sense of reward in the process no matter how good their work is–but for the majority of us, painting is a fun and rewarding hobby.
In addition to the sense of accomplishment, there are other benefits to miniature painting. For example, it can help improve your hand-eye coordination, it can be a form of relaxation, and it can help improve your overall creativity.
Certainly, when you are proficient with painting miniatures, there are 8 notable other things you'll find come easier to you.
---
Tips for Mastering the Art of Miniature Painting
For the wargamer, the tabletop RPG gamer, or anyone who enjoys board games (with minis) or scale modeling, e.g., model trains and railroad displays, painted miniatures look awesome and make the whole world come alive. Unpainted miniatures are lifeless, lack an internal light as it were, and sit there doing nothing except haunt you with their unmet potential.
Miniature painting tips are everywhere online. But, here are the ones I find that continually come up in conversation. Check out these 13 popular painting tips for learning how to overcome the difficulty of painting miniatures and the journey toward mastering the hobby:
Start painting – Silly tip? Nope. Get going! In fact, the first and most important step is to start painting. It is very likely that you will make mistakes, but that is okay. In fact, it is through making mistakes that you will learn and improve your skills.
Don't be afraid to try new things – As I mentioned before, miniature painting is a hobby, and you should enjoy it.
Apply simple techniques – Once you have a basic understanding of the techniques required for miniature painting, start applying them to your models.
Experiment – As you continue to paint miniatures, experiment with different color combinations, techniques, and styles. This is how you will improve and develop your own personal style.
Paint regularly – The more you paint, the better you will become. Try to set aside some time each week (or even each day) to work on your miniature painting skills.
Don't sweat the small details – When starting out, it is easy to get overwhelmed by the small details on a miniature. Instead, focus on the larger areas first and then move on to the smaller details. This will make the process less daunting and more manageable.
Learn to use basic colors – This is a skill that will come in handy for miniature painting. Many painters use a limited number of colors, so learning how to mix different shades and hues will help expand your color palette.
Practice, practice, practice – As with any skill, a good tip to improve is through practice. Try painting different miniatures in different styles
Have a collection of reference photos, as well as models – This is another helpful way to improve your miniature painting skills. By having a collection of ideas, you will be able to see how different techniques and styles are used.
Find a mentor or community – There is no better way to learn than by seeking out advice from someone who is more experienced than you. There are also many online communities where you can share your work and receive feedback from other painters.
Miniature painters always fight to finish a project – Is miniature painting difficult? One of the reasons it's hard to paint miniatures is that the closer you get to the finish line, the more fearful you may become of what your end result will look like. Inevitably, you'll likely find yourself going back to fix things that you thought were already finished. This is what is called the "fear of finishing." Learn how to accept your model as "done", and move on to the next.
Accept criticism – It is important to learn how to take constructive criticism and use it to improve your painting skills.
Be patient – Like any skill, miniature painting takes time and practice to master. Don't get discouraged if you don't see progress right away. With patience and practice, you will become a successful miniature painter.
---
How to Get Started in Miniature Painting
You'll need a few key things to get started in the hobby, if you haven't already. You can check out this article for a full guide about essential supplies for painting miniatures. For a quick summary, here is a list of useful things that will jump start your miniature painting adventure.
Use good brushes
Using a good brush is a major step toward overcoming some of the frustration of painting miniatures. High quality brushes let you paint miniatures (obviously) with confidence and efficiency. Sure, you can get away with hobby-grade, arts and craft brushes. But, when it comes to growing your skillset and learning to enjoy the painting hobby, a bad paint brush can seriously hold you back.
(Of course, you can recycle old paint brushes, e.g., dry brushing, or use them for applying brush-on primer).
Find a good wet palette
A wet palette isn't necessary for painting miniatures well. In fact, a wet palette can hold you back. However, if you're looking to enjoy the process of mixing your own colors and playing with glazes, a wet palette is a really good tool to have. You can find a lot of different types of wet palettes.
When I started painting miniatures, I made a DIY wet palette using a watertight container, folded paper towels, and parchment paper. After I got use to this, I went and got a commercial art grade wet palette. My current favorite is either The Army Painter Wet Palette, or the Masterson Handy Sta-Wet palette.
Use brush soap
You don't absolutely need to use brush soap when cleaning your brushes. In fact, I've been painting miniatures for years and have only started using it recently. It is a good habit to get into, because it helps keep your brushes in good condition and prolongs the life of the bristles. For simple brush care tips, check out this hobby brush care article.
Always use a hobby primer
A good primer is key to getting a good finish on your miniatures. Not all primers are created equal, and there is a wide variety of primers on the market. I've tried a lot of them, and the best one that I've found is Vallejo Surface Primer. It comes in black, white, and gray (and a host of other popular colors). It's a water-based primer, which is great. It is easy to thin for airbrush or brush-only application, non-toxic, and easy to clean up with soap and water.
Hobby desk lamp
A good hobby desk lamp is important for painting miniatures because it provides good lighting. This is especially important for miniature painting because you need to be able to see the details of the miniature clearly in order to paint it correctly.
In addition, a good hobby desk lamp is adjustable, so you can position it in the best spot for seeing your model's surface while having space to move your brush and tools where they need to go. Here's a complete guide on for recommended professional miniature painting lamps.
You can also find a lot of helpful miniature painting tutorials on the internet. A quick search on YouTube for "painting miniatures tutorials" will give you a lot of great options to choose from. Start with some basic tutorials, and then move on to more advanced ones as you progress in your miniature painting skills.
---
How Long Does it Take to Get Good at Painting Miniatures?
Of course, this is one of the big questions for new miniature painters. How long does it take to gain all the skills necessary to become proficient at painting miniatures and models. Look, I won't sugar coat it. Learning how to paint miniatures well took me a long time–at least a few years of constant struggle with all kinds of miniature painting projects.
If I had to venture a guess based on what I learned in the community, most of you will pick up the hobby quickly. Within a few hours, if you pay close attention to your progress and keep trying to improve your results, you'll get to a point where you're going to be happy with your miniature paint jobs. For others who are more ambitious, it can take weeks of regular painting to feel comfortable with the basic skills of base coating, washing, and layering color on your models.
There are no short cuts and any beginner's guide is lying to you if it promises to save you time through "secret" formulae and sauces. Everyone is a different and only you will know if you have what it takes to bring the stuff out of your head, into your room, onto a miniature, and create the thing ONLY YOU can create.
Ultimately, miniature painting like any other traditional fine art can take years to master. Even the professional studio painters struggle to learn and grow; constantly incorporating new ways of taking a model from blank canvas to mind-blowing miniature art.
---
Conclusion
Is miniature painting difficult? In short, no–it is possible for anyone to become a successful (and really good) miniature painter with practice and patience. However, it can be time-consuming and expensive to get started in the hobby.
But, with quality supplies, grit, and your invested time, you can overcome these challenges and discover that you can create entire miniature worlds in living color. All those imaginary worlds are your oyster. Yo, slurp up!
Are you new to painting miniatures, or daunted by the process? Did this article help, or have questions? Let me know with a comment! I'd love to chat!
Happy miniature painting!
Tangible Day on YouTube (Miniatures and More!)