Is a brush on primer good for miniatures? How do you use a brush to apply primer on miniatures and models? The advantages of applying a surface primer on models is that you can prime miniatures indoors, during inclement weather, avoid harmful fumes and aerosol paint, and save money. In general, brush on primers work as well as spray primers, e.g., airbrush or sprayed with a rattle can aerosol primer.
In this article, I show you how to use brush on primers on miniatures, and the ways you can achieve the best results with surface primers for your next miniature painting project.
---
Key Points
Brush on primers, like Vallejo Surface Primer, work great in almost any ambient condition, e.g., humidity and temperature
The best brushes for applying a brush-on primer is a "mop" or large, soft bristled brush, like those for cosmetic blending, foundation, or blush
Most hobby surface primers are dual purpose in that you can apply them with an airbrush or regular brush
Brushing on a primer can achieve similar results as spray primers with less mess, less cost, and less time (for small, single models)
RELATED: BEST 10 PRIMERS FOR PAINTING MINIATURES AND HOW TO USE THEM
---
Brush on vs. Spray Primer: Pros and Cons?
The reason I use a surface primer with a brush is simple. It is less expensive and more environmentally-friendly as compared with aerosol, rattle can primers. With a surface primer, such as Vallejo Surface Primer, I can prime small models quickly without wasting any material.
Another advantage of brush on primer is the ability to continue working on your miniature painting projects when you can't spray aerosols. Bad weather, e.g., cold, heat, or high humidity, is often a reason to stay indoors with your work.
You can certainly use a spray booth to spray primer, or work in a well-ventilated room. But, not everyone has access to a place to do this or has a spray booth. A surface primer you apply with a brush works great any time, anywhere, and on large or small models. You can read my full review of Vallejo Surface Primer, which I use for almost any model, including large terrain pieces.
Of course, a limitation of a brush on primer is that it is often slower to apply than a spray on primer. Airbrushing or spray can primers work well because they can cover large areas quickly and evenly. With a spray on primer, you have the advantage of priming multiple models at the same time–something you can't really do with a brush on primer.
Brush on Primer
Cost-effective, budget-friendly
Versatile (brush or airbrush use)
Less hazardous, environmentally-friendly
Works great indoors
Fast application on single models
Slower to apply well
Risk of obscuring detail if applied too thick
Requires brush clean up
Not effective for large or multiple models
---
Is a Brush on Primer Worth it?
Absolutely, yes. But, it shouldn't be understated that a spray on primer is ideal for evenly coating models with less effort. For best results, primer should be evenly applied in thin coats on a model to avoid obscuring fine details and surface textures of the sculpt. If you want to save money, a $10 bottle of surface primer will cover a lot more surface area than a single can of aerosol primer of the same cost.
When Should You Use a Brush on Primer?
In general, it is always good to have multiple options available for when your hobby needs change. For large or multiple models that you need to prime, use a spray primer. In poor weather, or when you work indoors without a spray booth, a brush-on primer will be a better choice.
For small miniatures, or touch-ups, a brush on primer will be more efficient. You won't need to clean an airbrush, setup a spray booth, or move your hobby work outdoors. You can put a bit of primer in a small dish, e.g., bottle cap, and dab the primer onto your model with a paint brush. It works great, saves money, and best of all, saves you time.
---
Best Brush on Primer?
My recommended brush on primer is Vallejo Surface Primer or Badger Stynylrez. Both primers are come in a variety of colors and are water-soluble. This means you can thin these surface primers with water if you need them to flow better onto your model surface. If you're airbrushing these primers, diluting these primers with a bit of water will also help, too.
RELATED: HOW TO THIN AND SPRAY PRIMER FOR AIRBRUSHING MINIATURES
There are many kinds of primers that you apply to your models. For example, you can also use gesso, which is a plaster-like compound that hardens into a robust foundation that works great for helping acrylic or oil paints stick. Here's an article for more tips and hacks for priming miniatures.
---
Best Brush for Applying Primer on Miniatures?
Any paint brush works well for applying a brush-on primer. Modeling surface primers are usually low-viscosity and don't require any thinning to flow well off your paint brush. All you need to do is pour a bit of the primer on a palette and load your paint brush to apply it on a model.
Now the key, of course, is to brush on your primer in thin layers to avoid obscuring details on the model. To apply thin layers of primer, you'll want to learn how to load your brush with the proper amount of primer. It is easier to do this with a soft, round brush, than your typical detail paint brush, e.g., usually a brush with pointed-round shaped bristle end.
RELATED: BEST BRUSHES FOR PAINTING MINIATURES (RECOMMENDED DETAIL BRUSHES)
Cosmetic brushes are a great example of the kind of brush you should use for priming models. In fact, I recommend using cosmetic brushes! Cosmetic brushes used for applying foundation make-up, blending eyeshadow, or applying blush make great brushes for applying primer to miniatures.
For more artist-oriented brushes to apply primer, look for synthetic brushes that aren't expensive and have round shapes with soft bristles. Soft bristled brushes will help you apply primer to your models without leaving brush strokes, coat recess with ease, and will help keep your primer application thin.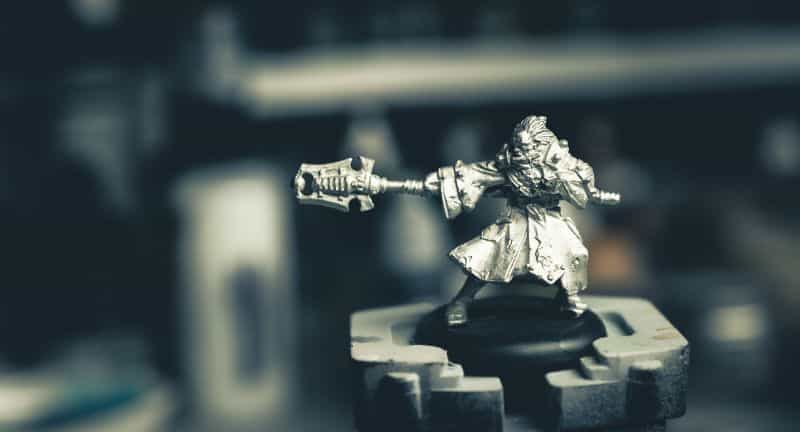 ---
How to Use a Brush On Primer (3 Steps)
Applying a brush-on primer on a model with great results is easier than you may think. Here are 3 simple steps for how to apply primer with a paint brush:
Step #1 – Dispense your primer on a palette
I use a small ceramic dish for applying small amounts of paint and primer. The nice thing about ceramic palettes is that they are easy to clean and don't stain with color.
Before dispensing your primer, make sure you shake the bottle well. The pigments and binder solution in surface primers tend to separate if the bottle is left sitting around too long. You can use a hobby paint shaker to help you mix your primer.
Pour a small amount of your surface primer into the dish. Consider whether you need to thin the primer for it to flow off your brush. I find that the less diluting I do, the better the result. Primers that I use straight from the bottle seem to dry more evenly on my models.
You may need to thin your primer if you find that it dries too quickly on your paint brush or leaves behind streaks on your miniature. Of course, this could also mean you may need to upgrade to a better primer or refresh an old bottle.
Step #2 – Load your paint brush with primer
The key to loading any paint brush is to make sure your is the ideal viscosity. You don't want paint to run or drip (too thin) or stick like glue (too thick). Most quality hobby primers are already at the proper viscosity for brush work. To load your brush and check the viscosity, dip the brush in the primer and run the edge of the bristles on the side of the palette.
The primer should coat your palette smoothly without streaking or running. When you lift your brush up, you should have enough primer on your bristles to dampen them without "swelling up the belly" of the paint brush. In other words, the brush should retain its shape even if it is loaded with primer.
By loading your brush properly, you'll retain control of your primer as you apply it to the model. Note that a larger brush is easier to load correctly with primer than a small brush.
Step #3 – Apply the primer to your model
For priming models, I tend to use a different kind of brush stroke than I would using paint. To prime models well, you want to coat the entire surface of the miniature with an even, thin coat. You also want to make sure that the primer gets into all the crevices, cracks, and recesses without forming bubbles.
Bubbles often form when primer "skips" over recesses or indentations on a model where you can trap air pockets. Use short strokes in a dabbing or poking motion with your brush. Swirl the bristles here and there, which helps you use all sides of the brush and helps even out any primer that pools on the model.
As primer dries, it will form a "film" that you must avoid disturbing otherwise you'll get ugly bumps or streaks in your primer coat. If your model is large, a good tip is to work on small sections at a time.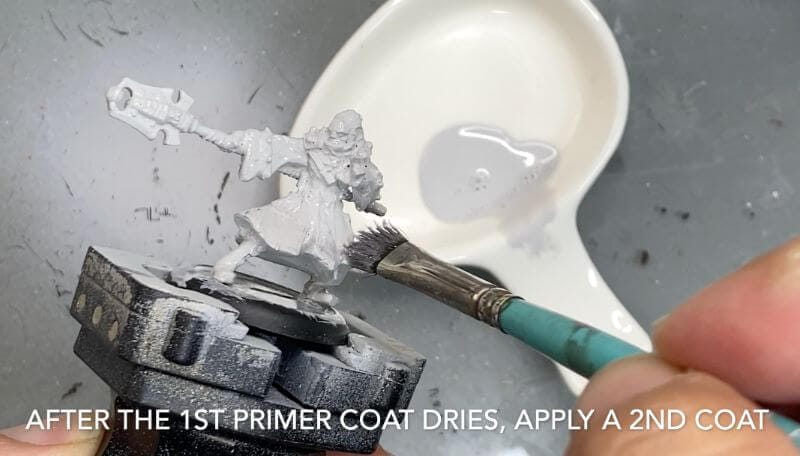 After a layer of primer over your entire model dries, I like going over some areas with a second coat to make sure I've covered all the exposed surfaces. The idea is to make sure you've covered your model completely in primer, but not so much that you can't see hints of the underlying surface material or have obscured any model details.
When you're done priming, set the model aside. It is ready for paint!
---
Frequently Asked Questions for Model Primers
How long should I wait for my primer to dry?
You don't need to wait too long for primer to dry before painting a model. I generally allow a freshly primed model 10-30 minutes to air dry in a clean space. It could take longer or shorter for a primed model to dry, depending on how thick the primer was applied and the ambient humidity.
You'll know a surface primer has completely dried when it doesn't look wet and takes on a matte, non-reflective finish. To speed up the drying process, you can use a hair dryer adjusted to the lowest heat setting.
How and why should I clean my miniatures before priming?
If you have having trouble with primer beading, pooling, or with poor coverage, then this may mean that you need to clean your model first. Plastic, metal, and resin miniatures are often produced via a cast molding process. To remove miniatures from a mold, the cast is often lubricated with an oily substance.
Residual lubricant on a model can repel primer, which causes problems. Make sure you clean your models before applying any primer or paint. I recommend cleaning models using lukewarm water and soap. For a more thorough cleaning, you can scrub the model parts prior to assembly using an old toothbrush or with an ultrasonic cleaner.
Can you mix primer with paint colors?
Yes, you can mix primer with paint or inks. Tinting your primer is a great way to add a surface tone to model before the actual painting process. In fact, many traditional painters enjoy working on a color toned canvas, which gives ambience and life to the painting process.
Start with a bright primer, e.g., gray or white, and slowly add paint or ink to the primer mixture in a palette. When the color of your primer shifts to a notable saturation, stop adding color. You'll want to avoid diluting the primer too much, as the primer can lose its ability to properly adhere to the miniature surface.
Alternatively, you can use a colored primer. Vallejo, Badger, and Citadel make primers in a variety of colors.
Can I apply zenithal priming with a regular brush?
I've written an great article about using an airbrush to apply zenithal highlights or undercoats on miniatures. If you can't use a spray primer or have an airbrush available, you can use a regular brush to apply zenithal highlights.
To apply zenithal highlights using a brush on primer method, first use a dark colored primer, such as black or dark gray. Cover the entire model in a single even coat. Then, using a dry brush method, apply white or bright colored paint (not primer) over the top, raised surfaces of the model.
For zenithal highlight placement, you should dry brush bright paint over the model that an imaginary light source directly overhead would light up. In other words, emulate the process of spraying a zenithal highlight with your dry brush.
Are hobby surface primers toxic?
Most hobby-grade surface primers are non-toxic. You can refer to the label on the bottle or manufacturer's documentation. Vallejo is the only company that publishes safety information about their products online.
---
Conclusion
Priming models is a essential step in painting miniatures. Whether you're using a spray primer, an airbrush, or applying primer with a brush, a proper undercoat of foundation primer is necessary for a great paint job.
There are many advantages to applying brush on primers, as compared with airbrushing or aerosol primers. Applying a brush on primer is fast, easy, and inexpensive. I hope this article was helpful and encouraging, and gave you useful tips for applying primer with a regular brush.
If you have any questions, or want to know more, stick around and let me know what you think!
Do you prime models with a brush? What is your favorite brush on primer?
Happy miniature priming!!! 🖌
Tangible Day on YouTube (Miniatures and More!)