Photographing your painted miniatures is an important step in the artistic process. In fact, digital photography is a window into self-discovery. A digital image helps you understand and learn from your hobby. To become a better painter and artist, sometimes you have to find a new perspective. Capturing a photograph is the fastest and easiest way to change your viewpoint. And, you can share it, too! There are a lot of reason photograph your painted miniatures!
In this article, I show you 10 important reasons why you should photograph your painted miniatures.
---
As a hobby photographer, I've always enjoyed seeing the world differently through a camera's lens. The search for unique structure, form, and color through a viewfinder is a relaxing process. Whether you're taking street photos or capturing images of your hobby and painted miniatures, photography is another skill that rewards mindful creativity.
Here are the 10 Reasons Why You Should Photograph Your Miniatures
Fun
Documentation
Learning to paint
Community
Style
Hobby photography
Break from painting
Money
Storytelling
Posterity
Continue reading for my thoughts about why these 10 miniature photography reasons are important and why you should commit to capturing more images of your work.
---
1. Fun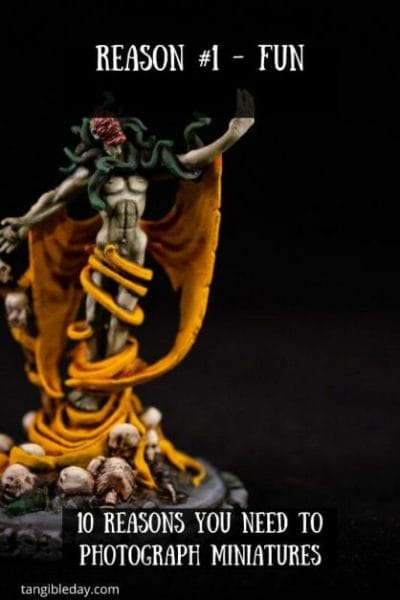 Photography is an enjoyable experience. Sure, it's not for everyone. I know some people hate painting miniatures (are you one of them?). But, if you've been dabbling with your smartphone or a dedicated camera, then why not dive in all the way with minis. Miniature photography is unique compared with other genres of photography. Miniatures don't move, for example. It is much easier to learn how to use your camera's settings, when you're not worrying about your subject moving about. Give it try. You may just love take photos of your models!
2. Documentation
Taking photos of your miniatures is a great way to keep a record of your work. If you're a commissioned miniature painter, then photography is a necessity. High quality images of your final work, as well as your progress, can help you keep your clients updated or make finding more work easier. The best way to get more business with your art is to show off what you've done. Great photography is exactly what you need in your miniature painting portfolio. Document your hard work for yourself, and your current and future patrons.
3. Learning to Paint
When you're learning how to paint your miniatures, a trick I used to speed up the process is to study old photos of my work. A series of photos of your painted miniatures reveals things about your paint job that your real eyes can't see. The flaws show up a lot better. Places you could have improved painting contrast may appear better in photos. In fact, award winning painters use photographs of their work to compose color, sculpted elements, and much more. Check out a competitive painting process here). In short, photography can be an important tool for improving your ability to paint miniatures.
4. Community
In this modern age, digital media brings people together. Online communities form around shared interests and experiences. Miniature painting is no exception. In community of other miniature painters, you'll enjoy seeing other peoples' work. Why not share yours as well? Take more photos of your miniatures, so when the time comes to show a particular technique, you're ready to go. Your images can help other artists grow, too. Photography is way to help bring online digital communities together.
5. Style
Are you trying to find your miniature painting style? Style refers to your specific way of expressing yourself. For the miniature painter, your style acts as a tool to stand out. Using your miniature art to gain others' attention is useful. This could be important for professional reasons, if you're a studio painter or artist. Or, you want to broaden your audience either for engagement, education, or community. Your miniature photos will help you discover and share your style.
6. Hobby Photography
Photography alone is a hobby. If you're a photographer and miniature painter, then it is a no-brainer that you should combine the two. Use one hobby to feed into the other. Use what you've learned as a photographer and create images of your miniatures. You can experiment with new compositions with your models in a diorama. Put that landscape photography skillset to use in another genre. Or, flip the script. Use your experience as a miniature photographer and leverage it toward portraiture. The principles of great photography extend beyond one type of image creation. Find out what images you enjoy taking by hobby experimentation.
7. Break from Painting
Everyone loses motivation to paint miniatures. Even if you want to paint more, you can't. Your mind and body need rest from the routine. Instead, dig deeper into the other art medium of photography. Use your camera instead of a paintbrush. Switching hobby gears will refresh your muse and refuel your creative reserves. I know that when I stop painting, and do something else for a while, the spark and urge to pick up a brush returns. I also continue to feel more productive when I take miniature photos instead of painting miniatures.
8. Money
Did you know you can make money taking photos of your painted miniatures? I have made quite a bit of cash selling microstock images of my painted models. You can check out my microstock portfolio here. There you'll see a series of images I sold of my painted miniatures. If you want to try your hand at selling your miniature photography, sign up for a free seller's account.
Alternatively, you could try selling your images as a cryptocurrency. Learn more about NFT cryptocurrency in this article. Finally, if you're a commissioned miniature painter, it is obvious that great photography if your painted work will help you bring in more business. You only want to show your best work on social media. Learning to take great photos of your painted miniatures can only help!
9. Storytelling
Everyone loves a good story. Photographs make great storytelling elements. Put a photo series together of your painted miniatures and create a veritable novel. If you like sharing your painting progress with others, WIP photographs are essential. Take more photos of your work in progress to see how far you've come, or encourage others with their miniature painting efforts. For example, the docu-drama of a challenging painting project could make for a great social media post. What about tabletop wargame battle reports? Here are 5 camera shots you need for a better battle reports.
10. Posterity
There is a younger generation waiting to take up the hobby reigns. They will drive the ship into the future. How do we leave them with instructions and a message? Photography is an obvious tool for documenting the fruits of our effort. The images we create today, serve the needs of those tomorrow. Taking more photos of your miniatures becomes a part of that future record. We can share what we do to the next generation with the click of a shutter. Sure, we can write blogs, notes, whatever. But, an image is powerful. It's why I have two galleries to share. One for my painted miniatures, and the other for other genres of photography. Check back often. I update these on a regular basis. Hopefully, I'm getting better!
---
Final Thoughts
Well, there you have it. My 10 reasons why you should take more photographs of miniatures. Importantly, these reasons are the same for whatever art you do. If you're a traditional painter, sculptor, or even a doodler, photography can help you in so many ways. Make photography into a habit with your art and the images you create will reward in more ways than you can't imagine now. Here are other articles about photographing miniatures and much more.
I hope you enjoyed this article, and l look forward to sharing more ideas! In the meantime, happy miniature photography!
Tangible Day on YouTube (Miniatures and More!)