Are you tired of shaking your huge collection of model paints every time you need to use them? Tabletop vortex mixers are commonplace in many commercial industries, but are great for serious hobbyist too. Hobby paints formulated for miniature painting are notorious for separating out in their bottles when left alone for extended periods of time. For best results, shake, vortex, and mix your hobby paints well. Learn how a 120V powered heavy duty motor with an actuator can help you. 🤔
In this article, I review 5 of the most powerful motorized vortex mixers for miniature and model paints.
When it comes to painting miniatures, the quality of your paint determines the quality of your results. All acrylic paints are prone to separation over time, and it is always recommended that you shake the bottles or pots well before use. If you have a huge collection of hobby paints like I do, then this can get tiresome.
A few years ago, I decided to automate the process and since then I haven't looked back! Take a look at the vortex mixers that I've considered. You'll also see a comparison of how these line up against one another and how they may fit your needs (or not).
Top 5 Vortex Mixers for Preparing and Maintaining Hobby Paints
Note: If you're looking for a less expensive option for motorized model paint mixers, or a DIY system, take a look at affordable vortex mixers here. They absolutely save time if you're someone who paints on any regular basis.
Read on for more details!
---
Do You Need an Industrial Strength Vortex Mixer for Hobby Model Paint?
Nope. You don't need a vortex mixer. They are luxury items for most hobbyists. You can get by with simple motorized mixers, including low cost nail polish shakers.
I know what industrial mixers are capable of. I've seen them first hand. For the pros, these motorized devices are designed to homogenize particulate material (e.g., chemical agents or biological tissue) into small volumes of solvent.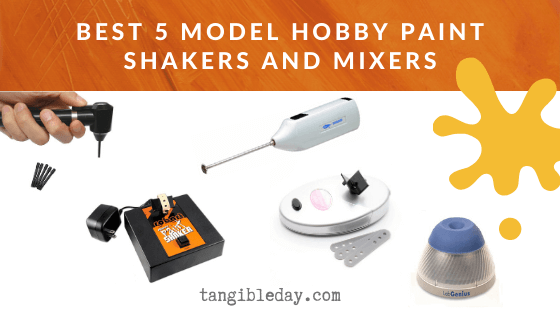 All of these mixers are capable of spinning paint bottles and pots to at least 3000 rpms (or more). All this power will slurry the most stubborn paint or artistic medium you can imagine. The best vortex mixers have a variable knob that allows you to control the mixing power (sometimes you just want to be gentle).
An advantage of having an adjustable vortex power setting is the additional option of mixing a solution without producing bubbles.
Some solutions you mix may contain a soapy substance, such as flow aid (read more about using surfactants to thin hobby paints here). If you vortex these solutions too quickly, i.e., use too much power, the liquid forms bubbles and foams up.
A bubbly art medium may look fun, but it's hard to use properly, if not impossible. This is especially true for varnishes. Bubbles in a varnish spells bad news for trying to achieve a professional finish on any painted miniature.
Powerful motors are also really loud. Turn down the vortex power and your mixer can operate with less noise.
---
Can You Restore Dry Paint with a Paint Mixer or Shaker?
Some paints are easier than others to restore after they have hardened or dried up. With oil paints, you can usually use a few drops of mineral spirits at a time after you've transferred the hardened oil paint from the original tube to a new bottle.
The spirits will slowly dissolve the oil and pigment. After you give the solvent a few minutes to do its job, you can use a paint shaker or vortex mixer to help you soften the rest of the hardened oil binder and color pigment.
For partly dry acrylic paints, but not completely dry, there are some tricks you can try to restore them. Note that dry acrylic paints form durable polymers that resist hydrophilic solvents, e.g., water or other acrylic mediums.
However, for partially dried acrylics, you can simply add clean water to the original tube or bottle to dissolve the remaining pigment and binder to a workable state. Do not add too much water.
If you find the acrylic paint doesn't have the "loose, but sticky" feeling that you need to control the paint on your brush or miniature, then try adding a clear acrylic polymer. Acrylic polymer mediums like Vallejo fluid medium serve to replace the lost binder in the paint. Some have suggested to try using a flow aid, but I find these unnecessary for restoring old paint. They only make your paint more "runny," which isn't helpful in my experience.
After adding water and clear acrylic medium to your dry paint, I use a vortex paint mixer to quickly and powerfully stir the ingredients together. Usually, 10-30 seconds on the maximum setting of my vortex mixer will do the trick. The process of restoring old and dry acrylic paint is one of this best use cases for a vortex mixer.
---
Pros and Cons of a Hobby Vortex Paint Mixer
The motorized mixers listed below are compatible with bottles and pots from all the major paint brands, including Scale 75, Army Painter, P3, Master Reaper Series, Vallejo, Citadel, and Badger Minitaire airbrush paints.
The mixers below are also touch operated. This mean that all you need to do is press down on the mixing pad/cup with your paint bottle and the motor will start. Be aware that with any of these powerful vortex mixers, you should make sure the paint screw caps or friction covers are firmly closed before operation.
RELATED: BEST ULTRASONIC CLEANERS FOR AIRBRUSHES
Vortex Hobby Paint Mixers
Pros
Powerful, hurricane force mixing (up to 3000 RPMs or more!)
Variable speed knob
Touch or continuous operation
Small footprint
Reliable heavy duty
Cons
---
Recommended 5 best vortex paint mixers for model and miniature paints.
The Four E's Scientific Lab Vortex Mixer sells for $100-120. You can see my in-depth review here. It demands this price as an industrial vortex mixer. This style of motorized mixer is common in a laboratory environment, operating daily on a workbench. For the miniature artist, this is a great alternative to the Typhoon mixer that sold for about $75-120 (depending on where you look, e.g., Etsy, eBay).
The Four E's Scientific Lab Vortex Mixer has a variable speed knob, with a maximum RPM of 3000 rpm. It is also designed to mix bottles, containers with volumes up to 50mL, which is more than enough for all major model paint lines.
A neat feature you will notice are the suction cups for feet. These allow it to "stick" to your desktop while it shakes and mixes your paint. For something this powerful, this is an advantage because it prevents your table from amplifying that energy and keeps the noise levels down.
Pros
Powerful motor
Touch operation
Large 50mL capacity
Rubber suction feet for stability
---
The Scientific Industries Vortex Genie (version 2) is available online and is quite (very) expensive. But, as with the above mixer, this price reflects the power and professional reliability of these motorized systems. This mixer will operate daily with heavy-duty use without the need for major maintenance for DECADES.
Where do you think the rebranded Typhoon Vortex mixers came from? They are re-furbished, re-branded, re-skinned industrial lab vortex mixers.
Now, Scientific Industries Vortex Genie is the original, of course. So, if you're able to get a used system, you can save a chunk of money.
The Vortex Genie operates just as well as the Typhoon paint mixer with a mixing speed between 600 to 3200 rpms. The mixer is really heavy (up to 9 pounds) and has rubber feet that helps keep it from bouncing off your desk while in operation. You probably won't need to run it long through it's touch operation when you're mixing paint. It's that powerful. The Vortex Genie also comes with neat accessories.
Pros
Established heavy-duty technology
Power variable 600-3200 rpm motor
Open vortex platform design, versatile
Stable mixing
Durable and reliable
The Benchmark Scientific BV1000-E Bench Mixer Vortexer is a no nonsense powerful mixer selling for $200. Why invest in this mixer? Because you are a professional or enthusiastic modeler who works with stubborn reagents and art mediums. You may be working in a team of studio painters. One of these mixers will be all your studio needs.
A particularly useful feature of this vortex mixer, especially for hobbyists and modelers, is the variable knob. For thick viscosity primers, a vortex paint mixer like this can help get the consistency of the medium to the right mix.
Something that I haven't tried myself with these powerful mixers is agitating miniatures submerged in paint-stripping fluid. You can strip paint or clean models and miniatures using Ultrasonic Cleaners (like these).
With the Benchmark Scientific BV1000-E BenchMixer Vortexer, you get a 230V driven motorized mixer that operates 200-3200 rpms. It can handle mixing of any volume up to 50mL (standard for lab work), which is perfectly suited for mixing paint bottles and pots from main model paint brands (even the taller pots from Games Workshop).
With advanced Q-Drive, the mixer has a novel counter-balancing system that allows the system to operate at maximal speeds, but with quieter operation. Perfect for a home-based hobbyist who doesn't want to disturb the household.
Pros
Q-drive system for quiet and powerful operation
Can operate in low-temperature environments
200-3200RPM variable speed control
Fairly compact frame
No-walk suction feet
Cons
Moderately heavy
Fairly expensive
---
The Oxford Benchmate VM-D Digital Vortex Mixer doesn't compromise, and is a beautiful mixer at about $259.00. At the price of some video game consoles, this motorized vortex mixer has some awesome features. This is the MOST powerful vortexer on the list with an adjustable speed from 300 to 4200 rpm.
Different than the other vortex mixers in this list, as well as the Typhoon paint mixer, the Oxford Benchmate has a digital readout showing you the speed and time every 5 seconds while operating. It has a silent operation mode! This mixer can also operate continuously on a timer between 1 to 999 minutes. Can you imagine operating this thing for those full 999 minutes (or 16.65 hours)? The heavy duty motor in this machine could probably make that happen.
There is also an infinite operation mode, where it will continue to mix forever.
The hobby paint mixer to end all mixers? You decide!
Pros
Most powerful vortex mixer (up to 4200 rpms)
Durable heavy-duty operation
Digital display of speed and time
Built-in timer
Touch or continuous operation
Cons
Relatively large and heavy
Pricey
---
The LabGenius Mini Vortex Mixer with Touch Function is certainly a budget paint shaker (just over $100) compared to the others on this list, but it's no slouch. As one of the more affordable vortex paint mixers, the LabGenius is the most recommended mixers in the miniature painting community.
LabGenius Mini Vortex Mixer is perfect for gently to powerfully mixing biological agents, or for us, those stubborn paints. This mini vortex mixer can fully handle any bottles up to 50mL (which is more than enough for any miniature paint brand bottle shape or size).
The touch operation is simple: push the paint bottle down into the mixing cup and the motor will engage. A really awesome feature is the size and portability of this mini mixer. It weighs less than 1.25lbs (or 0.55kg). The mini vortex mixer can travel with you to a convention or any other place you'd like to take your hobby!
Pros
Compact and powerful vortex mixer (up to 3300 rpms)
Great for quick paint bottle mixing
Portable sized
Non-slip top
Touch
Cons
Handles small bottles and pots only
---
Don't Forget These Supplies that May you help Mix paints
Final Word
Plain and simple. You want to mix up those stubborn acrylic paints. And, you want to do it fast without any hassle. Time is money, too. All of these powerful vortex mixers will shake and stir up those model paints fast.
Super fast. Vortex mixers are designed to operate continuously on a daily basis, and have features that aren't found on less expensive paint mixers. For the hobbyist who wants other useful options, take a look at other model paint mixers here.
Happy paint mixing!
---
Tangible Day on YouTube (Miniatures and More!)