Are you trying to choose a paint color scheme for your miniatures? Looking for a good paint scheme for Warhammer 40k or other tabletop games? Even if you're familiar with painting techniques, you'll still need to know what colors to choose for painting miniatures.
In this article, I share with you 5 simple ways you can find the perfect color scheme for your miniature army and collection.
How to Choose Miniature Painting Color Schemes (5 Easy Ways)
Wing It! (Improvise)
Use Reference Photos
Leverage Color Theory
Community Driven (Social Media Input)
Software Color Scheme Generator
Find Your Base Color Scheme
Finding the miniature painting color schemes you love is a real commitment. Whether you're painting models from Games Workshop, Privateer Press, or other tabletop miniature companies, choosing what paint color scheme to use can be a challenge.
The vast majority of painted miniatures look great with whatever color scheme we've chosen. Much of what we know about how to create a cohesive painting doesn't require a lot of theory.
If you're just beginning, stuck, or simply looking for a boost, I hope these tips will help you decide how to invest your time with the colors and looks you love.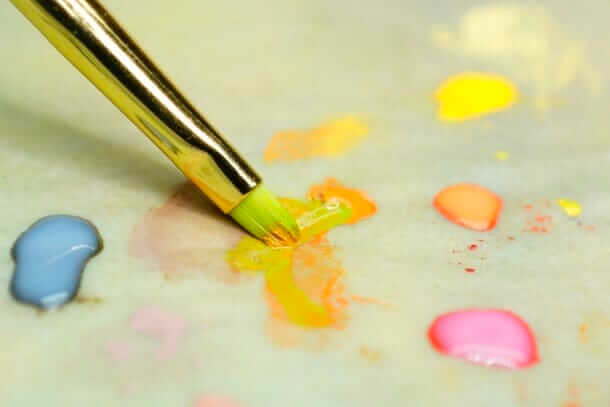 ---
5 Ways to Choose a Paint Scheme for Painting Miniatures and Models
1. Wing It! (Improvise)
I write a lot about starting major products without a plan. Also known as the "jump off the cliff and build your wings on the way down" plan, diving into a project headlong is exciting when you don't have an inkling of what you're doing.
But, in fact, you wouldn't be starting any project if there wasn't a "spark", an impetus to get going. You wouldn't be reading this article if you weren't interested in painting up your models.
At the very least, you'd like to learn more about the process (which is the proper start for doing anything, really).
When it comes to choosing colors for your army, all you need to start is a single idea.
An idea can be directly related to the color, such as:
"I like blue."
Or, your idea for your army might be emotionally driven:
"I want to win."
In either case, when you're painting by what I call "instincts" you're doing something incredibly brave, but also liberating.
Take that single an idea and run with the color palette in front of you. Take colors that you associate with "winning".
Add that "winning" color to your palette.
If there's any advice I can give for approaching your mini painting, it's this: Don't choose too many colors. Stay focused. Limit yourself to 5 main colors and see what you can do with them.
When you "wing it", you aren't worrying about the final result or how others might judge your work.
The reward is the process of choosing colors, even if impulsively, and enjoy that thrill of discovering what you make of it.
Don't let anyone tell you this is an illegitimate way of approaching a painting.
This is the essence of "Artistic License". You have it, use it.
Ultimately, whether you're looking to paint Warhammer space marines, or other kinds of models, the colors you choose can be anything YOU think looks good.
2. Use Reference Photos
For those of you who are uncertain about your instincts to choose a color scheme for your miniature painting, you can rely on the traditional approach with reference photos. Miniature painting is all about making your models look great on the tabletop.
Sometimes, all it takes is looking for other miniatures that you think look good and essentially copying that miniature painting style, color combo, whatever.
To find reference photos, I simply type a search query into Google or any preferred search engine. I search for the model I want to paint and check out all the images that show up.
Google Images is great because you can search for specific "models" and "colors".
For example, you can type "Space Marine Yellow" in the search bar and you get a ton of images that you can use as a reference photo.
Just choose 2-3 and replicate those colors.
You can use free software to pull-out the main colors from any reference image (more about how to use software for choosing colors below).
Re-Mix Reference Images for a Brand New Look!
The neat part is that you can add variations on what styles inspire you.
Maybe, you add a darker tone to those models to create a grimdark feel. Tacking on a few warm colors or a cool color can twist a motif you like into something brand new.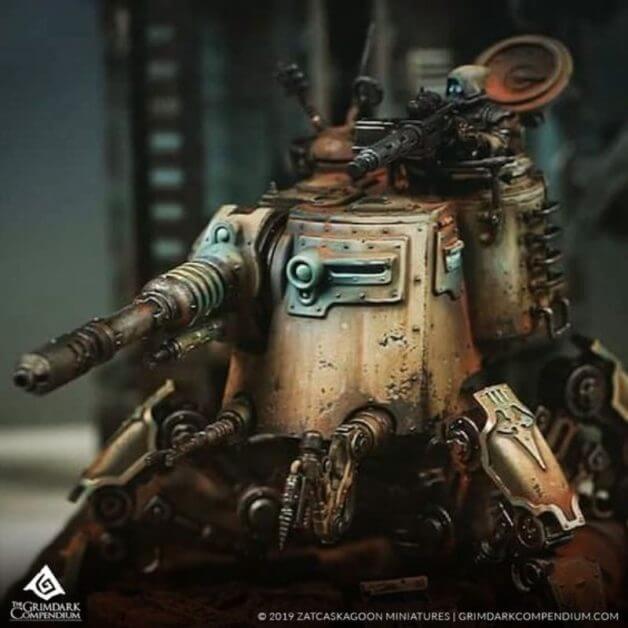 If you're unsure, try using a wet palette to pre-mix your colors first to check the overall appearance of what colors go together. Here's more info about my recommended hobby wet palettes, a wonderful tool for miniature painters.
Before you start painting miniatures, a simple swatch of acrylic paint on palette paper can help you see what main colors work well together.
I've painted a lot of miniatures for clients using reference photos. I often ask for reference photos from patrons to get a sense of what they envision for their painted models.
Bottomline: Using a reference photo, either from a Google search or the studio box art, is an easy way to pick the colors for your army.
3. Leverage Color Theory
Find a great color scheme using science! People get their PhDs in color theory.
What is color theory?
Color theory encompasses a multitude of definitions, concepts and design applications – enough to fill several encyclopedias. However, there are three basic categories of color theory that are useful for painting miniatures:
Color Wheel
Color Harmony
Color Context
Color wheel
A color wheel is a common tool in the traditional art fields. It is useful for choosing colors because it shows you how different colors are related to each other.
By choosing within a "relationship" of colors (e.g., primary, secondary, or tertiary), you can usually come up with a compelling color scheme that will look good. Of course, you'll probably want to know how to use things like primary colors or secondary colors.
Here's more info about how to use the color wheel for choosing a miniature paint scheme.
The color wheel is a basic tool used by artists and designers to create color schemes. It consists of twelve colors arranged in a circle. The six colors on the outside of the wheel are called primary colors. The three colors in the middle are called secondary colors. The three colors on the inside are called tertiary colors.
Primary colors are the colors that cannot be made by mixing other colors. They are red, yellow, and blue. Secondary colors are made by mixing two primary colors.
They are orange, green, and purple. Tertiary colors are made by mixing a primary color with a secondary color. They are red-orange, yellow-orange, yellow-green, blue-green, blue-purple, and red-purple.
To create a color scheme, you can start with any color on the wheel and choose colors that are next to it. This is called an analogous color scheme.
For example, if you start with yellow, you can choose other yellowish colors like green or orange. Or you can choose colors on either side of yellow, like green-blue or red-orange.
You can also choose colors that are opposite each other on the wheel. This is called a complementary color scheme.
For example, if you start with blue, you can choose orange as your complementary color.
There are endless possibilities for color schemes. By experiment with different combinations, you can find a scheme that is perfect for your project.
Color Harmony
Color harmony is an art theory of how specific combinations of colors in an image or piece of art can be pleasing to the eye–"harmonious". The other way to understand how color harmony functions is to ask:
"What colors work well together?"
Color harmony is the reason why the Hulk wear purple trousers, and why the Superman wears a blue jumper with red underpants (source).
Artists and aesthetic philosophers have come up with many formulas to simplify color harmony.
Color wheel patterns, such as analogous or complementary colors.
Natural color schemes (this is my favorite way of finding colors for my palette)
For example, with an analogous color scheme, you choose colors for your palette that sit next each other on the color wheel.
Then there's a color scheme formula based on "complementary colors". To find colors in a complementary color scheme, choose colors that are opposite of each other on the color wheel.
My favorite way of deciding what colors to choose for painting palette, I like starting with natural things that I find beautiful. Here's an example of h0w I tend to think of ways to choose colors for my miniatures and models.
Perfect Color Harmony Exists in Nature
Think about that. So many natural phenomenon that we experience (see) have colors that simply work together. We are in awe of Sunsets and majestic landscapes.
Why?
Color harmony in nature is hardwired into our brains. Of course, it is possible to create a color scheme that is too complex and "busy". If in doubt, keep your color choices simple and few.
When you use color harmony (whatever formula or scheme) to choose your paint palette for your miniature collection, you are simply leveraging the principle that certain colors work well together.
Color Context
This is probably the most complex of the Color Theory sub-disciplines. Color context describes how color behaves when it is juxtaposed (next to) another color.
This theory also suggests that the shape in which a color is found can influence how a viewer perceives that colors.
In other words, Color Context theory is the art version of the "theory of relativity".
Color relativity?
Colors affect each other when they are close to each other. There is a relationship of values, hues, saturations, and of temperature. All of these color attributes affect how you perceive an image.
Fun things you can do with color theory include asking psychology-related questions like:
"What is the color of winning?"
"What is the color of luck?"
"What colors make a website look professional?"
A strong grasp of Color Theory is powerful, because it can provide tools to understand human perception and thought, as well as human behavior.
4. Community Driven (Social Media Input)
This is the second easiest way to decide what colors to use, aside from "winging it" or "use a reference photo".
There isn't much you need to do here when you want to get help from your local buddies. Ask them what they think!
If you're in a tabletop gaming community, or a local modeling club, you can ask around and get advice for what colors you should paint your models. Of course, there's the digital version of a community, e.g., Facebook, Reddit, and other social media.
As my only suggestion, I would say that you should probably have an idea of what you like before you go around asking people what they think. If you ask 3 people what color combinations they like, you may get 10 different answers… I've seen it happen.
5. Software Color Scheme Generator
When people ask me "how did you choose your color scheme for your army?", I usually point to the fact that I generally use a reference photo (which is oftentimes the box art).
The follow-up question is usually something like: "Which (insert major paint brand) colors are in that reference photo?"
In which case, I direct my buddies to my two favorite freely available pieces of software that I use to find out what the major colors are in a digital photo.
These are basically free online sites that can "rip" the colors from any image that you can then use for your army color scheme. The method here is perfect for trying to find a new Primaris Space Marine color scheme, which can be difficult using older artwork. Primaris space marines are larger miniatures and any color choice will be more evident over the broader surface area, e.g., decals and details will take up proportionately less model real estate.
When you visit the Canva site, you can see a multitude of ways how to use the color palette generator.
After you upload a reference photo (in this case a Primaris Imperial Fist Space Marine), you will receive 5 major colors with their color hex code. You can use these hex codes and input them into the "The Bolter & Chainsword Space Marine Painter".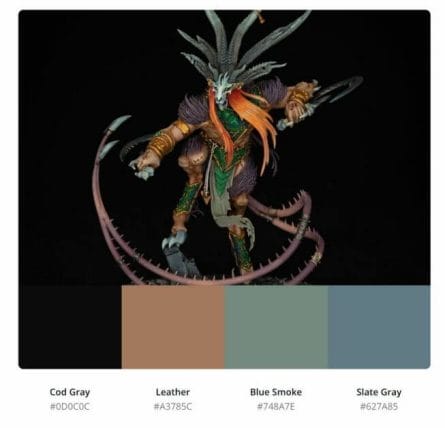 The colors that the Canva Color Palette generator produces are useful in other programs, which let you find what paints match. See below.
This free online site lets you play with different colors schemes. The cool part is that you can take the hex color codes from the Canva color palette generator (or any other software) and use those exact colors.
With the basic color information generated the final hex codes I decide for my models in the Bolter & Chainsword painter, I then press the "Which paints do I need?" button.
This opens another window that shows you the proper matching Citadel brand colors that would match your digital model.
I've included the Citadel Paint System for Download below (or a paint conversion chart here for other major model paint brands).
If you're looking to convert the paint colors that are similar to the Citadel brand paint line check here.
For those of you who are looking for a paint scheme generator that uses the Imperial Guard (Astra Militarium) model line, check this out.
Overall, using software to directly pull the colors that you like in digital images is a powerful and easy way to choose your paint color scheme for your miniatures and models. Painting miniatures with colors that work well together couldn't be easier!
---
Final Word
Nothing appears from nothing.
When it comes to color, you can use your instincts or follow a reference guide. There are many easy ways to decide what looks good. Here's what you do: Start painting for the best overall appearance. Easy? Obviously, how you do this will come down to your personal tastes.
I understand the apprehension that comes with choosing the "right" paint scheme for a collection of miniatures. When you invest that much time and resources into an army or set of models, you want to be confident that the final result will come out well.
A painting or sculpture is more than just what it looks like–artwork has a unique depth. I've seen this axiom come alive over and over again.
If I start with a blank slate, an unpainted pewter model, then to arrive at a final painted mini is merely the application of something in my head that already existed. In my mind's eye, there is something of a fully colored miniature.
And, this is what makes the decision tree for color choice so difficult. Every element you add to a piece of art, amplifies the complexity of the piece.
Start simple.
Tangible Day on YouTube (Miniatures and More!)
---