Are you a tabletop miniature gamer? The battlefield you play on might be a dining room table, but it should be more. That's where terrain pieces come into play. If you're playing games like Warhammer 40k and looking for terrain ideas, all it takes is an online search. Images of beautiful wargaming terrain are everywhere. But, if you want to make your own wargaming terrain without breaking the bank or spending a lot of time, here are a few great ways to do it.
In this article, I show you 3 fun and easy ways to make terrain for tabletop wargames and roleplaying games (RPGs), like Dungeon and Dragons or Warhammer 40k.
---
How to Decide What Terrain to Make?
Consider space and time.
The approach I'm using is made primarily for the Warhammer 40k terrain boards for an urban city environment. The basic principle is the same, however, across a variety of game types.
Terrain for wargames can span the gamut. History and place (anywhere in the imagined Universe, really) is open to a creative approach for terrain for wargaming.
RELATED: 20 GREAT TABLETOP TERRAIN PIECES FOR WARGAMES AND RPGS ON ETSY
Buildings are just one way to setup a board for a tabletop wargame. Terrain DIY style is great because it is free-form.
Ultimately, when it comes to making your own terrain for a tabletop game, you're only limited by your ideas. If you have a vision for how you want your battles to play out, you don't need to spend a lot of money.
Here, all you need is to grasp the idea that your battlefields exist in a space (the actual world) and the time period (whether this is a fictional or simulated actual history).
As with choosing a color scheme, deciding what wargaming terrain to make is simply starting with an idea.
Then, with this spark, you can go through the process of what you want to make.
---
Three Ways to Make Wargaming Terrain
Here are the 3 approaches you can use to make your own wargaming terrain:
Follow reference images from books and papercraft instructables
Use 3D printing and modeling software
Improvise by scratch building and kitbashing
1. Follow Reference Images, Photos, Books, and Papercraft
A lot of what you do in the modeling and miniature hobby arises from admiring all the work you find out there. The internet is chock-full of ideas and beautiful art.
You can see my Pinterest board with the things I've found inspirational for terrain pieces. Terrain making is an art!
READ MORE: DOWNLOAD FREE PAPERCRAFT TERRAIN
Reference photos and books
The other way that can help you decide what terrain pieces to make is to use books. There are ton of books on the internet about wargaming and the art of making terrain.
For example, the book entitled "Wargames Terrain & Buildings: The Napoleonic Wars" is an excellent example of an instructional and reference for scratch building terrain buildings.
The book is all about scratch building terrain for a tabletop wargame. Although the period in history is a bit different than the dark grim style of the Warhammer 40k Universe, or other sci-fi genre, the basic principles for terrain making are the same.
You will see different terrain making techniques, including what to build, materials to use, including glues, and general best practices for more complex terrain builds.
Again, although you will find the history time period a bit different than what you might be lookin for in a game of Infinity, Warhammer, or any of the fictional war games we enjoy, the underlying ideas are the same.
Finally, as mentioned, you can certainly find a ton of references with simple online searches.
Once you find something you like, you merely take some of the basic techniques from these books or other tutorials and create the pieces.
When it comes to homemade terrain, I like taking the easy route (see more about improvising terrain making below).
Make papercraft terrain
Along with using found materials and reference guides, you can download paper crafted terrain from various places on the internet.
What is paper craft?
Paper craft is an art form that uses paper or card-stock to create three-dimensional objects. Paper craft is another name for a paper sculpture.
For making terrain, there are various ways you can use paper craft. There are pre-printed plans that you can find online. Here's a site that sells papercraft terrain (see DriveThruRPG). The site also sells 3D printable files of terrain and buildings, too.
This Paper Terrain site sells some really cool historical paper terrain.
If you're looking for free paper craft tabletop terrain, there's a huge amount listed here and here.
Of course, in paper craft there is some assembly required. In some cases, you may also need to color in the paper after you print them.
But, in general, paper craft is a very budget friendly way to get awesome looking wargaming terrain on your table.
It is certainly a step above DIY options, but still has the build and assembly aspect that many hobbyists enjoy.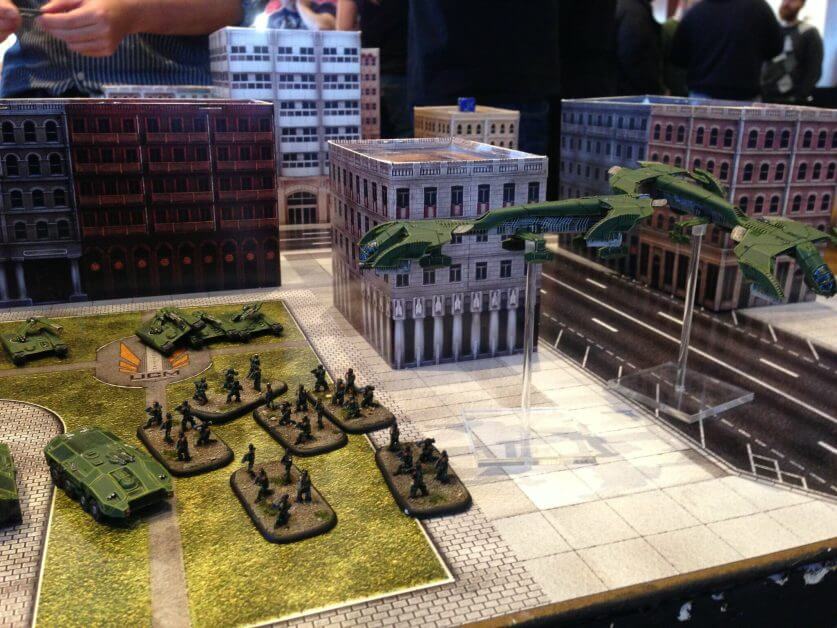 Obviously, you'll need a printer and good paper or card stock to make paper craft terrain. I can recommend these printers for card stock.
Best printer for papercraft terrain?
I have the Canon Pixma Pro-100 and print stencils (for airbrushing) and other paper-based things on it, including DIY cardstock terrain. These are 3 of the best printers for cardstock.
If you're looking to buy an ink jet printer, or upgrade, this is probably more than you need. There are budget-friendly printers on the market. They all produce excellent color, print fast, and work with heavy-weight card stock.
Card stock is a paper product that is more rigid that regular computer paper. You'll want to print on cardstock to make your buildings stand up properly. Card stock is affordable, too.
The terrain and buildings will also last longer if you print on card stock.
See the images below of what you can do with a good ink jet printer and some card stock (this are paper Dave Graffam models).
2. Use 3D Printing and Modeling Software
The method I have used in the past for deciding what to make has been with 3D modeling software.
There are 2 ways you can use 3D modeling software for making terrain:
Download pre-made building or terrain files (and modify them)
Model the building in 3D from scratch
To actually make the terrain buildings with 3D digital models, you either 1) download the files for 3D printing (if you have a 3D printer), or 2) use the 3D models as a blue print for scratch building with available materials.
When you want to download pre-made buildings and terrain you merely have do an online search.
There are ton of free 3D files for you to browse on Thingiverse. All you have to do is type in the search bar is "wargaming terrain".
And, this is an example of what you may get….
If you're looking for professionally made 3D terrain and building files, you can check out this site "Drive Thru RPG".
In general, making terrain with 3D modeling and printers is the more technical and recent development in terrain making.
But, if you pick up the skill and knowledge with working with 3D models (it's not hard; more about it below), then you've got an awesome way to take advantage of all the creativity that people have shared online.
You're just a few clicks away from downloading some amazing terrain pieces.
RELATED: IS 3D PRINTING GAME MODELS PIRACY?
3D modeling for terrain and buildings
Let's say you wanted to make your own terrain pieces with modeling software. In this case, there are another host of options.
But, I'll narrow it down to the easiest and most budget friendly app for almost any terrain making needs.
In whatever scenario you're looking for, my two favorite apps for creating 3D files of buildings and wargaming terrain are SketchUp and Fusion 360.
Both are free!
Importantly, there are a great tutorials on YouTube. Using videos from YouTube was the best way I learned how to 3D model.
By the way, I talk about Fusion 360 in another article for making custom model bases.
Using 3D modeling software to design your own terrain
If you're looking for the simplest and best software for 3D modeling buildings, my recommendation is to first try SketchUp.
The software is free for use online. There is a desktop app for Sketchup, but it's limited unless you pay for the pro version.
For students and educators, the professional version is free. I've used both the free version and pro version, and for the simple buildings either is fine.
Here are a few examples of efforts trying to make buildings for Infinity the Miniatures Game.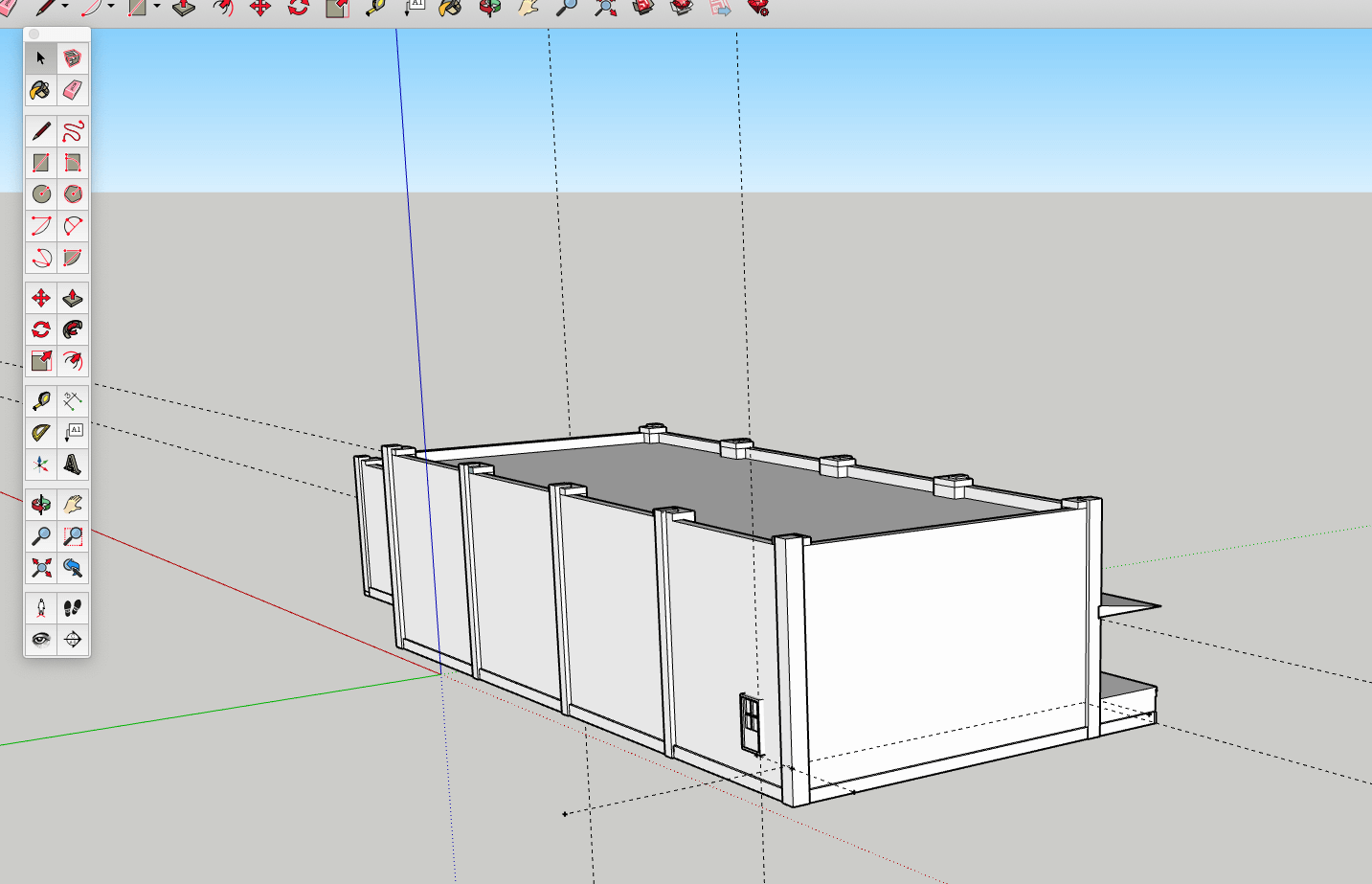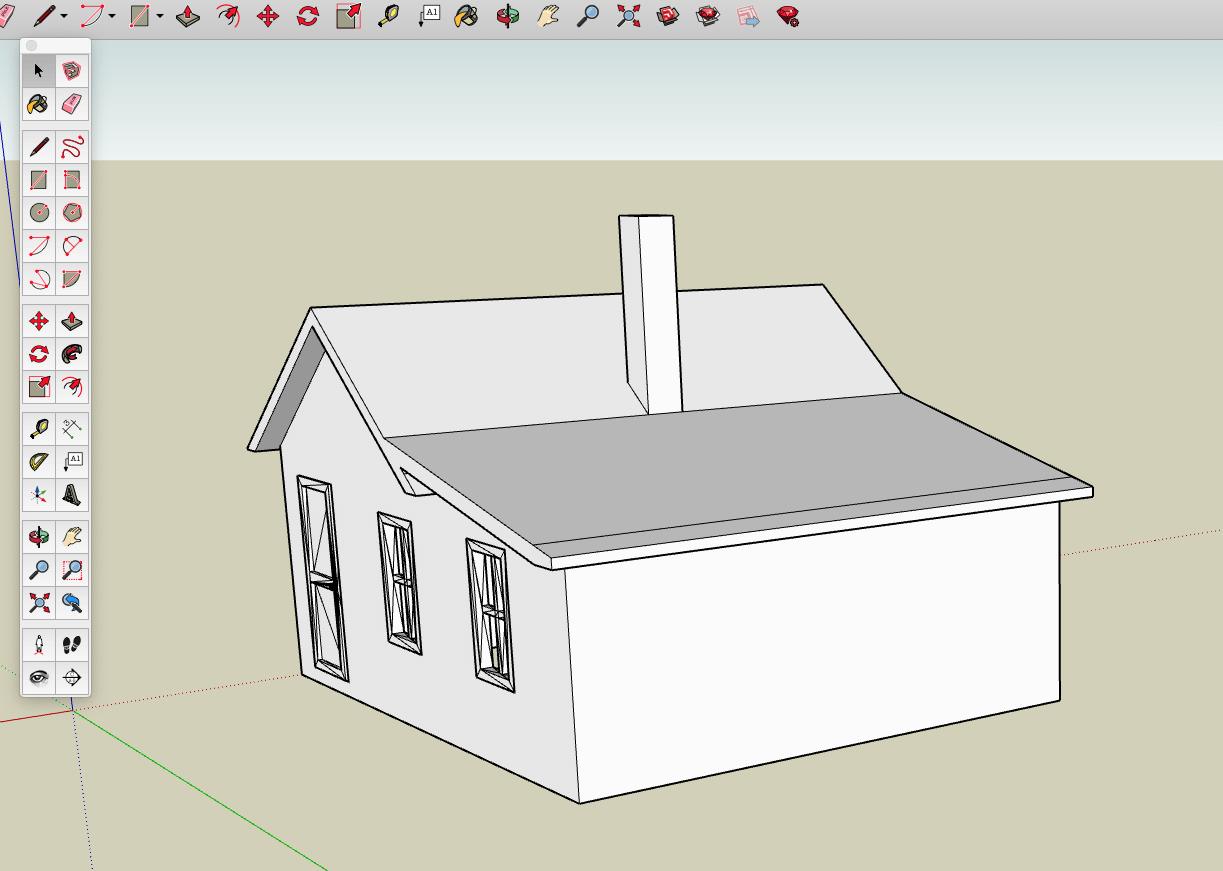 The result of 3D printing terrain is based on quality of the 3D file. I have some work ahead of me to get my designs ready for the printer. But, you get the idea.
Software 3D modeling can get you pretty far along in the terrain design phase.
Below are some examples of 3D models that I printed from a Kickstarter Campaign that had rewards with 3D files of terrain pieces. You can check out Thunder Chrome 3D printable terrain pieces here.
By the way, Amazon even sells 3D printed terrain from different vendors, which are cheaper than a lot of the plastic model kits you might find. Though, you should shop for the better quality pieces. Here's what's available now.
RELATED: HOW TO SMOOTH PLA 3D PRINTED PARTS
The cool thing about using 3D modeling software is that it's scalable. It doesn't matter if you're playing a large 28mm scale game, or the smaller epic scale stuff like epic 40k or Dropzone Commander.
With 3D files, you can enlarge or shrink terrain pieces for these miniature tabletop games as needed. Just be aware that at a certain point, the size of the details will determine whether they will appear properly on your 3D printed piece.
---
3. Improvise by Scratch Building and Kitbashing
I think this how most people who start tabletop gaming get their terrain.
It's fun and easy. As I mentioned, I tend to go on Pinterest to collect ideas for making DIY wargaming terrain. You can even find ideas from other modelers communities, including those who craft dollhouses and their accessories.
Now, there are a ton of ways you can take found material around your home, or workplace, and turn it into useful terrain and buildings.
In terms of what you need to jump in, you won't need too much. Obviously, I'm assuming that most of the material you will use are used packing materials, e.g., card board, styrofoam, and what-not.
Here are the essentials for DIY terrain with stuff scrap material:
Sharp knife
Metal ruler
Surface to safely cut stuff
Glue (e.g., PVA glue)
Simple right?
A knife to cut, a metal ruler to make straight edges, a surface that you can use for cutting, and glue.
I've written a lot about glues for tabletop miniature and model kit assembly. For scratch-building with paper based material, however, I recommend either PVA glue, also known as white glue, or a hot glue gun.
The hot glue gun that I have is one of the larger sized ones. It heats up quickly, has a low-drip nozzle (super useful), and a stand so it doesn't tip over.
Don't forget your hot glue sticks and paper towel rolls nearby.
The best knives for cutting card board are utility knives. They are affordable, and come with disposable blades. They are super sharp out of the box and take to cardboard like…cliche incoming… a hot knife through butter.
You may disagree, but I would suggest that you not use an exacto knife.
The small hobby knives you use for sprues and scraping mold lines won't hold up to the demands of cutting through card board.
Sure an exacto-hobby type knife might give you more precision, but what you really want is a good grip on that handle.
Most hobby knives have thin barrels, e.g., less leverage, and because the blades are so short and thin, they dull quickly.
Card board is one of the most damaging materials to a sharp knife. Card board will dull out any knife super fast.
A sharpener isn't really necessary if you have a bunch of spare blades lying around. But, if you're like me and don't want to waste stuff, get a Dia-fold Diamond Whetstone sharpener.
I sharpen my utility knife blades on it. It's awesome. And, in some cases, I think my utility knives end up sharper than they came from the factory!
Don't let the name fool you, the Dia-fold Whetstone doesn't require any wetting or lubricating agent. Just apply blade at the proper angle, and after a few even swipes on both sides that blade will sing through card board.
For those of you who are more systematic than I am, a metal ruler will come in handy.
I generally don't use my ruler to measure anything. But I do use them for making straight edges.
I prefer to create by eye-balling dimensions. I feel this frees my mind up toward the creating process. For me, discovering what I'm making is part of the thrill of scratch building!
Just roll with it.
Of course, I'm sensible about my measurements. Although I don't need to make sure things are to scale (more about scaling here), my terrain needs to work.
I want to make sure my troopers with 30mm diameter bases can actually fit through doorways, stand on steps, or stay put on walkways.
I'll make sure my terrain pieces enhance gameplay, not the other way around.
---
Key Principles to Paper Sculpting or Scratch Building Terrain
To start making terrain, I generally take stock of what materials I have and ask myself what I could potentially make with it all. Indeed, a great place to start is simply collecting raw materials, then working with what you have on hand.
Are you wondering what to do with all those empty cardboard boxes you got from Amazon? Don't throw them away! They are the perfect raw material for scratch building terrain. The idea isn't to see the material as what they are now, but what they could be when you reconstruct them.
A key tip to improvising with found materials is to think big shapes.
For example, when I want to make piece of terrain representing a watch tower, I first envision a tall rectangular box with a pyramid shaped structure for the roof. Then, once I have that idea locked-in, I'll plan out what the smaller parts, e.g., the windows, a wrap-around balcony.
Also, consider where and when your tabletop game takes place.
Is it in a city?
Then, you're probably looking at big blocks of different sizes. This probably means 90 degree angles.
Super easy and simple.
If you're looking to make an urban environment, consider making it modular. Create boxes of different heights and footprint size.
Then, stack them. Ta-da! Modular urban environment.
Add details, like windows, and rooftop elements. Air ducts and chimneys provide cover and line-of-sight blocking objects.
Slowly work from the big shapes to the smaller details.
In general, I like thinking about crafting city-type terrain in three layers:
Big blocks – form the streets and alleyways.
Medium blocks – create narrower passages and even over-hanging elements, like bridges and steps.
Details – these are the scatter terrain elements. Not entirely necessary, but if you want to get to a more realistic tabletop, consider going down to the human-sized terrain pieces.
When I work with cardboard, I use the hot glue gun so I can move fast. Hot glue bonds within seconds of hitting the card board material. This allows me to work quickly to build up those big shapes.
Within a few minutes I can crank out a bunch of boxes and urban-looking sets that can stack together to form a city tabletop board.
A good tip to strengthen any card board or paper-based material is to cover every surface with a coat of watered-down PVA glue. Simply mix a 1:2 ratio of glue to water and use a large brush to cover the final terrain pieces. Let that dry and the glue will fill pores and harden the overall structure.
To add further realism and strength to a scratch built terrain piece, you can use DAS clay.
DAS clay is a fast-drying clay that is awesome for terrain building. You can mold it, cover your buildings and terrain, and once hardened, paint it.
Before the clay hardens, you can even carve texture into the clay's surface. You merely take clay carving tool like these, and you can create bricks or realistic stonework.
When you're finished with these coating steps, you can prime the terrain piece and paint them up.
READ MORE: BEST PRIMERS FOR WARGAMING TERRAIN
For buildings with roofing and other detail elements, you can use cardboard scraps, bit of foam, plasticard, card stock, and wooden coffee stirrers.
All of this free stuff is probably lying around your home already.
Scratch building natural landscape terrain pieces
Not all wargaming terrain needs to be urban, or human made. In fact, most pitched battles do play out on fields with natural formations, such as hills and rocky cliffs.
If you play games like Warhammer 40k or Age of Sigmar, natural phenomena on alien planets or other-worldly realms might be more in line with your scenario.
Tabletop games like Warmachine/Hordes (one of my favorites) also uses terrain features such as hills, forests, trenches, and rocky surfaces.
The principles of making natural terrain pieces is the same as for buildings. Start thinking about big blocks with larger footprints. Then, move to the medium size shapes and stack them up.
Take a step back and see what you've made.
Add details.
A tool I didn't mention that might help make things look more organic when you're making terrain with foam is a hot-wire foam cutter. The one I have is really affordable.
There are better, more elaborate hot wire foam cutters, e.g., routers and "table saw" type machines, that may suit you if you're in making a lot of terrain with foam.
For natural terrain elements, I do enjoy seeing what others have made. Everyone is so creative!
If you're looking for more ideas for scratch-building your wargaming tabletop terrain, you can check out my Pinterest board. I've been collecting some idea for a new table I want to make for Warhammer and other games.
Also I should mention, that all these techniques work well for making doll houses (if you have a kid like me).
Final Thoughts
When you want to make your own wargaming terrain, there are several ways you can go about it. I've broken down 3 ways to make gaming terrain.
You can use reference guides, like books, 3D model and print your terrain, or improvise and scratch build.
If you're looking for more DIY terrain ideas, you can do a simple image search in Google or use Pinterest. Best of all, terrain making is fun, inexpensive, and effective.
Do you have other ideas for how to make your own terrain for gaming?
---
Tangible Day on YouTube (Miniatures and More!)