Ever balk at the idea of buying expensive hobby instruments? Premium quality paint brushes, costly airbrushes, and top-of-the-line acrylic paints all come with a hefty price tag that can make your wallet whimper. So why would any normal person want to spend so much money on what is essentially a bunch of plastic, dead animal hair, and colored liquid?
In this article, you'll learn why I hate and love high-end, premium hobby tools for miniature painting and modeling. I'll explain why expensive hobby instruments are worth the money (even though they stress me out), and how you can paint miniatures on a budget without breaking the bank.
---
READ MORE: LUXURY HOBBY THINGS YOU ALWAYS WANTED, BUT NEVER KNEW IT!
TL;DR: Why Expensive Things Suck, But We All Need Them
High end paint brushes, paints, wet palettes don't make you a better artist or miniature painter
Any experienced artist with determination can overcome poor quality tools and manifest their creative vision
Limitation breeds human creativity
Expensive tools, miniature paints, and brushes are often worth their cost because they give you more control, better reliability, and save you time
If you're a busy adult and want to be more productive miniature painter (not necessarily better), consider spending a bit more money on your hobby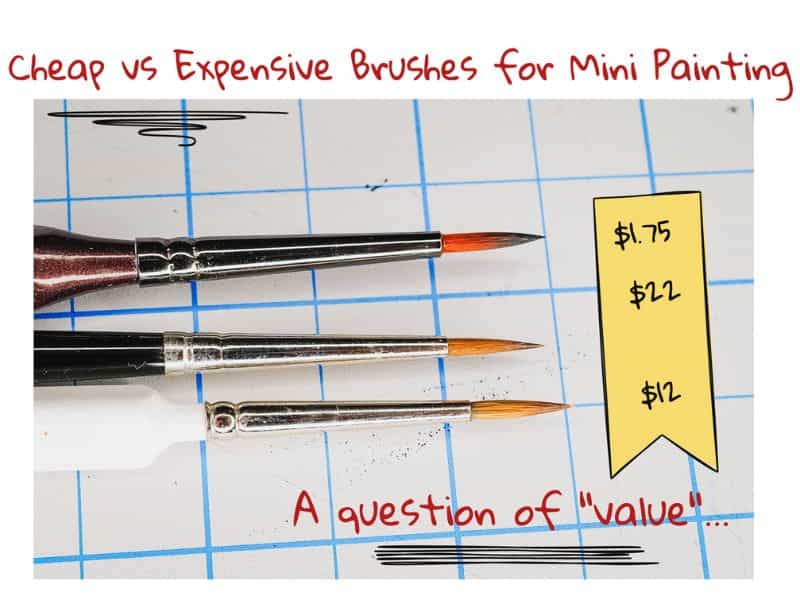 ---
Creativity on a Budget: Serenity, Star Wars, Fahrenheit 451…
Here are three popular examples of creative products that people have created on relatively small budgets:
The first is the movie Serenity by Joss Whedon. This film is a follow-through on the cult TV show "Firefly", which was prematurely cancelled by Fox Broadcasting (now a Disney property). Serenity was made on a shoestring budget of $39 million dollars and went on to earn over $100 million at the box office. The story behind the production of Serenity is storied, heroic even, and filled with as much drama as the movie itself.
Next we have the Star Wars franchise. Back in the 1970's, George Lucas didn't operate his movie production with much money. All the sets, customes and such for "A New Hope" were made with whatever they could find, buy, or build cheaply. Even the iconic lightsabers were made with old camera parts!
The first movie in the series was made on a budget of less than $11 million and went on to earn over $550 to $775 million dollars with extended releases.
Of course, the first in the Star Wars series exploded in popularity, spawning the venerated first trilogy. These early movies were made for an average of $115 million dollars (adjusted for inflation) and have earned close to $4 billion dollars worldwide.
Finally, we have the book Fahrenheit 451. This novel was written by Ray Bradbury on a typewriter that he bought for $50. Mr. Bradbury also wrote the book in less than a month. The original book was only 150 pages long and was published in 1953.
Fahrenheit 451 has been reprinted numerous times, translated into multiple languages, and even made into a movie (several of them!). The book has earned critical acclaim over the years, with many people calling it a literary masterpiece.
The point of these examples is to show that you don't need a huge budget to create something great. With a bit of creativity and elbow grease, you can make beautiful things on a shoestring budget.
Now, let's get back to expensive hobby tools…
---
Why Spending a Lot of Money on Your Hobby Will Hold You Back
Inexperience
Stress
Less resources to explore
Decision paralysis
Inexperience
Let's say you're starting a new hobby, like knitting. You go to the store and buy the cheapest yarn, needles, and pattern book you can find. The total cost is maybe $20.
You're excited to get started on your new project, but after a few minutes of working with the cheap yarn, you realize it's not as soft as you thought it would be. The needles are also giving you blisters. And the pattern book is too confusing.
You're quickly discouraged and put your knitting away, telling yourself that it's not for you. It's just too hard.
You spent money on something that you had no experience with, and so, despite the initial enthusiasm, you quickly lost interest. And, if you're already guessing, this negativity can often spread into other areas of your life.
Stress
Another reason why spending a lot of money on your hobby will hold you back is because it can be stressful. When you're starting out, it's hard to know what to buy and where to get the best deals.
You might end up spending hours online reading reviews and watching videos, trying to figure out which products are worth your money. And even then, you might not be sure if you're making the right decision.
This stress can take the fun out of your hobby and make it feel more like a chore. You end up wasting money on things that you're unsure how to use, or find are too complicated to fully apply to whatever project you're working on. This ends up feeding into the stress you feel.
Less resources means less exploration
Another downside of spending a lot of money on your hobby is that you'll have less money to explore different aspects of your hobby.
For example, let's say you're interested in photography. You might want to try different genres, like landscape or portrait photography. But if you've invested a lot of money in expensive camera gear, you might be less likely to experiment with other styles.
Or, let's say you're a mini painter who wants to try out different mediums. If you've invested a lot of money in premium acrylics, you might be less likely to experiment with oil colors or even watercolor. Both oil paints and water color are handy in painting miniatures!
Taken together, if you've dropped your wallet on expensive things, then you've got less resources to explore other things you may actually help your skills grow and improve your creative perspective.
Decision paralysis
Finally, spending a lot of money on your hobby can lead to decision paralysis. When you have a limited budget, you have to be more selective about the products you buy.
But when you have a lot of money to spend, you might feel like you need to buy everything at once. This can be overwhelming and make it hard to decide what to buy first.
It can also lead to buyer's remorse, where you second-guess your purchase and wonder if you could have gotten a better deal elsewhere.
And, then you have all this sh– (I mean "crap", because we're family friendly) that you don't even know how to use. Which brings us to our next point…
---
You Don't Need Expensive Tools to Be Good at Your Miniature Painting Hobby
Now that we've talked about some of the downsides of spending a lot of money on your hobby, let's talk about why you don't need expensive tools to be good at it.
RELATED: TOP 50 MINIATURE PAINTING TIPS FROM MY EXPERIENCE AS A COMMISSIONED PAINTER
The truth is, the most important thing is not the tools you use, but how you use them.
Ugh, I abhor cliches….
Though, sometimes they are the best way to say something. I'll say it again, because it's the truth! The tools are not as important as how you use them.
You can be a great painter with just a few inexpensive brushes and some decent paint. You don't need hundreds of dollars worth of equipment to get started.
In fact, I would argue that having too many choices can actually be a hindrance. When you have a limited palette, you have to be more creative in your color choices. And when you have fewer brushes, you learn to make do with what you have and get the most out of them.
When you realize what you can actually do with the "cheap" stuff, the sense of discovery and freedom is priceless.
Did our ancient cave dwellers have fancy sable paint brushes or premium Scalecolor acrylic paints? Nope! They scrawled, neigh, painted magnificent works of art on the walls of their caves with crudely made tools. And, you can too! Well, not cave walls.
But, look how much more you could achieve with a bit of elbow grease and the attitutde of ,"I can make this work."
---
Why We Need to Spend Money on Great Tools and Paints
If you're thinking that you need to spend a lot of money on your hobby in order to be good at it, think again! You don't need expensive tools to be good at your hobby.
However, there are some advantages to spending money on great tools and paints. Let's quickly look at a few of them.
Control
Reliability
Time-savings
1. Control
When you have great tools, you have more control over your work. For example, if you're a painter, having a good set of brushes will allow you to get finer details and smoother lines.
That sharp bristle point will stay that way on a high quality sable, e.g., Kolinksy sable Winsor & Newton Series 7, way longer with less effort than a cheap synthetic brush.
The result is that you can focus on your painting, not on fiddling with your tools.
With hobby acrylics formulated for miniature painting, you'll find less hassle in getting good color coverage. You won't need as many layers of paint to get the job done. And, the paint will preserve those surface details and textures that we all love to see in our painted miniatures.
2. Reliability
Another advantage of spending money on quality tools is that they are more reliable. When you have a good brush, you know that it's not going to fall apart in the middle of painting.
The same goes for paints. When you have high quality paint, you know that it's not going to get grainy or separate in the bottle.
The best example of why spending more on an expensive piece of equipment helps you is when you're trying to start learning a new skill.
You don't want your first experience with a new hobby to be fraught with frustration because your tools keep breaking or failing you.
I've known too many new airbrush users trying to dabble in the hobby with cheap, knockout airbrushes that clog easily, or have parts that don't fit and leak. The sheer frustration of those experiences is enough to make them give up the hobby altogether. Don't even get me started on compressors…make sure you get a good one!
With a good airbrush, you can avoid all of those headaches and jump right into the fun part of painting. Which leads me to my next point…
3. Time-savings
More expensive tools, which often means better quality, can save you time in the long run.
For example, if you're using a cheap airbrush that constantly breaks down and needs to be repaired, you're going to spend more time fixing it than you are painting.
On the other hand, if you have a good airbrush that's built to last, you can spend more time painting and less time fixing.
The same goes for paints. If you're using high quality paints, they will often require fewer layers to get good coverage. This means you can experience those rewarding endorphins that come with completing a project faster.
You'll even get past those boring bits of any paint job where you just want to finish up and move on to the next project.
---
Pros/Cons of Expensive Hobby Equipment, Tools, and Paints
Pros:
Improved control, e.g., the tools don't hold you back
Better reliability, e.g., less fixing, more painting
Save time learning new skills, discovering techniques, and work efficiently
More enjoyment with inspiration to continue learning and exploring
Cons:
Need to spend more money
Less resources available to "experiment" or make mistakes
Fear of damaging your pricey tools, e.g., anti-productive mindset
May not be necessary for everyone
---
Final Thoughts: Are Expensive Tools Worth it?
There's no easy answer when it comes to deciding whether expensive hobby tools are worth the money. It really depends on your individual circumstances.
If you're new to the hobby, it might be best to start with cheaper equipment so that you can get a feel for what you like and don't like before investing in more expensive items.
But, at the same time, going the budget route carries of the risk of holding you back from doing the hobby in a way that is enjoyable and productive.
If you're more experienced, or you know that you want to focus on a particular aspect of the miniature painting hobby, then spending more money on higher quality tools can be a worthwhile investment.
---
Conclusion
Look, I get it, it's a tough decision; but at the end of the day, you'll need to ask yourself what is more important: your budget or your enjoyment of the hobby?
If you decide that your enjoyment is more important, then don't let a little thing like money hold you back from getting the best tools for the job. Trust me, you'll be glad you did.
Anyway, I hope this article has given you something to think about the next time you're feeling the urge to drop a bunch of cash on your hobby.
If you have any questions or comments, please feel free to leave them below.
Happy hobby time!
Tangible Day on YouTube (Miniatures and More!)