Are you looking for 3D printed terrain for your favorite tabletop miniature game? Whether you're into Warhammer 40k, Dungeons & Dragons (DND), or other game that uses miniatures and models, 3D printing your own terrain can be a great way to get exactly what you want for your game board or battlefield. There are a few things to keep in mind when 3D printing terrain, such as the scale of your models and the type of material you'll be using.
In this article, I will go over some of the basics of 3D printing terrain for Warhammer 40k and other miniature wargames. I will also share my top 6 places where you can find STL files (free and paid) for 3D printed terrain.
If you're new to 3D printing, check out some other guides and tips for 3D printing!
---
The Beauty of Wargaming Terrain
The draw to miniature wargaming started at a young age. The scale miniature scenes in so many various places sparked that child-like imagination. There was always something so alluring about seeing–and even touching–a scene that had been carefully designed and painted.
As an adult, the same continues to hold true. The beauty of wargaming terrain is in its ability to transport you into another world. It can be a creative outlet, telling a story through the design of the battlefield itself. Wargaming terrain also allows for a great degree of customization.
You can design your own terrain to match the models and game pieces you already have, or you can find/make something that perfectly suits the army or game you want to play. As someone who love narrative style photography (aka cinematic image capture), I often find myself intrigued by the potential of using wargaming terrain for photo shoots.
Have you watched a sci-fi movie such as Bladerunner or old school Star Wars (not the Disney kind)? Well, these films all used 3D models to recreate the depth and volume of "fake worlds" on a two-dimensional screen. Wargaming terrain can provide a similar experience in the physical world that we live in!
Better yet, with the advent of 3D printing, it's now easier than ever to make your own 3D printed terrain at home.
---
Why 3D Print Your Own Wargaming Terrain?
The main reason people print their own wargaming terrain is for the same reasons stated above–to have more control over the design, style, and narrative of the battlefield. For those of you looking to make your own terrain and buildings for your tabletop game, here are other ways to make it for free.
3D printing also has some distinct advantages when compared to purchasing pre-made terrain.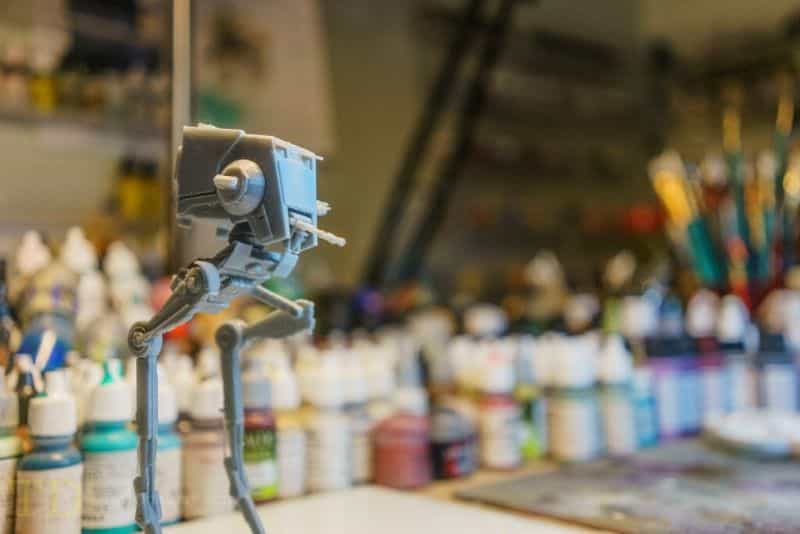 To start, 3D printed terrain is often less expensive than purchasing commercial sets (although the cost of a 3D printer and filament must be considered).
Second, 3D printing provides for far more customization than what is available on the market. Have you ever seen a commercial set and thought, "I wish it had ____"? Well, with 3D printing, the setting is up to you, and you can design whatever feature you want into your terrain!
Third, 3D printing allows you to generate terrain quickly and easily. If you find yourself in need of more terrain for an upcoming game or event, you can print it out in a matter of hours (or less).
Finally, 3D printing gives you the ability to make terrain that is not available commercially. For example, you could 3D print buildings from your city to use on a modern warfare battlefield, or you could create an entire fantasy world with castles, towers, and fortresses.
Are you okay with Games Workshop limited terrain options?
A quick note, for those of you who are familiar with Games Workshop–they sell a lot of great miniatures, but they are pretty limited when it comes to terrain.
Most of their terrain is made for their own games (which is to be expected), but this often leaves other game systems and players out in the cold. Fortunately, there are many other options available for those of us who want more variety.
Terrain for Fantasy Flight Games and other tabletop games
As with GW or other popular gaming companies, Fantasy Flight produces board games and other miniature games that have great looking components–but, if you're looking for attractive or unique pieces to make your 2D tabletop stand out, the terrain is often lacking.
This is where 3D printing comes in to save the day! You can easily find or make models for just about any game system that you want to play.
For example, I am a big fan of the X-Wing Miniatures Game by Fantasy Flight. I have printed out a bunch of different models from Star Wars ships and scatter terrain features, e.g., asteroids.
At a recent convention, I saw an amazing layout for Star Wars Legion, too, which used 3D printed Tatooine buildings that looked like they were plucked right out of The Return of the Jedi.
Certainly, even less involved games like boardgames, such as Mansions of Madness or Gloomhaven would also benefit from adding 3D printed pieces. Zombicide is one of my favorite cooperative games I'd love to see more custom 3D digital stl files for making terrain.
Speaking of unique, how about Dungeons and Dragons (D&D) or your favorite TTRPG? 3D printing is a huge benefit to roleplaying types of games as well. Imagine a world; make it real.
You can find or make just about anything you can imagine to use in your game. I've seen everything from dragons and castles to taverns and treasure chests.
Suffice it to say, the custom gaming terrain possibilities are endless 3D printing!
---
The Basics of 3D Printing Terrain
Here I'll give you a quick crash course on the basics of 3D printing, the technology and the general approach to making your own terrain with a 3D printer. You can skip ahead to check out places to find 3D printable STL files for terrain and other cool wargaming pieces.
But if you're new to 3D printing, I recommend reading through this section first.
What is 3D Printing?
3D printing is the process of making a three- object from a digital file. The object is created by successively layering material until the entire object is complete.
3D printing is often used for prototyping or creating one-of-a-kind objects, but it can also be used to create production-quality goods.
3D printing is different from traditional manufacturing in a few key ways:
Additive versus subtractive production: 3D printing builds an object by successively adding material, layer by layer. This is in contrast to subtractive manufacturing processes (like CNC machining) where material is removed from a stock piece to create the desired shape.
Digital vs traditional sculpting or crafting: 3D printing relies on a digital file (usually STL or OBJ format) as input. This file is created using CAD software or scan data. In contrast, traditional sculpting relies on the artist's direct carving or shaping of an object.
Flexibility in geometry: 3D printing can create objects with a wide range of geometries that would be difficult or impossible to create with traditional manufacturing processes. If you are DIY'ing terrain with cardboard or other scratch building material, this may not apply. But, for mass production and tooling, 3D printing has a huge advantage here.
Overall, 3D printing can help you create unique settings and things with little effort (after you have the proper terrain STL file) any objects with complex shapes and forms. Tyranid terrain pieces with complex organic shapes, for example, or fancy Tau buildings with hollow cores, negative spaces, and intricate inlays or cutouts are straightforward to make with a 3D printer.
---
3D Printed Terrain Basics: What Size and Material?
When it comes to 3D printed terrain, the first thing you need to consider is the scale of your game. 28mm, 32mm, and 54mm are the most common scales you'll find in miniature gaming.
For example, Warhammer 40k models are typically 28mm while Dungeons & Dragons miniatures are usually either 28mm or 32mm.
The next thing you need to think about is the type of material you want to use for your 3D printed terrain. The most common materials used are PLA and ABS plastic.
PLA is a biodegradable plastic made from renewable resources like corn starch. It's a good choice for beginners because it's easier to use and print with. ABS plastic is a petroleum-based plastic that's more durable than PLA. For terrain or things that you think will see a lot of wear-and-tear, ABS may be a good choice….
But, my preference and advice for most of us is to stick with PLA. It's easier to use, less smelly, and more than good enough for most of our needs.
---
What Do I Need to 3D Print My Own Terrain?
The two primary things you need to get started with 3D printing are a 3D printer and digital models of the terrain pieces you want to print.
3D Printers
There are many different types of 3D printers available on the market today. Some are large and expensive while others are small and relatively inexpensive.
https://amzn.to/3CQdgBBFor example, the Ultimaker 2 or similar line up is a high-quality, expensive professional-grade 3D printer while the Ender brand is a lower cost consumer-grade machine.
The key things to look for in a 3D printer are build volume (the size of the objects it can print), layer resolution (the thickness of each layer of material), build speed, and price.
If you're familiar at all with the 3D printing universe, then you'll also be aware of resin based 3D printers. However, these printers are better suited for smaller, finely detailed miniatures; rather than terrain pieces. This is due to cost, expense, and the hassle of working with larger volumes of liquid resin.
More than this, resin 3D printers often don't have the build volumes you'll want for creating larger terrain pieces, efficiently. For now, I'll stick to discussing FDM printing technology which uses thermoplastic filament in the creation of 3D objects.
Digital models (terrain stl)
The other key ingredient you'll need is a digital 3D model of the terrain piece you want to print. These files are typically in STL or OBJ format and can be created using CAD software (like Fusion 360) or downloaded from online repositories like Thingiverse. More about this below.
If you want to 3D print your own terrain, but don't want to design the pieces yourself, you can find plenty of high-quality STL files online.
Read on to check out my 6 recommendations for best places to find 3D printable files for wargaming models and miniature terrain for tabletop games.
---
6 Best Places to Find STL Files for 3D Printed Terrain
Thingiverse is a website that hosts a library of free 3D printable files. It's one of the best places to find free STL files for 3D printed terrain. The library includes files for all types of wargaming and tabletop terrain, including buildings, ruins, hills, and more.
To find STL files for 3D printed terrain on Thingiverse, simply go to the website and use the search bar to search for the type of terrain you want to print. You can also browse by category or by popularity.
Once you find a file you like, you can download it and print it on your own 3D printer. Keep in mind that not all of the files on Thingiverse are high quality, so be sure to read the reviews or comments before starting your print. The good news is that Thingiverse is open source and all the files are free for personal use.
Myminifactory is a website that hosts a library of free 3D printable files, just like Thingiverse. However, the library on Myminifactory is a bit smaller than the one on Thingiverse, but it includes some high-quality files.
One of the things I like about Myminifactory is that you can filter the files by type of terrain. This makes it easy to find the type of file you're looking for. You can also browse by category or popularity.
Unlike Thingiverse, files on Myminifactory are paid. This is good, however, if you think about it. 3D printable files will often be of better quality and can be worth the money (which saves you time!).
Ultimately, those terrain files that are respectable will rise to the top of your search and you can find others within the Myminifactory community to help you decide what models print well, look great on the tabletop, and are a good value.
Patreon is a website where you can support your favorite creators by paying them monthly. In return, these creators will give you access to exclusive content, which may include STL files for 3D printed terrain.
Patreon is a great place to find STL files for 3D printed terrain because you can support the creators you like and get access to high-quality files. It's also a great way to find new artists and designers to follow. C27 Minis is a good start and example of what you can find on Patreon.
Most Patreon creators reward their subscribers with monthly bonus files and tutorials for painting or modifying their terrain designs.
For the 3D printing hobbyist, like myself, I think this is a great value. It's also worth noting that some of these Patreon creators also sell their files on other websites (like Etsy; see below) so you can find them in other places, as well.
DriveThruRPG is a website that hosts role-playing games (RPGs) in digital format. However, they also sell 3D printable terrain files. The selection is not as large as their papercraft stuff or other RPG goodies, but the quality of the files is very good.
Yet, at the same time, the 3D printable files for terrain is incredibly broad. I'm sure if you poke around, you'll find something you didn't even know you wanted for a really good price. If you're into RPGs, I highly recommend giving DriveThruRPG a look for your next 3D printing project.
For the wargamer looking for scale model buildings or landscape features, e.g., hills, outcroppings, an even 3D printable foliage, I've found that the STL files on DriveThruRPG are some of the best I've seen and they print very well.
The price for each file is also very reasonable, considering the quality. Customer service is good, too. If you have a problem (I don't expect you will), DriveThruRPG will help you out! Overall, I think DriveThruRPG is a great place to find STL files for 3D printed terrain.
I've purchased and printed many 3D models from Gambody over the years. You can see my Hydralisk print, build, and paint in this article.
Gambody is a website that specializes in selling 3D printable files for video game characters and other popular culture items. However, they have also sell STL files for 3D printed terrain. The selection is not as large as their video game character models, but the quality of the files is very good.
The price for each file is also very reasonable, considering the quality. And, if you're patient, Gambody will have sales and discounts throughout the year. They also have lotteries, contests and other fun ways to earn credits toward cool 3D prints.
Etsy is a website that hosts vendors and creators who make things. This site has become one of my favorite places to find all sorts of cool things for our tabletop gaming hobby, e.g., terrain, RPG accessories, and even workstation painting supplies.
Etsy is a great place to find STL files for 3D printed terrain because there are many talented designers and artists selling their files. The quality of the files can vary, but you can usually find what you're looking for in terms of quality and price.
RELATED: BEST WARGAMING TERRAIN SETS ON ETSY
One of the great things about Etsy is that you can find files for terrain that you can't find anywhere else. And, if you're patient, you can often find good deals on STL files. So, definitely check out Etsy for your 3D printed terrain needs! You can even take a closer look at some of my favorite curated wargame and RPG pieces.
---
Want to Get Started? Best 3D Printers for Terrain and Scale Modeling
These are my top 3 suggestions for 3D printers for making gaming terrain and scale models:
ANYCUBIC Kobra Max 3D Printer (Large build volume)
ANYCUBIC MEGA X 3D Printer (Popular terrain maker)
Creality Ender 3 (Recommended starter printer)
The "best" 3D printer for making terrain really depends on your budget and needs. Generally, as with any hobby tool, always buy the quality you need.
---
Tips on Using 3D Printed Terrain for Miniature Wargames
Now that you know where to find STL files for 3D printed terrain, it's time to start printing! Although I'm not going to get into the nitty-gritty about the printing your own tabletop terrain, here are a few tips to get you started:
When choosing an STL file, make sure that it is the right scale for your game. 28mm is the most popular scale for miniature wargaming, but there are other options, too.
Make sure that the file is compatible with your 3D printer. Some files are designed for specific printers and may not work with yours.
Choose a file that is at the correct resolution for your printer. Higher resolution files will take longer to print but will look better when finished.
When printing terrain, it is often helpful to use supports. This helps to prevent the model from warping or collapsing during the printing process.
Once your terrain is printed, you may want to paint it to match the rest of your game pieces. Check out these articles for tips on painting 3D printed models.
---
Frequently Asked Questions (FAQ)
Are 3D printed models legal in Warhammer?
3D printed models are legal for play in any game you want to use them in. However, if you're 3D printing terrain that are essentially copies of Warhammer plastic kit pieces, then you may run into trouble.
It's a bit of a gray area, but I would recommend avoiding 3D printing terrain that is too similar to existing Warhammer plastic kit pieces; unless you're using them exclusively in a private setting, e.g., at home or with friends. You can check out this article discussing this topic regarding 3D printing Games Workshop miniatures.
How much does it cost to 3D print terrain?
The cost of 3D printing terrain really varies, depending on the size and complexity of the model, as well as the price of filament. In general, you can expect to spend around $10-$60 USD per model. However, there are ways to reduce the cost of 3D printing terrain. For example, you can use recycled filament or purchase discounted filament in bulk. There are also free printable terrain files you can find online. See Thingiverse.
How do you 3D print a terrain?
The best way to 3D print terrain is to find an STL file from a reputable source, such as Etsy. Once you have the STL file, you can load it into your 3D printer software and print it according to the instructions.
What are the best 3D printers for terrain?
The best 3D printers for terrain really depend on your budget and needs. However, some popular options include the Creality CR-10, Anycubic Mega-S, and the Prusa i3.
What is the best way to paint 3D printed models?
The best way to paint 3D printed models is to use acrylic paint. You can find a wide variety of colors at your local craft store or hobby game store. I recommend using scale model hobby grade paints if you're looking for best results. Also make sure to use a primer before painting, as this will help the paint to adhere better to the model.
How do I make my own 3D printable terrain?
If you're interested in making your own 3D printable terrain, you can use a 3D modeling program such as Blender (free), Z-brush or Fusion 360. There are also a number of online tutorials that can help you get started.
Once you have a model that you're happy with, you can export it as an STL file and then print it using a 3D printer. You can see an example of what I did to make a custom 3D printed base for a model in this article.
---
Conclusion
3D printing terrain is a great way to save money and get exactly the models you want for your game. With a little bit of practice, you can create high quality terrain that will last for years.
I hope you found this article helpful! If you're looking for more tips, tricks, and ways to get your ideas onto the tabletop for whatever game you're playing here are a few good guides.
So what are you waiting for? Get out there and start 3D printing your own tabletop gaming terrain! Question or comment? Leave a comment below.
Thanks for reading!
Tangible Day on YouTube (Miniatures and More!)