Are you wondering if you need a lightbox for taking miniature photos? If you're a hobby tabletop miniature gamer and want to take better photos of your models, a lightbox can help. But, studio photography setup also has drawbacks and may limit your ability to create unique images of your painted miniatures. The best photographic images tell a story, a narrative, that engages the viewer.
In this article, Chris Seehafer shares his perspective about the pros and cons of using a lightbox for miniature photography, as well as a few simple tips for growing as a miniature photographer. If you're interested in learning more about ways to improve your miniature photography this article is for you!
The principles of miniature photography apply to:
Toys
Warhammer and other wargame minis
RPG tabletop miniatures
Gunpla
Historical scale miniatures
Military scale models
Model railroad and trains
Other product photography
---
My Photo Light Box Recommendation
Recently I was invited to game with a local Warhammer group, where naturally much of the conversation centers around the hobby of painting and collecting tabletop miniatures. At some point the conversation turned to the topic of miniature photography and I was asked if I had any suggestions on a good photo studio light box, sometimes simply referred to as lightbox.
READ MORE: BEST 5 LIGHT BOXES FOR PHOTOGRAPHING MINIATURES AND MODELS
Now if you have spent anytime following the miniatures community, or have experience in photography, you have probably seen these photo boxes. In short, they are a box used to control light and shadow for ensuring high quality, consistent photographs. Photo boxes come in a variety of sizes and styles.
The photo box I currently use is a 16" tabletop lighting cube, a fairly common size for photographing small items. It's nearly perfect for most models in an Age of Sigmar or a Warhammer 40K miniature collection.
A Romantic Relationship: Photography and Miniatures
On my drive home, I reflected on the conversation about lightboxes. But, I realized I didn't answer this gentlemen's question about a recommendation for a photo lightbox.
Miniature photography is a natural extension of the wargaming and scale modeling hobby. You'll see evidence on any dedicated miniatures social media page. You can find a lot of articles about how to take better miniature photos.
The conversation really had me thinking hard about my use of the photo light box and the relationship I have with it. Yes, weird I know, a dude has a relationship with a Photo Box. Please allow me to explain, I think there is some valuable information here if you are contemplating adding a Photo Box to your workflow.
Do You Need a Light Box for Miniature Photography?
Let me be absolutely clear, a lightbox is simply a tool. It's not magic and will not guarantee you'll make amazing photos of your models. Now, without question if you use a photo box, regularly, your image quality and the consistency of your pictures will improve.
A word of warning: You'll discover that taking pictures of your miniatures will reveal the true quality of your work. It can be very sobering experience. With good lighting and high-resolution photography, you can't hide an ugly paint job or sloppy craftsmanship.
READ MORE: 10 REASONS TO PHOTOGRAPH YOUR PAINTED MINIATURES
In fact, if you are serious about improving your miniature painting, it's good practice to take photos of your miniatures throughout the painting process. A photograph can catch things that are not as apparent while painting.
I certainly don't want to dissuade anyone from using a photo box, and it can be a great tool in your arsenal, particularly if you have the need for taking lots of photos. But, a light photo box isn't needed to achieve great miniature photographs.
In many ways, I believe a photo lightbox limits your growth as a photographer. Pardon the pun, but for outstanding photography, you need to think "outside the box"! The key to great miniature pics is taking lots and lots of miniature pics.
Continue reading below about why a lightbox may be holding back your photographic creativity!
7 Ways to Photograph Your Miniatures Without a Photo Lightbox
Here are the 7 different ways to take more photos of your miniatures:
Take photos in different rooms
At different times of day
Under different lighting conditions, e.g., low light, harsh angled lights
Change the camera angle and perspective
Find and use different backdrops
Find unique locations outdoors
Adjust the model composition, e.g., grouped shots, dioramas
By changing the ambient environment when you take photos of your miniatures, you'll learn what systems work, and what conditions doesn't work. You may even find a unique, creative process that helps your images stand out from the crowd!
How to Improve Your "Photographic Eye"
Here's a suggestion to help cover a lot of ground in short order that will significantly improve your miniature photography.
Take one of those sexy miniatures of yours from your collection and pack it around with you for the day. Create images of the model throughout your travels during the course of your travels. Don't take so many that you can't remember where and when. Instead, take enough photos that you will have a good sample to review.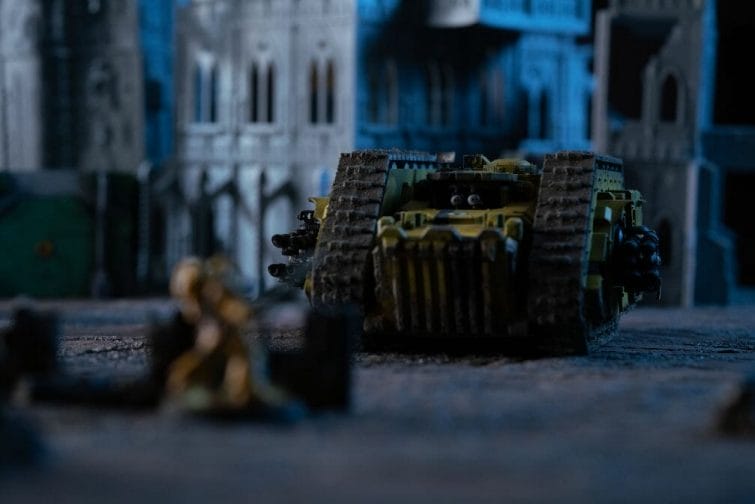 Don't review the pics that day. Just concentrate on capturing a variety of images in different places and times of day. After a few days, go back and then review the photos. Most will suck. But, some images will stand out: a gem in the rough.
RELATED: MACRO PHOTOGRAPHY TIPS FOR MINIATURE PHOTOGRAPHY
For the images you love, make a mental note of the variables that created that great photo. Then you can test your workflow. See if you can replicate the positive results using the same variables. In this way, you will build up confidence in your photography skill. Over time, you'll find it easier to reliably capture great images. You will build up your photographic eye, e.g., a "visual" muscle memory.
A Photo Lightbox Can Bring Your Vision to Life
Once you have spent time improving your photographic process with your camera, and you would like to use a Photo box, certainly give it a go. Keep in mind, you don't necessarily need to purchase a light box to achieve professional studio results. A clean white wall or a blank white poster board will let you DIY a decent photo box.
Now, if you want the convenience and portability of a dedicated light box, they are very affordable.
A word of caution when making a light box selection. For photographing miniatures, photo box that uses a cloth backdrop may help you create more dynamic images. A plastic, acrylic lightbox will help you eliminate shadows and create photos with "models floating in midair".
If you want more creative options with the type of images you create with your miniatures, consider going for a cloth backdrop instead of backlit, translucent acrylic backgrounds.
---
You Need Good Lights for your Miniature Photo Studio
If you have an arsenal of good hobby lamps at your disposal, then you may not need to purchase more for your lightbox. All you have to do is set the lights up properly.
Some, photo boxes include built in lights in an overhead panel. If you go with this lighting style, then you'll want to make sure you can remove the light from the panel. This will give you more photographic shooting angles. For example, you may want to have an overhead camera angle down onto your miniature subject(s). Obviously, this isn't an option if you can't remove the top panel.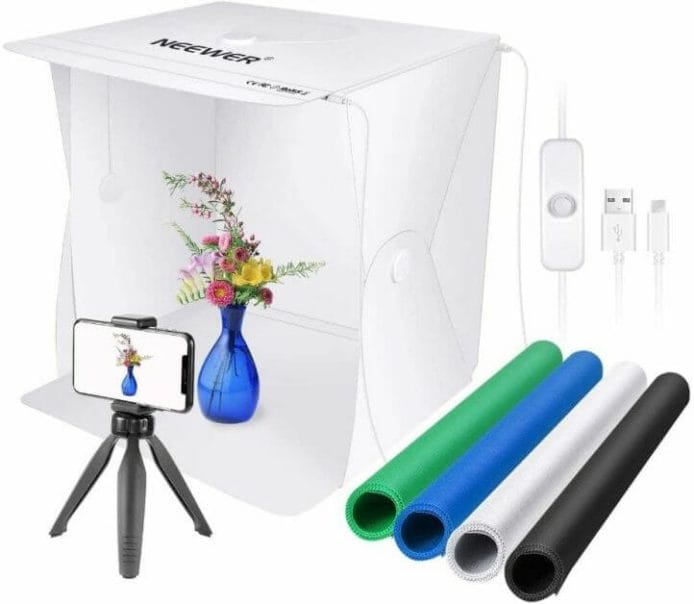 Why You Shouldn't Use a Photo Lightbox
You don't need a light box to achieve consistent high-quality photos. In fact, you are impeding your growth as a miniature photographer by only taking pictures in a photo lightbox. You're also excluding the opportunities for creating truly extraordinary photos! Let me explain.
A professional photographer typically works out of a studio. A studio serves the purpose of a photo lightbox by strictly limiting and controlling photographic variables, e.g., lighting brightness, color temperature, source angle.
For the studio photographer, a highly-controlled environment produces a consistent image style and quality. But, this doesn't mean the captured images are good (or great). In fact, I would venture to say that studio captured photos rarely create great, unique images. In the same vein, photographing miniatures with a photo lightbox will result in images with a sterile, manufactured look about them.
I would argue that truly great photography happens organically. A great photograph requires the introduction of variables we don't control.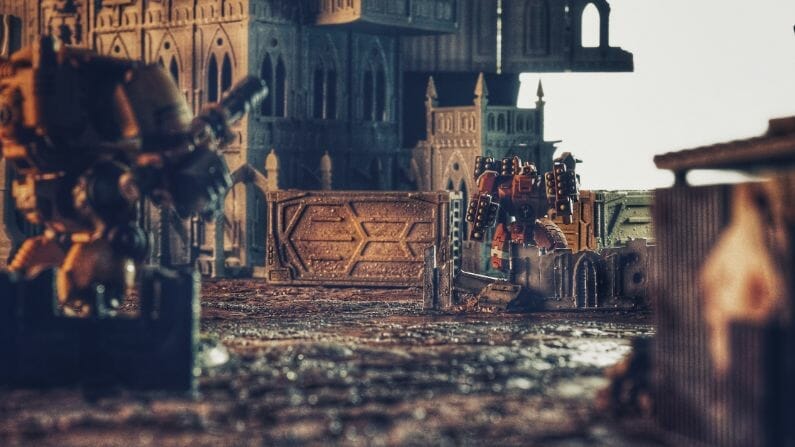 Take the miniature out of the box and bring it outside. Experiment. Take pictures. Lots of them. You'll be amazed by the myriad of ways that a single light source, the Sun, can bring life to your model subject.
With an organic process, using natural light, changing the environment, you will develop abilities that let you take good miniature photographs in almost any environment. You will become a more competent photographer across a spectrum of ambient lighting conditions. And, you'll discover once in a while you may capture something great, amazing, a gorgeous image you'll never create in a controlled studio lightbox!
3 Quick Tips to Improve Your Miniature Photos
Here I have 3 quick tricks for elevating you miniature photographs immediately!
Turn off the flash
Use a simple background
Take photos outside with natural light
Tip #1 – Turn off the flash
This is particularly important if you use your smartphone. Don't use the flash on your camera. Turn off the flash and forget it exists. The only time you will ever need the flash is if you are out in the city somewhere and happen to catch a celebrity in a knackered state. A flash will freeze the awkward moment in time, bad lighting and all, and let you sell the image to TMZ.
Tip #2 – Use a simple background for your images
Whether you're in a natural environment or using a studio light box, keep your backgrounds simple. A busy backdrop will detract your viewer's interest from your subject. A grey gradient is a universal background you can use for most miniature photos in a lightbox. You can download free lightbox backdrops here. For more photography tips for miniatures, check out these articles.
Tip #3 – Take photos outside with natural light
Your best results will be overcast days, diffused natural light is the win for good photographs. Tack your background to a fence post, the side of the house, put the sun behind you, and fire away. You will like the results.
Summary: Pros and Cons of a Photo Lightbox
Controlled lighting conditions
Efficient workflow
Great for product photography
Affordable equipment
Predictable results
Consistent image quality
Can limit creativity
Risk of boredom
Requires more technical knowledge, e.g., lighting/shadows
Restricts model composition
Equipment takes up space
Conclusion
I hope this article was helpful! Of course, I didn't capture all the nuances of taking great photos of miniatures. But, like any art, photography is best improved through practice over and over.
If you have questions drop them below. I'd also love to hear your suggestions for capturing better images. I'd love to learn your process, and try them out myself.
If you have come up with your own cool way of getting great miniatures photographs, please share with us!
---
About Chris Seehafer
Chris Seehafer is a marketing professional with 20 years of experience in the miniature hobby and with organizing club and tournament play. Check out Chris' latest project at Contagion Challenge.
Here are two videos about how Chris Seehafer takes miniature photos:
---
Tangible Day on YouTube (Miniatures and More!)