Acrylic paints are a popular choice in miniature painting because they are environmentally friendly, nontoxic and easier to use than other types of paint. When dry, hobby acrylics remain flexible so it won't crack when handled or painted over. Model hobby acrylic paints are available in a range of colors, including metallics. acrylic mediums to increase transparency or slow drying time. Acrylic paint is also used by modelers to make faux finishes with matte and gloss acrylic additives and varnishes.
In this article, I share a reference guide for using acrylic paints in your miniature painting hobby. I will review useful information about how to acrylic paint and provide an overview of the differences between acrylic paint basecoats, layers, and glazes.
---
Learning Objectives
Present a review of the benefits and uses for acrylic paint in miniature painting
Introduce the different types of acrylic paint applications: base coats, layers, and glazes
Provide useful tips for using basecoating, layering, and glazing techniques on miniatures
---
What is a Hobby Acrylic Paint?
Let's start with something you and I take for granted. What is acrylic paint? 😅
Acrylic paint is a water-based, low odor, and quick drying polymer emulsion. In principle, all acrylic paints are a mixture of colored pigments and a polymer binder that keeps the paint fluid. Almost all hobby acrylic paints use a water-soluble formulation, which allows any painter to thin, dilute, and mix their paint with water.
Because these acrylic hobby paints will continue to dissolve in water as it is added, there will be point when the paint loses its consistency, surface tension, and normal adhering/binding properties when applied to a surface with a brush (or airbrush). I'll show you how to use this behavior to your advantage in painting miniatures below.
Of course, the main benefit of using acrylic paints over the older enamel lacquers of yesteryear, is that acrylic paints are environmentally friendly, non-toxic, and don't require harsh solvents for thinning or clean up.
What is in Acrylic Paint for Painting Miniatures?
Hobby acrylics come in a variety of forms including liquids, gels, and soft pastes. They may also be packaged as single colors or small sets of related colors called "color families." Reaper paints has a line of "triads" (here's an example) that are similar to this concept. You can use triads to help you apply paints of related colors, such as flesh tones, or for an seascape motif.
Why Should You Use Acrylic Paint in your Modeling Project?
There are a few reasons you might want to use acrylic over other types of paint. Acrylic paints are used in painting models, teaching art and painting for children, as well as fine arts application (watercolor paint substitutes). Acrylic paint may come in three general forms, depending on its intended use:
Craft paints
Artist grade paint
Hobby, modeling paint
All acrylic paints comes with a number of additives that make it good for different applications. This includes mediums that change acrylic's working properties, e.g., thickness, flow, level of smoothness or brush-ability, and additives that help acrylic paints adhere to different surfaces.
1. Craft acrylic paint
Craft paints are the least expensive, budget-friendly type of acrylics you can find in any arts & crafts store. Arts and craft acrylic paints are often used in general hobby crafting projects, like scrapbooking, poster-making, and kid's art activities in school or home. Here's a review of a great kid's craft acrylic paint set.
READ MORE: IS LICKING YOUR HOBBY PAINT BRUSH DANGEROUS?
The acrylic you often see in craft grade paint use coarser pigments, or a lower density of color pigments in the acrylic emulsion. This creates a paint with a more translucent coverage behavior than higher-quality acrylic paints. Of course, this reduces the cost of the paint and usually gives the paint a longer working time before it dries. The viscosity of crafting grade acrylic paint can vary widely, from very thick pastes that require thinning, to a high-flow medium that you can buy in large volume bottles.
In general, although you can use craft paints to paint miniatures and scale models (many do!), they are not recommended. This is primarily due in part to the aforementioned lower paint coverage, coarse application, but also the lack of durability of these craft paints when handled or exposed to an environment for any long period of time.
Many miniatures and models must endure gameplay handling, or long exposure in display cases, without damage to their paint coats. Sure, a good varnish can help, but the craft paint itself may lack the intrinsic integrity to resist peeling, cracking, or chipping. Overall, craft paints aren't a the best choice for miniature painting because they lack the durability and longevity of better, higher-quality hobby grade paints.
2. Artist grade paint
As with craft paints, there are a huge variety of artist grade paint types, e.g., aerosols, high-flow acrylic inks and pigments, alcohol-based mediums, pastes or gels, and many more.
The biggest differentiation between craft and artist or professional grade acrylic paints is in the higher quality of the color pigmentation, pigment size and homogeneity, binder viscosity, and durability/colorfastness/UV-resilience. Sure, there are a lot of other granular differences as well, such as mass tone and undertone, vibrancy, and other terms related to color, transparency, etc.
But for the miniature painter, the ability of paint to cover a surface, retrain detail, flow off a brush in a controllable manner, and endure long days at the game table are probably the most important attributes of any acrylic paint.
3. Hobby or Modeling grade acrylic paint
In miniature painting, the most sought after acrylics are those from major hobby and game brands. Hobby paints from Citadel, P3, Vallejo, The Army Painter, Scalecolor, Kimera, Pro Acryl, and others are formulated for small scale miniatures. All of these paints, with some exceptions, are water-based acrylic polymers with color rich pigments of varying density, in a suspension with a clear acrylic polymer binder.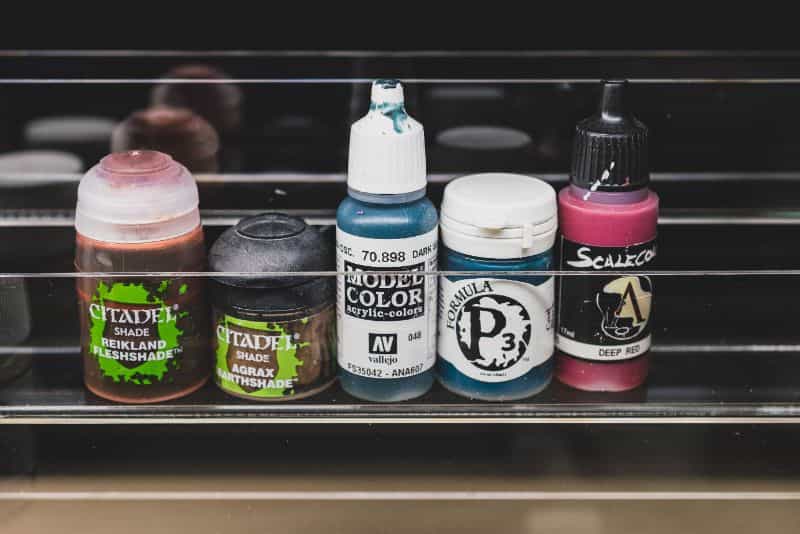 While the formula for every hobby brand acrylic paint differs, e.g., thickness, color hue, saturation, and even application purpose, all hobby acrylic paints share the same principle of helping a hobbyist give life to their models with paint colors that are easy to apply with a brush and endure gameplay handling and display, showcased in a broad spectrum of environments.
I'll note that acrylic hobby paints vary greatly in their application. They can be applied from a spray can, a traditional brush, or with an airbrush. There also a wide variety of important painting techniques you'll want to know with hobby acrylics for painting miniatures.
Of course, any acrylic paint despite its durability are not designed to be used as the final layer on your miniatures. You will need to seal your miniatures with a good varnish if you want any of your paint jobs to last. This is true for traditional art as well as miniature work. Again, varnishing your models is especially important if you plan to use your painted miniatures or models in tabletop games or board games.
How Do Acrylic Paints Work?
All acrylic paints are an emulsion. This means that, as an emulsion, acrylic paints are a mixture of two or more immiscible liquids, e.g., or components that don't blend evenly together. If left alone in their container, an acrylic paint will likely separate out into its different elements, e.g., pigment vs binder.
For best use in painting miniatures, it is necessary to give your paint bottles or pots a good shake. You can do this by hand or with a motorized hobby paint shaker or other types of mixing machine.
When applied to a model, hobby acrylic paint dries by water evaporation. When water leaves the acrylic paint, the residual is a polymerized layer of color pigment. This dried polymer layer is an elastic, flexible network that bonds the paint color to the surface of models. The use of an undercoat primer increases the durability of this acrylic bond to a model's surface.
Some acrylic paint layers will shrink or contract as they dry. In most cases, this has no effect on your paint job. But, if you are new to painting miniatures, this is a good reason to make sure your paint applications are thinly applied. If you apply layers of paint that are too thick, the drying process may end up leading to peeling, easily chipped, and cracked paint.
What Should You Know About Paint Viscosity in Miniature Painting
Acrylic paints have different levels of "viscosity", or "thickness". Viscosity is often associated with three different acrylic paint types: fluid acrylics, heavy body acrylics, and extra heavy body acrylics. Acrylic paints with a low to medium viscosity flow when you apply acrylic paint layers with a paint brush.
Acrylic paints that have a high viscosity are thick liquids (or gels) that will not flow on acrylic paint surfaces easily. At extremely low viscosities, acrylic paints will flow like water or run along surfaces, depending on additives that affect surface tension. For airbrushing acrylic paints, a viscosity of around whole milk or melted ice cream is usually recommended for best atomization of the paint, and reducing the risk of clogging the spray nozzle.
The thickness of acrylic paint affects how you should apply it to a miniature. Multiple thinner layers applied sequentially is better than fewer thicker coats. Obviously, the cost of working this way is more time. But, the end result is worth the effort. Thin layering of acrylic paint layers is useful not only for preserving surface details on a miniature, but is a prerequisite skill for more advanced paint blending techniques, such as glazing.
Is Lightfastness Important for Miniature Painting?
Some acrylic paints are not lightfast or they fade over time when exposed to UV light. Acrylic paints can be labeled as acrylic lightfastness: "Excellent", "Very Good", "Good", or "Fair". For the most part, almost all well known brands of modern hobby acrylic paints, e.g., Citadel, Vallejo, Army Painter, and Reaper, have excellent or very good lightfastness. Combined with a suitable varnish, such as Testors Dullcote, you won't have to worry about your painted models fading over time.
How Acrylic Paints Differ From Other Types of Paint
Acrylic paints differ from other types of paint by drying much faster. Acrylics can go into the smallest details on a miniature, but they can also be applied very broadly. They are not acrylic thinner or acrylic medium specific. For thinning acrylic paint, it is best to try using water.
Acrylic paints are water-resistant after they dry. This means that when you apply wet acrylics over dried acrylics, the latter application will not mix with the first. This is in contrast to oil painting, which some miniature painters love to use (including myself) for its wet-on-wet blending qualities.
Acrylic paints can show brush strokes if applied thickly or with specific brands of gel/paste-consistency acrylic paints. Interestingly, in my experience, the exception to this rule are metallic acrylic paints which will not easily show brush strokes. Even with glazes over metallics, you'll find it rare to see texture in the paint created by your brush.
In some cases, if you know what you're doing, you can combine acrylic painting techniques alongside other paint types, such as oil paints, watercolors, gouache. For example, you can use an oil paint wash over a dry acrylic basecoat for a grimdark effect. Or, use a gouache to add a color filter over a fully painted miniature. In either case, these other paint mediums can create other fun effects, and add interest to an acrylic painted model.
Acrylic Paint Basecoats, Layers, and Glazes in Miniature Painting
Acrylic paint basecoats, layers and glazes are often used in combination with each other in a miniature painting.
Basecoats are acrylic paints that you apply first over a primer undercoat. An acrylic basecoat is a layer on the miniature that is usually thicker than a layer or glaze coat.
Layer acrylic paints are applied over the basecoat to add more color to your acrylic painting. They are often applied in thinner applications to preserve texture and surface details on the model.
Glazes are acrylic paints that have been thinned down with water, and are highly translucent. Some glazes are made with ink, e.g., liquified pigment, thinned acrylic, or premixed with additives to give acrylic color additional translucency. Acrylic glazes can be used as "a wash" for large areas by covering all of the surface in one go and allowing pigments to settle in recesses and crevices on a model.
What are Acrylic Paint Basecoats, Layers, and Glazes are Used For?
Basecoats
An acrylic basecoat is a color that is used to prepare the surface for other colors. It is a thicker coat of acrylic that sets the base tone or color of the miniature's surface.
Layers
Acrylic layers are typically thin coats of acrylic that don't cover the basecoat surface, completely. This allows a painter to most easily blend and transition other colors together smoothly. Layer paints are often thinner and less opaque than basecoats, and useful for a broad range of techniques, including wet blending and stippling.
Glazes
An acrylic glaze is paint that is used on top of other acrylic paints and acts as a "filter" that adjusts the shade, tone, or hue of underlying colors. Glaze acrylics have more fluidity than other acrylic paints and remain transparent after drying.
Combine Basecoats, Layers, and Glazes in Acrylic Miniature Painting
For most of my miniature paintings, I combine the use of basecoats, layers, and glazes to great effect. Using simple techniques is all you need to create all the complexity you want in your miniature painting.
Here is a work in progress example of how I used the basecoat of brown and flesh color, along with layering and glazing to paint the skin of this monstrous Warhammer Age of Sigmar model.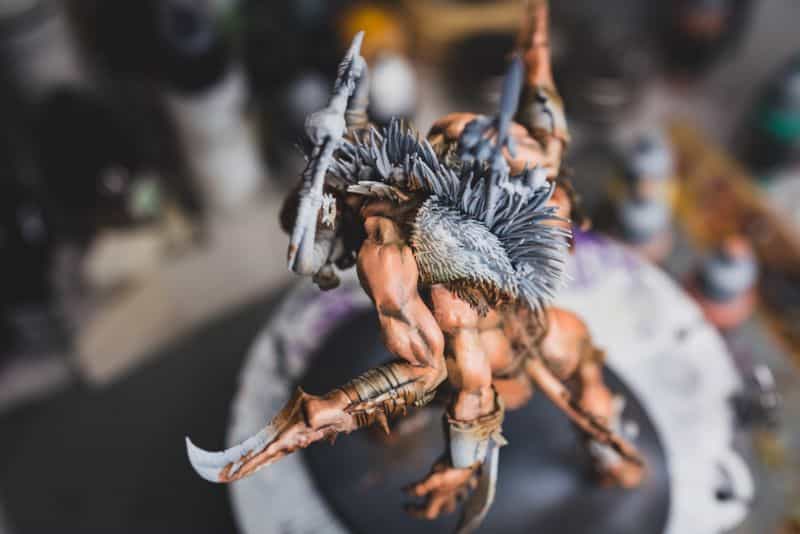 ---
Summary: 10 Simple Tips for Using Acrylic Paints with Miniatures
Understand how to use acrylic paint basecoats, layers and glazes in combination with each other
Find out how acrylic layers and glazes differ in their application
Learn techniques to create your own acrylic layer or glaze by thinning paint with water or other medium
Find your favorite brand of acrylic hobby paint that work best for your preferred painting workflow
Learn to apply a basecoat with a brush, spray or airbrush
Use acrylic paint layers to create depth, color, and contrast on your model
Practice how to apply thin layers of paint without leaving behind brushstrokes, e.g., don't overwork drying paint
Add inks to your acrylic paint to thin and adjust hue, tone, tint, and shade
Use glazes to help you blend paint colors and smooth out transitions between layers of acrylic paint
Acrylic glazes are easier to apply with a damp brush with good snap and spring
---
Final Word
I hope you found this reference guide for acrylic painting informative for your miniature hobby. Acrylic paints can be used on many types of surfaces, are environmentally friendly, and a versatile medium for adding color and life to any subject.
If you have further questions about acrylics, let me know!
Have fun and happy miniature painting!
Tangible Day on YouTube (Miniatures and More!)