Are you looking for a great hobby desk lamp? Finding the best hobby light for crafting, working with scale models, or any hobbies that require a pleasantly, soft illumination depends on a few notable features. This includes a natural daylight LED source housed in an ergonomic and easily accessed swing-arm or other flexible armature. Clamps or weighted stands are another consideration for your hobby work light.
In this article, I share my experience as a professional miniature hobbyist who has worked with models and related hobbies for years.
---
---
Frequently Asked Questions (FAQ): Best Lighting for Hobbies
Plus LEDs consume very little power which makes them an environmentally friendly and sustainable way to enjoy our hobbies! Last but not least, one major benefit that other types of lights just can't match: LEDs have long lifespans with standard ones able to endure tens-of-thousands hours without needing replacement.
Swing-arm lamps clamp-on to the side of the workspace, which frees up the rest of the table for actual work. Moreover, these types of lamps are highly-flexible, e.g., hence the swing/flexible arm component, allowing you to place the light directly over your work.
A desktop lamp that stands on your table working surface will take up space, of course. On the other hand, they are smaller and somewhat easier to move around than a swing-arm lamp. Floor lamps are obviously a lot bigger and must have floor space near your hobby table. Floor lamps also have some of the most powerful lights built-in, and may even have enough light to illuminate your entire room.
Although most desk lamps have great illumination for hobby work, many do not produce the proper kind of light you'd want for great photography or video.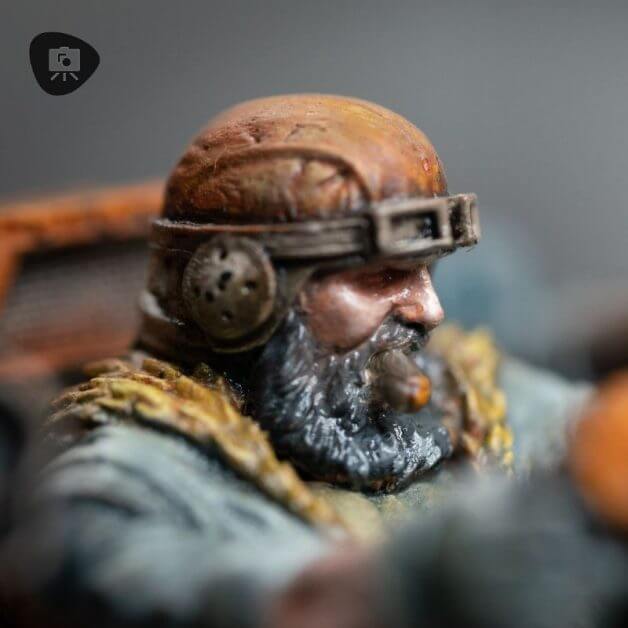 For good hobby photography lighting, a good light should provide a clear image of your working surfaces. This means image clarity though accurate color reproduction and visible contrast with a wide dynamic range (i.e., the distance between the brightest light to darkest dark value).
For simplicity, though, I simply use my Neatfi XL lamp.
For more information about how to improve your miniature photography, here are articles about how to take better miniature photos and recommended photo lightbox studios. I also use LED rings lights (reviewed here) for cinematic style photography.
---
Whether you need a lamp for an arts and crafts project or some extra light that would illuminate your workspace, the Neatfi XL LED Task Lamp will be the perfect addition to any space. With 117 LEDs providing 2,200 lumens of bright white light with just 24 watts, it'll ease your mind knowing that the high CRI rating at 80 means accurate colors when painting or detailing.
---
The best task light for your hobby workspace! Whether you're working in a tiny studio apartment or in a huge room that's drowning in natural sunlight during the day, this hobby desk light will help keep your creativity flowing. This lamp is able to provide tons of brightness without it being too dazzling with its 20″ LED light bar. The flexible gooseneck means flexible height and ergonomic adjustment with a desk clamp that places the arm back out of the way of your work space.
---
Are you a hobbyist looking for the right, affordable desk lamp for your work space? This metal swing arm lamp offers you a robust range of adjustability to brighten your hobby desk. This desk lamp features an table clamp that is easy to install. The light also offers stepless dimming that subtly adjusts from 100% down to 20% brightness.
---
The Brightech LightView PRO magnifying lamp is perfect for hobbyists and DIYers. It's easy to assemble; open the box and put the clamp and arm together. Built-in LED light produces up to 800 lumens and a 6,000 Kelvin color temperature (e.g., a cool neutral white light). The 4x magnifying lens is perfect for detailed hobby work, as the glass lens offers crystal clarity. The 8″ working distance also ensures you have enough room to accommodate your tools.
---
Neatfi is your one size fits all companion for hobby and craft illumination. It can be used as an extra large magnifying glass or office desk lamp. The dual lens with a 7" diameter has two different focal lengths that let you switch between seeing far or close up. A 1,600 lumen light ensures soft illumination in a color spectrum between 5600K-6000K. You'll have less eye strain or fatigue after long hours of hobby work. I'd take a closer look at this lamp, if I didn't already have the Brightech Lightview Pro.
---
Summary: 5 Best Hobby Work Lights and Lamps
---
Conclusion
Choosing the best hobby desk lamp will depend on your needs. If you're looking for a great hobby desk lamp, the best ones are those that provide excellent illumination and have an ergonomic arm or clamp to attach it. These best lights will be bright enough to work with your hobbies, but not so powerful as to cause eye strain. There are many options available in terms of brightness levels, color temperature, and other features.
From my experience, if you need a bright, durable work light that can also double as an excellent photography or filming tool, then I recommend getting the Neatfi XL 2200 Lumens LED Task Lamp.
What lights are you using for your hobby space? Do you like them? Let me know with a comment below.
Tangible Day on YouTube (Miniatures and More!)