One of the most debatable decisions a tabletop gamer can make is what to put into their dice tray. Dice rolling surfaces come in many materials with different properties. You may want something that's soft and quiet, or you may need something durable and easy to clean up after spills. It all depends on your personal needs!
In this article, we'll go over some of common sound dampening material options for dice trays, so that you can choose one best suited for your gaming needs!
---
1. What is a Dice Tray
Dice trays are a necessary part of any dice game. A good tray should provide enough space to roll your dice, keep them organized and visible for all players, as well as protect the table or floor from runaway dice. They are especially useful for those of you who use heavy metal dice.
You can make a dice tray out of duct tape with an old shoebox, if you're feeling motivated to DIY your dice tray. Most people do, in fact, including myself. But if you're the busy type, or don't want to deal with crafting something, you can check out some custom dice trays that you can order from skilled artisans who are able to create bespoke work exclusively just for you.
Ultimately, dice trays are more than just a physical game accessory. They're how you interact with your dice, your decision made manifest. They are a part of how you make things happen in-game. They are the arena where you decide what to do next and find out if you succeed or fail! Dice trays are as personal as the dice you throw, and decisions you make. Check out my favorite artisan dice trays on Etsy.
2. Why Should I Choose One Rolling Surface Material Over Another
The type of surface a dice tray is made from can have a big impact on how noisy the game is. Harder materials, such as wood, will cause your dice to bounce multiple times, possibly against the sides of the dice tray, too. This can be startling when you're playing late at night or in games with other players, while children are asleep nearby.
The surface material in a dice tray has a drastic effect on the noise register of rolling dice, even when they hit each other. There are many types of materials to choose from. For those who use metal dice, dampening a bounce also prevents scratches and dings that can marr softer dice finishes, e.g., lacquers.
The different options for a rolling surface include leather, neoprene, EVA foam, and fabrics, like velvet or felt. You can more about each of these different types of materials below.
If you play Dungeons and Dragons or another game that requires polyhedral dice, some rolling surfaces may simply look better as well as feel better when dice roll on them. As mentioned, if you have young kids or live in an apartment with neighbors, and you play late into the evening, you may want to strongly consider these quieter rolling surfaces.
3. Useful Sound Dampening Material Options for Dice Trays
Cardboard
Cheap, cheap, cheap. But, alas, if you want that nostalgic feeling when playing your favorite game with dice, you can't beat the old shoebox or shipping box you repurposed. DIY cardboard dice trays are what kids with no budget use, or those of us who cheap-o's use.
You can certainly "enhance" your cardboard rolling surface with a felt layer, or some other choice material, but for ultimate hipster dice tray goodness, cardboard is the cheapest, effective option for dampening the sound of dice rolls.
Felt
Felt is traditionally made from sheep's wool, but for the most part, almost all felt for dice trays are synthetic. This non-woven material is inexpensive and acts like a durable sponge. Felt provides some level of sound dampening and can typically be used in any situation where you need to stop or reduce noise that is not coming from gaming your surfaces. You can buy felt lined dice trays with all sorts of designs and colors.
Velvet
Velvet is a type of fabric with an extremely dense pile, which is the raised surface of a fabric. Pile give velvet its tactile feel from the use of loop-pile weaving. This weave creates smaller cuts in the back fabric, which lay on top to create a fuzzy texture. A side effect of this is that the sound of the dice rolling around in a velvet dice tray is dampened.
Velvet is an affordable alternative to other materials, and protects dice rolling surfaces, e.g., your dinner table, or fancy wooden dice tray.
Neoprene Rubber Padding
Neoprene is a synthetic rubber that can be found in many common items like wetsuits, water bottles, and gloves. It is often used as a padding material because it is soft, cushiony, waterproof yet durable and flexible. For dice trays, neoprene is one of my favorite rolling surfaces other than leather, because it has a soft, cool feeling to the touch.
I also enjoy the subtle bounce neoprene rolling surfaces give to my metal dice. And, speaking of metal dice, neoprene is probably the most resilient dice rolling material you find for protecting surfaces against rolling heavy metal dice. Neoprene is also an effective sound dampener and works great for silencing those dice rolls.
EVA Foam
EVA foam is a durable material that is used for making many products. It has a wide variety of uses, e.g., cosplay, and isn't expensive. Working with EVA foam does require a bit more skill as it can be hard to cut and shape. On the other hand, it works great as a dice rolling surface. It is very durable and will reduce the noise register from dice when they are being rolled on a tray. If you have young kids or play late at night, EVA foam rolling trays are a great choice.
Craft Foam
Craft foam is not as dampening for rolling loud dice, but will protect your metal dice (or tabletop) from damage when rolled. It will also provide a softer surface for any other kind of dice that tend to clack loudly when you roll them. You can use craft foam in DIY dice trays, too, or simply insert foam into an existing dice tray when you need a bit more quiet.
Cloth
Cloth is a type of material that is as diverse at the games you choose to play. It is best used in DIY projects because it is easy to work. You can find cotton, wool, or other soft materials, even flooring carpet, to construct a unique dice rolling tray. You can sew or glue cloth to a wood or other frame to dampen the sound of rolling dice.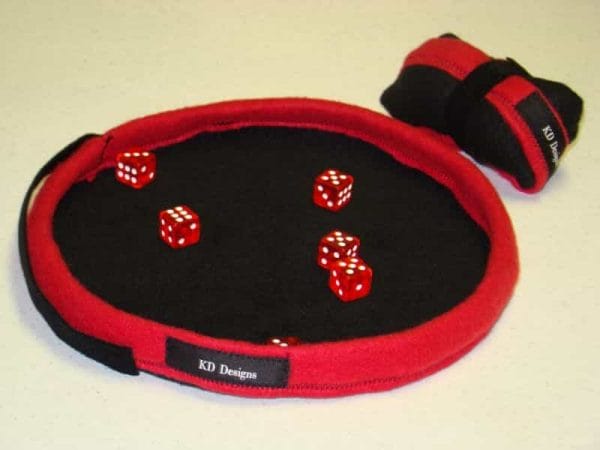 Leather
Leather is a durable and flexible material created from the hide of an animal. The most common type of material used for making leather dice trays is cowhide. You can also find a lot of dice trays with synthetic leather (e.g., polyurethane leather or "pleather"). The leather dice tray will not only dampen the noise of rolling dice, but it will provide a durable and flexible surface for rolling dice.
Custom leather rolling surfaces can be some of the most attractive surfaces for your dice tray. Leather dice trays are particularly fitting if you play fantasy RPG games, like Dungeons and Dragons or other games that use styled polyhedral dice. Note that with some leather dice trays, you may need to condition the leather material after a while to prevent it from drying out and cracking.
---
Related Dice Tray Links
Are you looking for more information about dice trays for your tabletop games, e.g., DnD, boargames, and more? Check out these articles and links for more info!
---
Conclusion
If you are a tabletop gamer and need to keep the noise down, there are many options for dice rolling surfaces. These can be made of wood layered in felt with a vinyl backing, neoprene rubber, or authentic leather.
Some materials will work better than others depending on what game you play using polyhedral dice like metal ones which is why it's important to think about your needs before making a decision. If you have young kids who also may interrupt other players in late night games then we recommend considering quieter surfaces that still allow for good rolling but with less sound registered from hitting each other.
Do you want a quieter, more subtle dice rolling experience? What type of dice rolling material do you use with your favorite dice tray? Let me know, leave a comment!