I love painting miniatures. But, sometimes I struggle with what colors to use. I don't want my mini to look like a rainbow threw up on it, but I also don't want it to be boring. So, how do I choose a color scheme?
In this article, I briefly share my favorite way of finding a color scheme for my miniatures. Usually, this means Warhammer 40k or Age of Sigmar models, but it can be applied to any type of miniature.
---
My Favorite Way to Choose a Color Scheme: Emotional Experience
Emotion. Affectivity. Pathos.
When I am looking for a color scheme for my miniatures, I ask myself how I want the model to feel. Do I want it to be peaceful and serene? Ominous and foreboding? playful?
For example, let's say I am painting a Blood Angel. I might want them to feel…
Ferocious
Intimidating
Bloodthirsty
From there, I would start to look at colors that convey those emotions. Red is an obvious choice for Blood Angels, but I might also consider other colors that are associated with those emotions.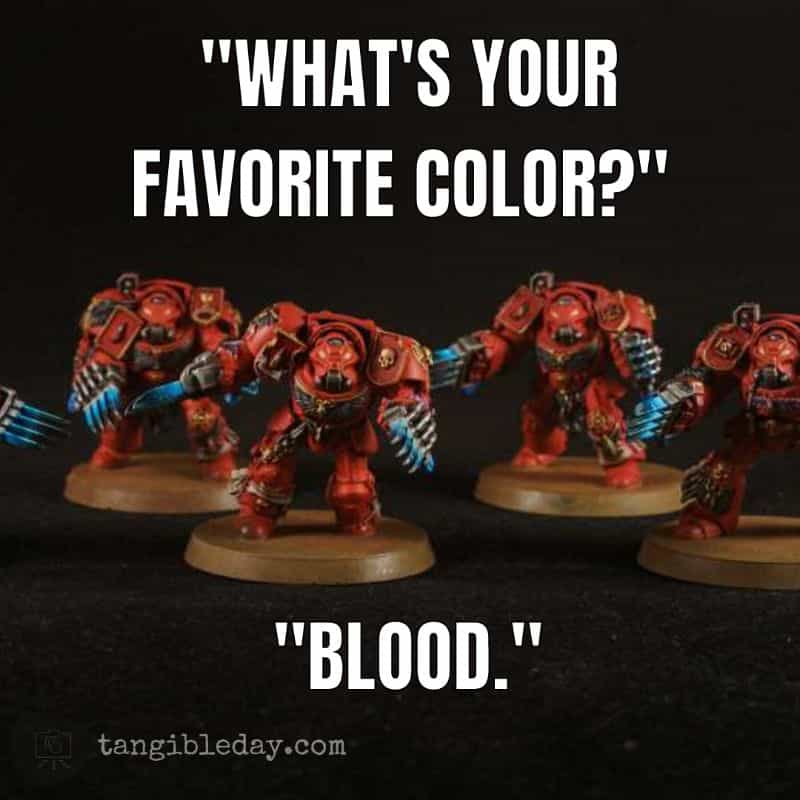 For example, black can be used to convey intimidation, while military green might be used to show ferocity.
Sure, I'm breaking a bit from the classical color scheme of the Space Marine chapter approved, all that. But, whatever.
Once I have my color scheme, I start painting! And, if I'm not happy with the way it's looking, I'll try something else. Because at the end of the day, it's all about finding what makes you happy.
---
Why Starting with Emotion is a Great Way to Choose Colors for Your Miniatures
There are a few reasons why starting with emotion is a great way to choose colors for your miniatures.
First, it allows you to tap into your creative side. You're not just looking at a color wheel and saying "eh, that looks good." You're really thinking about how you want your model to feel, and what colors will help convey that.
Second, it allows you to break out of the "usual" color schemes. If you're painting a Blood Angel, there's no reason you have to stick to the traditional red and black. You can go off the beaten path and try something new!
Finally, it's just a lot of fun. When you're painting a model with a certain emotion in mind, the process is more engaging and enjoyable.
---
Psychology and Color
Okay, maybe not all of them. But some psychologists have studied the effects of color on emotion, and they've found that certain colors can indeed elicit certain emotions.
In fact, all of what we know about how colors work is theoretical. Psychology is just one starting point.
For example, red has been shown to increase feelings of anger and aggression, while blue has been shown to calm people down. Blue has been shown to increase feelings of peace and relaxation.
Of course, this is just a generalization. Everyone experiences color differently, and what one person finds relaxing another person might find agitating. But it's still interesting to think about how colors can influence our emotions.
Fun fact: Ever wonder why you'll rarely see ice cream packaged with red containers? Red and its related hues denote warmth, a feeling that is the opposite of what you want when eating ice cream!
Anyway, when you're trying to find a color scheme you love, maybe try starting with emotion. It's a fun way to tap into your creativity, and you might be surprised at the results!
---
Are You in the Mood for Color Theory?
No? Me neither. But, alas, it is the best way to find a color scheme that works for your miniature. By understanding a little bit about color theory, you can create a color scheme that is both eye-catching and pleasing to the eye.
The basis of any good color scheme is contrast. At least this is my opinion.
A color scheme with low contrast can look muddy and dull, while a color scheme with high contrast can look garish and overdone.
In general, this is what I think I prefer when considering a color scheme for painting a model army cohesively: You want to have a light color and a dark color, or a bright color and a dull color. This contrast is what will make your miniature stand out.
In terms of light and dark colors, you want to be careful not to go too extreme. If all of your model is one color, it's going to be very boring. Conversely, if you have no dark colors at all, your miniature will look washed out.
I usually like to have three or four colors in a color scheme. This gives you enough variety to add interest, but not so much that it becomes overwhelming.
Of course, there are no hard and fast rules when it comes to choosing a color scheme. But I think understanding a little bit about color theory can help you create a scheme that is both eye-catching and pleasing to the eye.
---
Do I Have a Favorite "Default" Color Scheme for Miniatures?
As a commission painter, I'm often given artistic license. This means I can pretty much choose any color scheme I want, as long as it fits the client's vision.
RELATED: 5 WAYS TO CHOOSE A PAINT SCHEME FOR A MINIATURE ARMY
I have a lot of favorite color schemes, but if I had to choose one "default" scheme, it would be this:
Light Color: Ivory white or warm-toned white, e.g., beige
Dark Color: Dark blue
Bright Color: Orange or turquoise
Dull Color: Olive military green or desaturated brown
This is a color scheme that I use often, and it always looks great. It's also easy to find models that fit this scheme, which is helpful when you're trying to paint an army cohesively.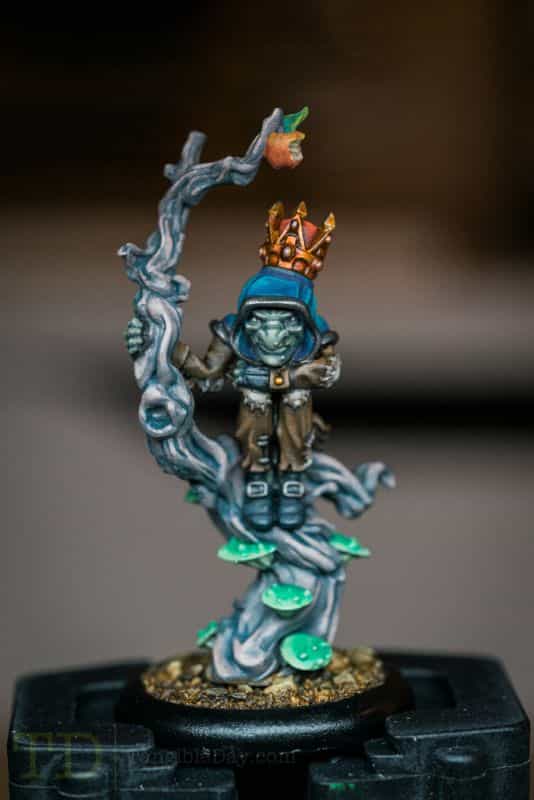 For a bit of "bling", I'll throw in a metallic paint. I have some favorite hobby metallic paints that I enjoy using a lot. They really make the colors pop and add a bit of extra interest.
For some examples of miniatures I painted for various clients (and myself), you can check out my miniature painting gallery.
---
Frequently Asked Questions (FAQ)
1. How do I choose a color scheme for my miniatures?
There is no one "right" way to choose a color scheme for your miniatures. As mentioned above, if given the freedom to do so, I typically start with an emotion, experience, or pathos I want to evoke in a piece.
Some people prefer to base their color scheme on the actual colors of the miniature, while others prefer to create a color scheme that is completely different from the default colors.
I know painters also like to base their color scheme on a certain period of history, a certain game setting, or around a center-piece model, e.g., a Warhammer Elite or HQ character.
Ultimately, it is up to you to decide what color scheme you want to use for your miniature.
---
2. What are some tips for painting miniatures?
There are many tips and techniques for painting miniatures. Here are just a few:
Use a primer undercoat. This will help your paint adhere to the model and give you a nice even surface to start with.
Choose a color scheme that works for you. You don't have to go with the default colors if you don't want to.
Make sure you have good lighting. This will help you see what you're doing, prevent eye fatigue, and avoid making mistakes or simply keep you motivated.
Use the largest high quality brush you can. A bigger brush will help you cover more area faster. A fine, sharp tip will help you get those details painted.
Take your time. Don't try to rush through the process or you may end up with a sub-par results. Also, it's about fun, right?
READ MORE: More Professional Miniature Painting Tips and Tricks
3. How do I create contrast in my miniature paintings?
Contrast is important in any painting, but it is especially important in miniature painting because of the small scale. Painting contrast creates and enhances the "volume" on 3D sculpted pieces.
There are several ways to create contrast in your miniature painting.
You can use different colors, values (light and dark), or textures.
You can also create contrast by using different paint application techniques, such as dry-brushing or washes. Here is a neat technique using photography for creating contrast on your models.
---
4. What is your favorite "default" color scheme for miniatures?
This is a very common question I get from readers and my local community. Scroll back up! I much prefer the orange/turquoise color hues for the mid tone in my miniatures. But to each their own!
---
5. How do I find inspiration for miniature painting schemes?
Again, there is no one "right" way to do this. You can look at other painters' work for inspiration or get ideas from books, magazines, comics, movies, etc.
You can also try using a color wheel to find complementary colors or split-complimentary colors. Honestly, I don't like using "science-y" tools for choosing colors. It's a tad too rigid for my taste.
And, I think color recipe cards are wonderful for new painters. But, after a while, I think recipes hold you back.
If you're painting for a competition, or to stand out from the crowd, get away from formulas!
Lastly, search Google Images for "miniature painting schemes" or "color inspiration" to get some ideas. Also, try looking up artists you admire and see how they use color in their work.
---
Final Word
Emotion. That's it. That's my secret (most of the time). I paint for the feeling, not the technique.
What do you hope people feel when they see your work? What colors make you feel that way? Whether it's gritty, tragic, happy, nostalgic, angry, triumphant, etc. use that!
What I find most engaging is when people make bold choices with color. It doesn't have to be "pretty" or "perfect."
People tend to remember how they felt, what they experienced, much longer than what they saw. It's the moment, the event, that people talk about and share.
And that's my favorite way to choose a color scheme for miniatures.
So, what do you think? Was this helpful? What are some of your tips and tricks for choosing color? Share in the comments below!
Tangible Day on YouTube (Miniatures and More!)