Are you looking for a good DND Miniature Painting set? If you're looking to start painting straight away, then take a look at paint sets that bundle your favorite colors together. For those looking to add a bit of life to their unpainted DND miniatures, but unsure where to start, you can be assured that model painting is a simple process.
In this article, I share some of my favorite miniature painting sets for Dungeons and Dragons (DND) miniatures, and other RPG models.
---
In a Hurry? Check Out 3 Popular Paint Sets for Painting Miniatures:
Wargames Delivered Starter Miniature Paint Sets (Big Bundle Set)
Learn to Paint: Layer Up! Bones Paint Set (Compact, Beginner Friendly)
The Army Painter Mega Miniature Painting Kit (Generalist, Do-it-All)
RPG miniatures, including Dungeons and Dragons, Pathfinder, or any other TTRPG game.
---
What is the Quickest Way to Paint Miniatures?
Well, the painting process is different for everyone. In general, you'll want to have a good collection of paints with a good swath of colors. What you don't want to do is end up having to mix paints for every miniature painting project.
This will slow you down immensely. The idea is to choose a few colors, maybe no more than 5, and paint your entire model with those paints, only.
The fewer paints you have to decide when you're working on your model, the quicker and faster you'll finish the job.
Fewer colors means a speedy paint job. Though, the perfect starting palette will depend on your preferred scheme. Different techniques may also come into play when you're working with different paints.
Ultimately, the idea is to choose a few good quality hobby paints and practice.
The other tip I have is to make sure you use the biggest brush you can find and control when you're painting. Most paint sets have a brush included that may a good size for small models, but end up being too small for anything else.
If you're new to painting miniatures, then I suggest using cheap brushes until you're comfortable. Expensive paint brushes do not make you a better painter. They simply allow you to use different techniques, e.g., color wet blending, washing, free handing.
For more details about essential tools and paints you'll want for a good experience painting miniatures, check out this starter's painting guide.
---
A Word About Finding Good Paints
Good quality hobby paints are water-soluble, non-toxic, and often have a creamy consistency. All acrylic paints formulated for miniature painting should be applied in thin layers, which often requires diluting the color with water on a palette of some sort.
You'll find that the paint sets I recommend below for painting your DnD miniatures all have the same paints that cover well–which is great for base coats and getting a smooth finish. Must have paint sets also often come with a storage box to keep your organized.
The more organize you are with your paint colors, the more I think you'll want to paint. There's something magical about being able to jump right into the painting hobby without digging through a pile of paint bottles.
I expect the time painting miniatures will be worth the investment when you're finally done, and you can see your painted miniature gracing the gaming tabletop.
Overall, the countless hours you work on your miniatures will come down to remembering a few things to achieve best results.
---
My Tips About Miniature Painting, Anything
Practice with big brushes, and you'll paint faster without losing quality
Prime your miniatures before painting them
Pre primed and pre assembled miniatures save you time, but the extra costs involved with these models may not be worth it
Paints come in a bottle that you should always cap or close when you're finished (acrylic paints dry fast!)
Painted miniatures almost always look better than unpainted miniatures
The best current paints on the market today are from brands like The Army Painter, Games Workshop (Citadel), Vallejo, and Reaper–use a conversion chart to figure out how different brand colors appear with one another
Player characters are the mighty heroes who experience all foul monster encounters, political intrigue, and engage narrative storyline; why do it all in unpainted stale plastic, pewter, or resin?
---
How to Find the Best Paint Set?
A good paint set includes brushes, paints, and often tools. But, before you even pull the trigger on a purchase, here are the things I look for specifically for painting DND miniatures.
Cost
How much are you willing to spend? The ultimate paint set will have everything you can imagine.
Take for example, the Army Painter Mega Selection set or the veritable Complete Army Painter airbrush paint set, including metallics, thinner mediums, and other important media for airbrushing your models.
However, these sets cost upwards of $300 USD.
For those looking for miniature DND paints that will get the job done, Army Painter has official Dungeons & Dragons paints, which will let you start painting straight away.
The D&D Monsters Paint Set has 36 colors and has a 3 brush set included. For those looking for something simple to get their feet wet into painting miniatures, the Adventurers Set is more modest with 10 paint colors and has a brush included.
To find a good paint set, make sure you know how much you're willing to spend. My advice here is to be willing to buy what you need upfront and you'll end up saving a lot of time later.
Color Palette
What colors do you need? Most paint kits have a good selection of colors which will do just fine for whatever miniature painting you want to do.
For those looking for a bit of special effect, or a wider variety of opportunities (e.g., which increases the challenge), then things like metallic paints or technical art media, e.g., crackle paste, are available, too.
I'll note here that Gale Force Nine makes things like flocking material for basing your miniatures, and adding a bit of ambience to your miniatures.
Whatever your fancy, I would say that a good paint set is just the beginning. If you're committing to the miniature painting hobby as I have, then you'll end up buying all sorts of paints from a wide range of brands.
Paint Quality Means Longevity
Cheap acrylic paints go bad. This is either because they are formulated with poor quality ingredients, or packaged in bottles or pots that leak (i.e., not airtight).
You'll be surprised at how much this is an issue that the miniature painting community doesn't really talk about. But, for those of you who paint in spurts and fits, putting your paint bottles in storage for weeks, months at a time, this is something you may want to consider.
How long can I store my paints without using them? When I come back to my painting project, will the same paints be okay to use?
A good brand of hobby paint should last years and years without any trouble. You certainly will need to shake or mix paint bottles if they are left around too long.
Paint tends to separate over time. For best results, mix paints by shaking or agitating the bottle before use.
Given that I have a ton of paints in my collection, I use a motorized mini vortex mixer to do this. But, any miniature artist with a good set of arm muscles can do the job without any help.
To the point, cover your paint pots and cap the bottle when you're finished. It'll keep your paint The manufacturer of any good brand of hobby acrylic paint will have considered this in their production.
---
Best 3 DND Miniature Paint Sets (Review)
Here's my review of the top 3 popular paint sets you can get for painting miniatures for DND and other TTRPGs.
The Wargames Delivered Starter Miniature Paint Set is perfect for tabletop RPG gamers who want to paint their own models. This set comes with 18 non-toxic colors, 2 brushes, 2 empty bottles for mixing, and 20 mixing balls.
Specifically, the set comes with main colors (useful for many color schemes), which includes black, white, purple, red, orange, blue, green, and yellow.
There are also secondary colors to add variety and interest to your paint jobs. These paints include turquoise, gold, metal, brown, and flesh tones.
The set also comes with a brush-on primer to prepare your plastic, metal, or resin miniature for your paint job. The included matte varnish will help protect your paint job.
But, my suggestion at some point is to get a spray-on varnish which is much easier to use and will give you better results reliably.
Overall, this is an excellent starter set for those new to painting miniatures. The included colors will allow you to paint a wide variety of models, and the 2 brushes and empty bottles for mixing will help you get started with making your own custom color mixes.
Key Features:
18 Army Painter Colors
2 Brushes
2 Empty bottles for mixing Army Painter paints or whatever colors you have
20 Mixing balls for inserting into dropper bottles
Brush-on primer
Matte varnish for protecting your painted miniature
Perfect for those new to painting miniatures
Comes with a wide variety of colors
Includes a brush-on primer and matte varnish
Does not come with a spray-on varnish
Starter brushes may require replacement sooner rather than later (try my current favorite brush for general miniature painting)
If you're looking to start painting your own miniatures for DND and other tabletop RPGs, the Learn to Paint kit from Reaper Miniatures is an excellent option.
Using eco friendly acrylic paints, the kit is the most comprehensive option for new painters that want to jump right into the hobby.
It comes with a detailed guide from renowned painter Rhonda Bender, as well as everything you need to get started–including brushes, miniatures, and 11 paints. The included kit's tutorial walks you through the basics of painting, so you can get started right away.
One thing to note is that the miniatures in this kit come in multiple pieces and will require some assembly. But don't let that deter you; the instructions are clear and easy to follow, so you'll be able to put them together with no problem.
You can even see in this article how I painted the mage from this kit.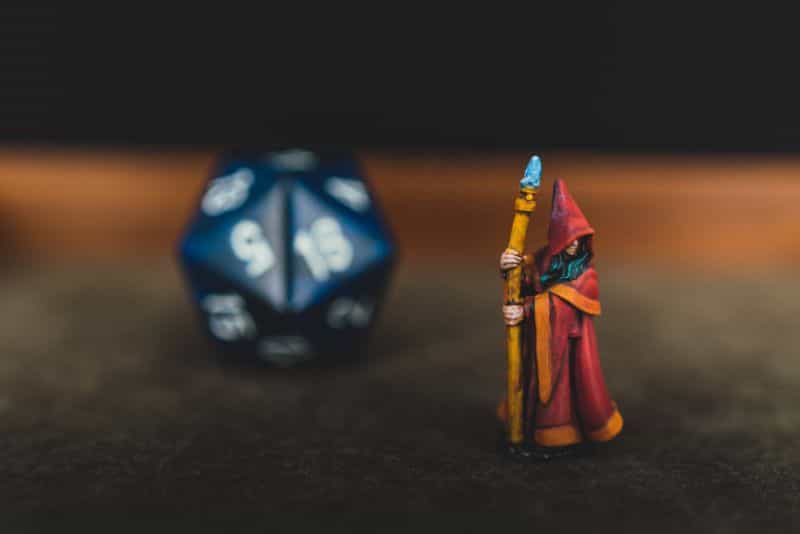 For a compact, budget-friendly all-in-one package for painting miniatures, the Learn to Paint kit is a great option. Its like this one are perfect for those who want to learn how to paint miniatures, as they provide everything you need to get started – including a detailed guide.
Key Features:
Detailed guide from renowned painter Rhonda Bender
Includes brushes, miniatures, and 11 paints
Miniatures come in multiple pieces and require some assembly
Great carrying case with extra space to expand your paint collection
Comes comes with a miniature foam storage compartment built-in (check out these other ways to protect your painted DND or RPG models)
Perfect for those who want to learn how to paint miniatures
Provides everything you need to get started
Includes a detailed guide
Comes with a handy carrying case with extra space for expanding your paint collection
Perfect for those who want to learn how to paint miniatures
Provides everything you need to get started
Includes a detailed guide
Comes with a handy carrying case with extra space for expanding your paint collection
If you're looking for the biggest, one of the most complete paint sets you can find on the market, The Army Painter Wargamers Paint Set is an impressive selection.
You can paint your RPG miniature collection and offer to paint your dungeon master's entire NPC cast if you'd like!
The set comes with 60 paint colors, including 43 different acrylic paints, 5 metallic colors, 7 quick shade washes, and 5 effect paints. The latter help you create special effects on miniatures, like blood splatter, slime, and much more.
I'll note that the Gun Metal, a kind of darker metallic silver is equivalent to Games Workshop Leadbelcher, one of my top 5 metallic paints for miniatures.
You can check out this conversion chart (download here) for other color matches if you're looking to mix/match different paint brands.
All of the paints come in 18ml bottles which is 50% more than most competing brands, e.g., Games Workshop. The Army Painter has also thoughtfully included a mixing balls that you can insert into each dropper bottle to help you thoroughly mix the paint inside.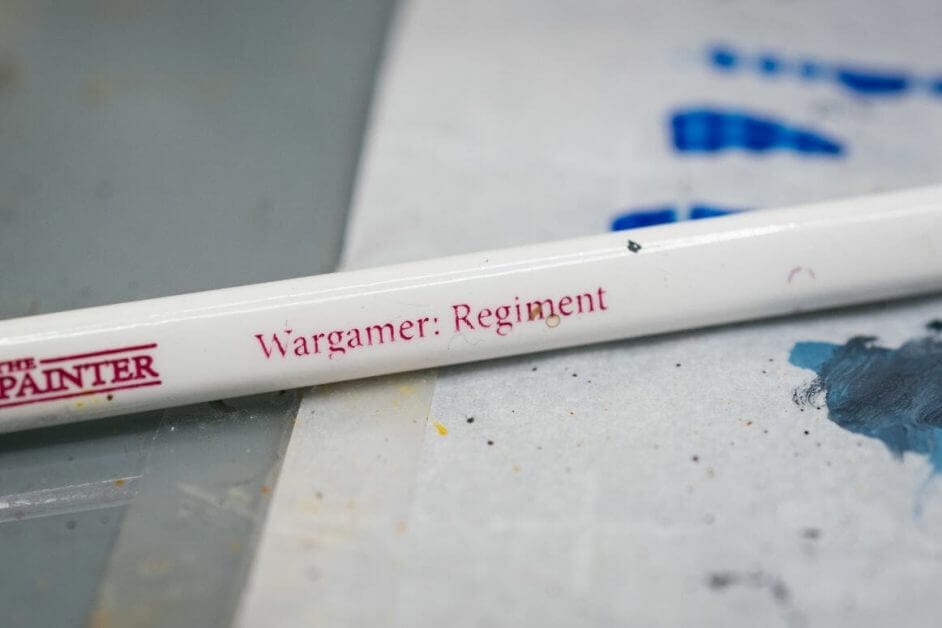 Although the set doesn't come with brushes, The Army Painter has put together a Wargamer's Starter Brush Set that I highly recommend for any hobby miniature painter.
I would also add a matt varnish (which is not included) to help protect your models when you're done painting them. Here's an article about why and how you should clear coat your painted DND miniatures.
The Army Painter Wargamers Mega Paint Set is one of the best values for a paint collection that you'll find. It's an excellent choice for both beginner and experienced painters alike.
Key Features:
60 paint colors including 43 acrylics, 5 metallics, 7 washes, and 5 effects
18ml bottles – 50% more than most competing brands
Mixing balls included for ND mini painters
Does not include brushes (but The Army Painter Wargamer's Starter Brush Set is a great option)
Excellent value for the number of paint colors included
Great for both beginner and experienced painters
Excellent value
Perfect for both beginner and experienced painters
Wide variety of colors and effects paints
Generous 18ml bottles
Does not include brushes or matte varnish (gloss only)
Some users have complained that the paint quality is not consistent across all colors
Quick Note About Official D&D Paint Sets
For those wondering what DnD paint sets are available, here is a list:
Given that all these sets include Army Painter Paints and accessories, exclusively, you can be sure you're getting reliable stuff that will do the job. But…
Do I think "official" paint lines are worth it?
I'm impartial when it comes to branding paints as "official" for some type of intellectual property. At the end of the day, the brand of paint you use on your miniatures won't matter as much as how they look in the end.
There are conversion charts available to take the colors you think you need, but find them in other hobby paint brands. It is not necessary to stick with "official" paint lines to recreate the art in the rulebook or on the cover of some magazine or box.
And, here's the problem, I think: You may end up paying more for a specific "game branded" paint set than a general, excellent quality collection or bundle (such as those mentioned above).
So, I don't think diving into an official paint set is worth it, unless they have an exclusive color that you really want and can't find anywhere else.
Note that some DND paint sets have exclusively labeled colors and come with a unique miniature, such as those in the Nolzur's Marvelous Pigments Underdark Paint Set or the D&D: Undead Paint Set.
---
Final Word
I hope you found my thoughts about the kind of paints you want for getting your unpainted DND miniatures…well, painted. I'm certain I've stumbled a few Veteran painters with my choices of paint sets.
But, given how wide the options are out there, I wanted to keep this focused on just DND miniatures. There is a huge market of things you can buy for painting miniatures of all types, not just TTRPG models, but also wargaming miniatures, e.g., Warhammer 40k.
For those looking to paint a few miniatures here and there to get their adventurer's off the ground (or onto the tabletop, as it were), I think you can't go wrong with any starter paint set.
Whether you choose official DND paint lines or go for the broadly versatile paint kits out there (mentioned above), model painting is a great hobby and highly rewarding.
Thank you for reading! Are you currently painting any models for your games? I'd love to see what you're working on. Comment below or send me a message on Facebook.
Until next time, happy miniature painting!