If you're a miniature painter, odds are you've heard of zenithal priming. This unique method of priming minis provides a great foundation for painting, and can really help bring out the details in your figure.
In this article, I'll walk you through the steps of zenithal priming and show you how to get the most out of this method.
---
What is Zenithal Priming?
Zenithal priming is a three-step process that involves first spraying the mini with a light coat of primer from above (hence the name "zenithal"), then following up with a darker coat of primer from below, and finally finishing with a final coat of light primer from above. This layered approach creates both shadows and highlights on the figure, which can be very helpful when painting.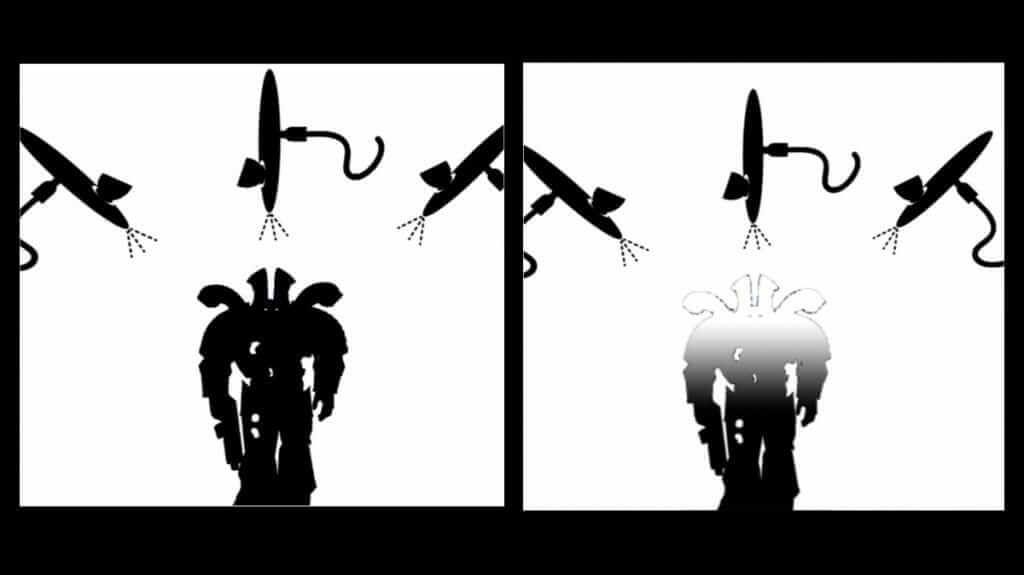 Here is a comprehensive look at different types of highly-recommended primers for all sorts of miniature painting approaches and methods.
Of course, there's the question of what to do with your miniatures after you've applied your zenithal highlight. Well, there are a two basic options to finish your miniature painting.
First, you can use pre-made "contrast" paints that act like translucent colored-filters over your high contrast (white-black) underpainting. Citadel Contrast Colors or The Army Painter Speedpaints are products you can buy for this purpose. Second, you can uses DIY glazes you make from regular hobby paints or inks (which is my preferred method).
Read on below to learn more about painting your models after zenithal priming.
---
Is Zenithal Priming Worth it?
If you're wondering whether zenithal priming is worth the extra effort, the answer is… it depends. If you're painting for competitive play, e.g., to get models painted for a Warhammer 40k tournament, then zenithal priming can give you a significant advantage in terms of both time and money.
The underpainting helps you add contrast quickly to your model, which helps you visualize where you should apply specific colors. The zenithal approach makes seeing certain forms and shapes on a model easier, allowing you to work efficiently and quickly without sacrificing overall appearance.
On the other hand, you do have to plan ahead with the zenithal prime and painting method. After you've strategically applied your highlight and shadows (often white and black primer colors), you need to understand how to layer on hobby paint color.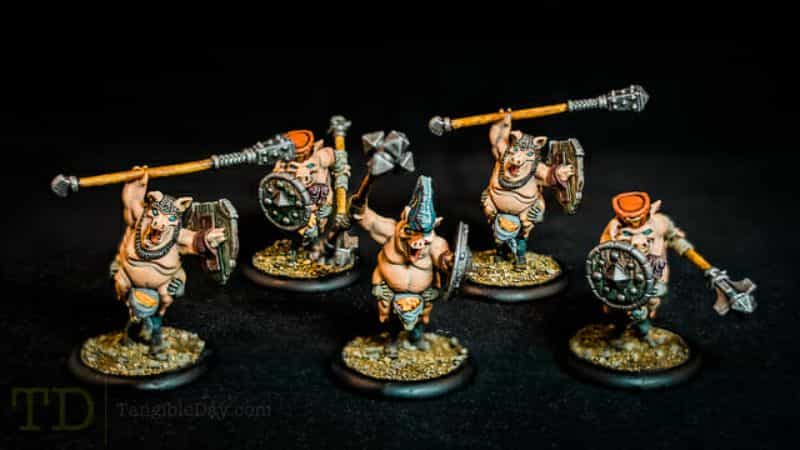 Most hobby paints are fairly opaque and will quickly obscure your zenithal highlighted model. 1-2 coats of a Citadel foundation paint, for example, will make all that hard work you did earlier moot. You won't be able to see any of your zenithal effect.
This is where "contrast" paints or glazes come into play. These are specially formulated to allow some of the zenithal effect to show through while still providing good coverage.
If you're not interested in buying a contrast paint, you can also make your own glazes from regular hobby paints or inks. I prefer this method as it gives me more control over the final result.
To make a glaze, you simply need to thin down your paint (I use about a 50/50 mix of water and paint) and apply it to your model in very thin layers. You can read more about this technique here.
So, is zenithal priming worth it? If you're looking to save time and money, then the answer is yes. If you're not worried about those things and just want to paint for fun, then the answer is… it's up to you!
---
3D Printed Miniatures Primed and Painted with the Zenithal Method
A quick note for those of you 3D printing miniatures: zenithal priming is an excellent way to start your paint job. It can help you achieve smooth and even coverage with fewer layers of paint, and can also bring out the details in your figure that might be difficult to see otherwise.
Zenithal priming is also a great option if you're painting large batches of miniatures (like an army) as it can speed up the process significantly.
Of course, you can always prime your figures with a single color if you prefer. There's no right or wrong way to do it. It's all about what works best for you and your painting style.
---
Pros and Cons of Zenithal Priming Models
Pros:
Zenithal priming is a fast and efficient way to add both highlights and shadows to your models.
Imitating a top-down light source adds interest to a model, quickly.
Contrast paints or glazes can help you achieve a professional-looking paint job in a fraction of the time it would take to paint the model completely by hand.
Zenithal priming is a great technique for new painters, as well as veterans looking to paint large numbers of models with a consistent, high quality look.
It's fun and motivational to see the high contrast miniatures emerge with only a few simple steps.
Works great on 3D printed miniatures and models.
The three-step process is easy to learn and can be done with any type of primer (see below).
Cons:
You need to have a good understanding of how to apply color over the zenithal underpainting. Otherwise, you run the risk of obscuring all your hard work.
The three-step process takes a bit more time than simply painting the model one color.
Zenithal highlighted and painted models often look overly-simplistic, and much of the underlying primer will show through when a miniature is viewed from low angles.
---
How to Apply Zenithal Priming to Miniatures and Models (3 Easy Steps!)
Now that we've gone over the pros and cons of zenithal priming, let's take a look at how to do it.
Step 1: Dark Base Color
Start with a dark colored primer. In my example (using a Conquest miniature), I prime the bare plastic with Panzer Grey Vallejo Surface Primer.
To do this, I use my Reaper Vex airbrush with the 0.3mm sized nozzle and the air pressure set at 30 PSI. Another good workhorse airbrush for spraying primer is the Badger Patriot 105 (which I review here).
The key with the first dark primer color is to evenly coat the entire model. This color will become the "shadow" coat for the next steps.
Step 2: Light Coat from Above
The next step is to prime your figure with a coat from above. Any bright color will do: White is a popular choice, but other options include gray or even yellow. The important thing is that this coat is thin and evenly applied.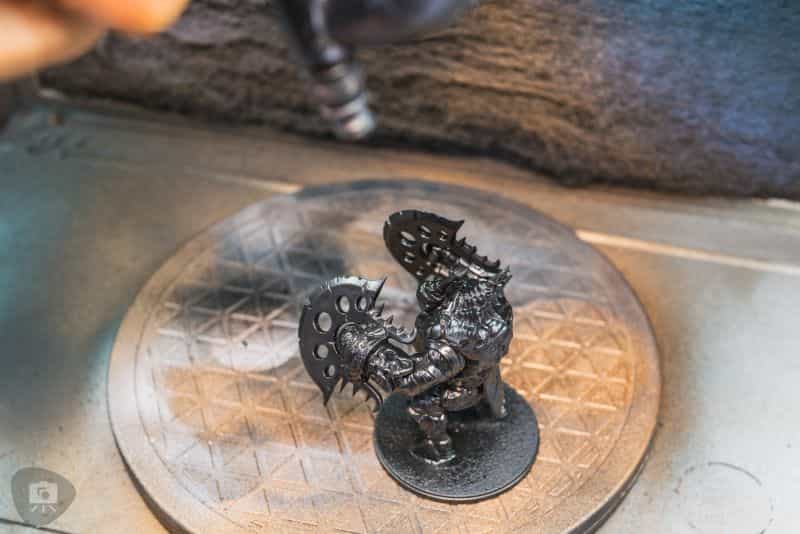 If the highlight coat is too thick, it will obscure the details on your figure; if it's too thin, it won't provide an adequate base for subsequent layers of paint. Spray at a distance of about 6-8 inches away from the figure to avoid potential pooling or runs.
Step 3: Dark Coat from Below (Optional)
This is an optional step if you think the highlight coat went too far. It's possible there was some overspray, especially if you didn't spray from directly above the model for the entire coat. Or, it's possible the model was too big and you need to darken some of the shadows.
To darken the shadows, tilt your model upside down and spray from a distance (6-8 inches away, as before).
Pay special attention to any recessed areas on the figure, as these will be where shadows are most likely to fall. Make sure to cover these areas with a thin layer; remember, we want subtlety!
Once you've finished applying any layer of primer or paint, let it dry completely before moving on.
Step 4: Final Light Coat from Above
The last step is to apply one final light layer of primer from above – once again, white or light gray works well here.
This coat should be just as thin and even as the first highlight layer; overspray onto raised areas is fine, but try not to let any pools or runs form on flatter surfaces. Let the figure dry thoroughly before moving on to painting the rest of the model.
---
When to Use Zenithal Priming in Miniature Painting
Now that we've gone over how to zenithal prime your figures, let's take a look at how this method can be used when painting minis.
One of the great things about zenithal priming is that it provides both shadows and highlights right from the start. This can be very helpful when trying to decide where to place different colors on your figure.
For example, if you want to add some variation to a uniform color (like blue), simply look at where the darkest shadows are falling and add a darker shade of blue there; then look at where highlights are falling and add a lighter shade of blue there. This will give your mini more depth and make it more interesting to look at.
You can also use zenithal priming to create special effects like bloodstains or heat damage by applying washes or other shading techniques selectively over different parts of the figure.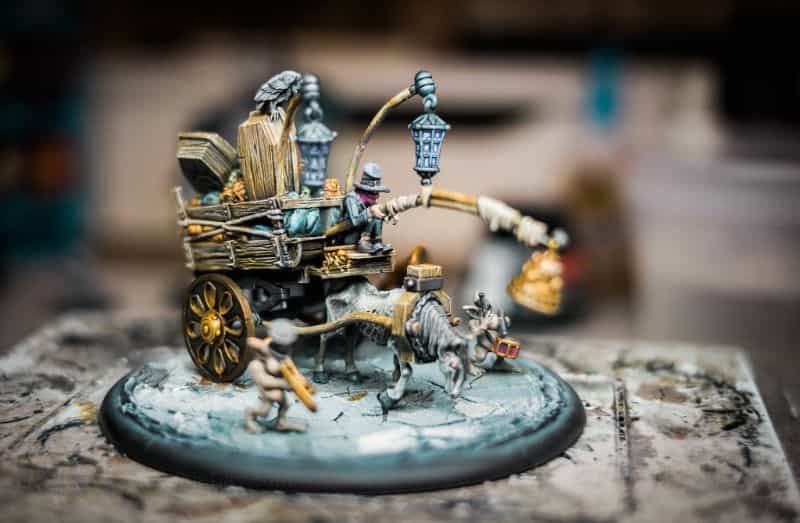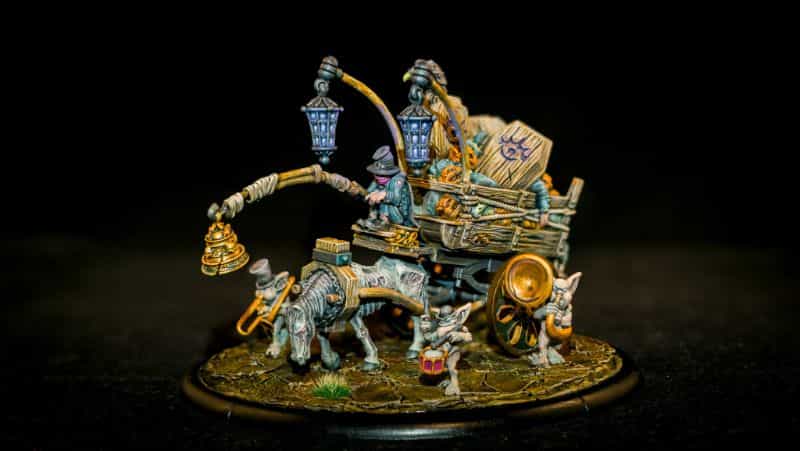 Because zenithal priming provides both shadows and highlights, immediately, it can save you time in the long run. Take a look at this article about how to zenithal prime and highlight without an airbrush or spray can.
Overall, you'll find that painting a zenithal undercoat first eliminates the need for multiple layers of paint (and thus multiple opportunities for mistakes). 
---
Best Paints to Use With the Zenithal Priming Technique
As mentioned above, an airbrush is the best tool for zenithal priming. In this case, using a surface primer, such as Vallejo Surface Primers (white/black colors) is all you need for the Zenithal method.
However, if you don't have an airbrush (or if you're not comfortable using one; as it can be hard to learn), you can still get good results with aerosol spray primers, like Krylon or Rust-Oleum.
Primers in normal spray cans (e.g., rattle cans) can create great results when you can apply an even coat over the entire model. Make sure you start from the very top of the miniature, reproducing a light source directly from above.
The Army Painter line of white primers can product good effects and is available in both normal spray cans and airbrush-ready bottles. Games Workshop's Chaos Black primer or its white primer counter, White Scar, also works well, although it can be difficult to apply evenly with a rattle can.
As with any painting technique, remember to start with a dark color primer over the model first, followed by a brighter color, e.g., white paint.
---
Frequently Asked Questions (FAQ)
Q: What's the best way to apply zenithal priming?
Many painters use an aerosol spray primer and start the zenithal process with the entire model black. Then, they spray a white primer with the 90 degree cone directed from above. I recommend using an airbrush for best results. This method provides a more even coverage and makes it easier to avoid pools or runs.
Q: Best airbrush for zenithal priming?
Check out some of the most popular airbrushes for painting miniatures. Any of them would be a great choice for using the zenithal priming or highlighting technique. If you want to speed paint, an airbrush is a great tool to have once you learn how to use it.
Q: Can I use zenithal priming with other methods of painting?
Absolutely! In fact, many painters use zenithal priming as a first step with a base coat before moving on to other methods like glazing, wet blending or dry brushing. Paint applied over a zenithal undercoat should be translucent, e.g., wash or glaze, to leverage the effect technique affords you. This will allow you to see the shading and contrast throughout your paint job.
Q: What colors should I use for zenithal priming?
White, black, and gray are the most common choices, but you can really use any colors you like. Just remember to use light colors for the first coat, dark colors for the second coat, and finally a light color for the third coat.
Q: Do I need to let each layer of primer dry before moving on to the next one?
Yes, it's important to let each layer of primer dry completely before moving on to the next one. If you don't, the colors may blend together and you won't get the desired effect.
Q: Can I use zenithal priming with other types of paint?
Yes, you can use zenithal priming with any type of paint. Just remember to use dark colors for the first coat, light colors for the second coat, and finally the light color (again) for the third coat. Make sure the spray is directional from the top-down.
Q: What if I don't have an airbrush? Can I still zenithal prime my figures?
Yes, you can still zenithal prime your figures without an airbrush. You can use a paintbrush or even just regular spray paint, but the coverage will be harder to control. You can even use a dry brush approach, though it may take more time to create the zenithal highlighting effect.
---
Conclusion
Zenithal priming is a great way to prep your minis for painting, and it can also save you time and effort in the long run thanks to its built-in shadows and highlights. In this blog post we walked you through each step of zenithal priming so that you can try it out for yourself!
I hope you found this article useful. Are you trying out zenithal highlighting with your miniature or scale model work? I'd love to know what you think, please leave a comment below!
Tangible Day on YouTube (Miniatures and More!)